Markt-Snapshot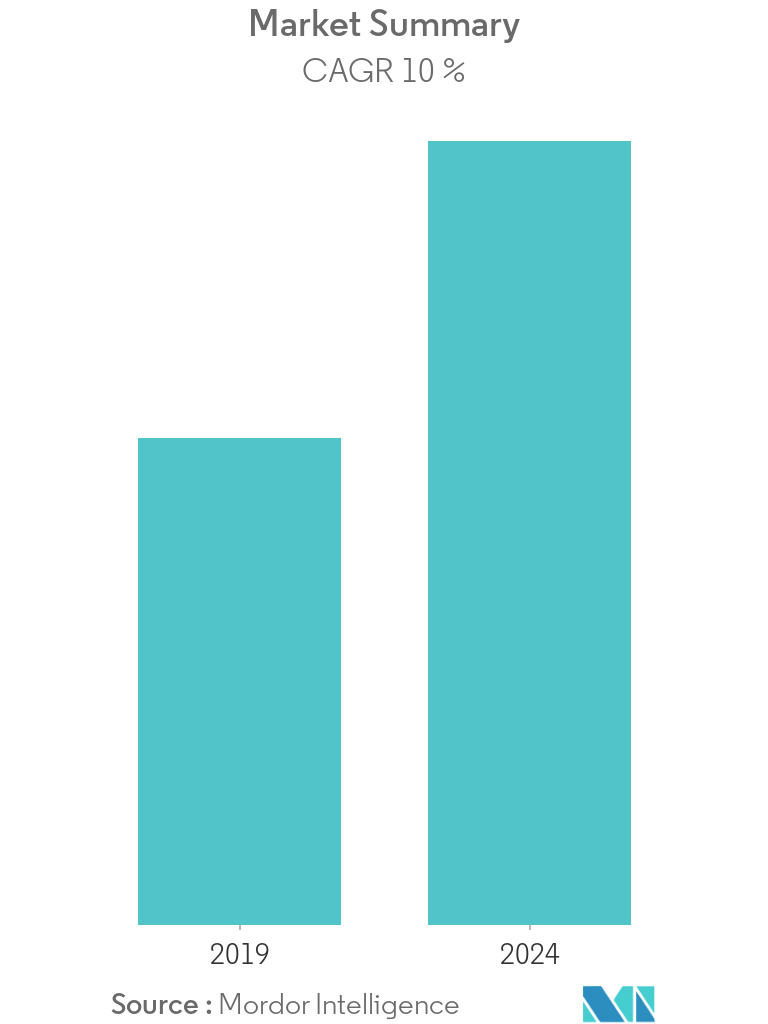 Study Period:
2016 - 2026
Fastest Growing Market:
Asia Pacific
Largest Market:
North America
CAGR:

<

10 %

Major Players

*Disclaimer: Major Players sorted in no particular order
Need a report that reflects how COVID-19 has impacted this market and its growth?
Marktübersicht
Es wird erwartet, dass der Markt für Lithiumhydroxid im Prognosezeitraum mit einer CAGR von über 10 % wachsen wird. Hauptfaktoren, die den untersuchten Markt antreiben, sind die wachsende Nachfrage nach Elektrofahrzeugen, die Lithiumbatterien verwenden, und die steigende Nachfrage nach Elektrowerkzeugen, die Lithiumhydroxid-NCA-Kathoden verwenden. Es wird jedoch erwartet, dass die zunehmende Besorgnis über die Toxizität von Lithiumhydroxid das Wachstum des Marktes hemmen wird.
Die Anwendung von Batterien dominierte den Markt weltweit, und es wird erwartet, dass sie im Prognosezeitraum aufgrund der steigenden Nachfrage nach Elektrofahrzeugen zunehmen wird.
Es wird erwartet, dass die zunehmende Industrialisierung im asiatisch-pazifischen Raum die Nachfrage nach Elektrowerkzeugen ankurbeln wird, was wiederum die Nachfrage nach Lithiumhydroxid erhöhen dürfte, da die Elektrowerkzeuge Lithiumhydroxid-NCA-Kathoden verwenden.
Nordamerika dominierte den Markt auf der ganzen Welt mit dem größten Verbrauch aus den Ländern, gefolgt von Europa und dem asiatisch-pazifischen Raum.
Umfang des Berichts
Der Lithiumhydroxid-Marktbericht umfasst:
Application
Batteries
Lubricating Greases
Purification
Other Applications
Geography

Asia-Pacific
China
India
Japan
South Korea
Rest of Asia-Pacific

North America
United States
Canada
Mexico

Europe
Germany
United Kingdom
Italy
France
Rest of Europe

South America
Brazil
Argentina
Rest of South America

Middle East & Africa
Saudi Arabia
South Africa
Rest of Middle East & Africa
Wichtige Markttrends
Batterieanwendungssegment soll den Markt dominieren
One of the major applications of lithium hydroxide is in making cathodes for rechargeable batteries, which are used in electric vehicles. Lithium hydroxide is the most preferred among all the lithium compounds, as they have extreme electrochemical potential and low density.
The generous subsidies for electric vehicles and stringent regulations regarding the usage of conventional vehicles by the government are some of the key factors that are driving the growth of electric vehicle production in countries, like China, that occupies the majority share of the global electric vehicle market.
The battery application segment of the global lithium hydroxide market is the key application segment. It is widely used in the manufacture of cathode materials for lithium-ion batteries.
Lithiumbatterien können in zwei Segmente eingeteilt werden, nämlich Einwegbatterien und wiederaufladbare Batterien. Einweg-Lithiumbatterien verwenden Lithium in metallischer Form als Anode. Diese Batterien haben eine lange Lebensdauer (hohe Ladungsdichte) im Vergleich zu anderen Standardbatterien. Diese Batterien finden Anwendung in kritischen Geräten mit langer Lebensdauer, wie z. B. Herzschrittmachern und anderen elektronischen medizinischen Geräten, die viele Jahre lang implantiert werden.
Batterieanwendungen bewegen sich in Richtung größerer Leistungsanforderungen und geringerer Kosten, was bedeutet, dass Fortschritte in der Lithium-Ionen-Batterietechnologie unerlässlich sein werden, um die Nachfrage der Verbraucher zu befriedigen. Da die Industrie nach leistungsfähigeren und kostengünstigeren Batterien strebt, werden immer noch technologische Technologiesprünge verfolgt. Forscher untersuchen Ersatzstoffe für das Anodenmaterial, um die Ladekapazität zu erhöhen. Einige der neuesten Batterietechnologien sind: Lithium-Schwefel, Lithium-Luft und Lithium-Sauerstoff.
Diese wachsenden F&E-Aktivitäten zur Verbesserung der Lithium-Ionen-Batteriesysteme werden voraussichtlich zahlreiche Möglichkeiten bieten und das Wachstum des Marktes in naher Zukunft vorantreiben.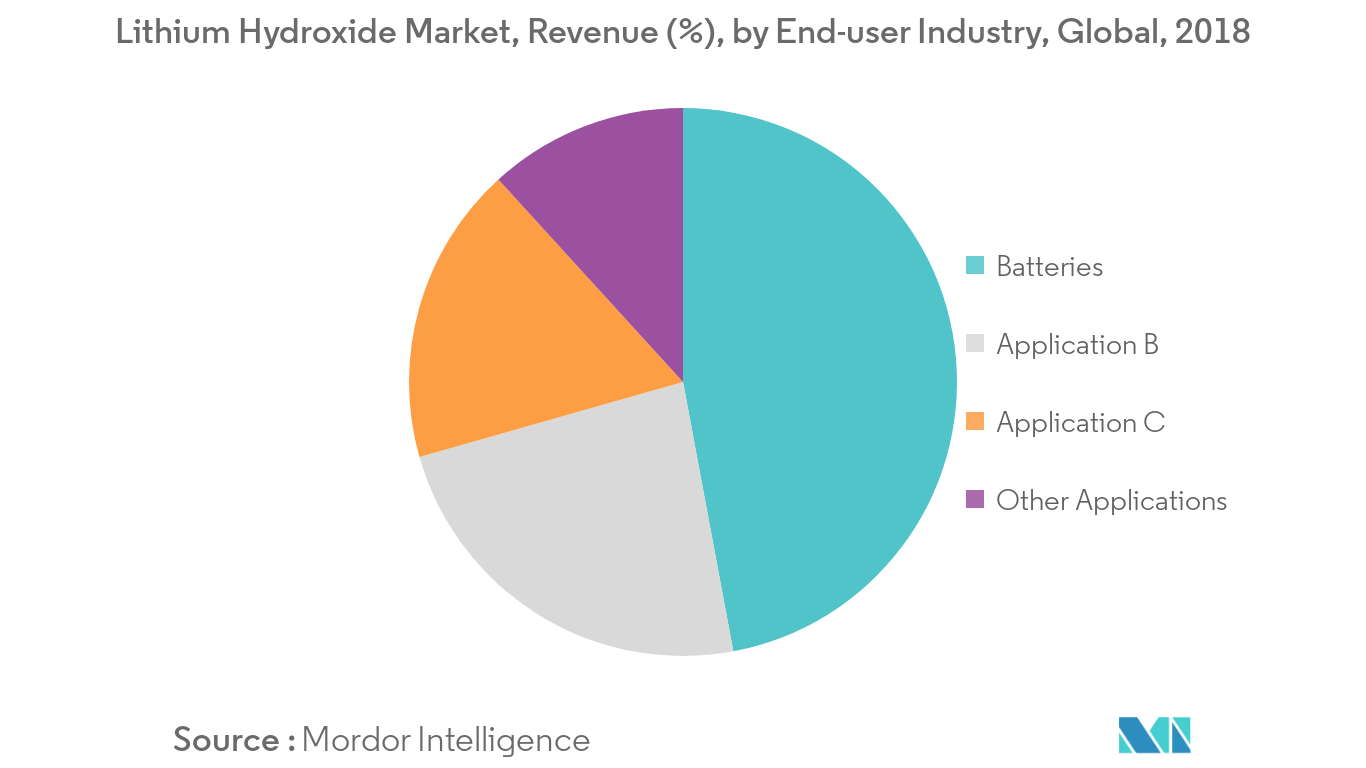 To understand key trends, Download Sample Report
Asien-Pazifik-Region soll den Markt dominieren
Asia-Pacific region dominated the global market share. China has been both the leading producer and market for Li-ion batteries. South Korea and Japan also have a high demand for Li-ion batteries.
China holds around 7% of the global lithium reserves, estimated at a value of 1,000 Kilo Mt in 2018. China accounts for 10% of the global lithium production capacity accounting for 8 kt, in 2018. Abundant availability of resources, such as brine, spodumene and other lithium deposits, accounts for a significant amount of the global resources which hold 30.03 Mt LCE.
China has substantial lithium resources in the form of brine, spodumene, and lepidolite. China has salt lakes in Qinghai province, spodumene resources mainly in Xinjiang and Sichuan province and lepidolite in Jiangxi province.
Globale Investitionen in die Batterielieferkette und der Bedarf an billigeren Batterien werden durch das Aufkommen von Elektrofahrzeugen (EV) vorangetrieben. Dieser wachsende Markt wurde in den letzten Jahren von Tesla entwickelt, ist aber der größere Katalysator für die weltweite Einführung der EV-Technologie auf dem Massenmarkt in China, wo staatliche Subventionen sowohl für Pkw-Elektrofahrzeuge als auch für gewerbliche Elektrofahrzeuge (Busse und kleine Lastwagen) gelten.
Es wird erwartet, dass die zunehmende Urbanisierung die Nachfrage nach technisch fortschrittlichen Geräten aufgrund der Vorteile, die die Geräte bieten, ankurbeln wird. Folglich wird erwartet, dass dies zu einer steigenden Nachfrage nach Lithium-Ionen-Batterien in der Region führen wird. Mit der zunehmenden Industrialisierung in Ländern wie China und Indien wird auch eine steigende Nachfrage nach Elektrowerkzeugen mit Lithium-Ionen-Akkus erwartet. Dies wiederum wird voraussichtlich die Nachfrage nach dem Markt für Lithiumhydroxid ankurbeln.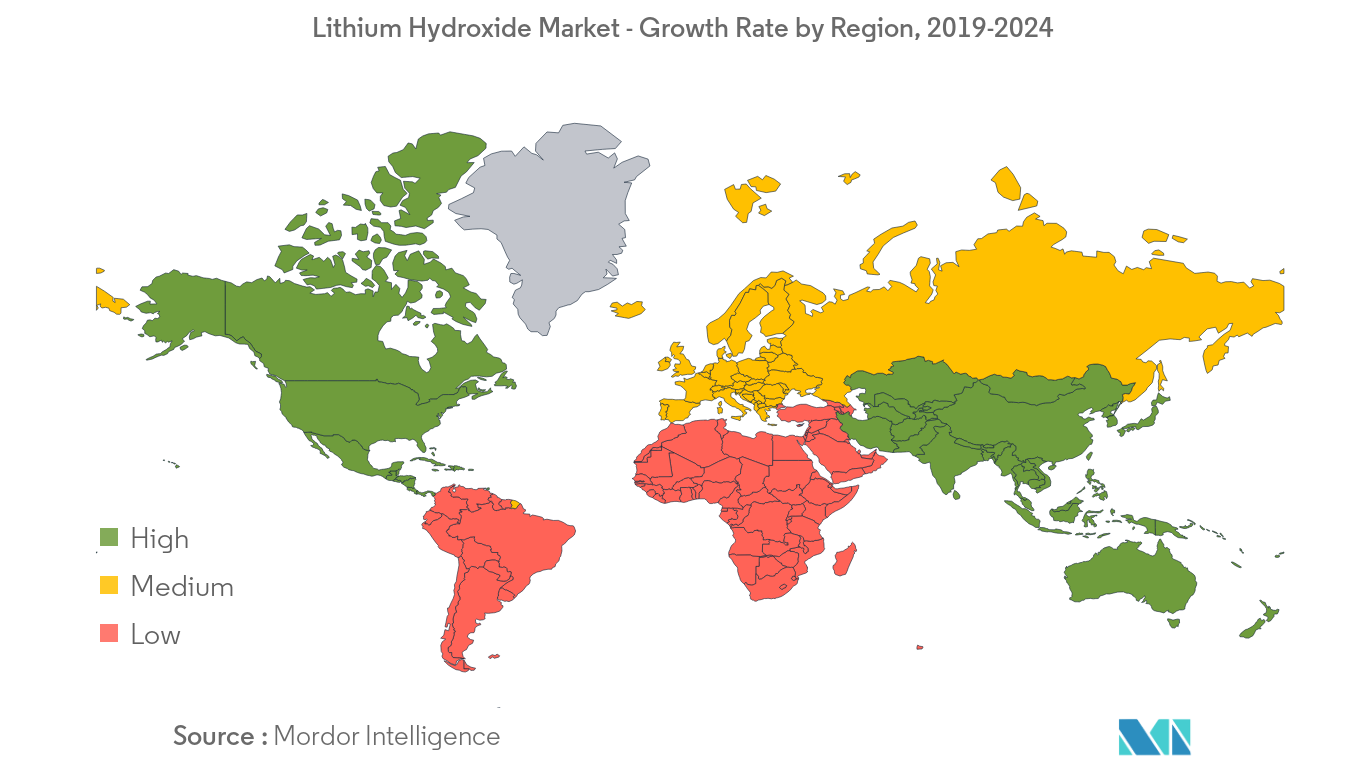 To understand geography trends, Download Sample Report
Wettbewerbslandschaft
Der Lithiumhydroxidmarkt ist konsolidiert, wobei die fünf größten Akteure einen großen Marktanteil ausmachen. Zu den wichtigsten Unternehmen gehören unter anderem SQM SA, Albemarle Corporation, Leverton-Clarke Specialty Chemicals., HELM AG und Ganfeng Lithium Co., Ltd.
Hauptakteure
SQM SA

Albemarle Corporation

Leverton-Clarke Spezialchemikalien.

Ganfeng Lithium Co., Ltd

HELM AG
*Disclaimer: Major Players sorted in no particular order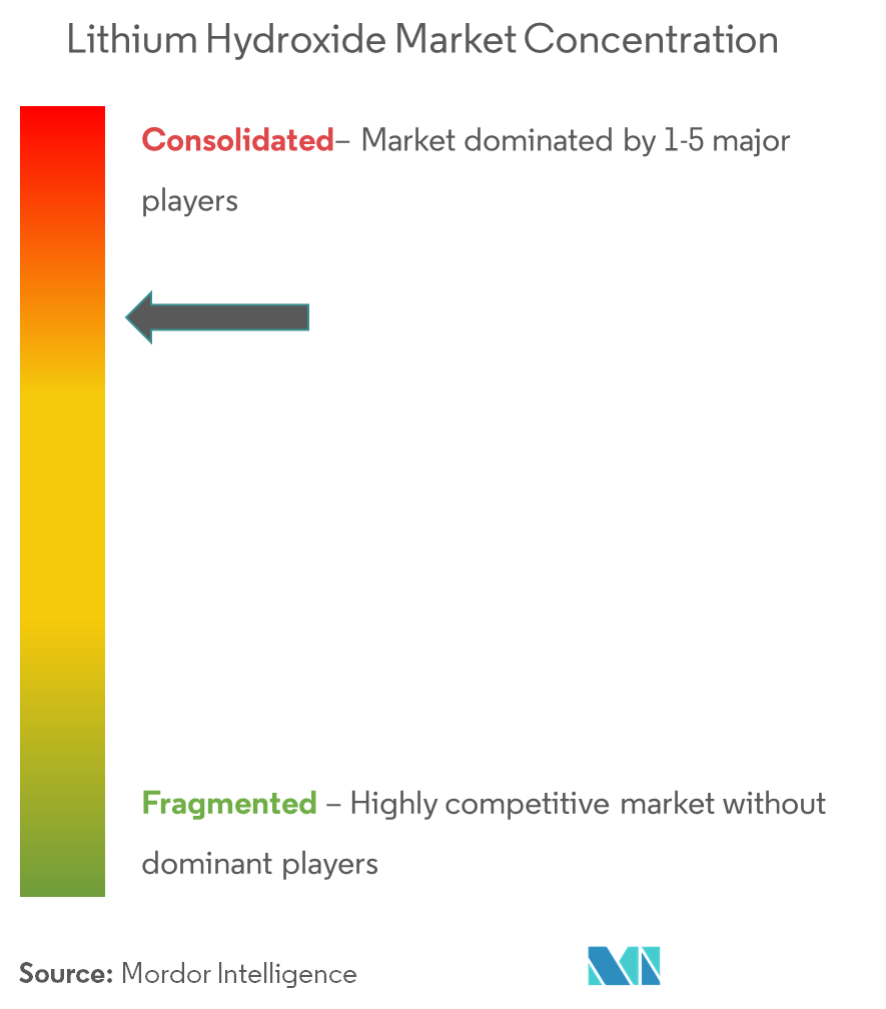 Table of Contents
1. INTRODUCTION

1.1 Study Deliverables

1.2 Study Assumptions

1.3 Scope of the Study

2. RESEARCH METHODOLOGY

3. EXECUTIVE SUMMARY

4. MARKET DYNAMICS

4.1 Drivers

4.1.1 Increasing Demand for Electric Vehicles

4.1.2 Increasing Demand for power tools

4.2 Restraints

4.2.1 Rising concern about the toxicity

4.3 Industry Value-Chain Analysis

4.4 Porter's Five Forces Analysis

4.4.1 Bargaining Power of Suppliers

4.4.2 Bargaining Power of Consumers

4.4.3 Threat of New Entrants

4.4.4 Threat of Substitute Products and Services

4.4.5 Degree of Competition

5. MARKET SEGMENTATION

5.1 Application

5.1.1 Batteries

5.1.2 Lubricating Greases

5.1.3 Purification

5.1.4 Other Applications

5.2 Geography

5.2.1 Asia-Pacific

5.2.1.1 China

5.2.1.2 India

5.2.1.3 Japan

5.2.1.4 South Korea

5.2.1.5 Rest of Asia-Pacific

5.2.2 North America

5.2.2.1 United States

5.2.2.2 Canada

5.2.2.3 Mexico

5.2.3 Europe

5.2.3.1 Germany

5.2.3.2 United Kingdom

5.2.3.3 Italy

5.2.3.4 France

5.2.3.5 Rest of Europe

5.2.4 South America

5.2.4.1 Brazil

5.2.4.2 Argentina

5.2.4.3 Rest of South America

5.2.5 Middle East & Africa

5.2.5.1 Saudi Arabia

5.2.5.2 South Africa

5.2.5.3 Rest of Middle East & Africa

6. COMPETITIVE LANDSCAPE

6.1 Mergers and Acquisitions, Joint Ventures, Collaborations, and Agreements

6.2 Market Share/Ranking Analysis**

6.3 Strategies Adopted by Leading Players

6.4 Company Profiles

6.4.1 SQM SA

6.4.2 Albemarle Corporation

6.4.3 Fitz Chem LLC

6.4.4 Ganfeng Lithium Co. Ltd

6.4.5 Helm AG

6.4.6 Leverton-Clarke Speciality Chemicals

6.4.7 Nemaska Lithium

6.4.8 Shangai China Lithium Industrial Co. Ltd

6.4.9 Sichuan Brivo Lithium Materials Co. Ltd

6.4.10 Tianqi Lithium Corporation

*List Not Exhaustive

7. MARKET OPPORTUNITIES AND FUTURE TRENDS

7.1 Development in Lithium deposits
**Subject to Availability
Frequently Asked Questions
Was ist der Untersuchungszeitraum dieses Marktes?
Der Lithiumhydroxid-Markt wird von 2018 bis 2028 untersucht.
Wie hoch ist die Wachstumsrate des Lithiumhydroxid-Marktes?
Der Lithiumhydroxidmarkt wächst in den nächsten 5 Jahren mit einer CAGR von <10 %.
Welche Region hat die höchste Wachstumsrate auf dem Lithiumhydroxid-Markt?
Der asiatisch-pazifische Raum wächst von 2018 bis 2028 mit der höchsten CAGR.
Welche Region hat den größten Anteil am Lithiumhydroxid-Markt?
Nordamerika hält 2021 den höchsten Anteil.
Wer sind die wichtigsten Hersteller auf dem Lithiumhydroxid-Markt?
SQM S.A., Albemarle Corporation, Leverton-Clarke Specialty Chemicals., Ganfeng Lithium Co., Ltd, HELM AG sind die wichtigsten Unternehmen, die auf dem Lithiumhydroxidmarkt tätig sind.
80%

of our clients seek made-to-order reports. How do you want us to tailor yours?