Aperçu du marché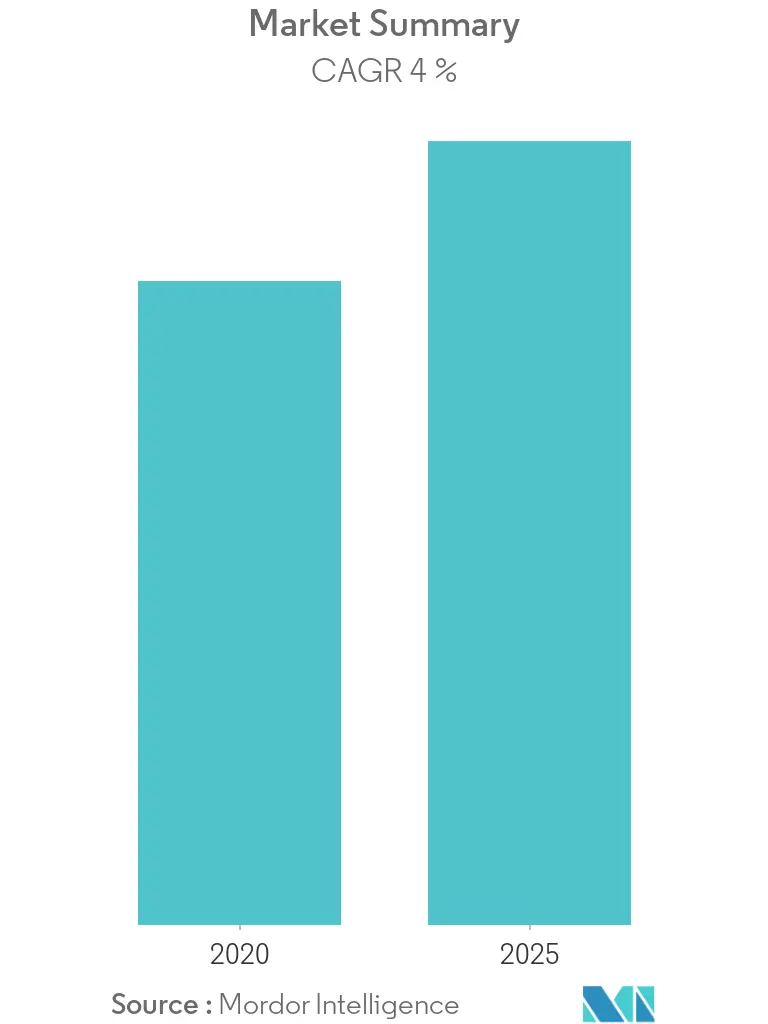 Study Period:
2016 - 2026
CAGR:
4 %

Major Players

*Disclaimer: Major Players sorted in no particular order
Aperçu du marché
Le Chili possède l'une des économies de marché les plus stables et les plus libres d'Amérique latine. Bien que la logistique au Chili soit toujours sur la voie du développement, les opérations d'importation et d'exportation depuis le pays ont augmenté au cours des dernières années. L'emplacement géographique parfait du pays offre un grand potentiel à des pays comme l'Europe, l'Asie, l'Amérique du Sud et l'Amérique centrale pour se connecter par voie aérienne, maritime ou terrestre.
Le pays a également investi massivement dans l'amélioration des infrastructures du pays. Le gouvernement chilien a récemment investi dans le nouveau programme d'investissement ferroviaire en 2020 et a également lancé un plan d'infrastructure routière de 7 milliards USD en 2019 pour construire près de 17 000 km de routes à travers le pays ainsi qu'un programme de relance économique de 2,4 milliards USD en juin 2019 pour accélérer travaux publics et relancer l'économie du pays.
Le commerce électronique connaît également une croissance au Chili et devrait se développer par rapport au taux annuel actuel de 10 % de 2017 à 2020 et atteindre 2,5 milliards d'euros d'ici 2020. Cela offre également de grandes opportunités aux opérateurs logistiques d'offrir une logistique de commerce électronique. services aux marques, places de marché et e-commerçants pour optimiser et intégrer l'exécution et la distribution.
Portée du rapport
Une analyse de fond complète du marché chilien du fret et de la logistique, qui comprend une évaluation de l'économie et de la contribution des secteurs à l'économie, un aperçu du marché, une estimation de la taille du marché pour les segments clés et les tendances émergentes dans les segments de marché, la dynamique du marché et la logistique les dépenses des industries utilisatrices finales et l'impact du COVID-19 sur le marché sont couverts dans le rapport.
By Function

Freight Transport
Road
Inland Water
Air
Rail

Freight Forwarding
Warehousing
Value Added Services and Other Functions
By End User
Manufacturing and Automotive
Oil and Gas, Mining and Quarrying
Agriculture,Fishing and Forestry
Construction
Distributive Trade (Wholesale and Retail Segments- FMCG Included)
Healthcare and Pharmaceuticals
Other End Users
Principales tendances du marché
Hausse des investissements dans l'expansion du réseau ferroviaire au Chili
Le Chili s'est classé 70e sur 103 pour la qualité de son infrastructure ferroviaire en 2019 selon le rapport sur la compétitivité mondiale du Forum économique mondial et le comté a également atteint la 61e position pour l'efficacité de ses services ferroviaires. Afin de favoriser le développement d'un réseau logistique complet dans le pays, l'expansion des ports au Chili nécessite des liaisons ferroviaires améliorées pour relier les ports aux principaux centres de fabrication, de production et de consommation, qui se trouvent à l'intérieur du pays.
Le gouvernement chilien a investi près de 5 milliards de dollars en 2020 dans l'un des plus grands plans de développement ferroviaire du pays nommé "Chile on Rails" qui vise à doubler les volumes de fret ferroviaire à plus de 21 millions de tonnes par an d'ici 2027 et à tripler le nombre de passagers . Le projet comprendra 27 projets d'infrastructure et de sécurité afin de renforcer les services de passagers et de fret dans tout le pays et son achèvement est prévu d'ici 2027. Selon le ministère des Transports, le financement de ces projets a déjà été sécurisé, avec 44 % du financement total. étant dirigé vers des projets dans la région de Santiago tandis que les 56% restants seront dirigés vers des projets dans des régions en dehors de Santiago.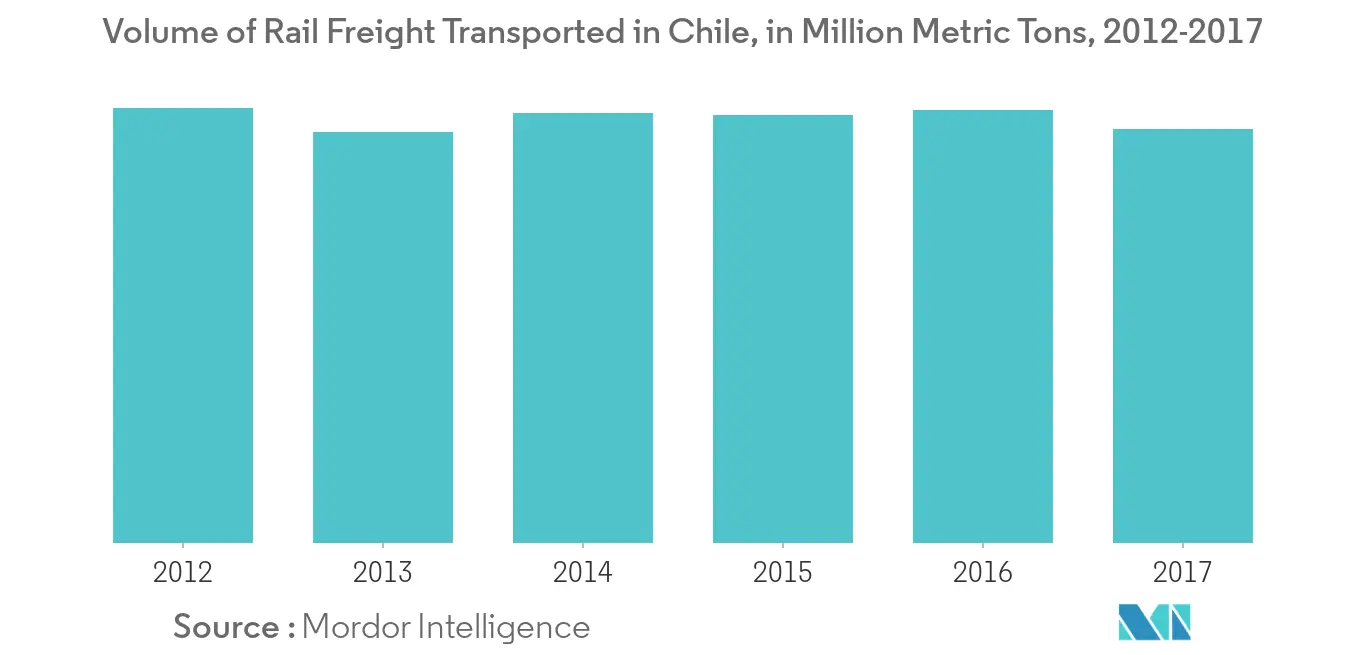 To understand key trends, Download Sample Report
Croissance du transport de fret aérien dans le pays
Le secteur du transport aérien apporte une contribution majeure à l'économie chilienne. Les tonnes de fret aérien transportées par kilomètre ont diminué de près de 3,3 % en 2019 par rapport à 2018, tandis que la capacité, mesurée en tonnes de fret par kilomètre disponible, a augmenté de 2,1 % en 2019. Cependant, en 2020, les exportations ont connu une augmentation et il a été ont rapporté qu'en janvier 2020, près de 36 238 tonnes de fret ont été transportées sur des vols nationaux et internationaux, enregistrant une croissance de près de 12,7 % par rapport à la même période en 2019. Il y a une augmentation des exportations de fruits comme les cerises rouges du Chili vers d'autres pays comme la Chine qui offre des opportunités accrues aux fournisseurs de fret aérien pour améliorer leurs offres adaptées aux besoins de fret périssable. La Chine représentait près de 90 % des exportations de cerises chiliennes en 2019, les exportations atteignant près de 210,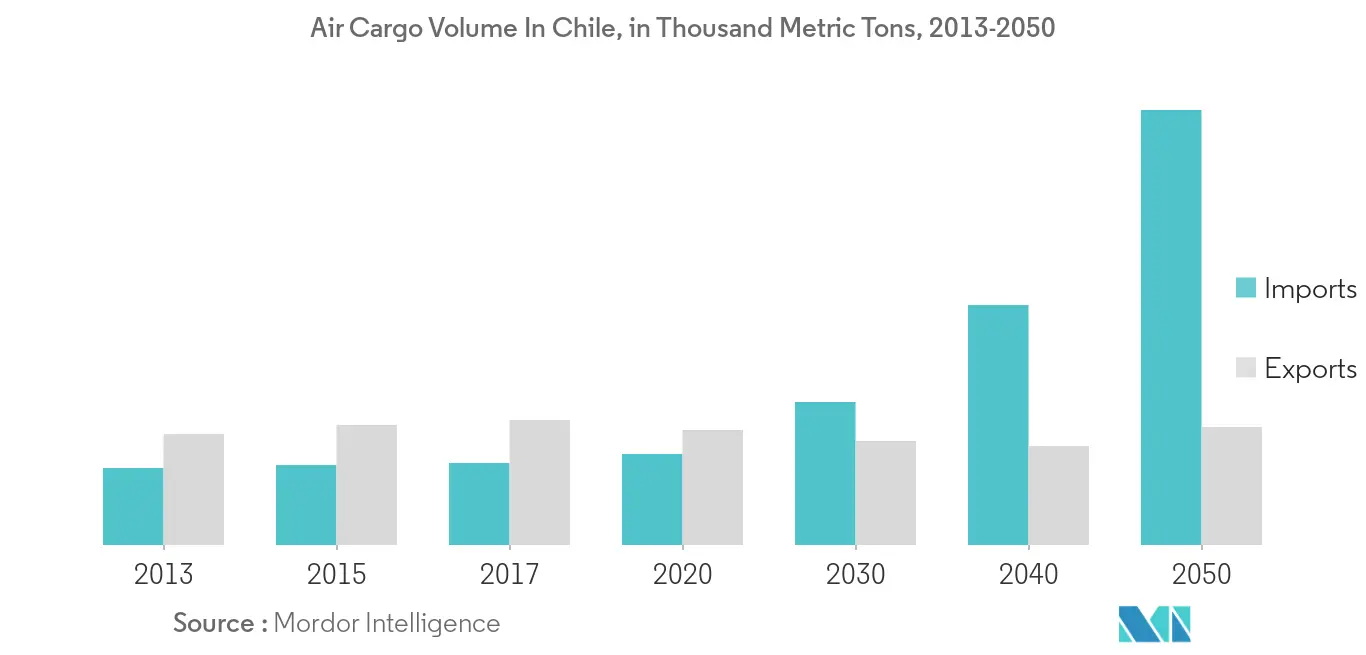 Paysage concurrentiel
Le marché chilien du fret et de la logistique est compétitif et fragmenté avec la présence de nombreux acteurs locaux et internationaux. Le pays est considéré comme ayant un grand potentiel pour les prestataires logistiques européens et espagnols et il existe de nombreux avantages pour les autres pays à développer également leurs activités commerciales au Chili.
Principaux acteurs
Bollore Logistics

DB Schenker Chile

Agility Logistics

C.H Robinson

Ceva Logistics
*Disclaimer: Major Players sorted in no particular order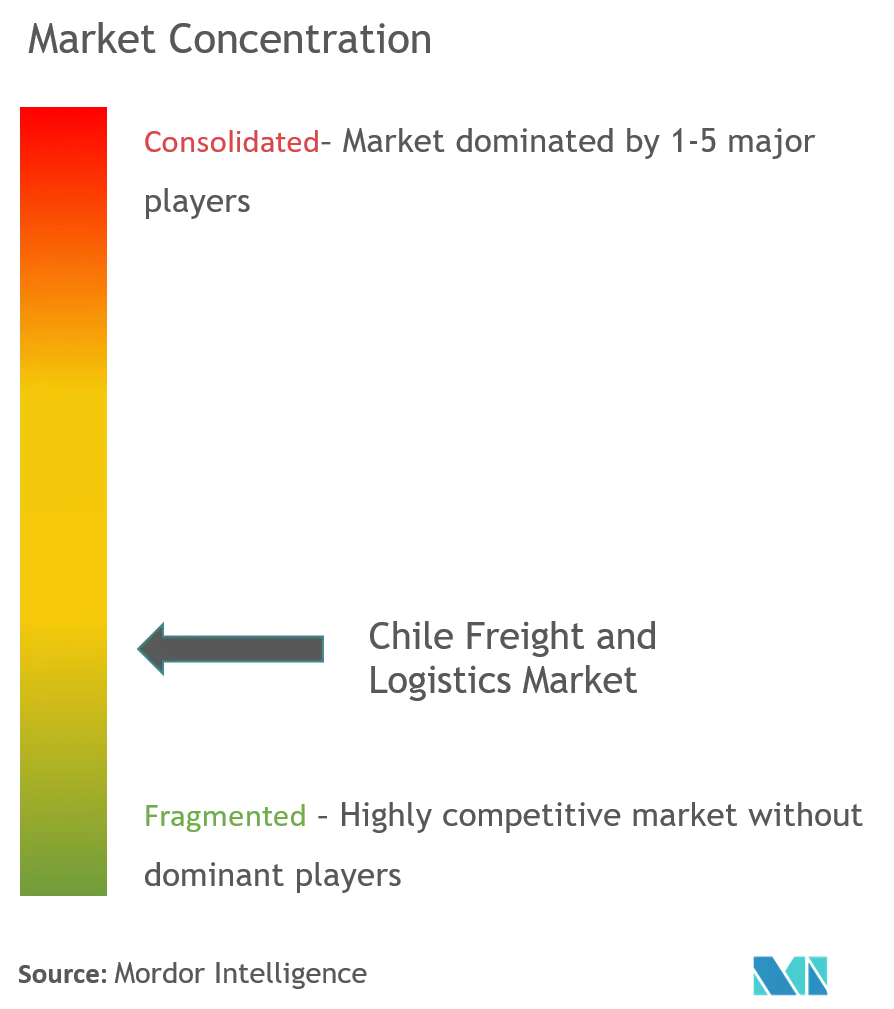 Table of Contents
1. INTRODUCTION

1.1 Study Deliverables

1.2 Study Assumptions

1.3 Scope of the Study

2. RESEARCH METHODOLOGY

3. EXECUTIVE SUMMARY

4. MARKET DYNAMICS & INSIGHTS

4.1 Market Overview

4.2 Market Drivers

4.3 Market Restraints

4.4 Opportunities

4.5 Industry Value Chain Analysis

4.6 Porters 5 Force Analysis

4.7 Insights on Technological Trends in the Market

4.8 Insights on Ecommerce Industry

4.9 Government Regulations and Initiatives

4.10 Brief on Freight Rates

4.11 Impact of COVID 19 on the market

5. MARKET SEGMENTATION

5.1 By Function

5.1.1 Freight Transport

5.1.1.1 Road

5.1.1.2 Inland Water

5.1.1.3 Air

5.1.1.4 Rail

5.1.2 Freight Forwarding

5.1.3 Warehousing

5.1.4 Value Added Services and Other Functions

5.2 By End User

5.2.1 Manufacturing and Automotive

5.2.2 Oil and Gas, Mining and Quarrying

5.2.3 Agriculture,Fishing and Forestry

5.2.4 Construction

5.2.5 Distributive Trade (Wholesale and Retail Segments- FMCG Included)

5.2.6 Healthcare and Pharmaceuticals

5.2.7 Other End Users

6. COMPETITIVE LANDSCAPE

6.1 Overview (Market Concentration, Major Players)

6.2 Company Profiles

6.2.1 DB Schenker Chile

6.2.2 Agility Logistics

6.2.3 Ceva Logistics

6.2.4 DHL

6.2.5 CH Robinson Worldwide Chile

6.2.6 Agunsa Logistics

6.2.7 Alfa Logistics

6.2.8 Bollore Logistics Chile S.A

6.2.9 Andes Logistics de Chile

6.2.10 TNT Express (Chile)

6.2.11 Coexco Chile

6.2.12 EIT Logistica S.A

6.2.13 Bertling Logistics S.A

6.2.14 DSV Air and Sea S.A

6.2.15 Vanguard Logistics Chile

6.2.16 Taylor Logistics Chile

6.2.17 EuroTrans Chile

*List Not Exhaustive

7. Market Opportunities and Future Trends

8. Appendix

8.1 GDP Distribution, by Activity

8.2 Insights on Capital Flows

8.3 Economic Statistics -Transport and Storage Sector, Contribution to Economy

8.4 External Trade Statistics - Export and Import, by Product

8.5 Insights on Key Export Destinations

8.6 Insights on Key Import Origin Countries
**Subject to Availability
Market Definition
Vehicle Types

- Passenger Vehicles, Commercial Vehicles and Motorcycles are the vehicle types considered under the automotive lubricants market.

Product Types

- For the purpose of this study, lubricant products such as engine oils, transmission oils, greases and hydraulic fluids are taken into consideration.

Service Refill

- Service refill is the primary factor considered while accounting the lubricant consumption for each of the vehicle segments, under the study.

Factory Fill

- First lubricant fill-ups for newly produced vehicles are considered.
Research Methodology
Mordor Intelligence follows a four-step methodology in all our reports.
80%

of our clients seek made-to-order reports. How do you want us to tailor yours?