Market Snapshot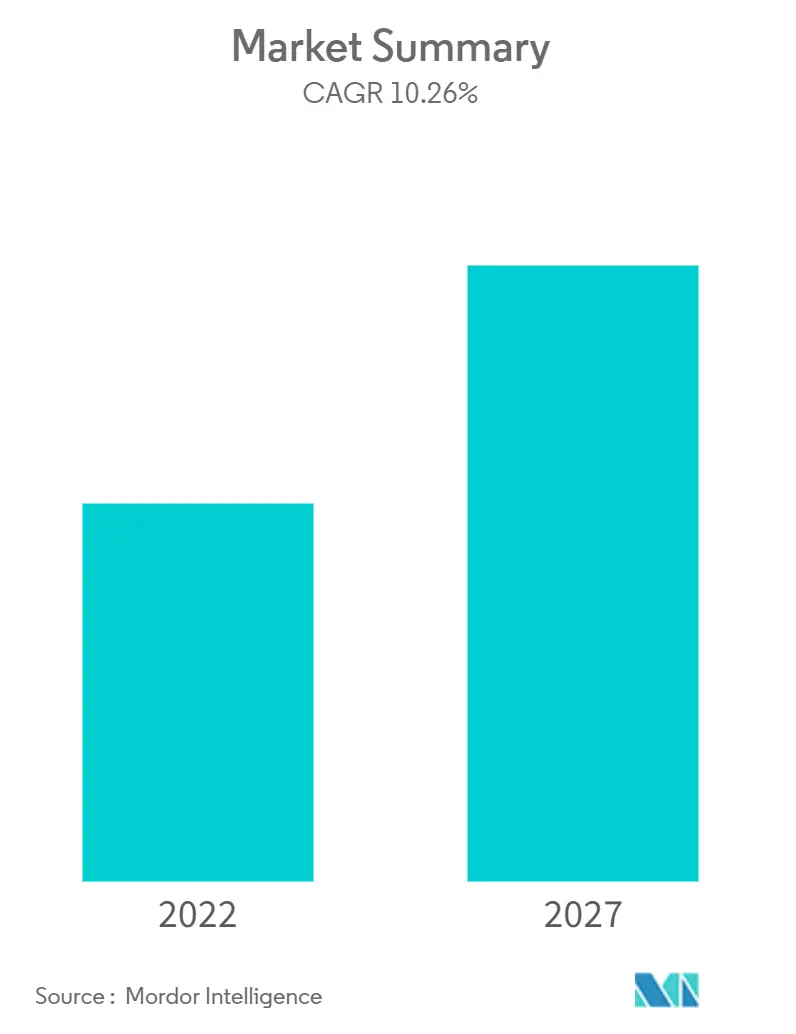 Study Period:
2020-2027
Base Year:
2021
Fastest Growing Market:
Asia-Pacific
Largest Market:
North America
CAGR:
10.26 %
Need a report that reflects how COVID-19 has impacted this market and its growth?
Market Overview
The Global Mask PROM and EPROM Market is anticipated to register a CAGR of 10.26% during the forecast period 2022-2027. The proliferation of usage of electronic devices across all the sectors is driving the growth of the mask PROM and EPROM market.
Mask PROM and EPROM are used as program storage chips in Microcontrollers in electronic devices. Masked PROMs and EPROMs are cheaper and can operate in high temperatures, which is significantly driving the growth of the studied market. The memory of the microcontroller stores the data that the processor receives and utilizes to respond to the instructions that it has been programmed to carry out. In a microcontroller, program memory is where the CPU keeps long-term information about the instructions it executes.
Mask PROM and EPROM are very difficult to reprogram, and the data in this type is stored permanently. Resultantly, it has applications in BIOS settings, Gaming Consoles, and security systems. Typically, this PROM and EPROM are hardwired or masked. The first-order boot-loader program is largely stored in the Mask PROM and EPROM. These are commonly mapped to the address where the main CPU starts collecting instructions after a reset. An I/O interface can then be used to download a second-order boot loader or the main software.
Mask PROM and EPROM contain the programming that allows a computer to start up or regenerate each time it is turned on. Mask PROM and EPROM contain software instructions for the protection of programs. This software includes instructions for the computer's boot-up procedures, such as loading the operating system (OS) into random access memory (RAM) or executing hardware diagnostics. As a result, PROM and EPROM are frequently used for firmware updates.
Silicon is the primary raw material for mask PROM and EPROM. The base material for manufacturing these products are silicon carbide, germanium, and gallium arsenide. Due to the difficulty in obtaining these resources, there is a persistent supply issue with regular variations. Resultantly, these factors are projected to slow the growth of the worldwide mask PROM and EPROM memory market in the coming years.
However, COVID-19 has had a detrimental influence on the mask PROM and EPROM business since the pandemic severely disrupted the worldwide supply chain for all semiconductors. The consumer electronics and enterprise sectors suffered significant output losses because of the global trade downturn, with the manufacturing, BFSI, and retail sectors bearing the brunt of the damage. Manufacturing industries have been hit hard by the shutdown, with nearly every plant shut down. Many vital commodity manufacturing firms are also unable to maintain operations due to a labor shortage caused by the pandemic. As a result of COVID-19, the growth of Global Mask Prom and EPROM during the pandemic has declined.
Scope of the Report
Mask PROM and EPROM Memory are manufactured with pre-loaded information. In PROM the program has been embedded in the memory by the manufacturer and it can be reprogramed only once after the initial one but in masked EPROM the program can be erased and rewritable using Ultra-Violet light. The study is segmented by Application (microcontrollers memory, BIOS setups memory, OS memory in computers, Firewall & security systems memory, and gaming consoles memory) , and Geography. The impact of COVID-19 on the market and affected segments are also covered under the scope of the study. Further, the disruption factors impacting the market's growth in the near future have been covered in the study in terms of drivers and restraints.
By Applications
Microcontrollers memory
BIOS setups memory
OS memory in computers
Gaming consoles memory
Firewall & security systems memory
By Geography
North America
Europe
Asia Pacific
Latin America
Middle East and Africa
Key Market Trends
Increasing Trend of Usage of Microcontroller in Automobiles is Expected to Drive the Market's Growth
Automotive microcontrollers are self-contained systems with their CPU, memory, and peripherals. The system makes use of an embedded chip that controls operations in autos. Microcontrollers are employed in the system since they are compact and have few components. The instructions of the microcontroller for desired functions in the automobile are saved in the Masked PROM and EPROM chip embedded in the IC of the controller. The use of various microcontrollers in-vehicle electronics, as well as other electronic control units, is expanding. AVR microcontrollers, 8051 microcontrollers, PIC microcontrollers, and other types of microcontrollers are commonly used in automobiles. These microcontrollers include an 8-bit or 16-bit microprocessor and a Mask PROM to operate.
The EPROM's functions in the automobile industry include information storage, command execution, and communication to the various car parts, including the intake manifold. According to OICA, About 9.17 million automobiles were produced by the American auto industry in 2021, an increase from 8.82 million in 2020. The figures comprise light trucks, heavy vehicles, buses, coaches, and passenger automobiles. Such a huge increase in automotive production will drive the studied market.
To meet the various demands of the customer and expand their presence in different regions, microcontroller firms are developing new products for the automotive industry. For instance, in April 2022, The E3 family of ARM-based automotive microcontrollers was released by Nanjing SemiDrive Technology Ltd. . Drive-by-wire chassis, brake control, BMS, ADAS/autonomous driving motion control, LCD instrumentation, HUD, and streaming media vision system are the targets of these. The X9 cockpit controller, the V9 ADAS and autonomous driving processor, and the G9 multi-domain networked vehicle gateway and security chip are already popular SemiDrive chips. The E3 series is a complement to these chips.
With a growth in advanced driving assistance system (ADAS) technology, such as lane departure warning, automated emergency braking, adaptive cruise control, and blind spot detection systems, firms are developing the latest power memory products. For instance, in February 2021, Micron Technology, Inc. reported that it has begun sampling the industry's first automotive low-power DDR5 DRAM (LPDDR5) memory that is hardware-evaluated to meet the most stringent Automotive Safety Integrity Level (ASIL), ASIL D. The solution is based on the International Organization for Standardization (ISO) 26262 standard and is a component of Micron's new line of memory and storage devices aimed at the automotive functional safety market.
In November 2021, FORESEE provided Automotive Memory Chips to Advance Automotive Intelligence R&D. Longsys has been rapidly growing its business in the market for vehicle storage. Its in-vehicle storage solutions can be used in various situations, including high-speed rail systems, public transit, and factory- and aftermarket-installed autos. AEC-Q100 certification has been gained by Automotive eMMC, a product created by FORESEE, a technological storage brand of Longsys. AEC-Q100 is a verification standard established by the American Automotive Electronics Council (AEC) in 2020. This standard guarantees higher-quality electronic components and the packaged ICs in the standard series have undergone this verification.
Automotive microcontrollers increasingly use high-performance RISC CPUs rather than older CISC chips. The ability to execute an instruction in a single clock cycle and the fact that RISC processors do not employ microcode to decode instructions but are hardwired using Mask PROM and EPROM. Mask PROM and EPROM for program storage are the common microcontroller memory types established in automotive systems. But the current trend of Flash EEPROM is gradually becoming more affordable, it will eventually replace the Mask PROM and PROM and become the preferred memory solution.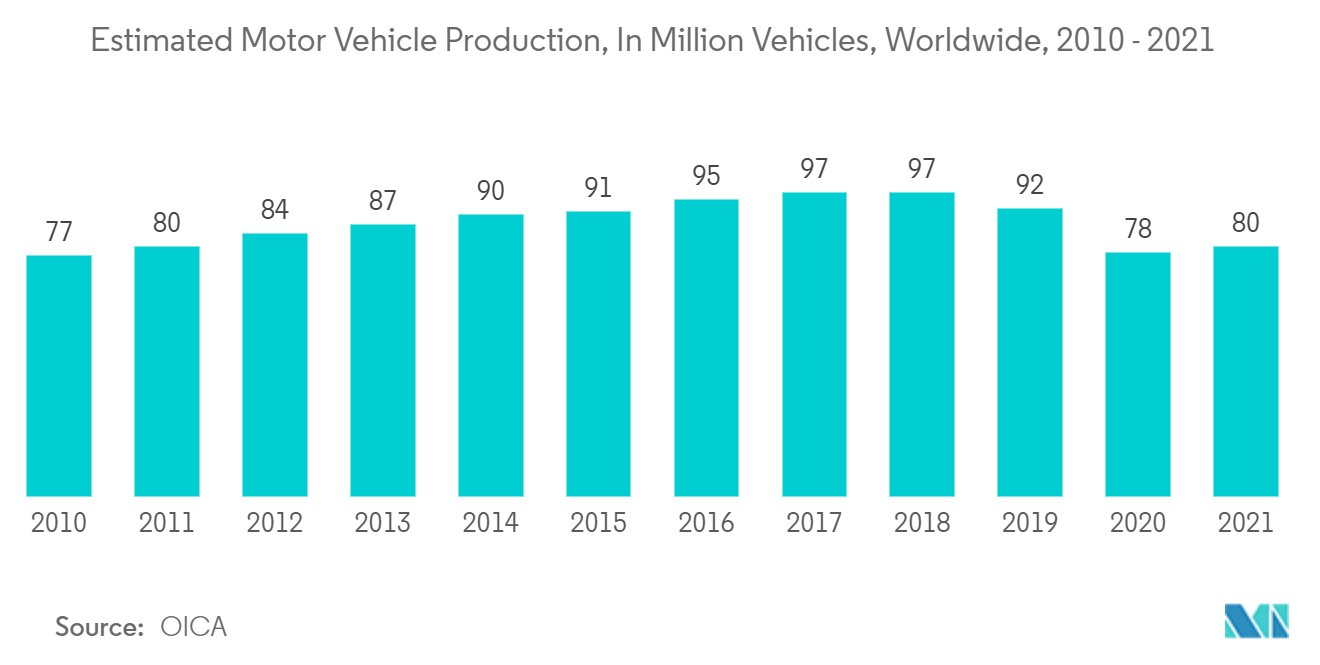 To understand key trends, Download Sample Report
Asia-Pacific is Expected to Witness a Significant Market Growth
The rising need for advanced features, increasing penetration of IoT technology, and the emergence of data-centric applications in numerous industry verticals in the APAC region are the major factors propelling the Mask PROM and EPROM market growth in the region. Moreover, government organizations are collaborating with Enterprises and SMBs to establish an IoT-enabled ecosystem in India. According to the ASSOCHAM, in a hyper-connected India, IoT has the potential to reach an estimated 2 billion connections, unlocking revenues of USD 11.1 billion by 2022. This is indirectly creating a growth opportunity for Mask PROM and EPROM market in the region because these types of memories are used in the microcontrollers in IoT Devices.
Highly autonomous vehicles (AVs) are becoming more common on our roadways. Trials around the Asia Pacific have shown promise, with some countries being more prepared for AV adoption than others. For instance, According to Huawei, by 2030, autonomous vehicles will account for 20% of new vehicle sales in China and 10% globally., and China's EV penetration is expected to increase by 25% by 2025. High functional microcontrollers are used in these advanced driver-assistance systems (ADAS) with software commands for which the demand for Mask PROM and EPROM in this region will increase.
With the presence of emerging economies like India and China, the APAC region contributes to having the highest market share in consumer electronics. Smartphones, laptops, tablets, and smartwatches. Emerging nations, such as India, have been witnessing a decline in data costs since 2013. This has resulted in an increase in the number of smartphone users. According to ASSOCHAM, the number of smartphone users in India is anticipated to double from around 468 million users in 2017 to 859 million by 2022.The market for Mask PROM and EPROM is predicted to expand rapidly in the future as the region's population demands more wireless and advanced consumer gadgets. The presence of a significant number of Chinese semiconductor makers is largely responsible for the region's dominance.
The Government of India is concentrating on its crucial goal of creating the overall semiconductor ecosystem and making sure that it will catalyze India's fast-increasing electronics manufacturing and innovation ecosystem, according to the Ministry of Electronics and IT. The Union Cabinet presided over by the Hon'ble Prime Minister approved the Semiconductor India program (SIP) in December 2021, providing a total outlay of INR 76,000 crore for the growth of the semiconductor and display manufacturing ecosystem in our nation. This gave the vision of Atma Nirbhar Bharat in electronics and semiconductors additional momentum.
Further, all the big Mask PROM and EPROM manufacturers are increasing their presence in the APAC region to increase their market shares, predicting the region's growth. For example, NXP Semiconductors NV, a global player in Mask memory, has strengthened its presence in Asia by establishing Singapore as its global headquarters for standard products and operations.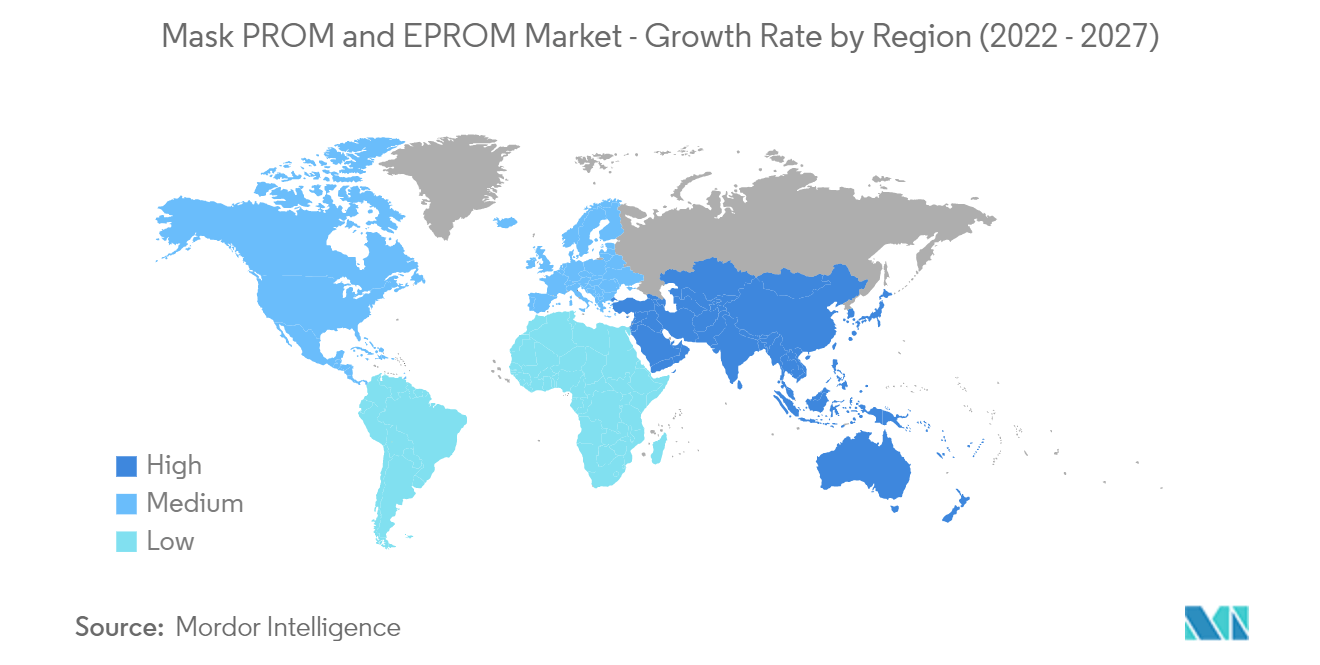 To understand geography trends, Download Sample Report
Competitive Landscape
The PROM and EPROM market is highly fragmented, as the market is highly competitive and consists of several major players. The competitive rivalry in the market depends on the competitive advantages of various companies through product innovations, larger read and write endurance in similar price ranges and partnerships with OEMs.
November 2021 - Infineon launched high precision coreless current sensor for XEV applications. The integrated EPROM of Infineon's XENSIV TLE 4972 current sensor allows customization for different applications and supports measurement ranges up to 2 kA.
November 2021 - General Motors announced that it is working on new microcontrollers to curb chip shortage. GM is working with seven prominent microchip suppliers to develop three new microcontroller families to lower the cost and complexity involved in implementing automobile features and create a more stable source of these vital components. Qualcomm, STM, TSMC, Renesas, ON Semi, NXP, and Infineon are supplier partners. Both microcontrollers and microprocessors can be called microchips, but microprocessors are CPUs (Central Processing Units), they can process data, and microcontrollers are a combination of a CPU with memory (Mask PROM and EPROM) and are programmable input/output peripherals in one single package, basically an entire computer on a chip.
Recent Development
March 2022 - Microchip Technology launched the MCP39F511 a highly integrated, complete single-phase power-monitoring IC designed or several applications from home automation to industrial lighting. The MCP39F511 includes dual-channel Delta-Sigma ADCs, a 16-bit calculation engine, advanced EPROM, and a flexible 2-wire interface.
March 2021 - BPM announced the launch of the 9th Generation support for ROHM electronics BR24L04F-WE2. It is intended for maximum data retention. Additionally, ROHM EPROM uses BPM's universal socket FVE4ASMR08SOPA and is fully compatible with BPM's 9th Gen manual programmers and automated programming systems.
Table of Contents
1. INTRODUCTION

1.1 Study Assumptions and Market Definition

1.2 Scope of the Study

2. RESEARCH METHODOLOGY

3. EXECUTIVE SUMMARY

4. MARKET INSIGHTS

4.1 Market Overview

4.2 Industry Attractiveness - Porter's Five Forces Analysis

4.2.1 Bargaining Power of Suppliers

4.2.2 Bargaining Power of Consumers

4.2.3 Threat of New Entrants

4.2.4 Threat of Substitutes

4.2.5 Intensity of Competitive Rivalry

4.3 Technology Snapshot

4.4 Industry Value Chain Analysis

4.5 Assessment of COVID-19 impact on the industry

5. MARKET DYNAMICS

5.1 Market Drivers

5.1.1 Increasing Trend in Usage of Computers

5.1.2 Rapid Development of Power Memory Solutions and Usage of Microcontroller in Automotive Technologies

5.2 Market Restraints

5.2.1 Constant Fluctuations in Raw Material Supply

6. MARKET SEGMENTATION

6.1 By Applications

6.1.1 Microcontrollers memory

6.1.2 BIOS setups memory

6.1.3 OS memory in computers

6.1.4 Gaming consoles memory

6.1.5 Firewall & security systems memory

6.2 By Geography

6.2.1 North America

6.2.2 Europe

6.2.3 Asia Pacific

6.2.4 Latin America

6.2.5 Middle East and Africa

7. COMPETITIVE LANDSCAPE

7.1 Company Profiles

7.1.1 Samsung Electronics Co., Ltd.

7.1.2 Infineon Technologies AG

7.1.3 Intel Corporation

7.1.4 NXP Semiconductors NV

7.1.5 Renesas Electronics Corporation

7.1.6 Semiconductor Manufacturing International Corporation (SMIC)

7.1.7 Texas Instruments Incorporated

7.1.8 Taiwan Semiconductor Manufacturing Company Limited (TSMC)

7.1.9 Toshiba Corporation

*List Not Exhaustive

8. INVESTMENT ANALYSIS

9. FUTURE OF THE MARKET
You can also purchase parts of this report. Do you want to check out a section wise price list?
Frequently Asked Questions
What is the study period of this market?
The Mask PROM and EPROM Market market is studied from 2020 - 2027.
What is the growth rate of Mask PROM and EPROM Market?
The Mask PROM and EPROM Market is growing at a CAGR of 10.26% over the next 5 years.
Which region has highest growth rate in Mask PROM and EPROM Market?
Asia-Pacific is growing at the highest CAGR over 2021- 2026.
Which region has largest share in Mask PROM and EPROM Market?
North America holds highest share in 2021.
Who are the key players in Mask PROM and EPROM Market?
Samsung Electronics Co., Ltd, Infineon Technologies AG, NXP Semiconductors NV, Renesas Electronics Corporation, Intel Corporation are the major companies operating in Mask PROM and EPROM Market.
80%

of our clients seek made-to-order reports. How do you want us to tailor yours?