Market Snapshot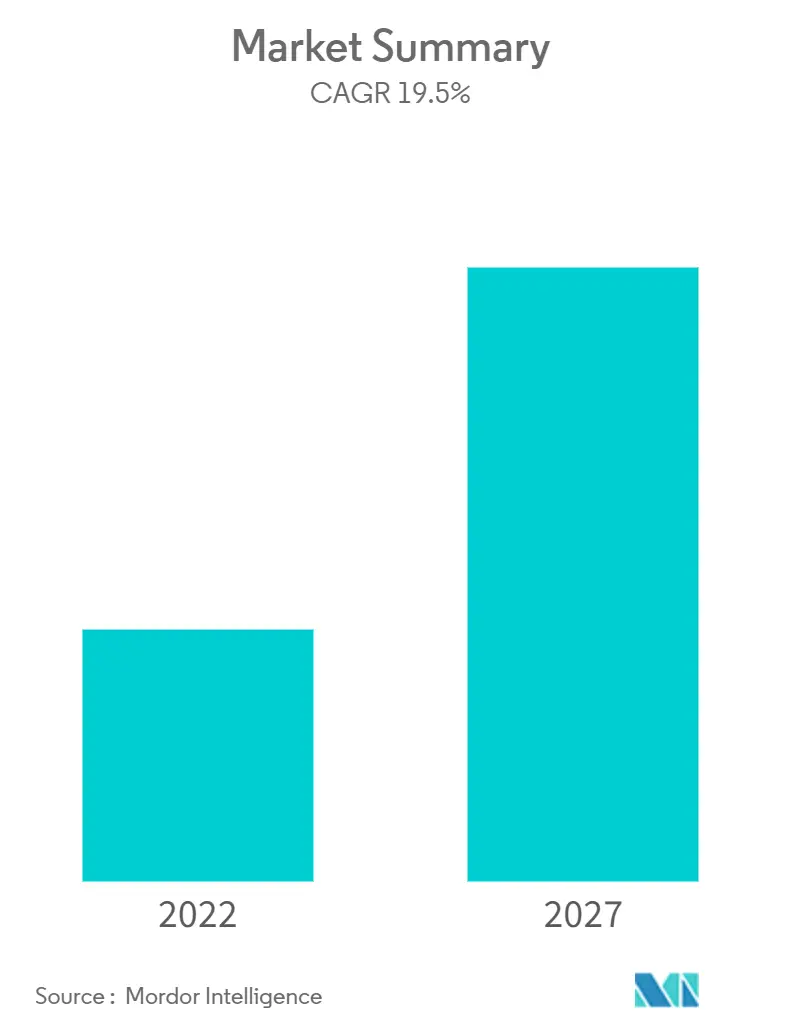 Study Period:
2019-2027
Base Year:
2021
Fastest Growing Market:
Asia-Pacific
Largest Market:
North America
CAGR:
19.5 %
Need a report that reflects how COVID-19 has impacted this market and its growth?
Market Overview
The dental 3D printing market is projected to register a CAGR of 19.5% during the forecast period (2022-2027).
The COVID-19 epidemic has wreaked havoc on a variety of industries, with dentistry being one of the hardest hit. The epidemic of coronavirus disease 2019 (COVID-19) essentially shut down around 198,000 active dentists and dental specialists in the United States, according to an essay published in August 2020 titled "COVID-19 and Dentistry: Challenges and Opportunities for Providing Safe Care." Moreover, the demand and sale of dental equipment and procedures were negatively impacted due to the global restrictions and lockdown in most countries. Furthermore, many device manufacturers shifted their focus to fight against coronavirus. For instance, in March 2020, 3D printer company Formlabs reported that it was using its more than 250 in-house 3D printers at its printing facility in Ohio to produce up to 150,000 COVID-19 test swabs per day. However, the medical device industry is trying to recover from the COVID-19 outbreak.
While the impact of COVID-19 continues to disrupt many sectors, the 3D-printing industry appears to have regained strength and is moving on a steady upward trajectory, according to a news article published in December 2021. Many factors in the dental industry have fueled this growth, including the need to streamline chairside appointments and improve safety for both dentists and patients. In the third quarter, 3D Systems, a leader in the dental industry for more than 30 years, saw double-digit growth compared to 2020 results. Healthcare revenue increased by 28.3% to USD 76.4 million, compared to the same period last year. When divestitures were taken into account, 3D Systems reported that high demand for dental applications, both printers, and materials, resulted in overall healthcare revenue increasing by 44.5% year over year.
Materialize is another company that is expanding. The Belgium-based company reported a 28.0% revenue increase in 2021 compared to 2020, with revenue for its medical segment up 10.2% and manufacturing up 62.0%, among several key areas of focus. Furthermore, Stratasys, a leading 3D-printing company for industries such as healthcare, consumer goods, and more, reported revenue growth of 24.3% and systems sales growth of 34.7% year over year. Revenue increased from USD 127.9 million in 2020 to USD 159.0 million in 2021, according to the company's third-quarter report. This was owing to contributions across all regions and all business lines.
In dentistry, technological advancements act as a catalyst for innovation and growth. This is especially true in digital dentistry. Although not everyone has embraced this technological evolution, most dental professionals would agree that going digital is the way to go. For starters, the advantages of 3D printing in dentistry are numerous. It allows dental professionals to stay current while also being more cost-effective than analog methods. There are frequent software updates, new dental materials launches, and rapidly evolving dental applications. For instance, in February 2022, Nobio announced the official launch of infinix, a new line of advanced antimicrobial restorative materials designed to fight recurrent decay. Also, in November 2019, Apex Dental Materials introduced RE-GEN, a suite of bioactive materials comprised of a Flowable Composite, Bulk Fill & Resin Cement, Pit & Fissure Sealant, and the world's first-ever Bioactive Universal and Self-Etch Adhesives.
Besides, 3D printing can significantly improve the workflow in any dental practice or laboratory and can drastically reduce patient chair time. It provides product customization flexibility as well as superior quality and accuracy in 3D-printed dental models. Dental professionals can now print occlusal splints and other dental models in-house in just one day, which was once unthinkable. This not only helps to generate revenue but also makes dental treatment easier. 3D printing materials are constantly evolving to provide users with a growing list of indications, and 3D printing can be easily integrated into any dental practice or laboratory's workflow.
The market is also driven by an increase in the number of dental caries and the need to treat them around the world. According to an article published in July 2019 titled "Oral Illnesses: A Global Public Health Concern," oral diseases are among the most common diseases worldwide, posing substantial health and economic burdens, and significantly lowering people's quality of life. Dental caries (tooth decay), periodontal disease, tooth loss, and malignancies of the lips and oral cavity are the most common and serious oral disorders worldwide. In addition, as per the World Health Organization (WHO), data updated in March 2020, estimates that oral disorders impact approximately 3.5 billion people globally, and severe periodontal (gum) disease, which can lead to tooth loss, is also highly common.
Hence, increasing dental caries, technological advancements, the launch of new products, and the benefits associated with the 3D printing technology are all factors that are projected to boost the market growth over the forecast period.
Scope of the Report
As per the scope of this report, three-dimensional (3D) printing technologies are advanced manufacturing technologies based on computer-aided design digital models to create personalized 3D objects automatically. Three-dimensional printing has a wide range of applications in dentistry, including prosthodontics, oral and maxillofacial surgery, and oral implantology, as well as orthodontics, endodontics, and periodontology. The report covers all aspects of 3D printing, from the materials used to the printers and scanners to create the final product. Furthermore, the scope includes services provided by market players to create customized products based on needs. The Dental 3D Printing Market is Segmented by Technology (Vat Photopolymerization, Polyjet Technology, Fused Deposition Modelling, Selective Laser Sintering, and Other Technologies), Product & Service (Materials (Plastic, Metal, Others), Equipment (Dental 3D Scanners, Dental 3D Printers), and Service), Application (Prosthodontics, Orthodontics, Implantology), End User (Dental Laboratories, Hospitals & Clinics, Others), and Geography (North America, Europe, Asia-Pacific, Middle-East and Africa, and South America). The market report also covers the estimated market sizes and trends for 17 different countries across major regions, globally. The report offers the value (in USD million) for the above segments.
By Technology
Vat Photopolymerization
Polyjet Technology
Fused Deposition Modelling
Selective Laser Sintering
Other Technologies
By Product & Service

Materials
Plastic
Metal
Others

Equipment
Dental 3D Scanners
Dental 3D Printers

Services
By Application
Prosthodontics
Orthodontics
Impantalogy
By End User
Dental Laboratories
Hospitals & Clinics
Others
Geography

North America
United States
Canada
Mexico

Europe
Germany
United Kingdom
France
Italy
Spain
Rest of Europe

Asia-Pacific
China
Japan
India
Australia
South Korea
Rest of Asia-Pacific

Middle-East and Africa
GCC
South Africa
Rest of Middle-East and Africa

South America
Brazil
Argentina
Rest of South America
Key Market Trends
The Orthodontics Segment is Expected to Hold a Major Market Share in the Dental 3D Printing Market
The segment is majorly driven by the rising number of misalignment (Malocclusion) and gaps in the teeth, as well as rising demand for cosmetic dentistry. As per the article published in January 2020 on "Prevalence Of Developmental Maxillary Midline Diastema In Children- A Retrospective Study," Children of age 6-8 years showed the maximum prevalence of presence of midline diastema at 57.1%, followed by the age group 8-10 years 36.7%, the least number of maxillary midline diastema was seen in the age group 10-12 years 6%.
As per the World Health Organization (WHO) Statistics of 2021, malocclusion is one of the most important oral health problems after caries and periodontal disease. Its prevalence is highly variable and is estimated to be between 39% and 93% in children and adolescents. Considering the other anomalies, crowding was one of the most frequent, with a prevalence of up to 84%, followed by spacing, which reached a frequency of 60%. Also, as per the article published in June 2021 by Maxillo-Faciale Clinique MFML, Class 1 dental malocclusion is the most common type of malocclusion. Approximately 50% to 55% of children between the ages of 6 and 17 have some form of Class 1 malocclusion.
As technology continues to advance and as orthodontic treatment becomes more affordable, an increasing number of adults are choosing to invest in orthodontics. The American Association of Orthodontists (AAO) recommends that children should be seen for their first orthodontic constellation before the age of 8. The rising demand and need for orthodontics treatment are driving the overall growth of the dental 3D printing market.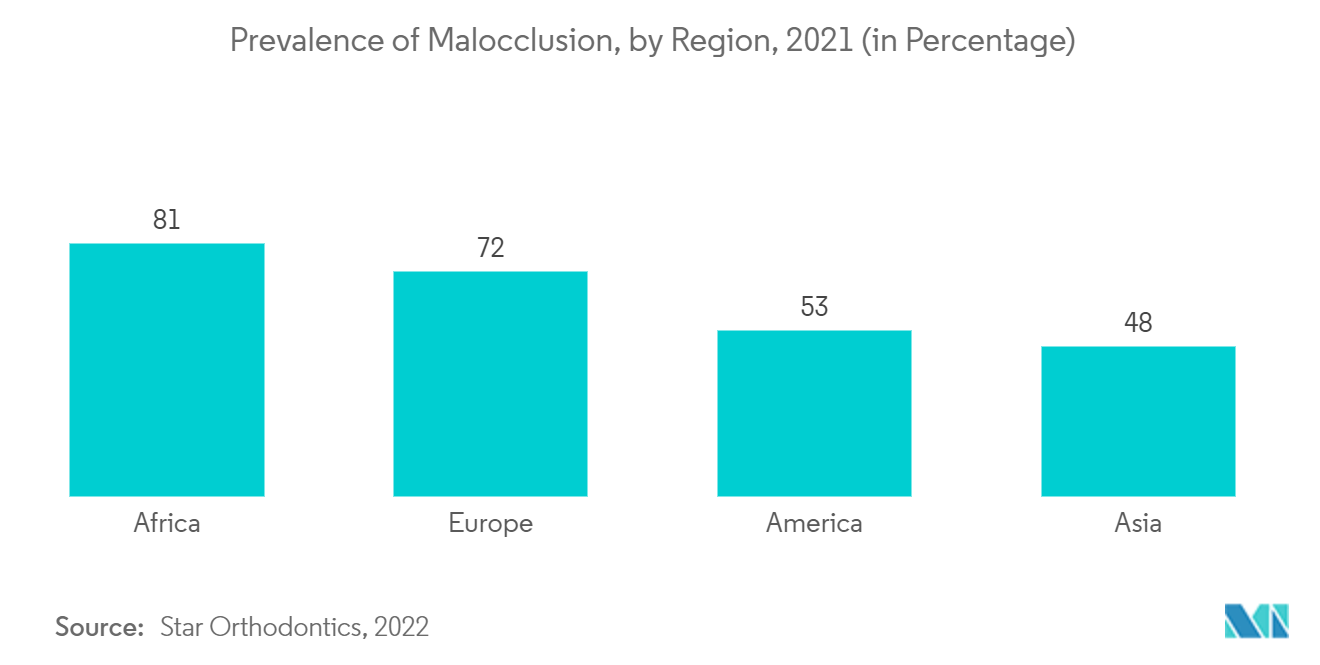 To understand key trends, Download Sample Report
North America is Expected to Hold a significant share in the market and is expected to do the Same in the Forecast Period.
From the initial shutdown in March 2020 to the current day, the COVID-19 pandemic has had a significant influence on the dentistry profession. The main consequence of the pandemic on dental practices in Canada, according to an article published in February 2021 titled "The Biggest Impact of COVID-19 on Dentistry," has been a decline in revenue. As dentists were unable to practice during the initial lockdown, revenue suffered the most. However, as the country approaches a year of living with the pandemic, it has been demonstrated that dentistry is a critical service, and practices have been able to stay open despite new lockdowns around the country."
Also, as per another article published in September 2020, "A New Study Explores COVID-19's Significant Impact on the Dental Industry, the COVID-19 pandemic has had a profound impact on the health care system, including the dental industry. In March and April, when the pandemic first became rampant in the United States, many dental practices closed except for emergencies. Even after they reopened, changes were noticeable. According to an American Dental Association poll of dentists taken the week of August, 98.9% of respondents were open, but only 47.6% reported "business as usual"; 51.3% were open but had "lower patient volume than usual."
The expanding elderly population, robust medical infrastructure, the presence of important market competitors, and improvements in preventative and restorative dental treatments are all driving factors in the North American market. Furthermore, the Centers for Disease Control and Prevention (CDC) strives to eliminate inequities in cavity rates and to incorporate oral health programs into chronic disease prevention and medical care. North America will emerge as the most potential, high-growth market in the projection term as a result of the confluence of all of these variables.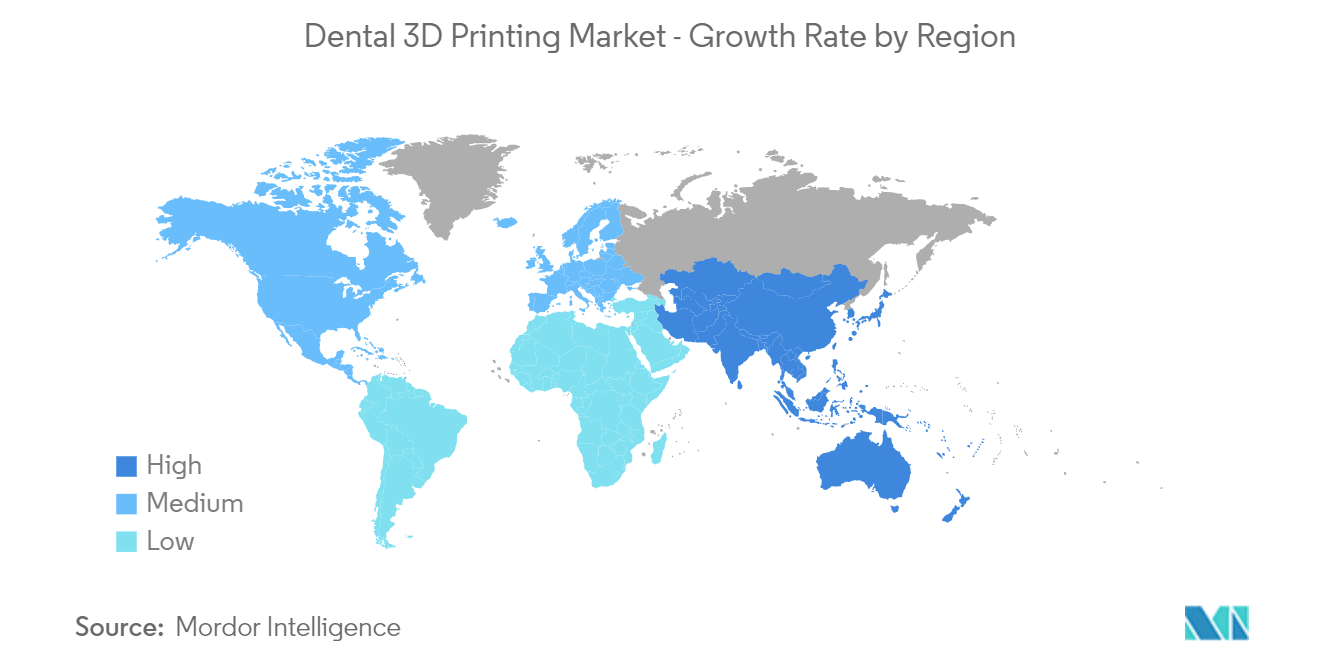 To understand geography trends, Download Sample Report
Competitive Landscape
The dental 3D printing market is fragmented and competitive and consists of several major players. Some of the players operating in the market are 3D Systems, Inc., Formlabs, Nexa3D, Zortrax, Quoris3D, Stratasys, NextDent B.V., Renishaw plc., Desktop Metal, Inc. (EnvisionTEC), Institut Straumann AG, GENERAL ELECTRIC, SprintRay Inc., Rapid Shape GmbH, Ackuretta, and Asiga. Market players are launching various products in the market to remain competitive.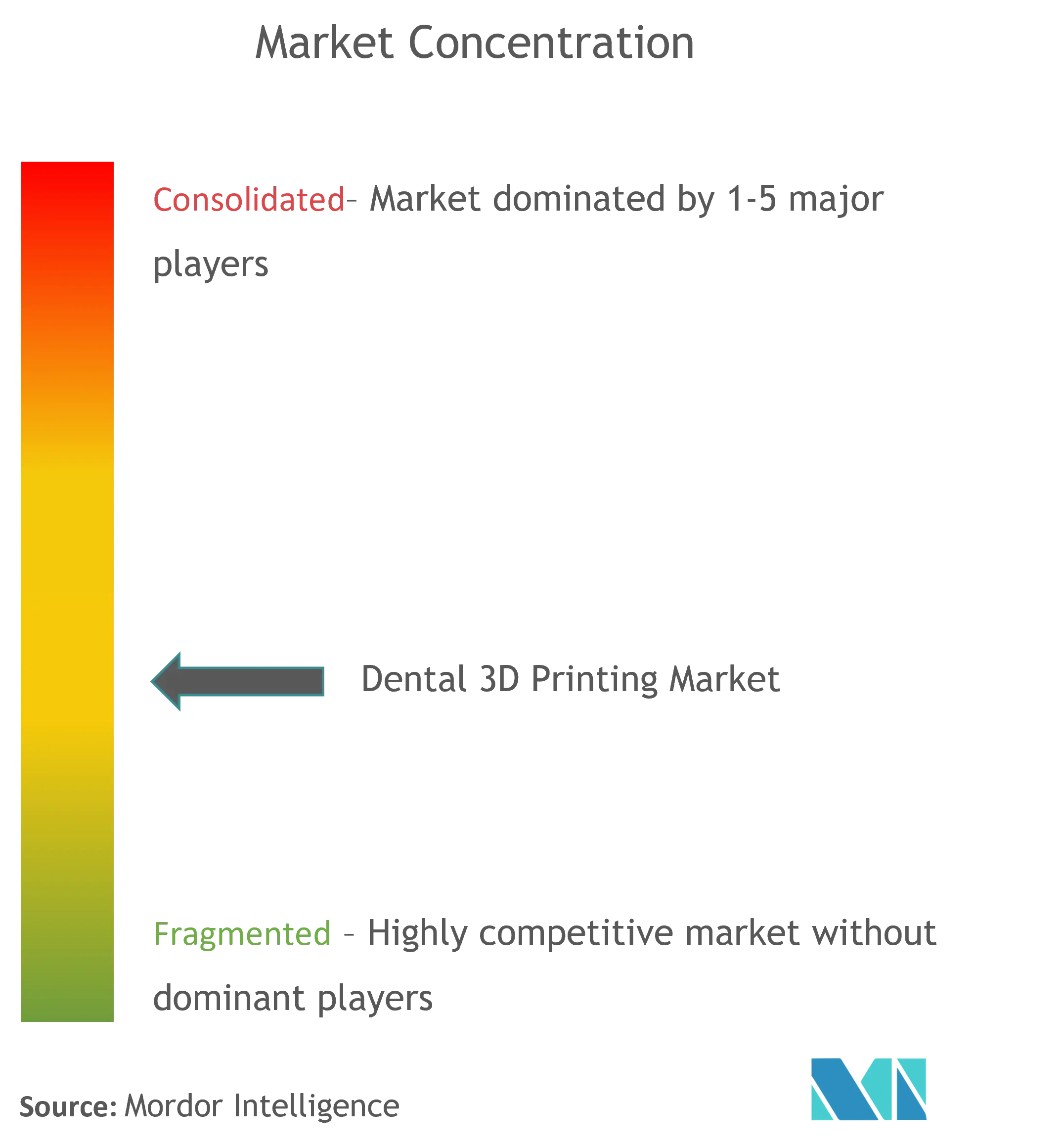 Recent Development
In March 2022, Dentsply Sirona, a multinational dental product manufacturer, introduced a new Primeprint 3D printer and post-processing unit. Powered by a 385nm light engine, the newly-unveiled printer is designed to enable dentists to produce accurate models, guides, provisionals, or splints as simply as possible.
In February 2022, Desktop Health announced the launch of its 'Einstein' series of dental 3D printing systems based on the digital light processing technology (DLP) Desktop Metal acquired through its takeover of EnvisionTEC.
Table of Contents
1. INTRODUCTION

1.1 Study Assumptions and Market Definition

1.2 Scope of the Study

2. RESEARCH METHODOLOGY

3. EXECUTIVE SUMMARY

4. MARKET DYNAMICS

4.1 Market Overview

4.2 Market Drivers

4.2.1 Increasing Incidence of Dental Caries and Other Dental Diseases

4.2.2 Rising Demand for Cosmetic Dentistry

4.2.3 Growing Adoption of Dental 3D Printers due to the Advantages it Offers

4.3 Market Restraints

4.3.1 High Cost of Electroceutical Devices

4.4 Porter's Five Forces Analysis

4.4.1 Threat of New Entrants

4.4.2 Bargaining Power of Buyers/Consumers

4.4.3 Bargaining Power of Suppliers

4.4.4 Threat of Substitute Products

4.4.5 Intensity of Competitive Rivalry

5. MARKET SEGMENTATION (Market Size by Value – USD million)

5.1 By Technology

5.1.1 Vat Photopolymerization

5.1.2 Polyjet Technology

5.1.3 Fused Deposition Modelling

5.1.4 Selective Laser Sintering

5.1.5 Other Technologies

5.2 By Product & Service

5.2.1 Materials

5.2.1.1 Plastic

5.2.1.2 Metal

5.2.1.3 Others

5.2.2 Equipment

5.2.2.1 Dental 3D Scanners

5.2.2.2 Dental 3D Printers

5.2.3 Services

5.3 By Application

5.3.1 Prosthodontics

5.3.2 Orthodontics

5.3.3 Impantalogy

5.4 By End User

5.4.1 Dental Laboratories

5.4.2 Hospitals & Clinics

5.4.3 Others

5.5 Geography

5.5.1 North America

5.5.1.1 United States

5.5.1.2 Canada

5.5.1.3 Mexico

5.5.2 Europe

5.5.2.1 Germany

5.5.2.2 United Kingdom

5.5.2.3 France

5.5.2.4 Italy

5.5.2.5 Spain

5.5.2.6 Rest of Europe

5.5.3 Asia-Pacific

5.5.3.1 China

5.5.3.2 Japan

5.5.3.3 India

5.5.3.4 Australia

5.5.3.5 South Korea

5.5.3.6 Rest of Asia-Pacific

5.5.4 Middle-East and Africa

5.5.4.1 GCC

5.5.4.2 South Africa

5.5.4.3 Rest of Middle-East and Africa

5.5.5 South America

5.5.5.1 Brazil

5.5.5.2 Argentina

5.5.5.3 Rest of South America

6. COMPETITIVE LANDSCAPE

6.1 Company Profiles

6.1.1 3D Systems, Inc.

6.1.2 Formlabs

6.1.3 Nexa3D

6.1.4 Zortrax

6.1.5 Quoris3D

6.1.6 Stratasys

6.1.7 NextDent B.V.

6.1.8 Renishaw plc.

6.1.9 Desktop Metal, Inc. (EnvisionTEC)

6.1.10 Institut Straumann AG

6.1.11 GENERAL ELECTRIC

6.1.12 SprintRay Inc.

6.1.13 Rapid Shape GmbH

6.1.14 Ackuretta

6.1.15 Asiga

*List Not Exhaustive

7. MARKET OPPORTUNITIES AND FUTURE TRENDS
**Subject to Availability
**Competitive Landscape covers- Business Overview, Financials, Products and Strategies and Recent Developments
You can also purchase parts of this report. Do you want to check out a section wise price list?
Frequently Asked Questions
What is the study period of this market?
The Global Dental 3D Printing market is studied from 2019 - 2027.
What is the growth rate of Global Dental 3D Printing?
The Global Dental 3D Printing is growing at a CAGR of 19.5% over the next 5 years.
Which region has highest growth rate in Global Dental 3D Printing?
Asia-Pacific is growing at the highest CAGR over 2021- 2026.
Which region has largest share in Global Dental 3D Printing?
North America holds highest share in 2021.
Who are the key players in Global Dental 3D Printing?
3D Systems, Inc., Stratasys, Nexa3D, Desktop Metal, Inc., Renishaw plc. are the major companies operating in Global Dental 3D Printing.
80%

of our clients seek made-to-order reports. How do you want us to tailor yours?