The global Dental Equipment market is expected to register a CAGR of 6.5% during the forecast period, 2018 to 2023. Dental instruments are tools that dental professionals use to provide dental treatment. They include tools to examine, manipulate, treat, restore, and remove teeth and surrounding oral structures. Standard instruments are the instruments used to examine, restore, and extract teeth and manipulate tissues. The growth in this market is attributed primarily to the factors such as the rapid growth in aging population, increasing demand for cosmetic dentistry, and growing incidence of dental caries and other periodontal diseases.
Growing Ageing Population
Due to the increasing aging population, there has been an increase in the number of dental implants and oral surgeries being performed. In addition, there is a decrease in manual dexterity and an increase in co‐morbidity and medications affecting the oral cavity. Hence, the dental care in aged care facilities is found to be poor and access to dental professionals is difficult. There are several other risk factors, such as smoking, poor oral hygiene, diabetes, medication, and hereditary conditions, which are also connected to the increase in dental diseases. There are many population-based surveys in the United States and Germany that demonstrate a high dental caries experience among elderly population. Thus, it is being found that the number of elder people is growing fast in all industrialized countries, and thus, contributing to the increase in dental equipment market.
The other factors, such as increasing demand for cosmetic dentistry, increasing incidence of dental diseases and innovation in dental products are also driving the dental equipment market.
Lack of Proper Reimbursement of Dental Care
The poor access to dental care is becoming a national problem. There are around 85 million Americans who lack the dental and oral coverage. Rural areas are facing financial burdens, due to a lack of insurance reimbursement and underutilization of dental care. According to Rural America's Oral Health Care Needs, only 41.5% of the population living in rural areas has seen a dentist in 2012, of which nearly 70.5% were found to be delayed in obtaining proper dental care, whereas about 45.3% were reported to have dental insurance coverage. Moreover, over 23.4% of rural children received no dental care in 2012. There are many insurance companies, which do not reimburse dentistry procedures; moreover, some procedures require expensive dental imaging, which is also not covered by insurance plans. Hence, it is restraining the market.
Increasing cost of surgeries and lack of awareness are other factors restraining the market growth.
North America is leading the global dental equipment market
North America accounted for the largest share of the market due to government support in terms of formation of legislation, grants and funding, and the rising awareness of dental equipment. Europe closely follows North America. Asian countries, such as India, China, South Korea, Malaysia, Thailand, and Singapore are likely to provide a growing market due to their increasing per capita income and emerging economy.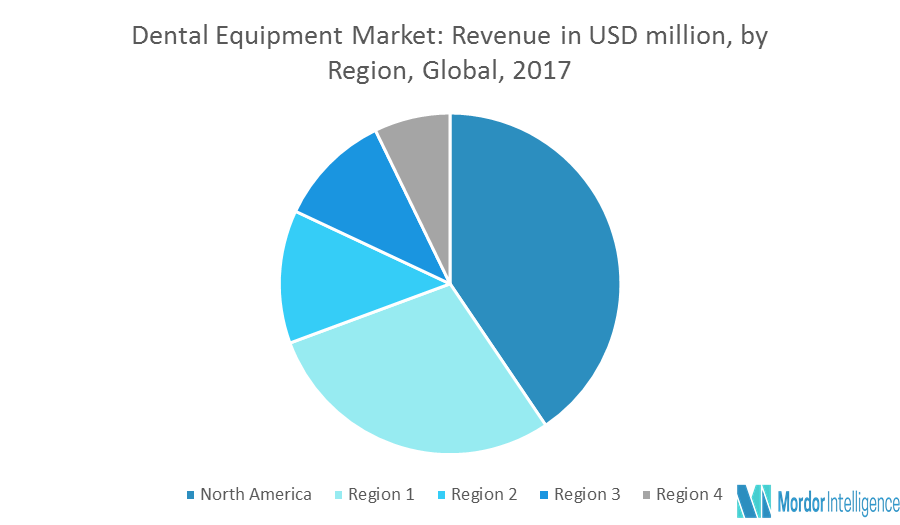 Key Developments in the Market:
May 2018 - Datum Dental, Ltd. and Dentsply Sirona Implants entered distribution agreement in the United States
Major Players: 3M ESPE, A-Dec Inc., Biolase Inc., Carestream Health Inc., Danaher Corporation, Dentsply International Inc., GC Corporation, Patterson Companies Inc., Planmeca Oy, Sirona Dental Systems Inc., amongst others.
Reasons to Purchase this Report
Current and future Dental Equipment market outlook in the developed and emerging markets.
Analyzing various perspectives of the market with the help of Porter's five forces analysis.
The segment that is expected to dominate the market.
Regions that are expected to witness fastest growth during the forecast period.
Identify the latest developments, market shares and strategies employed by the major market players.
3-month analyst support, along with the market estimate sheet in excel
Customization of the Report
This report can be customized to meet your requirements. Please connect with our representative, who will ensure you to get a report that suits your needs