Instantánea del mercado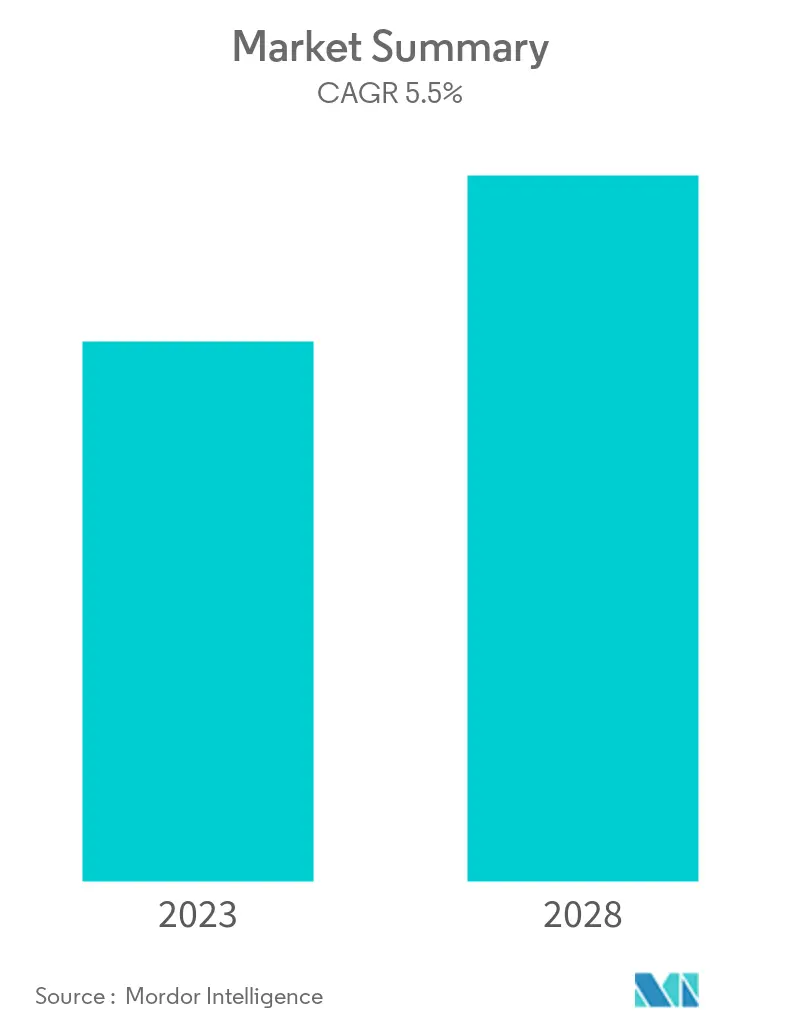 Study Period:
2019-2027
Base Year:
2021
Fastest Growing Market:
Asia Pacific
Largest Market:
North America
CAGR:
5.5 %
Need a report that reflects how COVID-19 has impacted this market and its growth?
Visión general del mercado
The medical devices market was estimated to be USD 532.62 billion in 2021 and is expected to witness a CAGR of around 5.5% over the forecast period to reach USD 734.39 billion in the year 2027. The COVID-19 pandemic is expected to have a mixed impact on the market. Currently, countries are facing the huge threat of the COVID-19 pandemic. There is a shortage of treatment available against this type of disease and most of the pharmaceutical and biotechnological companies are focusing their research and development departments in identifying new molecules or leads for the treatment of this disease. The supply chain disruption caused due to Covid-19 has led to shortages of critical medical devices across the globe. Therefore, many countries have taken definite measurements in order to ease the shortages by importing equipment such as domestic manufacturing of medical devices.
In addition, domestic manufacturing of essential medical devices is expected overcome trade barriers, at the same time ensure product quality and market stability. However, instances of counterfeiting and price gouging of imported medical equipment are expected to hamper the market growth. According to the data given on United States FDA (United States Food & Drug Administration), in August 2020, FDA recalled the TaqPath RT-PCR COVID-19 Kit with Applied Biosystem's COVID-19 Interpretive Software v1.2 for 7500 RTPCR instruments developed by Life Technologies Corporation due to the false positive results because of the improper vortexing. While some of the medical devices experienced a sudden surge in the demand during this period. For instance, ventilators are in high demand for COVID – 19 patients as they are an important tool in hospitals that can keep the patients in critical conditions alive. In March 2020, Medtronic announced that it had increased production of ventilators by more than 40% to date and is on track to more than double its capacity to manufacture and supply ventilators in response to the urgent needs of patients and healthcare systems across the world confronting COVID-19
The factors that are driving the market growth include the rising prevalence of chronic diseases and related increases in disability-adjusted life years, technological advancements in medical devices, and a consistent increase in the aging population.
The proportion of older population and the length of life expectancy has also increased throughout the world. This is expected to have significant impact on the healthcare system and thereby positively impact on the global medical devices market growth. According to the World Ageing Population report, in 2019, around 703 million people aged 65 years and above were living all across the world. Over the next three decades, this number of older population is expected to increase more than double, over 1.5 billion by the year 2050. Majority share of the older population is contributed by Eastern and South Eastern Asia followed by Europe and North America, according to the above-mentioned source. Thus, due to increase in the geriatric population, health and long-term care expenditures are expected to increase sharply. Older population is often susceptible to hearing loss, cataracts and refractive errors, back and neck pain and osteoarthritis, chronic obstructive pulmonary disease, diabetes, depression, and dementia. This is expected to boost the market growth for medical devices.
Furthermore, the advent of new technology in the market is expected to increase demand for medical devices. Companies like ABLE Motion are bringing in new innovation into the sector. For example, this Barcelona-based company was the world's first manufacturer of home-use robotic exoskeletons for individuals with lower-limb paralysis. The battery-powered, 8 kg exoskeleton has parameters for smart device configurations, allowing for physical therapists and physicians to remote monitor patients. Garwood Medical, a Buffalo, New York-based MedTech startup provides clinical outcomes for infections and wound healing. The company's range of products include the BioPrax, a minimally invasive device designed to prevent biofilm infections on prosthetic knee implants by using electrodes to prevent microbe growth. Signum Surgical, a Galway, Ireland-based MedTech startup, has developed innovative implant technologies to promote post-surgery healing and prevent infection in colorectal patients. In the future, Signum Surgical hopes to expand its range of products to treat other colorectal disease conditions.
Additionally, chronic diseases are the most prevalent health condition that involves significant expenditure globally. Chronic diseases include cancer, diabetes, hypertension, stroke, heart disease, respiratory diseases, arthritis, and obesity that can lead to hospitalization, long-term disability, reduced quality of life, and even death. According to the International Diabetes Federation, approximately 463 million adults of age between 20-79 years were living with diabetes in 2019 and is estimated to rise to 700 million by 2045 globally. According to Arthritis-India, Osteoarthritis (OA) affects about 4-6% of adult population and is mentioned as one of the top 5 chronic diseases in India and the country is likely to notice an endemic of osteoarthritis with about 80 percent of the 65 and above population in the country suffering with wear and tear of joints by 2025.
Hence all these factors indicates the rising demand for devices required for diagnosis, treatment, monitoring and management of the diseases.
Alcance del Informe
Según el alcance del informe, Dispositivo médico es cualquier tipo de instrumento, aparato, dispositivo, máquina, implante o cualquier otro artículo relacionado/similar, que se utiliza para diagnosticar, controlar el tratamiento, prevenir o aliviar enfermedades.
El mercado de dispositivos médicos está segmentado por tipo de dispositivo (dispositivos respiratorios, dispositivos de cardiología, dispositivos ortopédicos, dispositivos de diagnóstico por imagen (dispositivos de radiología), dispositivos de endoscopia, dispositivos de oftalmología y otros dispositivos) y geografía (Norteamérica, Europa, Asia-Pacífico, Oriente Medio y África, y América del Sur). El informe de mercado también cubre los tamaños y tendencias de mercado estimados para 17 países diferentes en las principales regiones, a nivel mundial. El informe ofrece el valor (en millones de USD) para los segmentos anteriores.
Type of Device
Respiratory Devices
Cardiology Devices
Orthopedic Devices
Diagnostic Imaging Devices (Radiology Devices)
Endoscopy Devices
Ophthalmology Devices
Other Devices
Geography

North America
United States
Canada
Mexico

Europe
Germany
United Kingdom
France
Italy
Spain
Rest of Europe

Asia-Pacific
China
Japan
India
Australia
South Korea
Rest of Asia-Pacific

Middle East and Africa
GCC
South Africa
Rest of Middle East and Africa

South America
Brazil
Argentina
Rest of South America
Tendencias clave del mercado
Se espera que el segmento de dispositivos de cardiología tenga una participación de mercado importante en el mercado de dispositivos médicos
Los dispositivos cardiovasculares se utilizan para diagnosticar y tratar enfermedades cardíacas y problemas de salud relacionados que son las principales causas de muerte en todo el mundo. Hay tres tipos básicos de dispositivos de cardiología, a saber, dispositivos de diagnóstico y monitorización, dispositivos terapéuticos y quirúrgicos. Algunos de los dispositivos cardiovasculares más utilizados son el electrocardiograma (ECG), los desfibriladores, los marcapasos, los dispositivos de control del ritmo cardíaco, los catéteres, los injertos, las válvulas cardíacas y los stents. Los principales factores que impulsan el crecimiento del segmento de dispositivos de cardiología son la creciente prevalencia mundial de diversas enfermedades coronarias, como los accidentes cerebrovasculares y la miocardiopatía, que causan una carga mundial de muertes por causas cardíacas. Según las estadísticas de la Fundación Británica del Corazón, en 2020, había alrededor de 7,4 millones de personas que vivían con enfermedades cardíacas y circulatorias en el Reino Unido. Según la misma fuente, se estima que cada año se producen en el Reino Unido unas 170.000 muertes por enfermedades cardíacas. Según un artículo de investigación de Xin Du et al., publicado en el Journal of the American College of Cardiology en junio de 2019, en China, la carga de enfermedad cardiovascular (CV) es muy alta debido a factores de riesgo altamente prevalentes y mal controlados que resultan de cambiar la estructura sociodemográfica y los estilos de vida de su gran población. En octubre de 2019, iRhythm, una empresa de atención médica digital, lanzó su sistema Zio en el Reino Unido para respaldar la identificación y el diagnóstico clínico de arritmias cardíacas, como la fibrilación auricular (FA). El sistema Zio es un pequeño monitor cardíaco portátil que se coloca en el pecho del paciente durante un período de hasta 14 días. En mayo de 2019, AliveCor recibió la aprobación de la FDA de EE. UU. para KardiaMobile 6L, el primer dispositivo de ECG personal de seis derivaciones que utiliza un factor de forma para recopilar la máxima información. El aumento en el número de personas mayores también está provocando un aumento repentino en el número de enfermedades cardiovasculares, ya que esta cohorte demográfica es más susceptible a estos trastornos.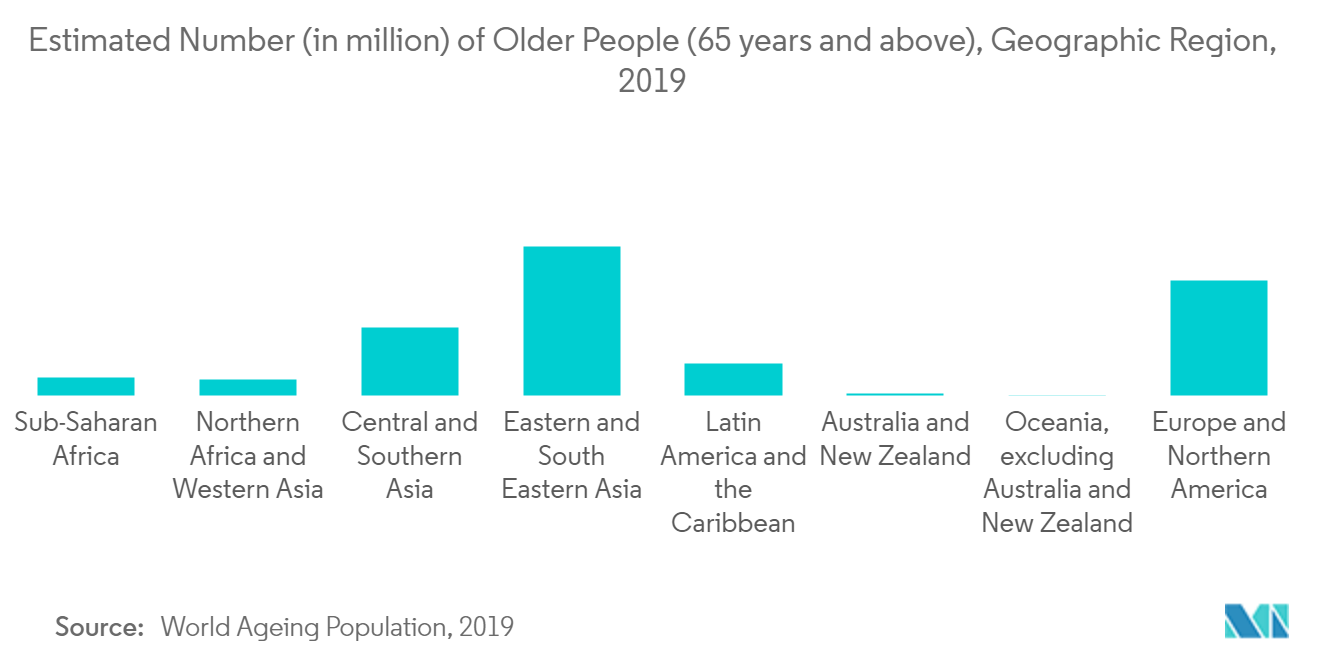 To understand key trends, Download Sample Report
América del Norte domina el mercado y se espera que continúe igual durante el período de pronóstico
El principal motor de crecimiento del mercado de dispositivos médicos en el mercado norteamericano es la mayor inversión de los ingresos anuales en la innovación de productos y la mejora constante de las tecnologías existentes. La salud móvil y la telemedicina han estado creciendo en los Estados Unidos, con una tasa de adopción cada vez mayor. Los Estados Unidos en el mercado más grande de la región de América del Norte.
El sector de dispositivos médicos en los Estados Unidos es una parte importante de la industria de la salud. Además, el mercado tiene un panorama muy competitivo, con la presencia de los principales actores del mercado de dispositivos médicos, como Johnson and Johnson, Abbott y Baxter International. Según la Agencia Internacional para la Investigación del Cáncer en 2020, se diagnosticaron alrededor de 2 281 658 nuevos casos de cáncer en 2020, incluidos 209 512 casos de cáncer de próstata, 253 465 casos de cáncer de mama, 227 875 casos de cáncer de pulmón y bronquios y 101 809 casos de cáncer colorrectal. . Además, la mayoría de los actores del mercado de dispositivos médicos son pequeñas y medianas empresas con grandes innovaciones y financiamiento respaldado. Además, la llegada de los avances tecnológicos, como la impresión 3D, la inteligencia artificial, y es probable que los dispositivos de cirugía robótica y su adopción impulsen aún más el crecimiento del mercado. En agosto de 2020, Innovasis Inc., con sede en Utah, anunció que la Administración de Drogas y Alimentos de los EE. UU. (FDA, por sus siglas en inglés) otorgó la autorización 510(k) para el uso de sus dispositivos de fusión intercorporal AxTiHA y TxTiHA impresos en 3D biomejorados que han sido modificados con Promimic HAnano Surface tecnología. Es probable que estas tendencias aumenten el crecimiento del mercado en el futuro próximo.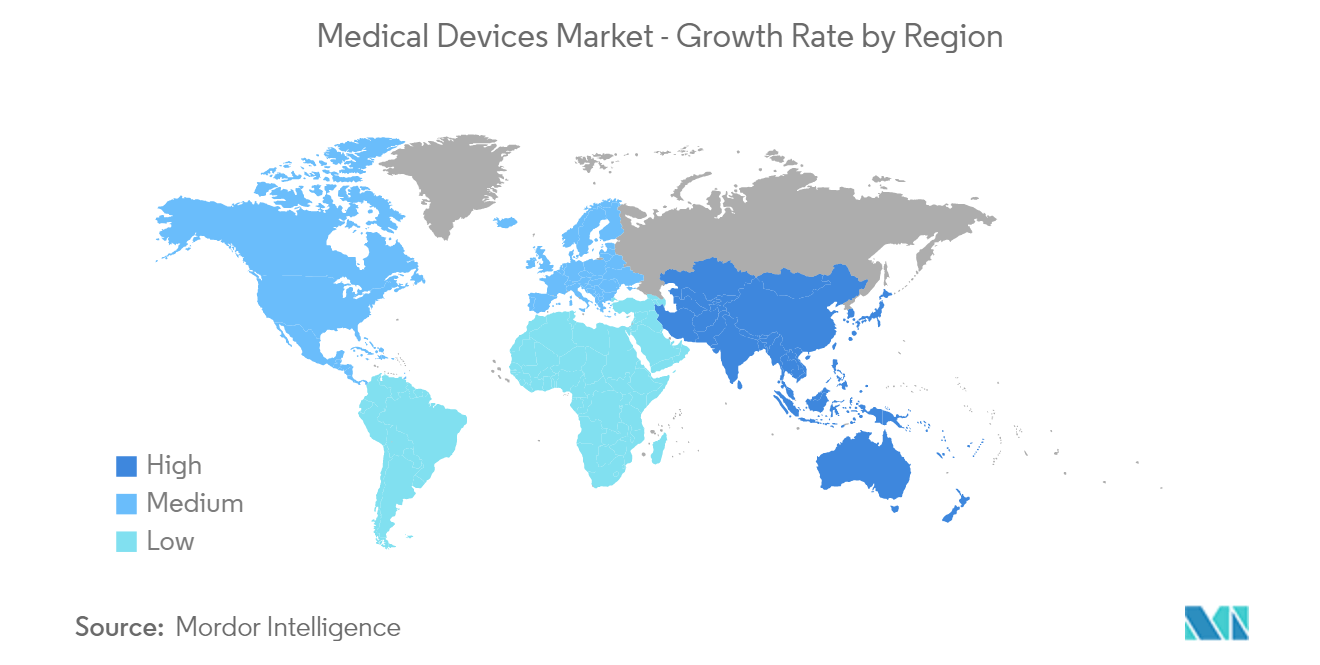 To understand geography trends, Download Sample Report
Panorama competitivo
El mercado de dispositivos médicos es competitivo y fragmentado y consta de una serie de jugadores importantes. Empresas como Abbott Laboratories Inc, F. Hoffmann-La Roche Ltd, Philips Healthcare, Siemens Healthineers (Siemens AG), Stryker Corporation, Boston Scientific Corporation, Johnson & Johnson, Medtronic PLC, Smith & Nephew PLC y GE Healthcare, entre otras. , ostentan una participación sustancial en el mercado estudiado. Muchas de estas empresas están emprendiendo diversas estrategias para mantener su cuota de mercado. Por ejemplo, en octubre de 2020, Medtronic PLC se asoció con The Foundry, una empresa de dispositivos médicos. La asociación combina el liderazgo de Medtronic en Structural Heart y la propiedad intelectual con el historial de innovación de The Foundry en el campo de la reparación y el reemplazo transcatéter de la válvula mitral.
Recent Developments
In December 2021, Medtronic launched Hugo System, a robotic-assisted surgical system. The system provides aid in the diagnosis or treatment of a disease or condition.
In August 2021, Johnson & Johnson launched VELYS Digital Surgery. The robotic-assisted solution for total knee arthroplasty is commercially available in the United States.
Table of Contents
1. INTRODUCTION

1.1 Study Assumptions and Market Definition

1.2 Scope of the Study

2. RESEARCH METHODOLOGY

3. EXECUTIVE SUMMARY

4. MARKET DYNAMICS

4.1 Market Overview

4.2 Market Drivers

4.2.1 Growing Geriatric Population across the World

4.2.2 Rising Prevalence of Chronic Diseases and Related Increase in Disability-adjusted Life Years

4.3 Market Restraints

4.3.1 Strict Regulatory Polices and Uncertainty in Reimbursement

4.4 Porter's Five Forces Analysis

4.4.1 Threat of New Entrants

4.4.2 Bargaining Power of Buyers/Consumers

4.4.3 Bargaining Power of Suppliers

4.4.4 Threat of Substitute Products

4.4.5 Intensity of Competitive Rivalry

5. MARKET SEGMENTATION (Market Size by Value – USD million)

5.1 Type of Device

5.1.1 Respiratory Devices

5.1.2 Cardiology Devices

5.1.3 Orthopedic Devices

5.1.4 Diagnostic Imaging Devices (Radiology Devices)

5.1.5 Endoscopy Devices

5.1.6 Ophthalmology Devices

5.1.7 Other Devices

5.2 Geography

5.2.1 North America

5.2.1.1 United States

5.2.1.2 Canada

5.2.1.3 Mexico

5.2.2 Europe

5.2.2.1 Germany

5.2.2.2 United Kingdom

5.2.2.3 France

5.2.2.4 Italy

5.2.2.5 Spain

5.2.2.6 Rest of Europe

5.2.3 Asia-Pacific

5.2.3.1 China

5.2.3.2 Japan

5.2.3.3 India

5.2.3.4 Australia

5.2.3.5 South Korea

5.2.3.6 Rest of Asia-Pacific

5.2.4 Middle East and Africa

5.2.4.1 GCC

5.2.4.2 South Africa

5.2.4.3 Rest of Middle East and Africa

5.2.5 South America

5.2.5.1 Brazil

5.2.5.2 Argentina

5.2.5.3 Rest of South America

6. COMPETITIVE LANDSCAPE

6.1 Company Profiles

6.1.1 Abbott Laboratories Inc

6.1.2 Boston Scientific Corporation

6.1.3 F. Hoffmann-La Roche Ltd

6.1.4 GE Healthcare (GE Company)

6.1.5 Johnson & Johnson

6.1.6 Medtronic PLC

6.1.7 Koninklinje Philips NV

6.1.8 Siemens Healthineers (Siemens AG)

6.1.9 Smith & Nephew PLC

6.1.10 Stryker Corporation

6.1.11 Fresenius Medical Care AG & Co. KGaA

6.1.12 3M Company

6.1.13 Cardinal Health Inc.

*List Not Exhaustive

7. MARKET OPPORTUNITIES AND FUTURE TRENDS
**Competitive Landscape Covers - Business Overview, Financials, Products and Strategies, and Recent Developments
You can also purchase parts of this report. Do you want to check out a section wise price list?
Frequently Asked Questions
¿Cuál es el período de estudio de este mercado?
El mercado global de Dispositivos médicos se estudia desde 2019 hasta 2027.
¿Cuál es la tasa de crecimiento del mercado global Dispositivos médicos?
El mercado mundial de dispositivos médicos está creciendo a una CAGR del 5,5 % en los próximos 5 años.
¿Cuál es el tamaño del mercado global Dispositivos médicos en 2019?
El mercado mundial de dispositivos médicos está valorado en 532 mil millones de dólares en 2019.
¿Cuál es el tamaño del mercado global Dispositivos médicos en 2027?
El mercado mundial de dispositivos médicos está valorado en 734 mil millones de dólares en 2027.
¿Qué región tiene la tasa de crecimiento más alta en el mercado global Dispositivos médicos?
Asia Pacífico está creciendo a la CAGR más alta durante 2021-2026.
¿Qué región tiene la mayor participación en el mercado global Dispositivos médicos?
América del Norte tiene la participación más alta en 2021.
¿Quiénes son los jugadores clave que operan en el mercado global Dispositivos medicos?
Abbott Laboratories Inc, F. Hoffmann-La Roche Ltd, Stryker Corporation, Siemens Healthineers (Siemens AG, Koninklinje Philips NV) son las principales empresas que operan en el mercado mundial de dispositivos médicos.
80%

of our clients seek made-to-order reports. How do you want us to tailor yours?