Instantánea del mercado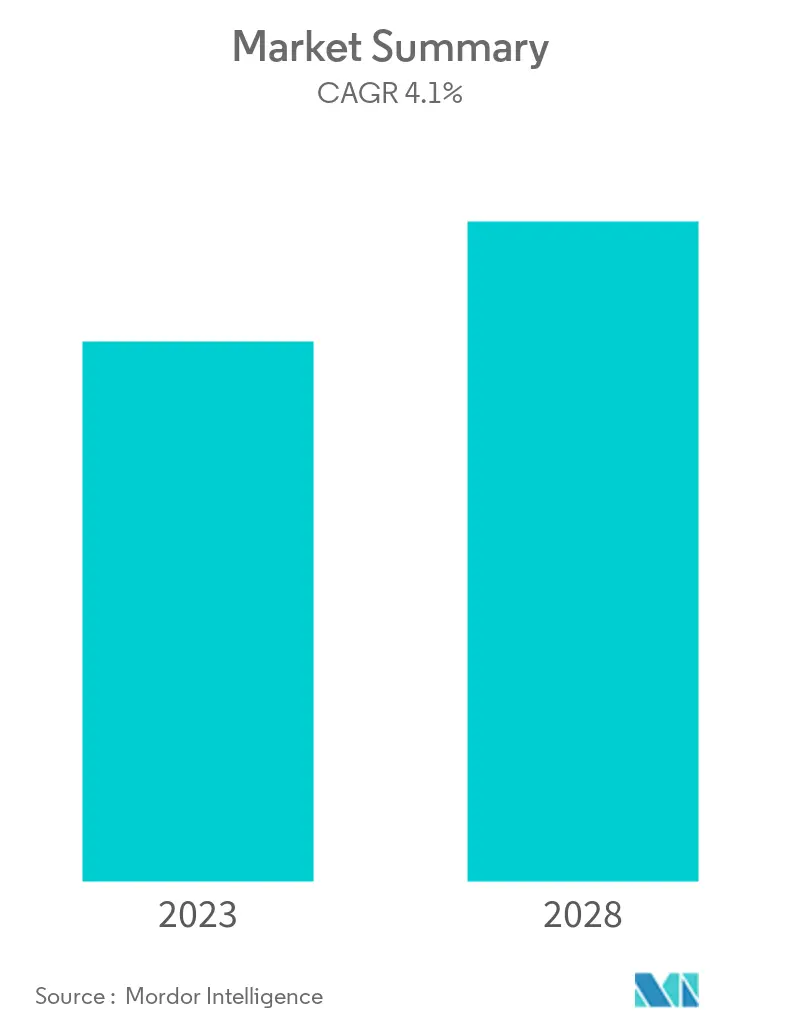 Study Period:
2017-2027
Base Year:
2021
CAGR:
4.1 %
Need a report that reflects how COVID-19 has impacted this market and its growth?
Visión general del mercado
Se proyecta que el mercado de maquinaria agrícola de Camboya registre una CAGR de 4.1% durante el período de pronóstico (2022-2027).
La pandemia de COVID-19 ha afectado el mercado de maquinaria agrícola de Camboya de muchas maneras y ha visto una caída en el negocio. El negocio más afectado podría ser la red de concesionarios debido a la interrupción de la cadena de suministro. Además, las unidades de fabricación no estaban 100% activas. Debido a las restricciones de viaje, la producción de bienes se retrasó, ya que se interrumpió el suministro, lo que provocó una disminución en las ventas de maquinaria durante la pandemia.
A mediano plazo, se espera que el mercado de maquinaria agrícola en Camboya experimente un crecimiento constante. Los factores clave incluyen el aumento del enfoque de los agricultores en la mecanización agrícola sostenible, el aumento de las asociaciones público-privadas en Camboya, la mejora en el acceso financiero a los servicios, están impulsando el crecimiento del mercado durante el período de pronóstico.
La política del Ministerio de Agricultura está fomentando el uso de maquinaria en las fincas de pequeña y gran escala con el fin de incrementar la productividad del cultivo. Este paso se tomó para abordar la creciente escasez de mano de obra dentro de la región y el aumento de los costos del trabajo manual que están afectando el crecimiento de la maquinaria agrícola en la región. La mecanización agrícola ayuda a producir cosechas agrícolas de mayor calidad e incluso a aumentar la producción, pero factores como el alto costo de mantenimiento y la dependencia de métodos tradicionales debido a la falta de educación o dinero para la mayoría de los pequeños agricultores están restringiendo el crecimiento del mercado durante el período de pronóstico.
Scope of the report
Agricultural machinery means all machines and tools that are used in the production, harvesting, and care of farm products, and includes trailers that are used to transport agricultural produce. For the purpose of this report, the tractor and other machinery used in agricultural operations has been considered. The tractor used for industrial and construction purposes are excluded from the study.
The Cambodia Agricultural Machinery Market is segmented by Product Type (Tractors, Rice Combine Harvesters, Power Tillers, and Diesel Engine Units). The report offers the market size and forecasts in terms of sales in units and value in USD million for all the above segments.
Tendencias clave del mercado
La disminución de la mano de obra agrícola impulsa el mercado
La escasez de mano de obra agrícola es uno de los principales factores impulsores del mercado de maquinaria agrícola en Camboya. La urbanización y la industrialización han provocado el movimiento de los empleados agrícolas rurales a las zonas urbanas, lo que provoca una disponibilidad laboral inadecuada, especialmente durante las operaciones agrícolas clave, como la siembra y la cosecha. Según la Organización Internacional del Trabajo, el número de personas empleadas en el sector agrícola se ha reducido drásticamente. Solo el treinta por ciento del total de empleados estaban empleados en el sector agrícola en 2019, que era el 31% en 2016. Por lo tanto, una reducción significativa en el número de empleados en el sector agrícola está dando paso a un aumento en los salarios, lo que permite a los agricultores adoptar la mecanización agrícola. Con la disponibilidad de tecnología avanzada,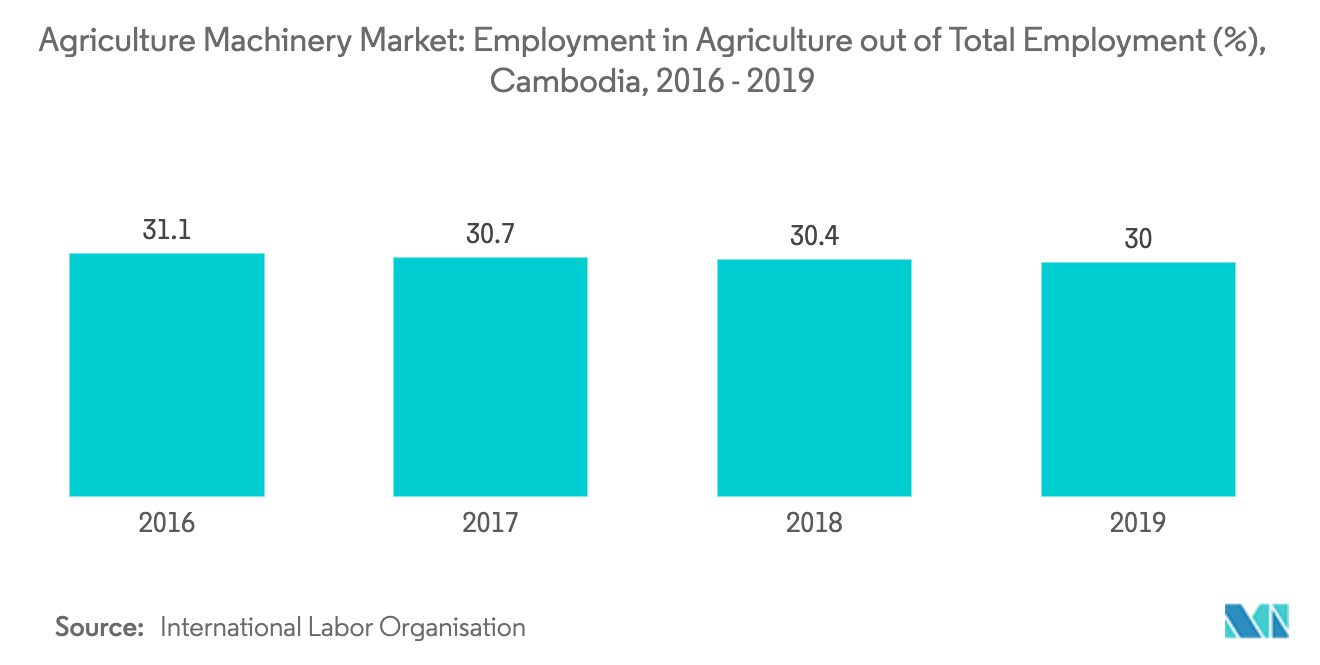 To understand key trends, Download Sample Report
Los tractores dominan el mercado
El tractor es una de las maquinarias agrícolas básicas y necesarias que utilizan los agricultores pequeños, marginales y grandes terratenientes. Los tractores se utilizan para múltiples operaciones de campo y facilitan muchas operaciones agrícolas. Debido al aumento significativo de cultivos en hileras y cultivos hortícolas, existe un uso cada vez mayor de tractores. El crecimiento observado en las ventas de tractores es un indicador importante del advenimiento de la mecanización agrícola. Los tractores tienden a actuar como una fuente de energía a la que se le pueden acoplar varias máquinas agrícolas. Esta codependencia hace que la compra de tractores, que va en aumento con los años. Por lo tanto, el segmento de tractores es el segmento más dominado entre toda la maquinaria agrícola en Camboya. En Camboya se ha observado un aumento continuo en el número de tractores vendidos.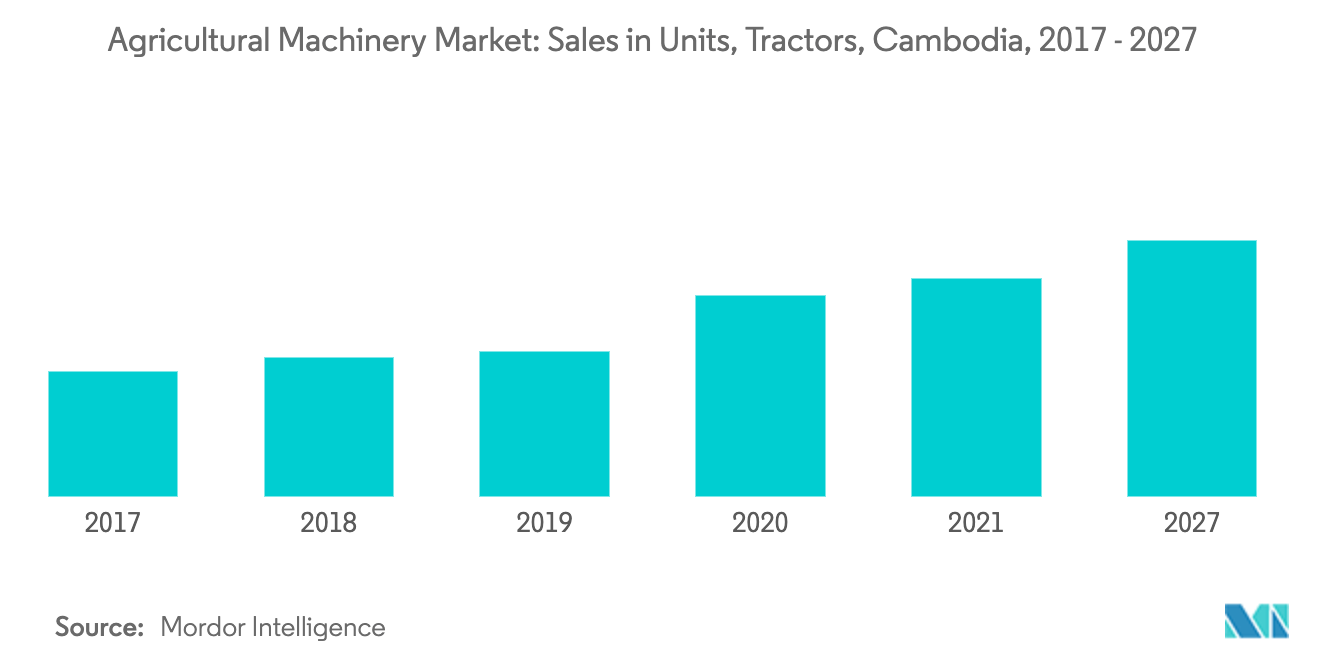 Panorama competitivo
El mercado de maquinaria agrícola de Camboya es un mercado consolidado debido a la presencia de pocos jugadores destacados, que representan más de la mitad del mercado. Los jugadores clave en el mercado incluyen Deere and Company, Escorts Limited, Kubota Corporation, Mahindra and Mahindra Ltd y Yanmar Holdings Co., Ltd. La principal estrategia adoptada por los jugadores clave ha sido invertir en I + D para fomentar la innovación y mantener un fuerte base de mercado. El advenimiento de tecnologías avanzadas como la inteligencia artificial, la robótica, Google Earth y un número creciente de iniciativas gubernamentales han impulsado el aumento de la demanda de maquinaria agrícola.
Recent Development
In September 2020, Deere & Company launched a new John deere smart connector for compact utility tractors. This smart connector establishes a connection between the tractor and the smartphone via Bluetooth. It is used to access information like service intervals, diagnostic codes, fuel levels, engine hours, and maintenance information.
In March 2020, Kubota corporation and Microsoft partnered as a multi-year strategic alliance to accelerate Kubota's digital transformation. The company will work together and bring digital to the products of Kubota's, including agriculture machinery in Cambodia and other international markets.
In February 2020, Deere & Company introduced a new 1745 planter with narrow transport capability. This is required for corn and soybean customers who require planter-applied fertilizers, a split row configuration, and narrow transport. This product is compatible with older tractors and ideal for small fields.
Table of Contents
1. INTRODUCCIÓN

1.1 Supuestos de estudio y definición de mercado

1.2 Alcance del estudio

2. METODOLOGÍA DE INVESTIGACIÓN

3. RESUMEN EJECUTIVO

4. DINÁMICA DEL MERCADO

4.1 Visión general del mercado

4.2 Indicadores de mercado

4.3 Restricciones del mercado

4.4 Análisis de las cinco fuerzas de Porter

4.4.1 El poder de negociacion de los proveedores

4.4.2 El poder de negociación de los compradores

4.4.3 Amenaza de nuevos participantes

4.4.4 Amenaza de sustitutos

4.4.5 La intensidad de la rivalidad competitiva

5. SEGMENTACIÓN DE MERCADO

5.1 tipo de producto

5.1.1 Tractores

5.1.1.1 Por debajo de 40 CV

5.1.1.2 40-100 CV

5.1.1.3 Por encima de 100 CV

5.1.2 Cosechadoras de arroz

5.1.3 Motoazadas

5.1.3.1 Por debajo de 10 HP

5.1.3.2 10-15 CV

5.1.4 Unidades de motor diésel

5.1.4.1 Por debajo de 10 HP

5.1.4.2 10-15 CV

6. PANORAMA COMPETITIVO

6.1 Estrategias más adoptadas

6.2 Análisis de cuota de mercado

6.3 Perfiles de la empresa

6.3.1 Tractores y Equipos Agrícolas Limitados (TAFE)

6.3.2 Claas KGaA GmbH

6.3.3 Kuhn

6.3.4 Mahindra & Mahindra Ltd.

6.3.5 Corporación Kubota

6.3.6 Deere y compañía

6.3.7 Escoltas limitadas

6.3.8 Corporación AGCO

6.3.9 Yanmar Co. Ltd.

6.3.10 Zhengzhou Amisy Machinery Co. Limitado

6.3.11 Iseki & Co Ltd

6.3.12 Agricultura de Nueva Holanda

7. OPORTUNIDADES DE MERCADO Y TENDENCIAS FUTURAS

8. UNA EVALUACIÓN DEL IMPACTO DE COVID-19 EN EL MERCADO
You can also purchase parts of this report. Do you want to check out a section wise price list?
Frequently Asked Questions
¿Cuál es el período de estudio de este mercado?
El mercado de Maquinaria Agrícola de Camboya se estudia desde 2017 hasta 2027.
¿Cuál es la tasa de crecimiento del mercado Maquinaria agrícola de Camboya?
El mercado de maquinaria agrícola de Camboya está creciendo a una CAGR del 4,1 % en los próximos 5 años.
¿Quiénes son los jugadores clave que operan en el mercado Maquinaria agricola de Camboya?
Deere & Company, Kubota Corporation, Escorts Limited, Mahindra & Mahindra Ltd, Yanmar Holdings Co., Ltd. son las principales empresas que operan en el mercado de maquinaria agrícola de Camboya.
80%

of our clients seek made-to-order reports. How do you want us to tailor yours?