In-vitro Diagnostics Market
In-vitro diagnostics (IVD) are the medical devices and consumables are utilized to perform in-vitro tests on various biological samples. In-vitro diagnostics are used for diagnosis of various medical conditions. The global in-vitro diagnostics market is expected to register a CAGR of 5.5% during the forecast period of 2018–2023.
Advanced Technologies Spurring the IVD Market
The field of in-vitro diagnostics has witnessed several changes and additions to its gamut of offerings in the recent past. There has been a paradigm shift from traditional diagnostics to a new generation diagnostics that work on gene level. This was possible due to the inclusion of advanced technology, such as genetic testing, molecular diagnostics, Polymerase Chain Reaction (PCR), and Next-Generation Sequencing (NGS). Fast turnaround, reliability, user-friendliness, and predictability of predisposed diseases are few significant qualities, which helped these technologies attain their share in major offerings of diagnosis providers around the world. Increasing demand from the educated public for more information about their predisposition for serious diseases, and how these potential illnesses can be detected at an early stage, is driving the market for in-vitro diagnostics.
High prevalence of chronic and infectious diseases, increasing use of point of care (POC) diagnostics, and surging number of private hospitals and independent testing laboratories are some of the other factors contributing to the growth of the market.
Cumbersome Reimbursement Procedure
The lack of proper reimbursement system around the globe poses to be a major restraining factor for the in-vitro diagnostics market. The process of securing reimbursement and funding for a diagnostic test on a global scale is extremely challenging. Stakeholders need to recognize what knowledge the payers/purchasers are looking for. This asks for extensive research and interpretation of a very large amount of data. Moreover, international reimbursement structures vary from country to country; hence, interested parties have to come up with new and effective strategies frequently, making it a cumbersome and tedious task hindering the market.
Additionally, stringent regulations across the globe and limited budget of hospitals and laboratories in developing economies are also restraining the in-vitro diagnostics market.
Asia-Pacific IVD Market to be Lucrative
The global in-vitro diagnostics market is segmented by technique, products, usability, application, end users, and geography. By geography, it is segmented into North America, Europe, Asia-Pacific, the Middle East & Africa, and South America.
The reasons for Asia-Pacific being a lucrative marketplace include an increase in government healthcare expenditure and increase in per capita healthcare spending. Moreover, increase in patient awareness and demand for technological advancements in the field of in-vitro diagnostics are further driving the market growth in the region.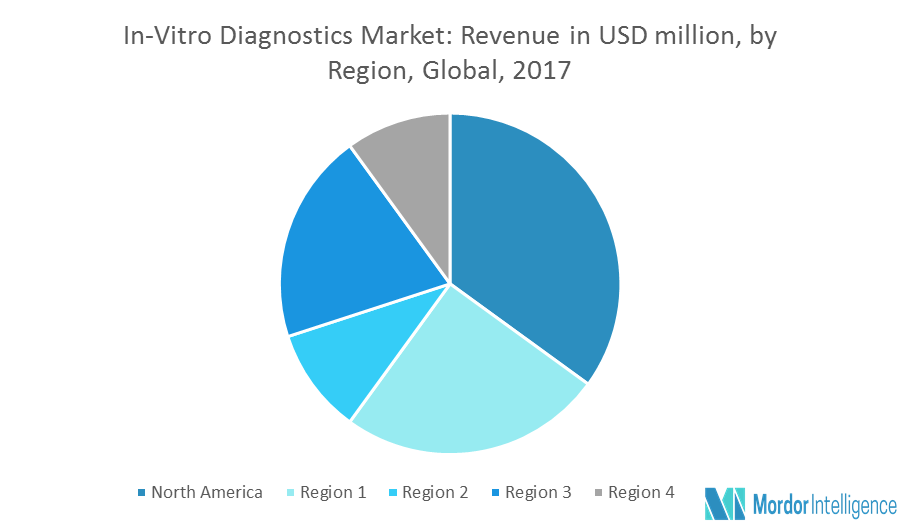 Key Developments in the In-vitro Diagnostics Market
February 2015: Roche acquired Flatiron Health to accelerate industry-wide development and delivery of breakthrough medicines for patients with cancer.
In-vitro Diagnostics Market Key players:
Biomérieux
Danaher Corporation
Roche Diagnostics
Becton
Dickinson and Company
Bio-Rad Laboratories, Inc.
Abbott Laboratories
QIAGEN
Arkray, Inc.
Sysmex Corporation
Ortho Clinical Diagnostics
Thermo Fisher Scientific
Siemens AG
Reasons to Purchase In-vitro Diagnostics Market Report
Market analysis for the in-vitro diagnostics market, with region-specific assessments and competition analysis on a global and regional scale.
Analyzing various perspectives of the industry with the help of Porter's Five Forces Analysis.
Identify the treatment type that is expected to dominate the market.
Identify the regions that are expected to witness the fastest growth during the forecast period.
Identify the latest developments, market shares, and strategies employed by the major market players.
3-month analyst support along with the Market Estimate sheet (in Excel).
Customize In-vitro Diagnostics Market Report
This report can be customized to meet your requirements. Please connect with our representative, who will ensure you get a report that suits your needs.