The global crop protection market for fruit & vegetables was valued at USD 9.5 billion in 2016 and is expected to register a CAGR of 3.5% during the forecast period, 2018-2023. The market is highly consolidated, with a few players dominating the market across different geographical regions. The market players are mostly focusing upon the R&D, mergers and acquisitions, and new product launches to increase their market share.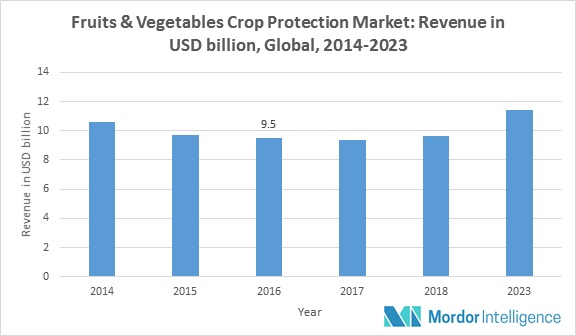 Developing Regions Witnessing Higher Demand
Countries like India, Argentina, Brazil, and China are witnessing a high demand for fruit and vegetables and the rising import quantities of fruit and vegetables are a clear indication of the same. To meet the demand, farmers use products that enhance the growth of the crops and protect it against various diseases and pests. This increase in demand is expected to drive the crop protection market for fruit and vegetables.
Bio-based Products Experiencing High Demand
The annual report from the Environmental Working Group (EWG) ranks fruit and vegetables based on the levels of pesticides and calls it the 'Dirty Dozen', since it includes fruits and vegetables considered "dirty" because of the high levels of pesticide residue in them. The increasing demand for food safety and quality, stringent government regulations on food products, and increased number of quality checks have increased the demand for bio-based crop protection products in the market. Companies like Marrone Bioinnovations are constantly investing in the R&D of bio-based crop protection products to increase their market presence.
Major Players: Adama Agricultural Solutions Ltd. (Israel), BASF SE (Germany), Bayer Cropscience AG (Germany), Dow Agrosciences LLC (United States), FMC Corporation (United States), Monsanto Company (United States), Nufarm Ltd (Australia), and Syngenta International AG (Switzerland), among others.
Reasons to Purchase the Report
To understand the fastest growing regions in the crop protection market for fruit & vegetable and their growth trends during the forecast period
The report outlines drivers, restraints, and trends that are currently affecting the market
Analyzing various perspectives of the market with the help of Porter's five forces analysis
The report covers in-detail insights about the competitors and company share analysis
Identify the latest developments, market shares, and strategies employed by the major market players
3 month analyst support, along with the market estimate sheet (in Excel)
Customization of the Report
This report can be customized to meet your requirements. Please connect with our representative, who will ensure you get a report that suits your needs.
1. Introduction
1.1 Market Definition
1.2 Key Findings of the Study
2. Research Scope and Methodology
2.1 Study Deliverables
2.2 Study Assumptions
2.3 Research Methodology
2.4 Research Phases
3. Market Dynamics
3.1 Drivers
3.1.1 Growing Demand for Food Safety & Quality
3.1.2 Biopesticides Gaining Market Share over Synthetic Pesticides
3.1.3 Low R&D Costs
3.1.4 Developing Regions Witnessing Faster Demand
3.2 Restraints
3.2.1 High Percentage of Pesticide Residues in Fruit & Vegetables
3.2.2 Environmental and Ecological Damages
3.2.3 Government Regulations on Agro-chemicals
4. Industry Analysis
4.1 Porter's Five Forces Analysis
4.1.1 Bargaining Power of Suppliers
4.1.2 Bargaining Power of Buyers
4.1.3 Threat of New Entrants
4.1.4 Threat of Substitute Products and Services
4.1.5 Degree of Competition
5. Market Segmentation
5.1 By Mode of Action
5.1.1 Herbicides
5.1.2 Fungicides
5.1.3 Insecticides
5.1.4 Nematicides
5.1.5 Molluscicides
5.1.6 Others
5.2 By Origin
5.2.1 Synthetic
5.2.2 Bio-based
5.3 By Geography
5.3.1 North America
5.3.1.1 US
5.3.1.2 Canada
5.3.1.3 Mexico
5.3.1.4 Rest of North America
5.3.2 Europe
5.3.2.1 Spain
5.3.2.2 UK
5.3.2.3 France
5.3.2.4 Germany
5.3.2.5 Italy
5.3.2.6 Rest of Europe
5.3.3 Asia-Pacific
5.3.3.1 China
5.3.3.2 India
5.3.3.3 Japan
5.3.3.4 Australia
5.3.3.5 Rest of Asia-Pacific
5.3.4 South America
5.3.4.1 Brazil
5.3.4.2 Argentina
5.3.4.3 Rest of South America
5.3.5 Africa
5.3.5.1 South Africa
5.3.5.2 Rest of Africa
6. Competitive Landscape
6.1 Strategies Adopted by Leading Players
6.2 Most Active Companies in the Past Five Years
6.3 Market Share Analysis
7. Company Profiles#
7.1 Adama Agricultural Solutions
7.2 AMVAC Chemical Corporation
7.3 Arysta Lifesciences
7.4 BASF
7.5 Bayer Cropscience AG
7.6 Bioworks, Inc.
7.7 Certis LLC
7.8 Chemtura Agrosolutions (Lanxess)
7.9 DowDupont
7.10 FMC Corporation
7.11 Isagro Spa
7.12 Ishihara Sangyo Kaisha Ltd
7.13 Koppert Biological Systems
7.14 Marrone Bio innovations
7.15 Monsanto
7.16 Novezyme Biologicals
7.17 Nufarm Ltd
7.18 Syngenta International AG
7.19 Valent Biosciences Corporation
#List Not Exhaustive
8. Outlook of the Market
9. Appendix
10. Disclaimer