The Europe genetic testing market is expected to register a CAGR of 12.3% during the forecast period of 2018–2023. Genetic testing has become quite prevalent in Europe over the last few years, with recent developments in molecular medicine expected to provide further impetus to this critical area. The integration of these technologies into the healthcare system necessitates that their application is implemented within a responsible framework of accompanying measures and activities.
Growing Demand for Personalized Medicine
Personalized medicine, in which tailored therapy is made available to patients with an understanding of the molecular basis of disease, has become popular over the recent years. Genetic testing and genome sequencing are two of the most important tools that are used to understand the molecular basis of disease. European countries screen for several genetic diseases, as early detection of these diseases can prevent the onset of symptoms, or minimize the severity of the disease. Genetic testing for cancer diagnosis can indicate the predisposition of the disease in the gene, before its actual manifestation. This type of diagnostic technique enables a person to take precautionary steps, and avoid possible risks in the future. So with the growing demand for personalized medicine, the genetic testing market is also expected to grow. The other factors, such as increased emphasis on early disease detection and prevention and increasing application of genetic testing in oncology are driving the European genetic testing market.
High Cost of Genetic Testing
High cost has always been a barrier to the growth of the market studied. Many genetic tests, such as tests that identify whether a woman carries one of the several strains of human papillomavirus (the strains that increase the risk of getting cervical cancer), cost under USD 100. However, a few genetic tests, such as pre-implantation testing (pre-implantation genetic diagnosis (PGD)), fecal DNA testing, and others are expensive and are usually not covered by insurance providers.
Though fecal DNA tests have been revolutionized over time, the monetary cost per test is high, ranging from several hundred to more than a thousand US dollars. Low-complexity tests, like single gene mutation, are less expensive than high complexity tests, like full gene sequencing. The cost of these tests depends on several factors, such as laboratory testing procedures, number of individuals tested, contractual agreements, specimen handling, and additional services, such as genetic consultation or counseling.
The market is negatively affected by the expensive nature of genetic tests, which, in a few cases, are not reimbursed through insurance, thus affecting an individual as an out-of-pocket payment. The high import duty by the government on genetic tests kits also acts as a barrier to the growth of the market. Also, the social and ethical implications of genetic testing is hindering the growth of the market.
Germany Leads the Market in Europe
The German genetic testing market held the largest share in Europe with USD 427.3 million in 2017. However, Spain is expected to register the highest CAGR of 13.7% during the forecast period.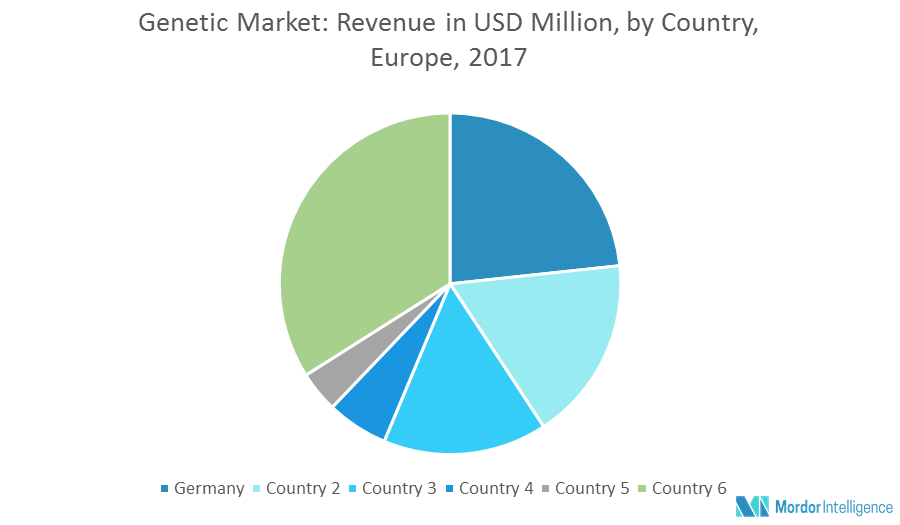 Key Developments in the Market
June 2017: Abbott acquired Alere.
The major players include 23andme, Inc., Abbott Molecular, Ariosa Diagnostics, Inc., Biohelix Corporation (Wholly Owned Subsidiary of Quidel), Biomerieux SA, Celera Corporation, Cepheid, and Genentech, Inc., among others.
Reasons to Purchase the Report
Follow the current and future European genetic testing market in the developed and emerging markets.
Analyzing various perspectives of the market with the help of Porter's
Five Forces Analysis.
Identify the segment that is expected to dominate the market.
Identify the regions that are expected to witness the fastest growth during the forecast period.
Identify the latest developments, market shares, and strategies employed by the major market players.
3-month analyst support along with the Market Estimate sheet (in Excel).
Customization of the Report
This report can be customized to meet your requirements. Please connect with our representative, who will ensure you to get a report that suits your needs.
1. Introduction
1.1 Market Definition
2. Research Methodology
3. Executive Summary
4. Key Inferences
5. Market Overview
5.1 Current Market Scenario
5.2 Porter's Five Forces Analysis
5.2.1 Bargaining Power of Suppliers
5.2.2 Bargaining Power of Consumers
5.2.3 Threat of New Entrants
5.2.4 Threat of Substitute Products and Services
5.2.5 Competitive Rivalry within the Industry
6. Drivers, Restraints, Opportunities, and Challenges Analysis (DROC)
6.1 Drivers
6.1.1 Increasing Emphasis on Early Disease Detection and Prevention
6.1.2 Growing Demand for Personalized Medicine
6.1.3 Increasing Application of Genetic Testing in Oncology
6.2 Restraints
6.2.1 High Cost of Genetic Testing
6.2.2 Social and Ethical Implications of Genetic Testing
6.3 Opportunities
6.4 Key Challenges
7. Market Segmentation
7.1 By Type
7.1.1 Carrier Testing
7.1.2 Diagnostic Testing
7.1.3 Newborn Screening
7.1.4 Predictive and Presymptomatic Testing
7.1.5 Prenatal Testing
7.1.6 Nutrigenomic Testing
7.2 By Disease
7.2.1 Alzheimer's Disease
7.2.2 Cancer
7.2.3 Cystic Fibrosis
7.2.4 Sickle Cell Anemia
7.2.5 Duchenne Muscular Dystrophy
7.2.6 Thalassemias
7.2.7 Huntington's Disease
7.2.8 Special Diseases
7.2.9 Others
7.3 By Technology
7.3.1 Cytogenetic Testing
7.3.2 Biochemical Testing
7.3.3 Molecular Testing
7.4 By Geography
7.4.1 Europe
7.4.1.1 France
7.4.1.2 Germany
7.4.1.3 United Kingdom
7.4.1.4 Italy
7.4.1.5 Spain
7.4.1.6 Rest of Europe
8. Competitive Landscape
8.1 Mergers & Acquisition Analysis
8.2 Agreements, Collaborations, and Partnerships
8.3 New Products Launches
9. Key Players
9.1 23andme, Inc.
9.2 Abbott Molecular
9.3 Ariosa Diagnostics, Inc.
9.4 Biohelix Corporation (Wholly owned Subsidiary of Quidel)
9.5 Biomerieux S.A.
9.6 Celera Corporation
9.7 Cepheid
9.8 Genentech, Inc.
*List Not Exhaustive
10. Future of the Market
11. Disclaimer