Instantánea del mercado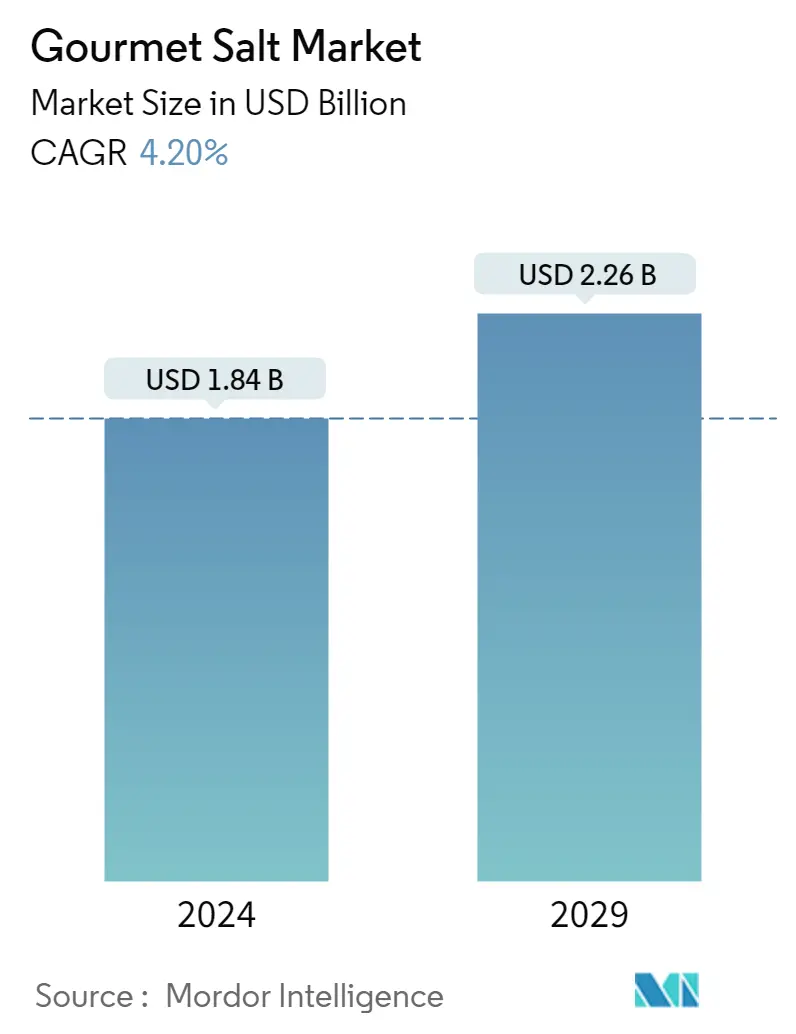 Study Period:
2016 -2027
Base Year:
2021
Fastest Growing Market:
Asia Pacific
Largest Market:
Europe
CAGR:
6.61 %
Need a report that reflects how COVID-19 has impacted this market and its growth?
Visión general del mercado
Se proyecta que el mercado global de sal gourmet crezca a una CAGR de 6.61% durante el período de pronóstico (2022-2027).
La pandemia de COVID-19 ha disparado la demanda de alimentos y complementos alimenticios saludables y compuestos por varios nutrientes y minerales. Como se observa que los pacientes con hipertensión, las enfermedades cardiovasculares fueron altamente afectados por el COVID-19. Por lo tanto, ha aumentado la demanda de productos como las sales gourmet que contienen una menor cantidad de sodio. Además, a medida que los consumidores realizan cambios en el estilo de vida, como el cambio hacia alimentos orgánicos y naturales, en sus dietas, la aplicación de sales gourmet ha aumentado aún más en los diversos productos alimenticios finales. Por ejemplo, según Cornish Sea Salt Co., la demanda de sal marina ha aumentado significativamente en el Reino Unido, debido a la naturaleza orgánica del producto que aporta el 60 % de los minerales marinos al consumidor en 2020.
La cultura cosmopolita ha creado una demanda de cocinas tradicionales en las áreas metropolitanas, y esto ha llevado posteriormente a una mayor aplicación de sales gourmet. Esto se debe a que su sabor particular puede incorporar un toque de sabor y aroma tradicionales en los alimentos. Estas sales también han ganado popularidad entre los chefs profesionales de los hoteles de lujo. El aumento del número de restaurantes gourmet a nivel mundial está influyendo positivamente en el mercado de la sal gourmet.
Alcance del Informe
Las sales gourmet son sales sin refinar, cosechadas naturalmente (generalmente sales marinas) con un contenido de sodio relativamente menor y sin aditivos. El mercado global de sal gourmet está segmentado por tipo de aplicación y geografía. Por tipo de producto, el mercado está segmentado en sel gris, sal en escamas, sal del Himalaya, flor de sal, sal especial y otros. Por aplicación, el mercado está segmentado en confitería, panadería, carnes y aves, mariscos, salsas y sabores, y otros. Por geografía, el mercado global de la sal gourmet está segmentado en América del Norte, Europa, Asia-Pacífico, América del Sur y Medio Oriente y África. Para cada segmento, el tamaño del mercado y la previsión se han realizado en términos de valor (millones de USD).
By Type
Sel Gris
Flakey Salt
Himalayan Salt
Fleur de sel
Speciality Salt
Others
By Application
Confectionary
Bakery
Meat & Poultry
Sea Food
Sauces & Savories
Others
Geography

North America
United States
Canada
Mexico
Rest of North America

Europe
United Kingdom
Germany
France
Russia
Italy
Spain
Rest of Europe

Asia Pacific
India
China
Japan
Australia
Rest of Asia-Pacific

South America
Brazil
Argentina
Rest of South America

Middle East & Africa
South Africa
United Arab Emirates
Rest of Middle East & Africa
Tendencias clave del mercado
Creciente demanda de la industria de servicios de alimentos
La industria del servicio de alimentos se está desarrollando debido a la creciente universalización. Según el Departamento de Agricultura de los Estados Unidos (USDA), los restaurantes de servicio rápido tuvieron una caída del 16,9% en 2021 debido a la crisis mundial. Por lo tanto, las empresas de esta industria específica se centran principalmente en la innovación de alimentos y bebidas saludables, por lo que la demanda de ingredientes saludables también está aumentando. La Sal Gourmet es considerada una de las sal más saludables, esto se debe a que reduce varias enfermedades, por lo que la demanda de los consumidores por esta sal va en aumento. Con la creciente concienciación, el gusto y la preferencia de los consumidores por los alimentos también están cambiando. Además, la globalización y la fuerte influencia de la occidentalización en diferentes países está impulsando la demanda de cocinas extranjeras, como la italiana y la francesa, que requieren sales de sabores especiales, por lo que, la demanda de sal también está aumentando. Las sales gourmet se están convirtiendo en ingredientes vitales para todo tipo de cocinas, especialmente en restaurantes de lujo, ya que cada tipo de sal gourmet tiene su función específica y proporciona un sabor y una textura específicos a los alimentos. Por lo tanto, el servicio de alimentos emergente en el mundo, que ofrece nuevas cocinas, está impulsando la industria gourmet.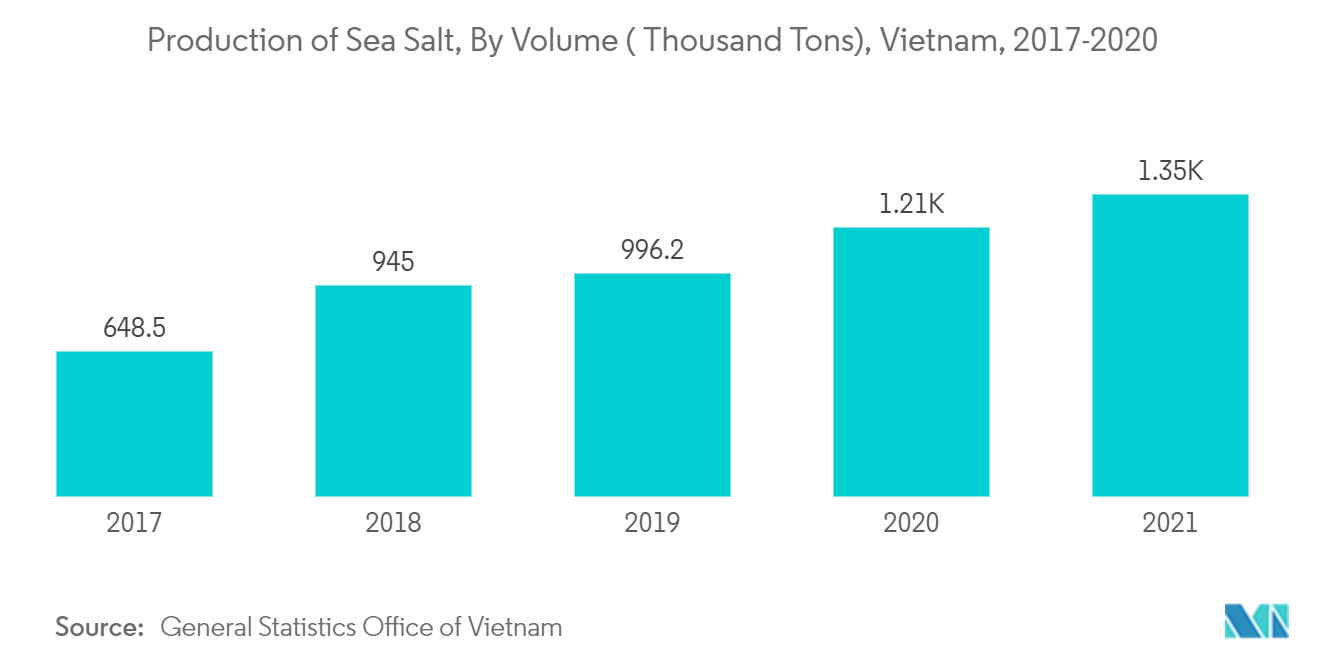 To understand key trends, Download Sample Report
Europa es el mercado más grande
La región europea tiene el mercado más grande para el mercado de la sal gourmet. Los consumidores de la región están pasando de la sal de mesa a la sal gourmet debido a la creciente conciencia de los beneficios para la salud debido a la sal gourmet, ya que sales como la sal del Himalaya contienen menos sodio que la sal de mesa ordinaria. Según las Estadísticas Europeas de Enfermedades Cardiovasculares, el 45% de las muertes en la región se debe a enfermedades cardiovasculares, por lo que los consumidores son más conscientes de la salud y se están moviendo enormemente hacia el consumo de sal gourmet en la vida diaria, ya que la sal ayuda a reducir las enfermedades del corazón. Por lo tanto, se espera que la región sea testigo de un crecimiento significativo en el mercado de sales gourmet y contribuya con una participación de mercado significativa, también debido a la creciente popularidad de la cocina gourmet y la alta cocina sofisticada en la región.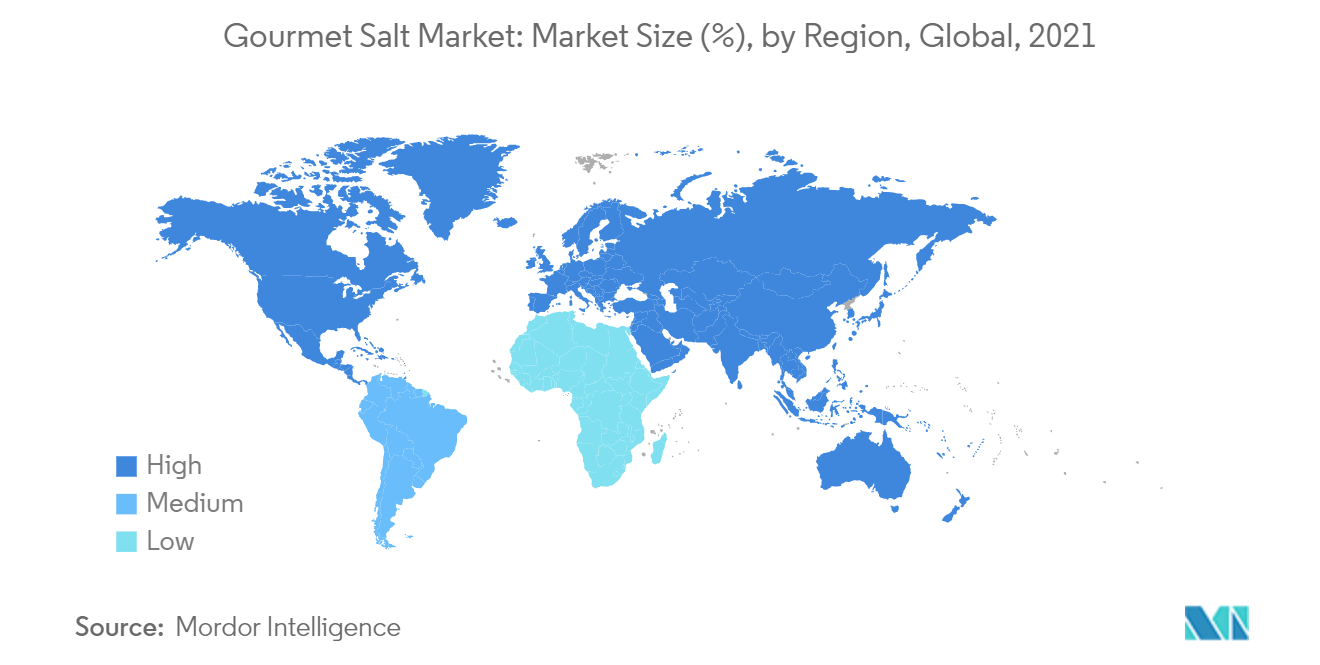 To understand geography trends, Download Sample Report
Panorama competitivo
El mercado mundial de la sal gourmet es un mercado competitivo debido a la presencia de actores nacionales e internacionales en el segmento. Los principales actores en el mercado global de la sal gourmet incluyen a nivel mundial Cargill Inc, Morton Salt, Inc., Amagansett Sea Salt Co., Morton Salt Inc., etc., entre otros. Los actores clave en el mercado se están entregando al uso de tecnologías avanzadas para la producción de sal gourmet, ya que la fabricación implica una alta precisión para producir sal de primera calidad. Algunas de las estrategias clave que adoptan estos jugadores principales son la adquisición, ya que les permite hacerse cargo de los jugadores pequeños y locales para aumentar la intensidad de la producción gourmet.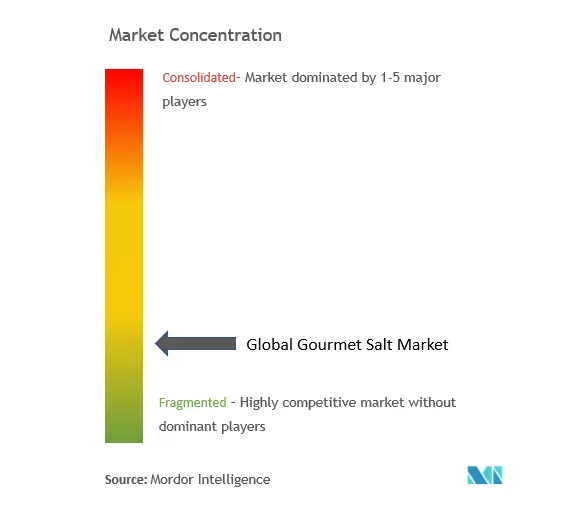 Recent developments
In January 2021, Cargill Salt had launched a new purified sea salt flour. The ingredient is a unique type of ultra-fine cut, powder-like sodium chloride. It is suitable for applications that require extremely fine sizing for blending, including dry soup, cereal, flour and spice mixes, as well as for topping snack foods.
In April 2020, SaltWorks, had announced its adoption of sophisticated new B2B eCommerce tools to provide a better customer experience and fuel sales growth. Developed in partnership with B2B eCommerce innovator OroCommerce, the new platform gives SaltWorks the robust, flexible sales infrastructure required to meet its customers' diverse needs at scale.
In September 2019, Morton Salt had added a colourful new product to its product line-up with the launch of All-Natural Himalayan Pink Salt. It is available in both fine and coarse grain sizes.
Table of Contents
1. INTRODUCTION

1.1 Study Assumptions and Market Definition

1.2 Scope of the Study

2. RESEARCH METHODOLOGY

3. EXECUTIVE SUMMARY

4. MARKET DYNAMICS

4.1 Market Drivers

4.2 Market Restraints

4.3 Porter's Five Force Analysis

4.3.1 Threat of New Entrants

4.3.2 Bargaining Power of Buyers/Consumers

4.3.3 Bargaining Power of Suppliers

4.3.4 Threat of Substitute Products

4.3.5 Intensity of Competitive Rivalry

5. MARKET SEGMENTATION

5.1 By Type

5.1.1 Sel Gris

5.1.2 Flakey Salt

5.1.3 Himalayan Salt

5.1.4 Fleur de sel

5.1.5 Speciality Salt

5.1.6 Others

5.2 By Application

5.2.1 Confectionary

5.2.2 Bakery

5.2.3 Meat & Poultry

5.2.4 Sea Food

5.2.5 Sauces & Savories

5.2.6 Others

5.3 Geography

5.3.1 North America

5.3.1.1 United States

5.3.1.2 Canada

5.3.1.3 Mexico

5.3.1.4 Rest of North America

5.3.2 Europe

5.3.2.1 United Kingdom

5.3.2.2 Germany

5.3.2.3 France

5.3.2.4 Russia

5.3.2.5 Italy

5.3.2.6 Spain

5.3.2.7 Rest of Europe

5.3.3 Asia Pacific

5.3.3.1 India

5.3.3.2 China

5.3.3.3 Japan

5.3.3.4 Australia

5.3.3.5 Rest of Asia-Pacific

5.3.4 South America

5.3.4.1 Brazil

5.3.4.2 Argentina

5.3.4.3 Rest of South America

5.3.5 Middle East & Africa

5.3.5.1 South Africa

5.3.5.2 United Arab Emirates

5.3.5.3 Rest of Middle East & Africa

6. COMPETITIVE LANDSCAPE

6.1 Most Active Companies

6.2 Most Adopted Strategies

6.3 Market Share Analysis

6.4 Company Profiles

6.4.1 Alaska Pure Sea Salt Co.

6.4.2 Amagansett Sea Salt Co.

6.4.3 Cargill Inc.

6.4.4 Cheetham Salt Ltd.

6.4.5 Kalahari Pristine Salt Worx.

6.4.6 Maldon Crystal Salt Co.

6.4.7 Morton Salt, Inc.

6.4.8 Murray River Salt

6.4.9 Pyramid Salt Pty.Ltd.

6.4.10 Saltworks, Inc.

*List Not Exhaustive

7. MARKET OPPORTUNITIES AND FUTURE TRENDS

8. IMPACT OF COVID-19 ON THE MARKET
**Subject to Availability
You can also purchase parts of this report. Do you want to check out a section wise price list?
Frequently Asked Questions
¿Cuál es el período de estudio de este mercado?
Se estudia el mercado de Sal Gourmet Market desde 2016 - 2027.
¿Cuál es la tasa de crecimiento del mercado Sal gourmet?
El mercado de la sal gourmet está creciendo a una CAGR del 6,61 % en los próximos 5 años.
¿Qué región tiene la tasa de crecimiento más alta en el mercado Sal gourmet?
Asia Pacífico está creciendo a la CAGR más alta durante 2021-2026.
¿Qué región tiene la mayor participación en Gourmet Salt Market?
Europa tiene la participación más alta en 2021.
¿Quiénes son los jugadores clave que operan en el mercado Sal gourmet?
Morton Salt, Inc., Cargill Inc., Saltworks Inc., Cheetham Salt, Pyramid Salt son las principales empresas que operan en Gourmet Salt Market.
80%

of our clients seek made-to-order reports. How do you want us to tailor yours?