Cryptocurrency Market Snapshot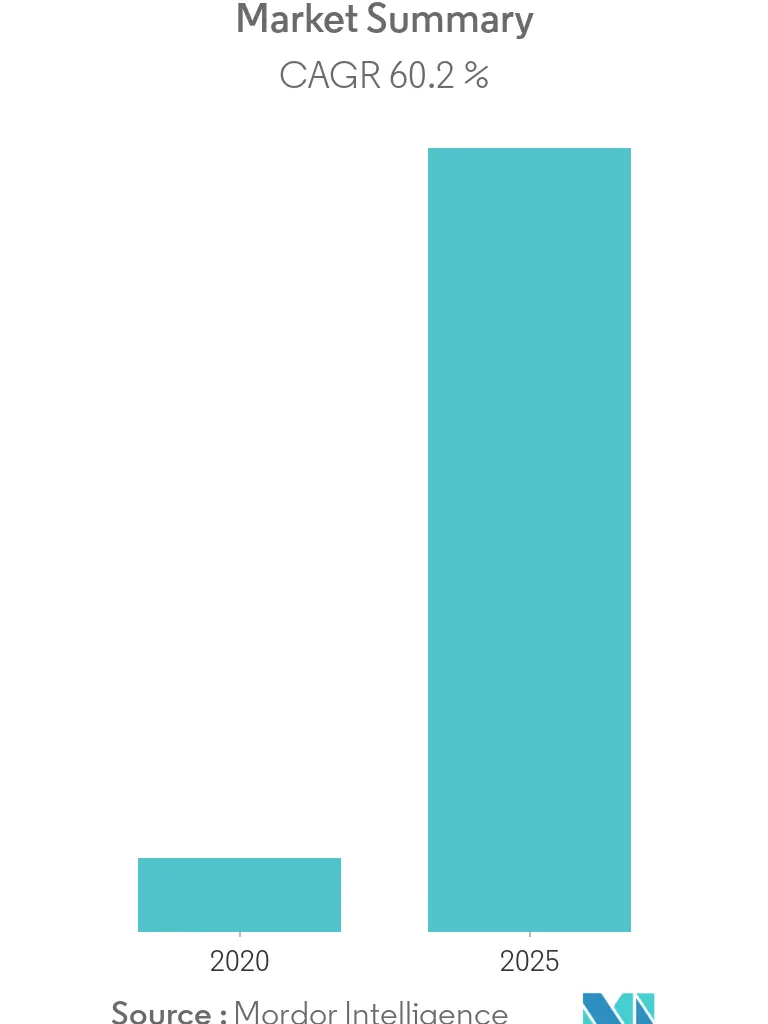 Need a report that reflects how COVID-19 has impacted this market and its growth?
Visión general del mercado
Las criptomonedas que están diseñadas para usarse en transacciones entre pares sin ser responsables ante ningún gobierno o banco central son las últimas innovaciones financieras exploradas no solo por las razones de su existencia sino también por los posibles riesgos y oportunidades en la industria financiera. Hay miles de criptomonedas con varios objetivos de diseño. Estos objetivos de diseño son proporcionar una moneda digital alternativa al efectivo (Bitcoin, Monero y Bitcoin cash), respaldar el sistema de pago a bajo costo (Ripple, Particl y Utility Settlement Coin), respaldar la actividad comercial entre pares mediante la creación tokens (RMG y Maecanas), para facilitar el acceso seguro a un bien o servicio en el comercio entre pares (Golem, Filecoin) y para soportar la plataforma o protocolo subyacente (Ether y NEO). Estos objetivos de diseño mencionados no serán exhaustivos ya que cada semana se crean nuevas criptomonedas. Blockchain es la tecnología subyacente para la mayoría de las criptomonedas.
El mercado de criptomonedas está segmentado en función de la capitalización de mercado de una gran cantidad de criptomonedas. Las criptomonedas se superponen con áreas clave del sistema monetario y financiero. Dado su rápido crecimiento, complejidad, alta volatilidad y potencialidad para facilitar actividades ilícitas, los reguladores y los formuladores de políticas de todo el mundo están preocupados por su inclusión en el sistema existente y la revisión de los sistemas existentes para adaptarlos, si se incluyen.
Alcance del Informe
Una comprensión del estado actual del mercado de criptomonedas, junto con un análisis detallado del mercado, sus complejidades estructurales explicadas en términos simples, riesgos y oportunidades, marcos regulatorios actuales e impacto en los sistemas existentes. Análisis en profundidad del impacto en las políticas monetaria y fiscal.
Geography
Americas (US, Canada, Latin America and Caribbean)
Europe
UK
Asia-Pacific
Middle East & Africa
By Design Goals
Digital Cash Coins
Payment Infrastructure Tokens
Securities Tokens
Utility Tokens
General Platform Tokens
Others
By Market Capitalization
Bitcoin
Ethereum
Ripple
Bitcoin Cash
Cardano
Others
Tendencias clave del mercado
Un resumen sobre la volatilidad en la capitalización de mercado de las criptomonedas
Debido a la naturaleza evolutiva de este mercado con nuevas criptomonedas creadas cada semana, es difícil saber qué tan grande es el mercado de criptomonedas. Una amplia gama de intercambios de mercado para el comercio de criptomonedas, repartidas por todo el mundo debido a sus características de protección de la privacidad, así como al rápido crecimiento, la extrema volatilidad de los precios y la falta de liquidez del mercado, se suman a la complejidad del mercado de criptomonedas. La capitalización de mercado de las criptomonedas a lo largo de los años muestra cuán alta es la volatilidad de los precios del mercado.
La capitalización estimada del mercado de criptomonedas, por ejemplo, durante el mes de enero de 2018, varió entre 400 000 millones de USD y 800 000 millones de USD, que fue de 566 000 millones de USD a principios del año 2018 y finalmente se ubicó en 128 000 millones de USD al final del año. año 2018. En términos de volúmenes de transacciones, solo bitcoin tuvo el mayor número de transacciones diarias promedio de 200,000.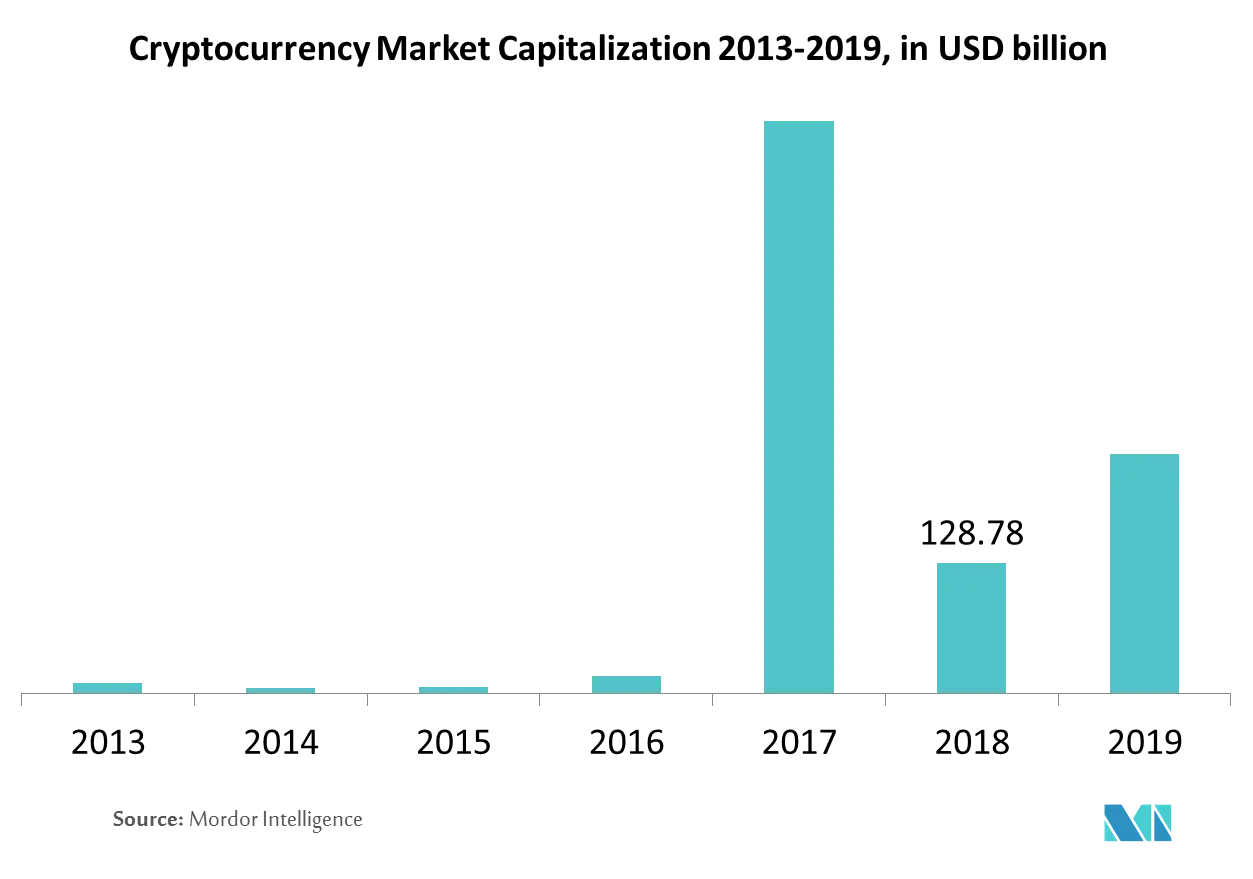 To understand key trends, Download Sample Report
La adopción de la tecnología Blockchain aumenta a un ritmo acelerado
La adopción empresarial de la tecnología blockchain ha llegado silenciosamente a un punto de inflexión en múltiples casos de uso. Las empresas que han reconocido el valor de sus proyectos piloto iniciales ahora se están moviendo para convertir estos proyectos en producción. Específicamente, todavía existe incertidumbre sobre esta tecnología en las áreas de regulaciones y gobernanza, pero la adopción de blockchain para servicios financieros, identidad, comercio y otros mercados está aumentando.
El gasto mundial en blockchain estará liderado por la industria bancaria, seguida por la fabricación discreta y la fabricación por procesos, con una cuota de mercado combinada de alrededor del 50 % del gasto total. En la industria bancaria, el gasto será impulsado por dos de los casos de uso más importantes: pagos y liquidaciones transfronterizas y financiación comercial y liquidaciones posteriores a la negociación.
El gasto en soluciones de cadena de bloques será el más alto en los Estados Unidos, seguido de Europa Occidental y China. Se espera que todas las regiones que se muestran en la infografía experimenten un crecimiento fenomenal en los próximos años.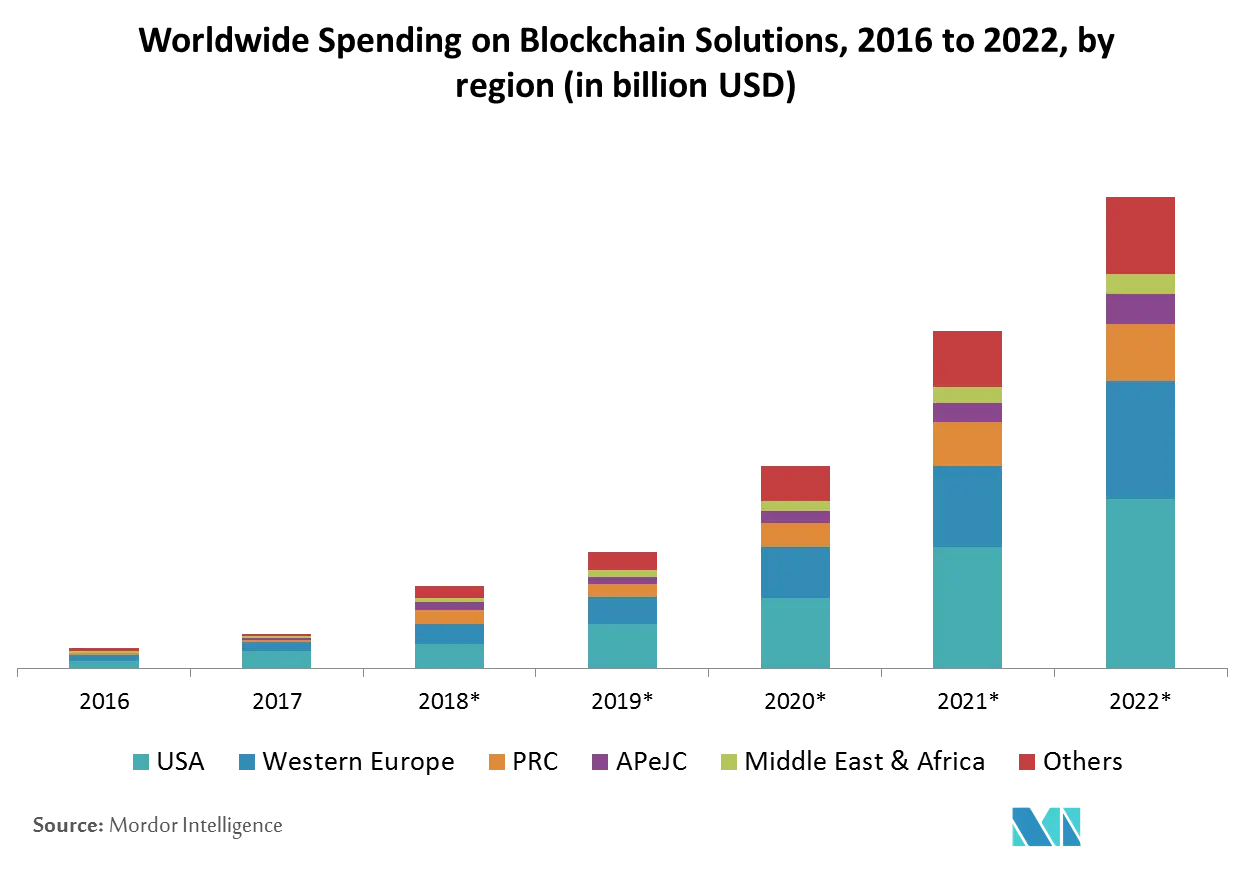 To understand geography trends, Download Sample Report
Panorama competitivo
El informe incluye diferentes segmentos como desarrolladores de productos de monedas, servicios de minería, intercambios de criptomonedas, empresas de carteras, etc., junto con una nota sobre fusiones y adquisiciones recientes que dieron forma al ecosistema.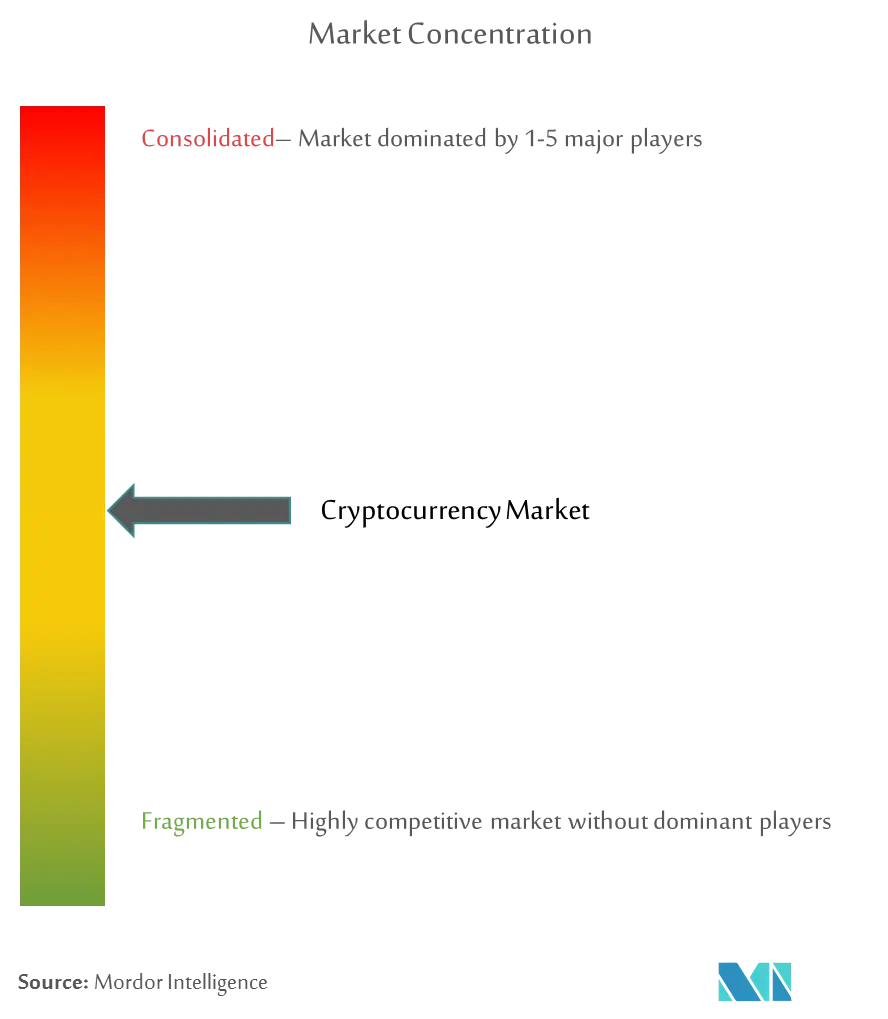 Table of Contents
1. INTRODUCTION

1.1 Scope of the Market

1.2 Market Definition

2. RESEARCH METHODOLOGY

2.1 Study Deliverables

2.2 Study Assumptions

2.3 Analysis Methodology

2.4 Research Phases

3. EXECUTIVE SUMMARY

4. MARKET INSIGHTS AND DYNAMICS

4.1 Market Overview

4.1.1 A Brief on the Structure and Technological Aspects of Cryptocurrencies

4.1.2 Price Volatility of the cryptocurrency market

4.1.3 Market Capitalization of Major Cryptocurrencies

4.1.4 Rationale for widespread Crypto Mining Areas Across the Globe

4.2 Major Concerns for Policymakers About Cryptocurrencies

4.2.1 Effects of Cryptocurrency Market on Eonomic Efficiency and Growth

4.2.2 Impact on Financial Stability due to Cryptocurrenncy Adoption

4.2.3 Effects on Monetary Policy due to Cryptocurrency Adoption

4.2.4 Effects on Fiscal Policy due to Cryptocurrency Adoption

4.2.5 Probable ways of Taxation of Cryptocurrency Market

4.2.6 Cons of Cryptocurrency Adoption into Financial Ecosystem

4.2.7 Tools at the Disposal of Policymakers to Counter the Cons of Cryptocurrency Adoption

4.3 A Brief on Investment Outlook in Cryptocurrency Market

4.4 Latest Developments in the Cryptocurrency Market

4.5 Market Drivers

4.6 Market Restraints

5. MARKET SEGMENTATION AND ANALYSIS

5.1 Geography

5.1.1 Americas (US, Canada, Latin America and Caribbean)

5.1.2 Europe

5.1.3 UK

5.1.4 Asia-Pacific

5.1.5 Middle East & Africa

5.2 By Design Goals

5.2.1 Digital Cash Coins

5.2.2 Payment Infrastructure Tokens

5.2.3 Securities Tokens

5.2.4 Utility Tokens

5.2.5 General Platform Tokens

5.2.6 Others

5.3 By Market Capitalization

5.3.1 Bitcoin

5.3.2 Ethereum

5.3.3 Ripple

5.3.4 Bitcoin Cash

5.3.5 Cardano

5.3.6 Others

6. COMPETITIVE LANDSCAPE

6.1 Overview (Market Concentration and Major Players)

6.2 Mergers & Acquisitions

6.3 Segments and Company Profiles

6.3.1 Coin Product Developers

6.3.2 Mining Services

6.3.3 Cloud for Bitcoin

6.3.4 Cryptocurrency Exchanges

6.3.5 Wallet Companies

6.3.6 Payment and Trading Solution Providers

6.3.7 Others

7. MARKET OPPORTUNITIES AND FUTURE TRENDS
You can also purchase parts of this report. Do you want to check out a section wise price list?
Frequently Asked Questions
¿Cuál es el período de estudio de este mercado?
El mercado del mercado de criptomonedas se estudia desde 2016 hasta 2025.
¿Cuál es la tasa de crecimiento del mercado Criptomoneda?
El mercado de criptomonedas está creciendo a una CAGR del 60,2 % en los próximos 5 años.
¿Qué región tiene la tasa de crecimiento más alta en el mercado de criptomonedas?
América del Norte está creciendo a la CAGR más alta durante 2021-2026.
¿Qué región tiene la mayor participación en el mercado de criptomonedas?
Europa, Medio Oriente y África tienen la mayor participación en 2021.
¿Quiénes son los jugadores clave que operan en el mercado Criptomoneda?
Bitfinex, Quantstamp Inc, CryptoMove Inc, Coinbase, Huobi Global son las principales empresas que operan en el mercado de criptomonedas.
80%

of our clients seek made-to-order reports. How do you want us to tailor yours?