Markt-Snapshot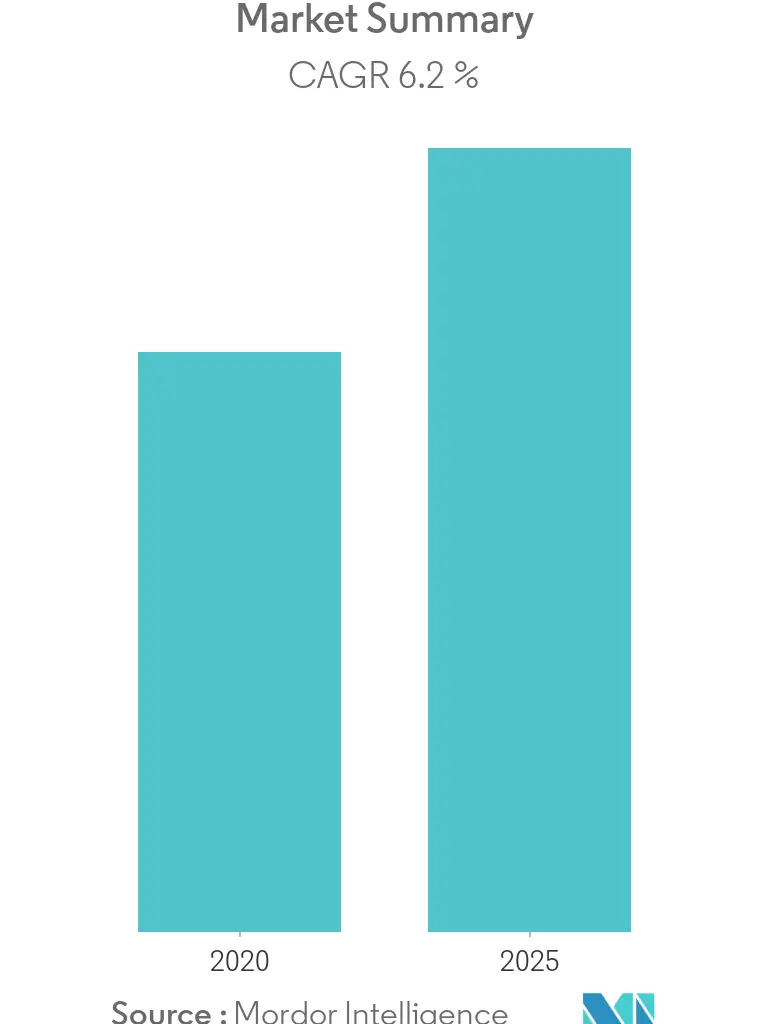 Study Period:
2018 - 2026
Fastest Growing Market:
Asia Pacific
Largest Market:
North America
CAGR:
6.2 %

Major Players

*Disclaimer: Major Players sorted in no particular order
Need a report that reflects how COVID-19 has impacted this market and it's growth?
Marktübersicht
Der Markt für Tracheostomieprodukte wird im Prognosezeitraum voraussichtlich eine CAGR von 6,2 % verzeichnen. Der Hauptfaktor für das Wachstum des Marktes ist die Zunahme der Prävalenz von Atemwegserkrankungen wie Asthma, belastungsinduzierter Bronchospasmus, allergischer Rhinitis, primärer Dysmenorrhoe und Urtikaria.
Nach Angaben der Weltgesundheitsorganisation leben rund 235 Millionen Menschen mit Asthma. Über 80 % der asthmabedingten Todesfälle ereignen sich in Ländern mit niedrigem und mittlerem Einkommen.
Da die Zahl der Patienten zunimmt, wächst der Markt. Darüber hinaus kurbeln die steigende Patientennachfrage nach häuslichen Pflegediensten und das günstige Erstattungsszenario das Marktwachstum an.
Die hohen Kosten der Tracheostomieverfahren hemmen jedoch das Marktwachstum.
Umfang des Berichts
Tracheotomie ist der Prozess, bei dem eine Öffnung im Hals und in der Luftröhre gemacht wird, um eine uneingeschränkte Atmung zu ermöglichen. Es gibt eine Vielzahl von Tracheostomieprodukten, die sich in bestimmten Merkmalen für unterschiedliche Zwecke unterscheiden. Die Tracheotomie gilt als einer der am häufigsten durchgeführten chirurgischen Eingriffe auf Intensivstationen. Dieser untersuchte Markt ist nach Produkttyp, Material, Endverbraucher und Geografie segmentiert.
By Product Type
Tracheostomy Tubes
Tracheostomy Ventilation Accessories
Tracheostomy Cleaning Kits
Other Product Types
By Material
Polyvinyl Chloride and Polyurethane
Silicone
Other Materials
By End User
Hospitals and Surgical Centers
Ambulatory Care Centers
Other End Users
Geography

North America
United States
Canada
Mexico

Europe
Germany
United Kingdom
France
Italy
Spain
Rest of Europe

Asia-Pacific
China
Japan
India
Australia
South Korea
Rest of Asia-Pacific

Middle East & Africa
GCC
South Africa
Rest of Middle East & Africa

South America
Brazil
Argentina
Rest of South America
Wichtige Markttrends
Das Segment Tracheostomiekanülen wird im Prognosezeitraum voraussichtlich die höchste CAGR verzeichnen
Die üblicherweise verwendete Tracheostomiekanüle besteht aus drei Teilen, nämlich einer inneren Kanüle, einer äußeren Kanüle mit Flansch und einem Obturator. Tracheostomiekanülen werden bei Tracheostomieverfahren verwendet, die bei Indikationen wie Anaphylaxie, Kehlkopfkrebs, chronischer Lungenerkrankung, Koma, Zwerchfellfunktionsstörung, Laryngektomie, obstruktiver Schlafapnoe und Stimmbandlähmung durchgeführt werden. Das starke Wachstum des Tracheostomiekanülen-Segments kann auf die erheblichen Vorteile zurückgeführt werden, die geboten werden, wie z. B. hohe Genauigkeit, reduzierte Luftverschmutzung, Aspirationsrisiko, Vermeidung mehrerer Laryngoskopien und Intubationen, verbesserte Beatmung und genaues Tidalvolumen und endtidale Kohlendioxidüberwachung .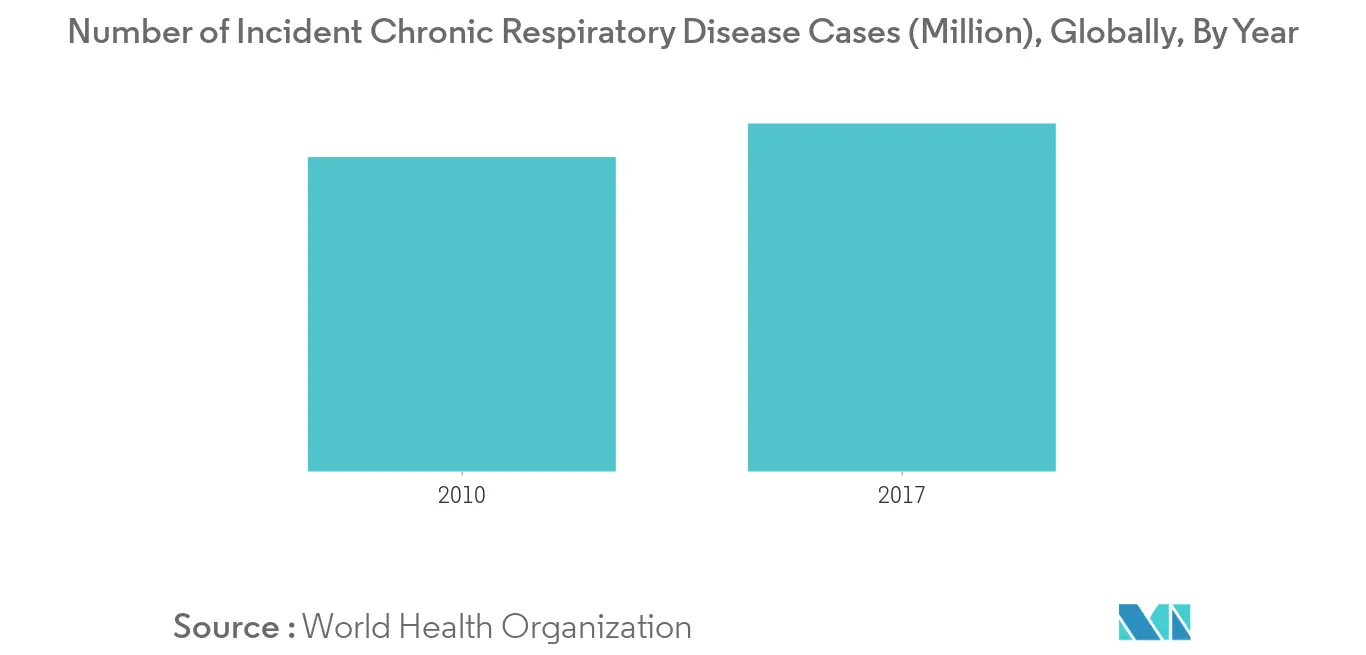 To understand key trends, Download Sample Report
Nordamerika dominiert den Markt und wird voraussichtlich im Prognosezeitraum dasselbe tun
Es wird erwartet, dass Nordamerika den Gesamtmarkt während des gesamten Prognosezeitraums dominieren wird. Das Marktwachstum ist auf Faktoren wie die Präsenz wichtiger Akteure, die hohe Prävalenz von Atemwegserkrankungen in der Region und die etablierte Gesundheitsinfrastruktur zurückzuführen. Darüber hinaus sind vorteilhafte Regierungsinitiativen und eine Zunahme der Anzahl von Forschungspartnerschaften einige der Treiber, von denen erwartet wird, dass sie das Marktwachstum steigern. In dieser Region haben die Vereinigten Staaten aufgrund ihrer unterstützenden Gesundheitspolitik, der hohen Patientenzahlen und eines entwickelten Gesundheitsmarktes den größten Anteil. Laut den Centers for Disease Control and Prevention wurde 2017 allein in den Vereinigten Staaten bei 9 Millionen Erwachsenen eine chronische Bronchitis diagnostiziert. Laut Statistik,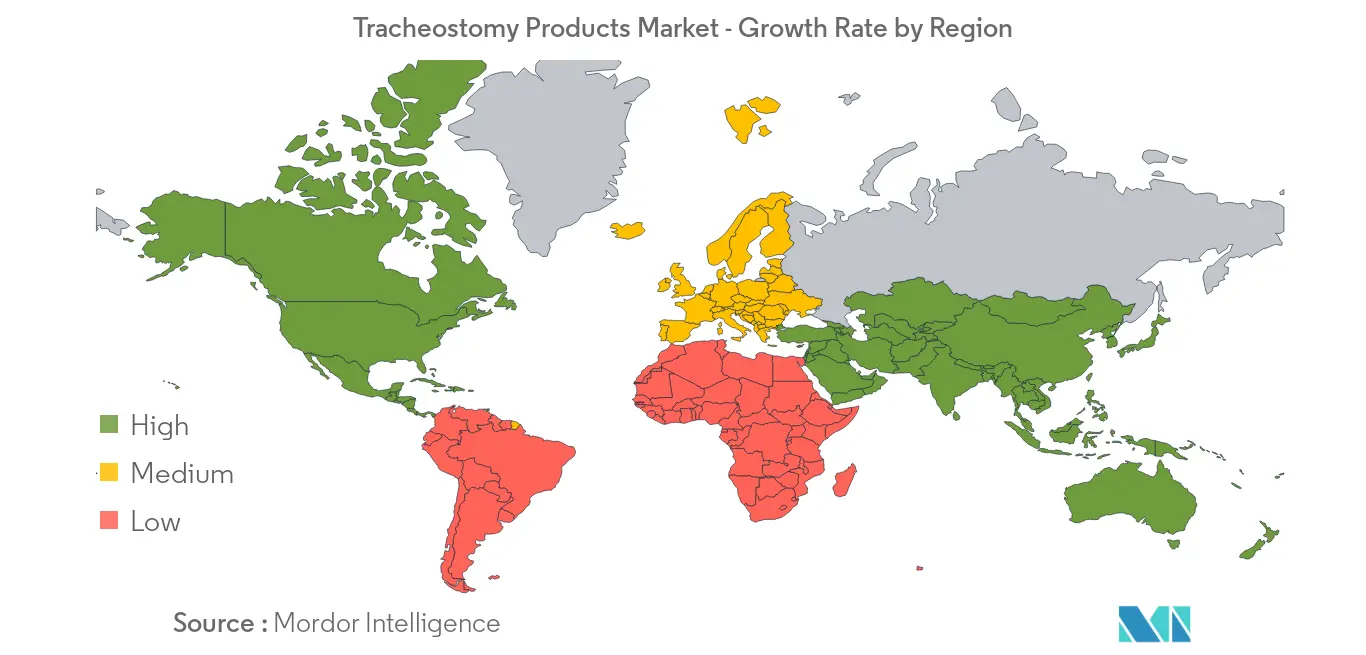 To understand geography trends, Download Sample Report
Wettbewerbslandschaft
Der Markt für Tracheostomieprodukte ist mäßig wettbewerbsintensiv und besteht aus mehreren großen Akteuren. Einige der Unternehmen, die derzeit den Markt dominieren, sind Medtronic PLC, Smiths Group PLC, Teleflex Incorporated, Boston Medical Products Inc., TRACOE medical GmbH, Cook Group, Fuji Systems Corporation, Fisher & Paykel Healthcare Ltd, Troge Medical GmbH und Pulmodyne .
Hauptakteure
Medtronic Plc

Smiths Group PLC

Teleflex Incorporated

Boston Medical Products Inc.

TRACOE medical GmbH
*Disclaimer: Major Players sorted in no particular order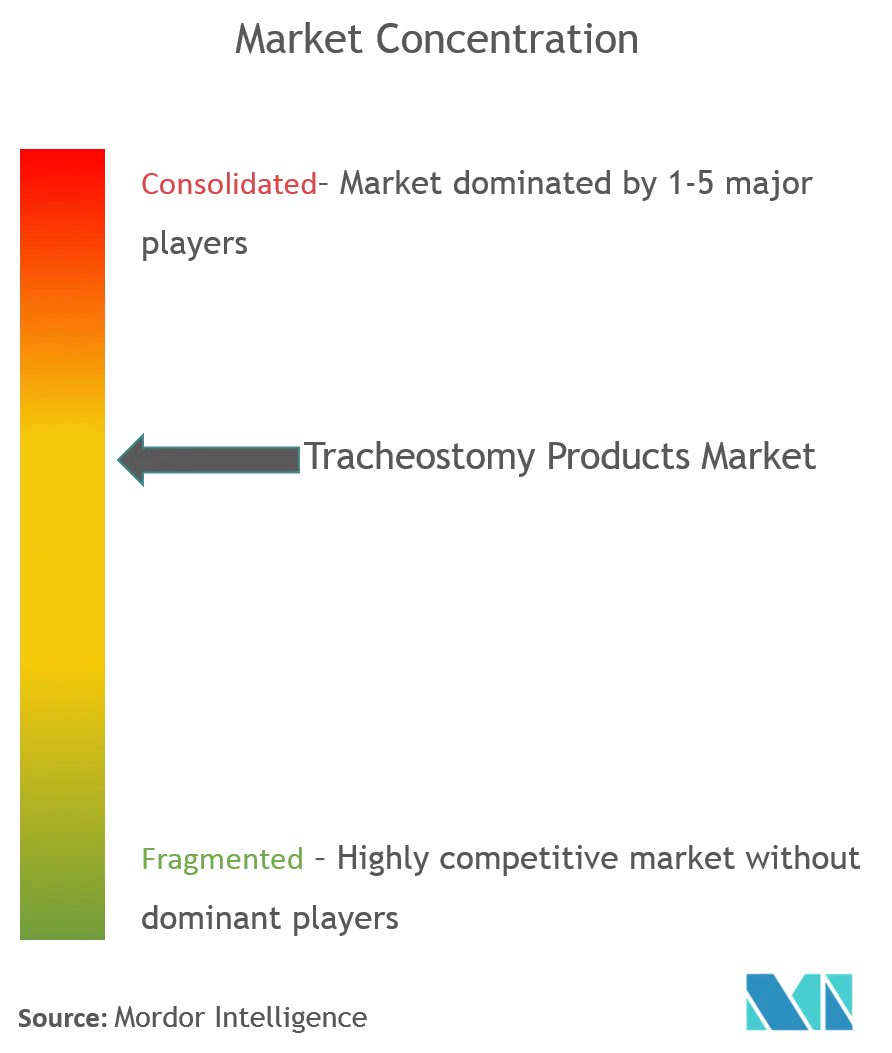 Table of Contents
1. INTRODUCTION

1.1 Study Deliverables

1.2 Study Assumptions

1.3 Scope of the Study

2. RESEARCH METHODOLOGY

3. EXECUTIVE SUMMARY

4. MARKET DYNAMICS

4.1 Market Overview

4.2 Market Drivers

4.2.1 Increasing Prevalence Of Respiratory And Other Chronic Disorders

4.2.2 Technological Advancements and Favorable Reimbursement Scenario

4.3 Market Restraints

4.3.1 High Cost of Tracheostomy Procedures

4.3.2 Risk of Infection of during Procedures

4.4 Porter's Five Forces Analysis

4.4.1 Threat of New Entrants

4.4.2 Bargaining Power of Buyers/Consumers

4.4.3 Bargaining Power of Suppliers

4.4.4 Threat of Substitute Products

4.4.5 Intensity of Competitive Rivalry

5. MARKET SEGMENTATION

5.1 By Product Type

5.1.1 Tracheostomy Tubes

5.1.2 Tracheostomy Ventilation Accessories

5.1.3 Tracheostomy Cleaning Kits

5.1.4 Other Product Types

5.2 By Material

5.2.1 Polyvinyl Chloride and Polyurethane

5.2.2 Silicone

5.2.3 Other Materials

5.3 By End User

5.3.1 Hospitals and Surgical Centers

5.3.2 Ambulatory Care Centers

5.3.3 Other End Users

5.4 Geography

5.4.1 North America

5.4.1.1 United States

5.4.1.2 Canada

5.4.1.3 Mexico

5.4.2 Europe

5.4.2.1 Germany

5.4.2.2 United Kingdom

5.4.2.3 France

5.4.2.4 Italy

5.4.2.5 Spain

5.4.2.6 Rest of Europe

5.4.3 Asia-Pacific

5.4.3.1 China

5.4.3.2 Japan

5.4.3.3 India

5.4.3.4 Australia

5.4.3.5 South Korea

5.4.3.6 Rest of Asia-Pacific

5.4.4 Middle East & Africa

5.4.4.1 GCC

5.4.4.2 South Africa

5.4.4.3 Rest of Middle East & Africa

5.4.5 South America

5.4.5.1 Brazil

5.4.5.2 Argentina

5.4.5.3 Rest of South America

6. COMPETITIVE LANDSCAPE

6.1 Company Profiles

6.1.1 Medtronic PLC

6.1.2 Smiths Group PLC

6.1.3 Teleflex Incorporated

6.1.4 Boston Medical Products Inc.

6.1.5 TRACOE medical GmbH

6.1.6 Cook Group

6.1.7 Fuji Systems Corporation

6.1.8 Fisher & Paykel Healthcare Ltd

6.1.9 Troge Medical GmbH

6.1.10 Pulmodyne

*List Not Exhaustive

7. MARKET OPPORTUNITIES AND FUTURE TRENDS
**Competitive Landscape covers- Business Overview, Financials, Products and Strategies and Recent Developments
Frequently Asked Questions
Was ist der Untersuchungszeitraum dieses Marktes?
Der globale Markt für Tracheostomieprodukte wird von 2018 bis 2028 untersucht.
Wie hoch ist die Wachstumsrate des globalen Marktes für Tracheostomieprodukte?
Der globale Markt für Tracheostomieprodukte wächst in den nächsten 5 Jahren mit einer CAGR von 6,2 %.
Welche Region weist die höchste Wachstumsrate auf dem globalen Markt für Tracheostomieprodukte auf?
Der asiatisch-pazifische Raum wächst von 2018 bis 2028 mit der höchsten CAGR.
Welche Region hat den größten Anteil am globalen Markt für Tracheostomieprodukte?
Nordamerika hält 2021 den höchsten Anteil.
Wer sind die Hauptakteure auf dem globalen Tracheostomieprodukte-Markt?
Medtronic Plc, Smiths Group PLC, Teleflex Incorporated, Boston Medical Products Inc. und TRACOE medical GmbH sind die wichtigsten Unternehmen, die auf dem globalen Markt für Tracheostomieprodukte tätig sind.
80%

of our clients seek made-to-order reports. How do you want us to tailor yours?