Market Snapshot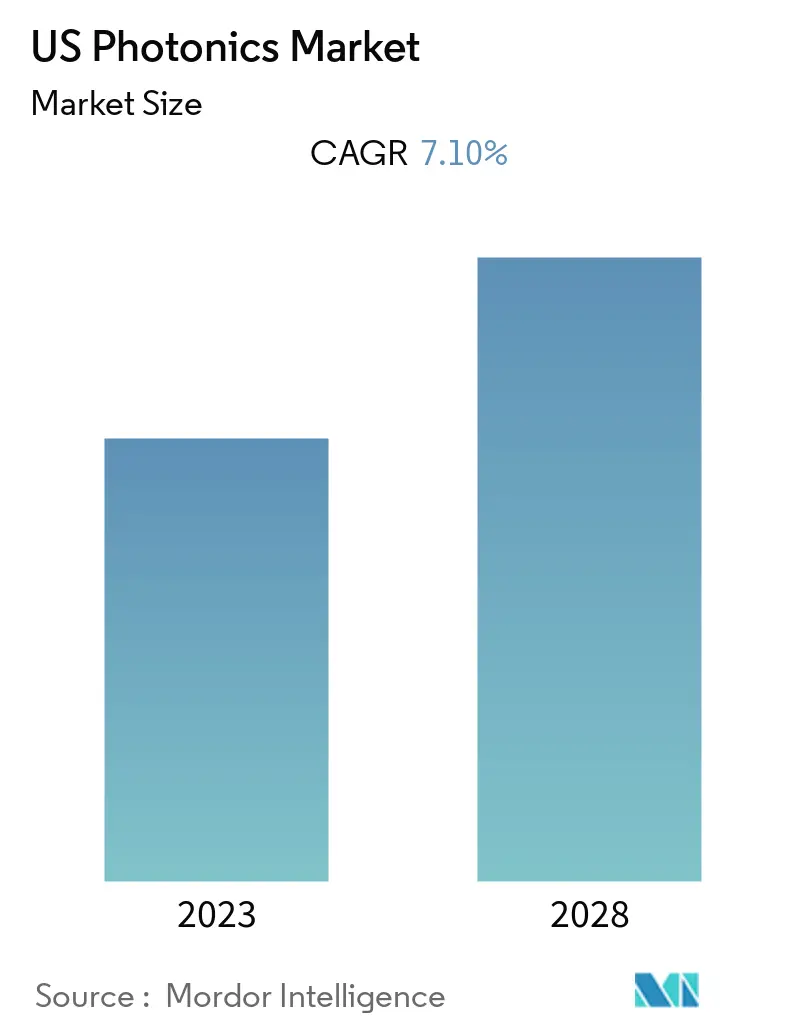 Study Period:
2020-2027
Base Year:
2021
CAGR:
7.1 %
Need a report that reflects how COVID-19 has impacted this market and its growth?
Market Overview
The United States Photonics Market is expected to witness a CAGR of 7.1% during the forecast period (2022 - 2027). Photonics is widely regarded as a critical enabling technology for developing smart systems that efficiently use energy without sacrificing overall system efficiency. Many verticals, including healthcare, automotive, communications, manufacturing, and retail, are leveraging the technology to attain higher efficiency, driving growth.
The investments from these sectors also have witnessed significant growth in the recent past. With photonics being a core technology of multiple industries, the consumption of the technology is witnessing rapid growth, with the market expanding in new verticals. Thus, the market is witnessing a robust growth rate.
Several global initiatives specifically target innovations in photonics technology. For instance, in October 2021, New York State Governor Kathy Hochul announced that the American Institute of Manufacturing Photonics (AIM Photonics) had secured a new seven-year cooperative agreement with the Air Force Research Laboratory (AFRL) and the Research Foundation of the State University of New York, which includes total support of over USD 321 million. These funds are to be used to ensure the manufacturing readiness of advanced photonics. This technology is essential to national security and critical to the future of high-performance microelectronics.
According to a paper presented at the Optical Society of America's (OSA) Conference on Lasers and Electro-Optics (CLEO) and published online in the OSA Technical Digest, a group of people created a single thin layer of integrated photonics that emulated the lens and sensor of a digital camera, reducing the thickness and cost of digital cameras. This was designed at the California Institute of Technology. Such trends are expected to boost the adoption of photonic sensors in the regional consumer technology industry, stimulating the market's growth.
However, compared to conventional products, the high initial cost of silicon-enabled photonic products and devices hinders technology deployment in many fields. While the technology provides higher performance and efficiency, photonics-based devices remain inaccessible to many small- and medium-sized end-users in various verticals due to limited budgets.
Further, the COVID-19 outbreak has affected many industries. Due to the nationwide lockdown globally, many photonic devices manufacturing companies faced supply chain interruption and manufacturing inefficiency. However, the COVID-19 outbreak has expanded the scope of photonic devices in the healthcare industry. It is not surprising that many new industrial-automated solutions were found in photonic devices and developed by optical engineers. Although R&D efforts have been hindered by work-from-home conditions and manufacturing has been delayed by shortages in the supply chain, many photonics researchers and companies have made significant contributions to diagnostics and personal protective equipment (PPE) by adapting existing systems and inventing new technologies.
Scope of the Report
Photonics involves the use of radiant energy (such as light), whose fundamental element is the photon and waves that can be used to cure diseases, explore the universe, and even solve crimes.
The United States Photonics Market is segmented by Application (Surveying and Detection, Production Technology, Data Communication, Image Capture, Display, Medical Technology, and Lighting). The scope of the study focuses on the market analysis of photonics products sold across the United States, and market sizing encompasses the revenue generated through Photonics Products sold by various market players.
By Application
Surveying And Detection
Production Technology
Data Communication
Image Capture And Display
Medical Technology
Lighting
Other Applications
Key Market Trends
Advancing Medical Technology to Drive the Market's Growth
Photonics is paving the way for low-cost devices that can accelerate healthcare availability via the proliferation of technology. Ongoing advances in some of the critical areas of technology have radically increased the capabilities of biomedical optical instrumentation, thereby leading to improvements in treating many types of diseases.
Various optical technologies are being developed to help the healthcare industry. For instance, a vein finder is one such device that sees a significant increase in acceptance and accuracy in the industry. AccuVein is a major vendor that is developing such technology with higher accuracy. According to the company, its AccuVein vein detection device witnessed improvement after its first stick success by 98%.
The healthcare industry is ever-changing and ubiquitous. Fiber optics are preferred over electronic sensors in healthcare applications due to many advantages, which include – their small size, immunity to electromagnetic interference (EMI), higher sensitivity, geometrical versatility, and robust characteristics. Fiber optic cables used in the healthcare industry use light to sense or measure rather than only using light to see inside the patient's body. The tolerance to tight bends is another advantage that makes fiber optics an appropriate medium for use in invasive surgeries. This results in a catheter being able to move freely around organs and bones, and fiber optics make it easier to move through veins and arteries.
Wearable sensors are one of the fastest-growing technology markets. Wearable devices are rapidly advancing, in terms of technology, functionality, and size, with more real-time applications, particularly for health monitoring. In March 2022, Medtronic collaborated with Rockley Photonics to develop biomarker-sensing wearables. As part of the partnership, Rockley's biosensing technology would be integrated with Medtronic's capabilities of developing patient-facing tools and services. Rockley's Bioptx platform centers around the compact, photonics-based sensors that are embedded in a wristband and can simultaneously track a range of data points, including blood pressure, body temperature, pulse oximetry, heart rate, and hydration, as well as alcohol, lactate, and glucose levels, among others.
Photonics is important in health monitoring devices, particularly for flexible displays and wearable biosensors. For instance, flexible OLEDs are now integrated into flexible or textile-based displays. From laser eye surgery to CT scans, photonics is responsible for medical advances which improve health conditions. Photonics plays a key role in next-generation healthcare, both in enhancing the ability to measure symptoms and treating patients earlier with less invasive and cost-effective methods.
Further, the growing importance of non-invasive diagnostics, with extensive research on the non-invasive testing for blood sugar monitoring, and the usage of photonic imaging techniques for early cancer detection are expected to provide great potential opportunities during the forecast period.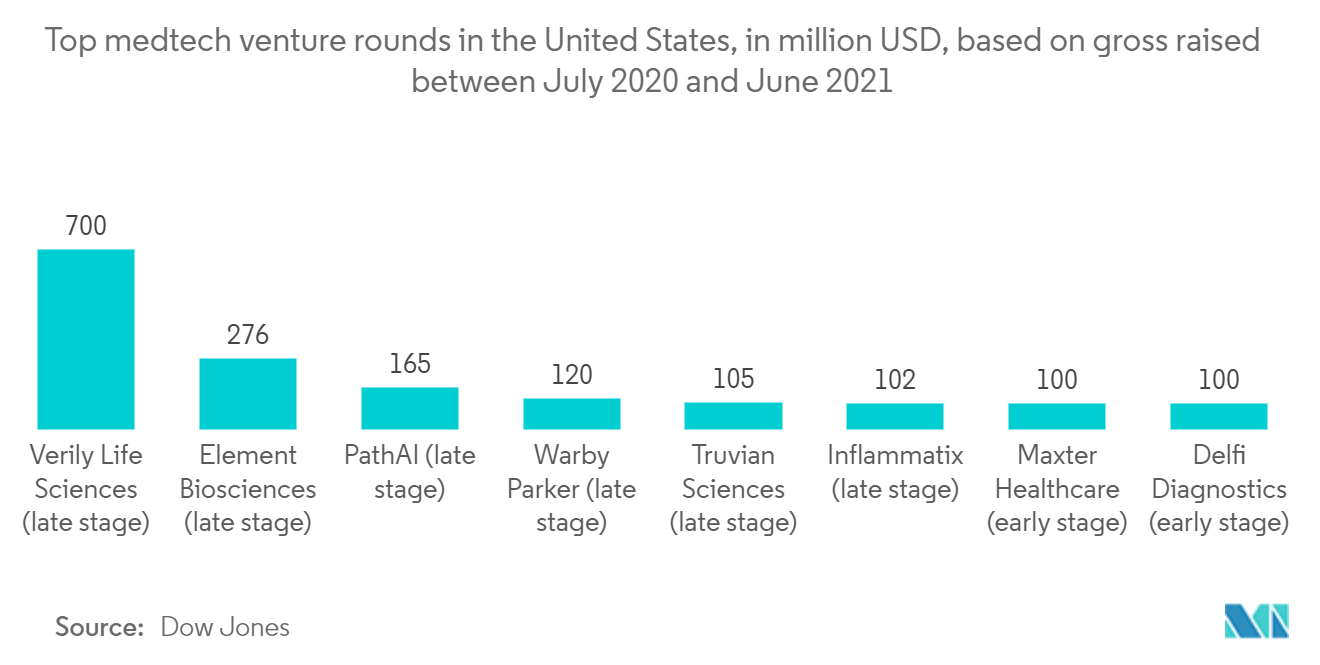 To understand key trends, Download Sample Report
Data Communication Segment is Expected to Witness Considerable Growth
The 5G technology requires lower latency and enhanced capacity, straight to the networks. The scalability, security, and ability to handle the vast amount of backhaul traffic generated have made fiber optic cable the preferred option for 5G. Such factors are expected to create an immense opportunity for the market studied in the telecommunication industry.
In December 2021, Intel launched the Research Center for Integrated Photonics. It accelerates optical input/output (I/O) technology innovation in performance scaling and integration, focusing on photonics technology and devices, CMOS circuits and link architecture, package integration, and fiber coupling.
The automobile industry is rapidly transforming, driven by autonomous vehicles, driver support systems, and changes in mobility patterns. As a result, cars have become connected with the increasing uses of cameras, radars, and LiDAR systems, leading to the need for high-speed data communication in cars, where integrated photonics play a vital role in monitoring the car's surroundings through sensor systems, like LiDAR and Li-Fi.
The increasing number of data centers and growing investment by data center service providers in bandwidth and capacity expansion are providing opportunities for vendors to invest in optic fiber, hence driving the market demand. For instance, US-based Inphi is increasingly targeting data center applications and continues to extend its marketplace with advanced products, including 400G data center interconnect optically.
The presence of industry giants such as Microsoft and Facebook is the primary force driving the US market, necessitating the optimization of the data transmission process for respective data centers. The country also provides a favorable environment for technological advancements and expansions. Furthermore, the significant funding landscape in the United States silicon photonics devices industry has encouraged organizations and start-ups to invest in the expanding photonics market.
Competitive Landscape
The United States Photonics Market is moderately fragmented with significant players like Finisar corporation (II-VI Incorporated), Infinera Corporation, Coherent, Inc., etc. The market players are striving to get a sustainable competitive advantage through innovation.
February 2022 - Hewlett Packard Enterprise and AyarLabs, one of the prominent players in chip-to-chip optical connectivity, announced a multi-year strategic collaboration to usher in a new era of data center innovation by developing silicon photonics solutions based on optical I/O technology.
February 2022 - Intel established a USD 1 billion foundry innovation fund and an accelerator programmer with EDA, design, and IP firms across multiple ISAs, including X86, Arm, and RISC-V in the United States. Further, Intel announced a USD 5.4 billion acquisition of Tower Semiconductor. As a foundry, the company will expand its manufacturing capabilities and add to its global portfolio as a semiconductor manufacturer. Tower Semiconductor is known for significant partnerships and collaborations for laser-power and other photonics applications and semiconductor manufacturing facilities in Israel, which will be part of Intel's aggressive expansion plans in the semiconductor foundry landscape.
December 2021 - Intel Labs opened the Intel Research Center by collaborating with various enterprises in the United States for Integrated Photonics for Data Center Interconnects. The center's mission is to accelerate optical input/output (I/O) technology innovation in performance scaling and integration with a specific focus on photonics technology and devices, CMOS circuits and link architecture, and package integration and fiber coupling.
Recent Developments
May 2022 - Cognifiber, a deep technology firm specializing in photonic computing hardware, has announced a new glass-based photonic chip that has the potential to greatly increase computer capabilities while allowing for smaller edge devices. Cognifiber's chip is based on off-the-shelf fibreoptics and optical communication devices. This, according to Cognifiber, improves its reliability and extends its life duration while lowering the mean time between failures (MTBF).
April 2022 - GigajotTechnology, the creator and developer of Quanta Image Sensors (QIS), has announced the addition of the GJ04122 sensor and associated QIS41 camera to their pioneering QIS product portfolio. The GJ04122 sensor can detect photon counting and photon number resolving at room temperature, owing to its low read noise. The GJ04122 sensor of the QIS41 camera pairs well with typical 4/3-inch microscopy optics, delivering unmatched resolution and low light performance to scientific and industrial imaging applications.
Table of Contents
1. INTRODUCTION

1.1 Study Assumption And Market Defination

1.2 Scope of the study

2. RESEARCH METHODOLOGY

3. EXECUTIVE SUMMARY

4. MARKET INSIGHTS

4.1 Market Overview

4.2 Industry Attractiveness - Porter's Five Forces Analysis

4.2.1 Bargaining Power Of Suppliers

4.2.2 Bargaining Power Of Buyers

4.2.3 Threat Of New Entrants

4.2.4 Threat Of Substitutes

4.2.5 Intensity Of Competitive Rivalry

4.3 Industry Value Chain Analysis

4.4 Impact of Covid-19 on the Market

5. MARKET DYNAMICS

5.1 Market Drivers

5.1.1 Emergence of Silicon-based Photonics Applications

5.1.2 Growth of the Data Centers

5.2 Market Restraints

5.2.1 High Cost of Photonics Devices

6. MARKET SEGMENTATION

6.1 By Application

6.1.1 Surveying And Detection

6.1.2 Production Technology

6.1.3 Data Communication

6.1.4 Image Capture And Display

6.1.5 Medical Technology

6.1.6 Lighting

6.1.7 Other Applications

7. COMPETITIVE LANDSCAPE

7.1 Company Profiles

7.1.1 Finisar corporation (II-VI Incorporated)

7.1.2 Intel Corporation

7.1.3 NeoPhotonics Corporation

7.1.4 Infinera Corporation

7.1.5 Molex Inc. (koch Industries)

7.1.6 Hamamatsu Photonics KK

7.1.7 IPG Photonics

7.1.8 Coherent, Inc.

7.1.9 Berkshire Photonics

7.1.10 Vescent Photonics

7.1.11 Lightmatter

7.1.12 Photonic Systems Inc.

7.1.13 Thorlabs, Inc.

*List Not Exhaustive

8. INVESTMENT ANALYSIS

9. FUTURE OUTLOOK
You can also purchase parts of this report. Do you want to check out a section wise price list?
Frequently Asked Questions
What is the study period of this market?
The US Photonics Market market is studied from 2020 - 2027.
What is the growth rate of US Photonics Market ?
The US Photonics Market is growing at a CAGR of 7.1% over the next 5 years.
Who are the key players in US Photonics Market ?
Finisar corporation (II-VI Incorporated), Molex Inc. (koch Industries) , Vescent Photonics, IPG Photonics, Infinera Corporation are the major companies operating in US Photonics Market .
80%

of our clients seek made-to-order reports. How do you want us to tailor yours?