Market Snapshot
Study Period:
2018 - 2026
Base Year:
2021
CAGR:
9.12 %
Need a report that reflects how COVID-19 has impacted this market and its growth?
Market Overview
The United States Beverage Contract Bottling and Filling Market is expected to register a CAGR of 9.12% over the forecast period from 2021 to 2026. Growth in the United States beverage contract bottling and filling is mainly influenced by the changing preferences of manufacturing firms, who usually outsource these specific activities to third-party players. This is because manufacturers are increasingly focusing on cost optimization and their core business. Contract bottling and filling provides several advantages. Firstly, it reduces the operational costs of the manufacturers. In many cases, it is estimated that the operational costs can be reduced significantly through outsourcing bottling and filling activities to contract companies and the decreasing costs of machines and labor costs.
The manufacturing regulations, especially in the case of beverage products in the United States, are evolving rapidly. Meeting such stringent regulations and norms require several inspection and quality check operations. By outsourcing bottling and filling activities, the hectic task of meeting such regulations is passed on to the contracting agency, motivating more manufacturers to prefer contracting over in-house manufacturing activities. Moreover, the industry is rapidly growing, with many new products and technologies being introduced. Therefore, companies need to stay updated to meet the changing needs of customers.
Admiral Beverage Corp. is among the largest suppliers of carbonated soft drinks (CSD) in the western United States. It has grown to three extensive facilities supplying carbonated and still beverages, bottled water, and fountain mixes to multiple distributors throughout the mountain and western states and Alaska. By adopting Bevcorp's MicrO2 system, Admiral Beverage simplified deaeration, optimized blending, and sped up both filling and changeovers. The system limits dissolved Oxygen (DO) to reduce foaming, which allows the line to run faster. Faster speeds result in more throughput and decreasing costs per unit, as well as the correlating reduction in energy costs by not having to refrigerate ingredients.
With over 3,000 new beverage products being created each year in the U.S., beverage contract bottling and filling facilities are in high demand. In February 2020, Big Beverages Contract Manufacturing (BBCM) announced its new beverage co-packing facility in North Carolina. In their new facility, BBCM will begin with one highspeed can-line capable of producing 1,200 cans per minute with plans to add lines two and three over the next 18 months. BBCM plans to provide a variety of canned beverage products for large national and regional customers. BBCM will be fully operational in late Q2 2020, and its first production line is 80% sold out.
In January 2020, MSI Express, backed by HCI Equity Partners, headquartered in the United States, has acquired Power Packaging. MSI Express is a provider of contract packaging and contract manufacturing services for well-known brands in the shelf-stable human and pet food space. Power also brings MSI Express into new categories such as powdered beverages, soups, and bases, beverage mixes, foodservice beverages, coffees, and teas. Power Packaging has four locations - two outside Chicago, one in Wisconson, and one in Texas. It serves various companies by adding capabilities such as aseptic beverage filling, stick packaging, and filling of jars and cans.
The COVID-19 pandemic delivered a major blow to the nation's beverage distribution system due to a nationwide lockdown. In March 2020, many US beverage makers, like Coca-Cola, temporarily suspended production at its manufacturing facilities across the country. Pesico's bottling partners in the US has also suspended a major portion of the output at its manufacturing facilities in view of the lockdown.
Scope of the Report
Most beverage firms want to develop their product and improve it with the help of new technology. They thus do not want to spend their resources in the bottling and filling technology, which requires significant resources. So, services such as bottling and filling are outsourced third-party vendors who already have substantial expertise in the area.
By Beverage Type
Beer
Carbonated Drinks & Fruit-based Beverages
Bottled Water
Others (Sport Drinks)
Key Market Trends
Beer is Expected to Hold Significant Share
According to Brewers Association, overall U.S. beer volume sales were down 2% in 2019, whereas craft brewer sales continued to grow at a rate of 4% by volume, reaching 13.6% of the U.S. beer market by size. Retail dollar sales of craft increased 6%, up to USD 29.3 billion, and now account for more than 25% of the UD 116.0 billion U.S. beer market. Small and independent breweries continue to be critical contributors to significant communities across the country, finding new ways to innovate and thrive amid evolving consumer preference and a competitive and maturing beverage market.
As brewers first launch their operations or begin to grow larger, they can either buy their filling machines or opt rented filling lines or contract filling solutions. Finding the right filling machinery was not easy and could cause significant troubles for beer companies. Different kinds of filling machines could handle a different type of liquid viscosities where beer has a varying filling requirement, depending on their viscosity and packaging. For these reasons, many companies in the United States are opting for contract bottling and filling, which significantly helps the companies to provide maximum efficiency with regards to bottling and filling.
In January 2020, U.S. private-equity firm Encore consumer capital has acquired Pennsylvania-based contract manufacturer Lion Beverages. In Wilkes-Barre, Lion makes craft beer where the company offers brewing, blending, canning, bottling, and packaging services for customers, including large national beverage brands. Lion believes that it has a terrific opportunity to leverage Encore's abilities and expertise as the business continues to drive to reach its full potential.
In December 2019, Sleeping Giant, one of the first dedicated contract brewing companies in the Western United States, announced a new partnership with Boulder Beer Company that keeps Boulder beers in distribution without interruption. Sleeping Giant will engage in manufacturing Boulder's brands and taking over the distribution and marketing of the Boulder-based institution's beers in the marketplace. Instances such as this are expected to favorably impact the beer bottling and filling market in the United States.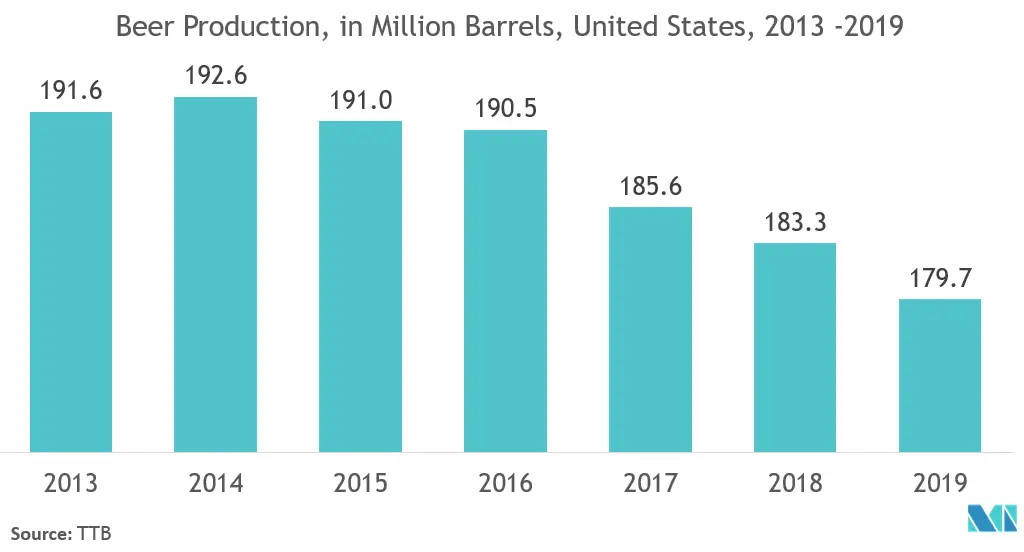 To understand key trends, Download Sample Report
Bottled Water is Expected to Witness Significant Growth
IBWA claimed that bottled water is the healthiest packaged beverage and is particularly crucial as the US is faced with increased rates of obesity and diabetes. Even with continuing growth and increased consumption, bottled water still has the smallest water and energy usage among the packaged beverages. On average, only 1.39 liters of water and 0.21 megajoules of energy are used to produce 1 liter of finished. It plays a vital role in disaster relief. And importantly, it can only be available in times of emergencies if the industry is strong and viable throughout the year.
In a report published by IBWA (International Bottled Water Association), bottled water is America's favorite drink, outselling soda (by volume) for the fourth year in a row in 2019. It is also stated that, since 2006, there has been a 69% growth in the consumption of bottled water in the American market, and mostly this demand is generated consumer switching from carbonated soft drinks and fruit juices. According to the report, more than seven in 10 Americans (72%) say bottled water, still and sparkling, is among their most preferred non-alcohol beverage, which marked an increase of 9% compared with 2018.
As most people are concerned about the impact of the COVID-19 outbreak and to prepare themselves, the demand for bottled water has increased significantly. To meet this increase in demand, bottled water companies in the country have increased their capacity to provide customers with the water that they need. The Federal Emergency Management Agency (FEMA) recommends that one should have at least 1 gallon of water per person per day available for emergencies. Buying and storing bottled water is a safe and convenient way to ensure to have an adequate supply available when needed, and this is expected to boost the increase in the demand for bottled water, which in turn is expected to positively impact the contract bottling and filling market in the United States.
In June 2020, Nestlé considered selling most of its bottled water operations in the United States. That business accounts for a significant share of the Swiss food giant's sales and has drawn criticism from environmental groups. The company generated revenue of USD 3.6 billion in 2019 from American water brands it owns like Poland Spring, Deer Park, and Zephyrhills, and from delivering purified water to homes and businesses. Environmental activists regard bottled water as inherently wasteful, at least in countries with drinkable tap water, because of the energy required to transport it to the store. Instances such as this may negatively affect the bottled water contract bottling and filling market in the country.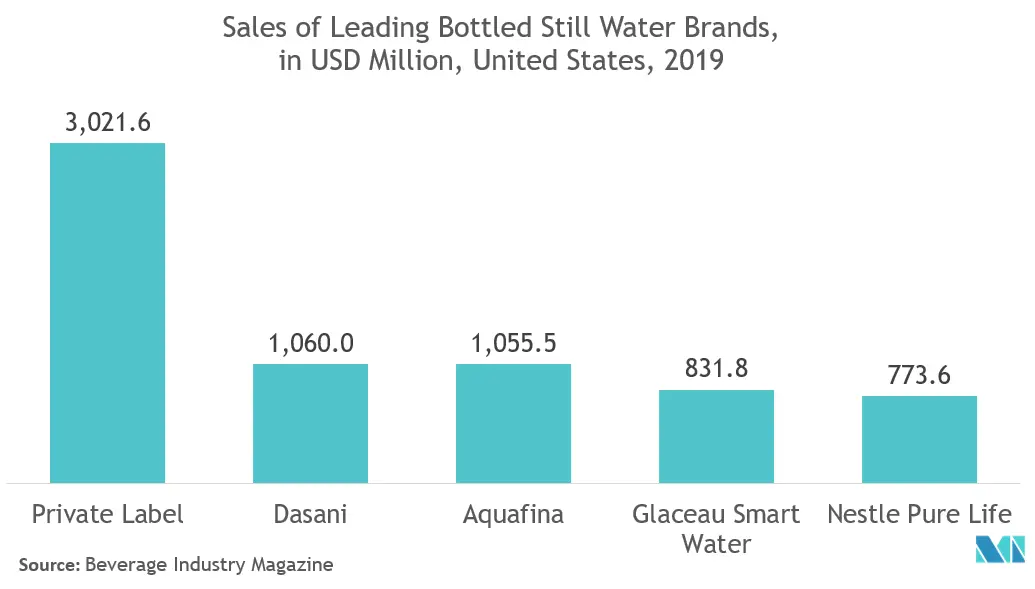 Competitive Landscape
The United States Beverage Contract Bottling and Filling Market is moderately fragmented with significant players such as Brooklyn Bottling Group, G3 Enterprises, Inc., Southeast Bottling & Beverages, Niagara Bottling, LLC occupying the majority of the market share. The companies in the country are forming multiple partnerships and mergers to increase their market share.
June 2020 - Brooklyn Bottling threatened to move out of New York state, and take over 100 jobs with the company if it doesn't get USD 1.1 million in tax breaks from the Ulster County Industrial Development Agency for its planned expansion in Milton. Brooklyn Bottling has its distribution headquarters at two sites in Milton, a hamlet in the southern Ulster County town of Marlborough. It also has locations in Somerset, Miami, and Atlanta, and plans to expand to Texas and Canada.
January 2020 - In the North Coast region, G3 Enterprises, Inc. began to offer a host of developed goods and services with four facilities in Napa County, providing easier access to wine-on-tap filling services and transportation climate-controlled warehousing, label printing, and packaging equipment which includes a new bonded filling facility for Petainer Kegs in American Canyon. This provides a simple, convenient place for wineries to fill kegs for still and sparkling wine on-tap programs.
Major Players
Brooklyn Bottling Group

G3 Enterprises, Inc.

Southeast Bottling & Beverages

Niagara Bottling, LLC

Robinsons Breweries (Frederic Robinson Limited)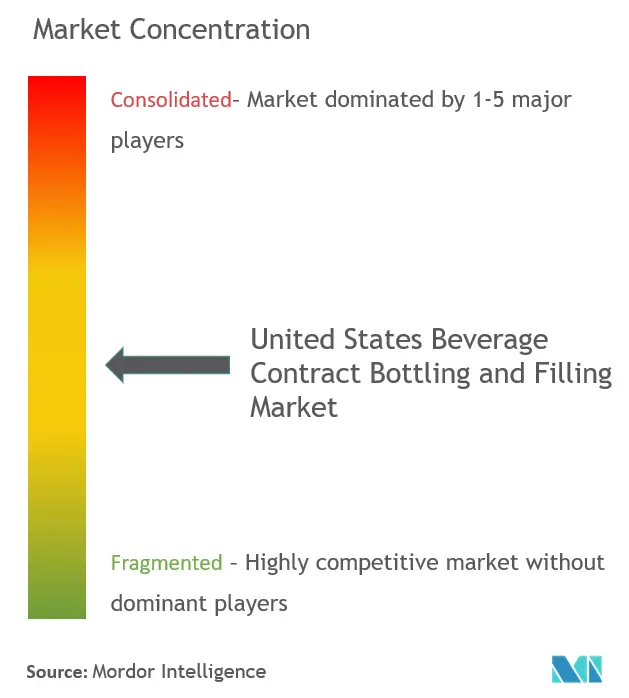 Table of Contents
1. INTRODUCTION

1.1 Study Assumptions and Market Definition

1.2 Scope of the Study

2. RESEARCH METHODOLOGY

3. EXECUTIVE SUMMARY

4. MARKET DYNAMICS

4.1 Market Overview

4.2 Impact of COVID-19 on the US Beverage Industry

4.3 Market Drivers

4.3.1 CapEx benefits offered by contract bottlers for small-scale beverage manufacturers

4.3.2 Rise in demand from new-age drinks and craft beer segment

4.3.3 Gradual change in the business model of Contact packagers towards a consultative approach involving design & placement

4.4 Market Challenges

4.4.1 Lack of flexibility and agility in manufacturing processes & dynamic nature of regulations

4.5 Value Chain Analysis

4.6 Porter's Five Forces Analysis

4.6.1 Bargaining Power of Suppliers

4.6.2 Bargaining Power of Consumers

4.6.3 Threat of New Entrants

4.6.4 Threat of Substitute Products

4.6.5 Intensity of Competitive Rivalry

5. MARKET SEGMENTATION

5.1 By Beverage Type

5.1.1 Beer

5.1.2 Carbonated Drinks & Fruit-based Beverages

5.1.3 Bottled Water

5.1.4 Others (Sport Drinks)

6. COMPETITIVE LANDSCAPE

6.1 Company Profiles

6.1.1 Brooklyn Bottling Group

6.1.2 CSD Co-Packers Inc.

6.1.3 Southeast Bottling & Beverages

6.1.4 G3 Enterprises, Inc.

6.1.5 Robinsons Breweries (Frederic Robinson Limited)

6.1.6 Western Innovations, Inc.

6.1.7 Niagara Bottling, LLC

*List Not Exhaustive

7. FUTURE OUTLOOK OF THE MARKET
**Subject to Availability
Frequently Asked Questions
What is the study period of this market?
The US Beverage Contract Bottling and Filling Market market is studied from 2018 - 2026.
What is the growth rate of US Beverage Contract Bottling and Filling Market?
The US Beverage Contract Bottling and Filling Market is growing at a CAGR of 9.12% over the next 5 years.
Who are the key players in US Beverage Contract Bottling and Filling Market?
Brooklyn Bottling Group, G3 Enterprises, Inc., Southeast Bottling & Beverages, Niagara Bottling, LLC, Robinsons Breweries (Frederic Robinson Limited) are the major companies operating in US Beverage Contract Bottling and Filling Market.
80%

of our clients seek made-to-order reports. How do you want us to tailor yours?