The global thermal spray materials market was valued at USD 1,621.10 million by revenue, in 2017, and it is anticipated to reach USD 2,564 million by 2023, at an estimated CAGR of 7.95% over the forecast period. Thermal spray is a group of industrial processes, which include the propelling of micrometer-size particles of molten or semi-molten materials (onto surfaces), to create a protective or decorative coating on the surface of the desired substrate. Thermal spray coating provides various advantages to end users, such as lower coating costs, improved engineering performance, and increased component life.
This market is driven by a number of factors, such as growing thermal spray applications in the automotive sector, increased usage of thermal spray in medical devices, rising popularity of thermal spray ceramic coatings, and growing applications in the aerospace & defense sector. However, this market faces certain drawbacks, such as the emergence of hard trivalent chrome coating, trust issues regarding process reliability and consistency, and the dearth of usage in emerging economies. These factors may act as roadblocks to the growth of the market.
Growing Thermal Spray Applications in Automotive Sector
Automotive industry consumes significant amount of thermal spray in various applications, such as automotive drive, gearings, shafting systems, breaking systems, and so on. In the recent years, governments across the world have been concentrating on minimizing carbon dioxide, particulate matter, and nitrogen oxide emissions, and on enhancing fuel economy (as per Corporate Average Fuel Economy Standards) of vehicles. As a result, they consistently pressure engine and automobile manufacturers to develop and utilize technologies that aid in reducing emissions, and improve fuel economy of vehicles. Furthermore, the increased usage of thermal spray ceramic coating technology in the high-performance car segment is also one of the factors driving the usage of thermal spray technology in the automotive sector.
Advancements in the Spraying Technology (Cold Spray Process)
Cold-spraying, a type of unique high-velocity oxy-fuel (HVOF) technology is the most promising of the previously mentioned developments. Cold spray uses kinetic energy to project powdered coating material onto the substrate, instead of using conventional thermal energy as the source for melting material and forming the desired protective coating. The process is considered more efficient than established thermal spray processes for various application sectors, due to its ability to create highly dense coatings through the extreme velocity-caused plastic deformation of the coating material particles.
Market Segmentation
Thermal spray materials are an integral part of the thermal spray coating process and can be primarily segmented into thermal spray coating materials and auxiliary materials. The coating materials segment in the thermal spray market accounted for nearly 98% in 2017, while the rest were supplementary materials (auxiliary materials). Coating materials have further been segmented into powders and rods/wires, along with the former being segmented into metal-based (pure metals & alloys, precious metals, and MCrAlY), ceramic-based, polymers, and others.
Thermal Spray techniques, due to their superior deposition rate, in comparison to other traditional coating processes, are an integral part of various major industrial sectors. In the report, the following major end-user sectors of thermal spray coatings have been taken into consideration – automotive, aerospace, industrial gas turbines, energy & power, electronics, oil & gas, medical devices, and others.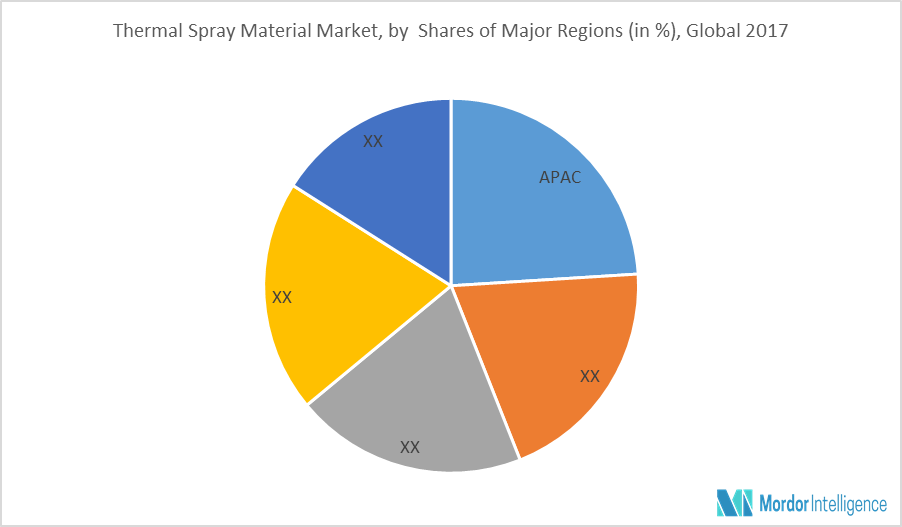 Major Players: Oerlikon Metco, H.C. Starck GmbH, Höganäs AB, Praxair S.T. Technology, Inc., and Carpenter Technology Corporation (CRS Holdings Inc.), among others.
Reasons to Purchase this Report
Current and future global thermal spray material market outlook in the developed and emerging markets
Analyzing various perspectives of the market with the help of Porter's five forces analysis
The segment that is expected to dominate the market
Regions that are expected to witness fastest growth during the forecast period
Identify the latest developments, market shares, and strategies employed by the major market players
3 months analyst support, along with the Market Estimate sheet (in excel)
Customization of the Report
This report can be customized to meet your requirements. Please connect with our analyst, who will ensure you get a report that suits your needs.
1. Introduction
1.1 Scope of the Report
1.2 Study Assumptions
1.3 Study Deliverables
1.4 Research Phases
2. Executive Summary
3. Market Insights
3.1 Industry Value Chain Analysis
3.2 Technological Snapshot
3.2.1 Price Comparison
3.2.2 Performance Analysis
3.3 Industry Attractiveness - Porter's Five Forces Analysis
3.3.1 Bargaining Power of Suppliers
3.3.2 Bargaining Power of Consumers
3.3.3 Threat of New Entrants
3.3.4 Threat of Substitute Products and Services
3.3.5 Degree of Competition
4. Market Dynamics
4.1 Drivers
4.1.1 Growing Thermal Spray Applications in Automotive Sector
4.1.2 Increased Thermal Spray Usage in Medical Devices
4.1.3 Rising Popularity of Thermal Spray Ceramic Coatings
4.1.4 Growing Applications in Aerospace Sector
4.2 Restraints
4.2.1 Emergence of Hard Trivalent Chrome Coating
4.2.2 Trust Issues Regarding Process Reliability and Consistency
4.2.3 Dearth of Usage in Emerging Economies
4.3 Opportunities
4.3.1 Growing Usage in Oil & Gas Sector
4.3.2 Increase Demand from Different End User Industries in Asia-Pacific Region
4.3.3 Advancements in the Spraying Technology (Cold Spray Process)
4.3.4 Recycling Thermal Spray Processing Materials
4.3.5 Development of Novel Cheaper Products
5. Market Segmentation and Analysis (Size, Growth, and Forecast)
5.1 By Product Type
5.1.1 Coating Materials
5.1.1.1 Powders
5.1.1.1.1 Ceramic-Based
5.1.1.1.2 Metal-based
5.1.1.1.3 Polymers and Others
5.1.1.2 Wires/Rods
5.1.1.3 Others
5.1.2 Supplementary Materials (Auxiliary Materials)
5.3 By End-user Industry
5.3.1 Aerospace
5.3.2 Industrial Gas Turbines
5.3.3 Automotive
5.3.4 Electronics
5.3.5 Oil & Gas
5.3.6 Medical Devices
5.3.7 Energy and Power
5.3.8 Others
6. Regional Market Analysis (Market Size, Growth, and Forecast)
6.1 Asia-Pacific
6.1.1 China
6.1.2 India
6.1.3 Japan
6.1.4 South Korea
6.1.5 Rest of Asia-Pacific
6.2 North America
6.2.1 United States
6.2.2 Canada
6.2.3 Mexico
6.2.4 Rest of North America
6.3 Europe
6.3.1 Germany
6.3.2 United Kingdom
6.3.3 Italy
6.3.4 France
6.3.5 Rest of Europe
6.4 South America
6.4.1 Brazil
6.4.2 Argentina
6.4.3 Rest of South America
6.5 Middle-East & Africa
6.5.1 Saudi Arabia
6.5.2 South Africa
6.5.3 Rest of Middle East & Africa
7. Competitive Landscape
7.1 Mergers & Acquisitions, Joint Ventures, Collaborations and Agreements
7.2 Market Share Analysis**
7.3 Strategies Adopted by Leading Players
8. Company Profiles (Overview, Financials**, Products & Services, Recent Developments)
8.1 5Itech, LLC (Alsher APM)
8.2 A&A Coatings
8.3 Ametek, Inc.
8.4 Bay State Surface Technologies, Inc. (AIMTEK, Inc.)
8.5 C&M Technologies GmbH
8.6 Carpenter Technology Corporation (CRS Holdings Inc.)
8.7 Castolin Eutectic
8.8 Global Tungsten & Powders Corp. (GTP)
8.9 Castolin Eutectic
8.10 Hai Inc.
8.11 H.C.Starck GmbH
8.12 Hoganas AB
8.13 Hunter Chemical LLC
8.14 Kennametal Stellite
8.15 LSN Diffusion Ltd.
8.16 Metallisation Ltd.
8.17 Metallizing Equipment Co. Pvt. Ltd.
8.18 Oerlikon Metco
8.19 Polymet Corporation
8.20 Powder Alloy Corporation
8.21 Praxiar S.T. Technology, Inc.
8.22 Saint-Gobain
8.23 Sandvik AB
8.24 Supersonic Spray Technologies (SST)
8.25 The Fisher Barton Group
8.26 Thermion
8.27 Treibacher Industrie AG
9. Disclaimer
**Subject to Availability on Public Domain