The global security and vulnerability management market is expected to register a CAGR of 10%, over the forecast period (2018-2023). Security and vulnerability management is the practice of identifying, classifying, and mitigating vulnerabilities in networking software or hardware. It has become an integral part of enterprise security in recent years. As the current cybersecurity threat landscape is uniformly evolving, organizations need to be proactive in their threat and vulnerability management efforts. The efficiency of vulnerability management depends on the organization's ability to keep up with current security threats and trends. Recent security attacks have increased the need for a robust cybersecurity management system, which is centered on a tough policy and applies many technologies to achieve defense. Coupled with rapid growth in the number of cyber-attacks, the demand for strict acquiescence and security packages to protect confidential data across different verticals, such as government, banking, retail, and manufacturing, is increasing and is expected to drive the growth of the market over the forecast period.
Increasing Number of Cyber Attacks is Driving Market Growth
The increasing incidences of technically complex attacks have raised the need for businesses to ensure that adequate cybersecurity frameworks are in place to counter such threats, and they also need to increase their cyber resilience, particularly, their ability to detect and remediate breaches and other cyber incidents. These cyber-attacks include attacks that directly target business systems and individuals, which could potentially lead to huge financial and personal losses. Smaller organizations experience high proportion of cyber-crimes related to malware, web-based attacks, social attacks, phishing, etc. Large organizations experience high costs related to denial of service, malicious insiders, and malicious code. Hence, the increasing number of cyber-attacks are driving the growth of the security and vulnerability management market.
BSFI Holds the Largest Market Share
The BFSI sector has faced several data breaches and cyber-attacks, owing to the large customer base that the industry serves. Data breaches lead to an exponential rise in costs and loss of valuable customer information. For instance, Taiwan's Far Eastern International Bank incurred a loss of around USD 60 million by a malware. Also, with greater customer expectation, growing technological capabilities, and regulatory requirements, banking institutions are pushed to adopt a proactive approach to security. Further, the growing trend of e-commerce has driven banks to establish secure channels for third-party payments. This sector is expected to hold the largest market share over the forecast period.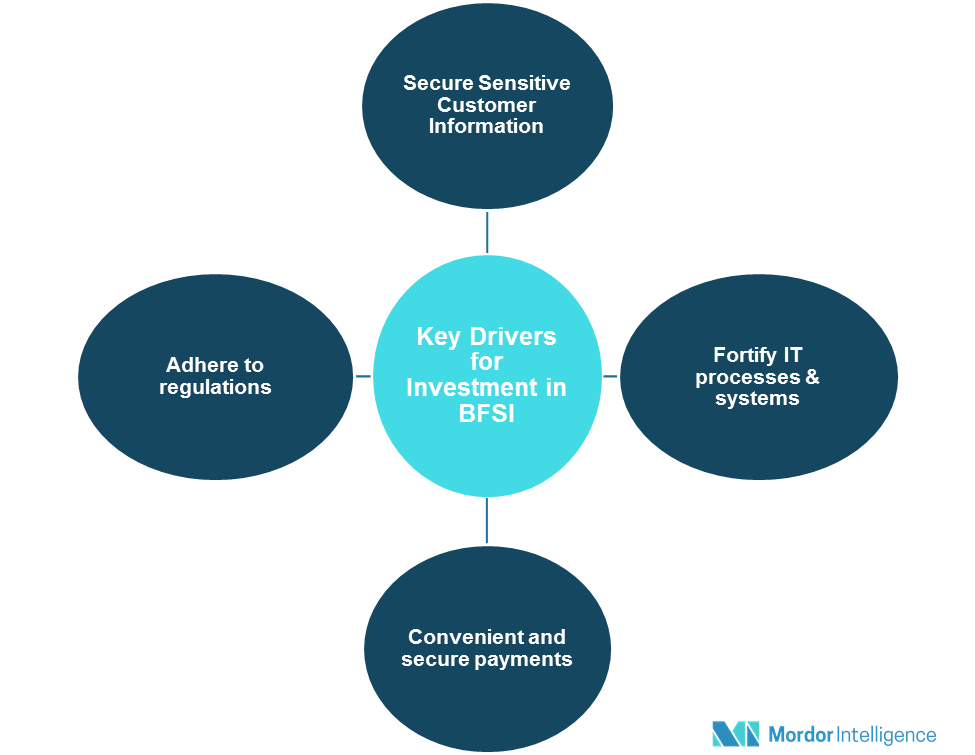 North America Holds the Largest Market Share
Technological penetration, along with increasing security concerns among banking and other verticals, is propelling the growth of the North American security & vulnerability management market. Mobile penetration in North America is high and solutions are used for making an effective approach for potential verticals in data recovery, which lead to efficient and coordinated detection of threats. North America, over the years, has taken giant leaps in terms of technological advancement, with companies making approaches to add value to the market. North America held a major share in 2017 and is expected to continue to prove its prominence during the forecast period.
Key Developments in the Market
November 2017 - IBM announced the successful testing of a fully integrated Wavelength Division Multiplexing (WDM) Si photonics chip for Big Data and cloud services, enabling the download of an entire HD digital movie in two seconds.
October 2017 - DigiCert Inc. acquired Symantec's Website Security and related PKI solutions. With the transition of SSL validation, issuance, and other processes to DigiCert, Symantec customers have a clear path forward to maintain trust in the company's SSL certificates.
Major Players: IBM Corporation, Qualys Inc., Hewlett Packard Enterprise, Dell EMC, Tripwire Inc., Symantec Corporation, McAfee Inc., Micro Focus International PLC, Rapid7 Inc., Fujitsu Limited, Micro Focus (Netiq Corporation), Alien Vault Inc., and Skybox Security Inc., among others.
Reasons to Purchase the Report
Current and future security and vulnerability management market analysis in the developed and emerging markets
Analyzing various perspectives of the market with the help of Porter's five forces analysis
The segment that is expected to dominate the market
Regions that are expected to witness fastest growth during the forecast period
Identify the latest developments, market shares, and strategies employed by the major market players
3 month analyst support, along with the Market Estimate sheet (in Excel)
Customization of the Report
This report can be customized to meet your requirements. Please connect with our representative, who will ensure you get a report that suits your needs.
1. Introduction
1.1 Key Deliverables of the Study
1.2 Study Assumptions
1.3 Market Definition
1.4 Key Findings of the Study
2. Research Approach and Methodology
3. Executive Summary
4. Market Insights
4.1 Market Overview
4.2 Industry Attractiveness – Porter's Five Industry Forces Analysis
4.2.1 Bargaining Power of Suppliers
4.2.2 Bargaining Power of Consumers
4.2.3 Threat of New Entrants
4.2.4 Threat of Substitute Products or Services
4.2.5 Competitive Rivalry among Existing Competitors
4.3 Industry Value Chain Analysis
5. Market Dynamics
5.1 Factors Driving the Market
5.1.1 Increasing Number of Cyber Attacks
5.1.2 Growing Adoption of Cloud Computing by Enterprises
5.2 Factors Restraining the Market
5.2.1 Lack of Awareness Toward SVM Solutions
5.3 Industry Policies
6. Global Security and Vulnerability Management Segmentation
6.1 By Size of Organization
6.1.1 Small and Medium Enterprises
6.1.2 Large Enterprises
6.2 By End-User Vertical
6.2.1 Aerospace, Defense, and Intelligence
6.2.2 BFSI
6.2.3 Healthcare
6.2.4 Manufacturing
6.2.5 Retail
6.2.6 Government
6.2.7 IT & Telecommunication
6.2.8 Others
6.3 By Geography
6.3.1 North America
6.3.2 Europe
6.3.3 Asia-Pacific
6.3.4 Rest of the World
7. Competitive Intelligence – Company Profiles
7.1 IBM Corporation
7.2 Qualys Inc.
7.3 Hewlett Packard Enterprise
7.4 Dell EMC
7.5 Tripwire Inc.
7.6 Symantec Corporation
7.7 McAfee Inc.
7.8 Micro Focus International PLC
7.9 Rapid7 Inc.
7.10 Fujitsu Limited
7.11 Micro Focus (Netiq Corporation)
7.12 Alien Vault Inc.
7.13 Skybox Security Inc.
*List is Not Exhaustive
8. Investment Analysis
9. Future Outlook of the Market