The global healthcare cloud computing market is expected to register a CAGR of 18% during the forecast period, 2018 to 2023. With the increasing adoption of healthcare informatics, the healthcare information system service providers are significantly implementing the cloud-based software, as it comprises less investment and minimal support requirements, in terms of technology. High-volume storage capacity and accessibility provided by cloud-based applications are also favoring the market.
Usage of Cloud Reduces Cost and Improves Scalability, Storage, and Flexibility
Cloud computing is the practice of using a network of remote servers hosted on the internet, to store, manage, and process data. It does not require or use a local server and significantly reduces the overall cost by cutting infrastructural costs. In addition to one-time set-up cost, maintenance cost is also huge in case of cloud. Healthcare has the ability to generate quantum of data, from patient background information, to image and video data, each and every fraction of second. To effectively store, as well as process this data, advanced computer with more computation power is required, and to have such systems in healthcare institution, healthcare providers will have to invest much more than what they have invested.
Hence, huge amounts needed to invest in a proper IT infrastructure set-up is restraining the healthcare providers to go for in-house set-up and cloud service. Hence, this factor is driving the healthcare cloud computing market.
Other factors, such as rise in adoption of information technology in the healthcare sector, implementation of patient protection and affordable care act, and access to advance technology, such as machine learning, are easier in cloud system, which are driving the growth of the healthcare cloud computing market.
Data Security and Integrity Issues
Data breach is a common phenomenon these days, and according to the Ponemon Institute, an independent research organization focused on data protection information security policy, data breaches in healthcare are consistently high for the sixth year in a row, in terms of volume, frequency, impact, and cost. According to a research study by Ponemon Institute, nearly 90% of healthcare organizations represented in the study witnessed a data breach in the last two years and about half of them had more than five data breaches during the same period. This study also estimated that breaches could be costing the healthcare industry close to USD 6.2 billion and an average cost of data breaches for covered entities surveyed was more than USD 2.2 million. Due to high incidences of security breach, believing any third person i.e., cloud provider is a hard choice to make and healthcare service providers' unwillingness to make such choice is restraining the growth of the market. Hence, data security and integrity issues are hindering the growth of the healthcare cloud computing market. Additionally, the lack of interoperability and industry standards is also hindering the growth of the market.
US Leads the Market in the North American Region
The US healthcare cloud computing market held the largest market share in 2017 in North, due to continuous technological advancements in the region. Moreover, increasing number of companies adopting cloud technology in the healthcare sector for operational efficiency and cost-effectiveness are boosting the market in the region. Supportive government reforms, like Patient Protection and Affordability Care Act (PPACA), coupled with innovations in cloud technology, are also expected to fuel the growth of the healthcare cloud computing market.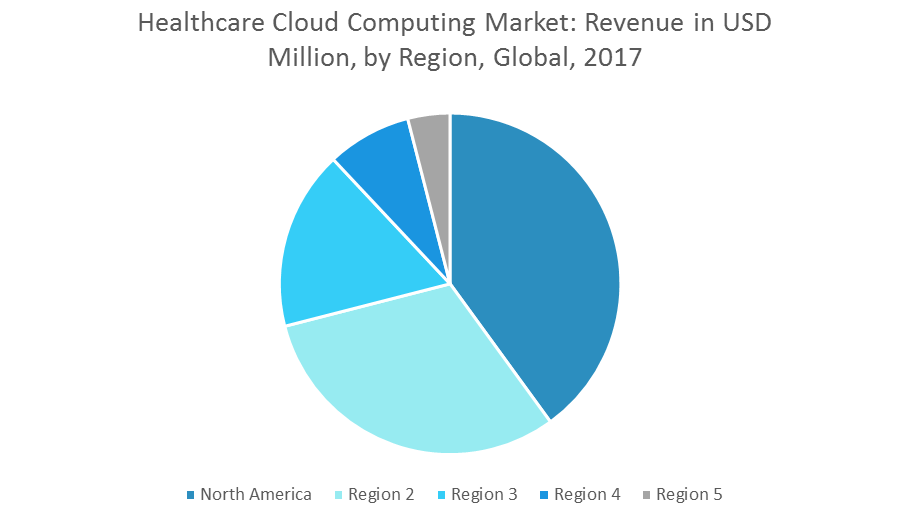 Key Developments in the Market
January 2018 - MediStreams had choosen IBM Cloud for healthcare provider billing solutions.
December 2017 - IOMED relies on the IBM cloud to put unstructured healthcare data to use.
September 2017 - Iron Mountain had introduced the cloud backup and management services.
Major Players: IBM Corporation, CareCloud Corporation, Carestream Health, Iron Mountain, Inc., Dell Inc., Merge Healthcare Inc., ClearDATA, GNAX Health, and VMware, Inc., among others.
Reasons to Purchase the Report
Current and future global healthcare cloud computing market outlook in the developed and emerging markets
Analyzing various perspectives of the market with the help of Porter's five forces analysis
The segment that is expected to dominate the market
Regions that are expected to witness the fastest growth during the forecast period
Identify the latest developments, market shares, and strategies employed by the major market players.
3-month analyst support, along with the Market Estimate sheet (in excel).
Customization of the Report
This report can be customized to meet your requirements. Please connect with our representative, who will ensure you get a report that suits your needs.
1. Introduction
1.1 Market Definition
2. Research Methodology
3. Executive Summary
4. Key Inferences
5. Market Overview
5.1 Current Market Scenario
5.2 Porter's Five Forces Analysis
5.2.1 Bargaining Power of Suppliers
5.2.2 Bargaining Power of Consumers
5.2.3 Threat of New Entrants
5.2.4 Threat of Substitute Product and Services
5.2.5 Competitive Rivalry within the Industry
6. Drivers, Restraints, Opportunities and Challenges Analysis (DROC)
6.1 Market Drivers
6.1.1 Usage of Cloud Reduces Cost and Improves Scalability, Storage, and Flexibility
6.1.2 Rise in Adoption of Information Technology in the Healthcare Sector
6.1.3 Implementation of the Patient Protection and Affordable Care Act
6.1.4 Access to Advance Technology, Such as Machine Learning, Easier in Cloud System
6.2 Market Restraints
6.2.1 Data Security & Integrity Issues
6.2.2 Lack of Interoperability and Industry Standards
6.3 Opportunities
6.3.1 Telecloud Generates Prospects for the Healthcare Cloud Computing Market
6.3.2 Formation of Accountable Care Organizations (ACOs)
6.4 Key Challenges
6.4.1 Maintaining Data Integrity
7. Market Segmentation
7.1 By Component
7.1.1 Hardware
7.1.2 Software
7.1.3 Services
7.2 By Application
7.2.1 Clinical Information Systems (CIS)
7.2.1.1 Electronic Health Record (EHR)
7.2.1.2 Picture Archiving & Communication System (PACS)
7.2.1.3 Radiology Information Systems (RIS)
7.2.1.4 Computerized Physician Order Entry (CPOE)
7.2.1.5 Pharmacy Information Systems (PIS)
7.2.1.6 Others
7.2.2 Nonclinical Information Systems (NCIS)
7.2.2.1 Revenue Cycle Management (RCM)
7.2.2.2 Automatic Patient Billing (APB)
7.2.2.3 Payroll Management System
7.2.2.4 Claims Management
7.2.2.5 Cost Accounting
7.2.2.6 Others
7.3 By Deployment
7.3.1 Private Cloud
7.3.2 Public Cloud
7.3.3 Hybrid Cloud
7.4 By Service
7.4.1 Software-as-a-Service (SaaS)
7.4.2 Infrastructure-as-a-Service (IaaS)
7.4.3 Platform-as-a-Service (PaaS)
7.5 By Pricing Model
7.5.1 Pay-as-you-Go
7.5.2 Spot Pricing
7.6 By End User
7.6.1 Healthcare Providers
7.6.2 Healthcare Payers
7.7 By Geography
7.7.1 North America
7.7.1.1 United States
7.7.1.2 Canada
7.7.1.3 Mexico
7.7.2 Europe
7.7.2.1 France
7.7.2.2 Germany
7.7.2.3 United Kingdom
7.7.2.4 Italy
7.7.2.5 Spain
7.7.2.6 Rest of Europe
7.7.3 Asia-Pacific
7.7.3.1 China
7.7.3.2 Japan
7.7.3.3 India
7.7.3.4 Australia & New Zealand
7.7.3.5 South Korea
7.7.3.6 Rest of Asia-Pacific
7.7.4 Middle East & Africa
7.7.4.1 GCC
7.7.4.2 South Africa
7.7.4.3 Rest of the Middle East & Africa
7.7.5 South America
7.7.5.1 Brazil
7.7.5.2 Argentina
7.7.5.3 Rest of South America
8. Competitive Landscape
8.1 Mergers & Acquisition Analysis
8.2 Agreements, Collaborations, and Partnerships
8.3 New Products Launches
9. Key Players
9.1 IBM Corporation
9.2 CareCloud Corporation
9.3 Carestream Health
9.4 Iron Mountain, Inc.
9.5 Dell Inc.
9.6 Merge Healthcare Inc.
9.7 ClearDATA
9.8 GNAX Health
9.9 VMware, Inc.
* List Not Exhaustive
10. Future of the Market