The global liquid sand paper market is expected to register a moderate CAGR during the forecast period, 2018 to 2023. Liquid sand paper is equivalent to sandpaper, but without the hard work or dust. Its brush-on formulation cleans surfaces and turns gloss into matt in an instant, providing the perfect key to all paint jobs. Liquid sandpaper is not a straight substitute for sandpaper. However, for certain applications where sandpaper is also useful, liquid sandpaper offers an alternative, which is less labor intensive. One of the most common jobs where traditional sandpaper can work but liquid sandpaper makes things easier is de-glossing.
Ease of Application
Liquid sandpaper is the first choice for troublesome or complicated surfaces, like nooks, crannies, and crown molding. The liquid application makes it perfect for covering all the surface area, even on intricate pieces, and getting into places that are nearly impossible to work with sandpaper alone. Unlike sand paper, the chemicals peel off and remove gloss & layers without employing any abrasive force. For this reason it is considered as an ideal option for refinishing antiques and other valuables without risking overworking the surfaces with a rough abrasive.
Usage in Home is expected to have the Highest Growth
Currently, all over the world, people are engaging themselves in repairing and maintenance activities that are required for their house. People, in general, need to do the job without getting their hands dirty, and for these people, liquid sandpaper is the right item for repairs or maintenance jobs. It is safe to use, without hurting fingers and can be applied quickly. After a prescribed period of curing, the surface is ready to be painted upon. Liquid sand paper, also known as liquid sanders or liquid de-glosser, can be easily applied to a surface that needs to remove glossy paint. After a prescribed time the surface is cleaned off and is ready for the new coat of paint. The benefit is the quality of new coat of paint is better once the surface has been properly cleaned.
North America to Dominate the Market
Geographically, the market is segmented into five regions namely, Asia-Pacific, North America, South America, Europe, and Middle East & Africa. North America had the highest consumption of liquid sandpapers in 2017, and is expected to have the largest market share among the regions during the forecast period. United States is one of the technologically advanced region across the globe and the demand for home refurbishment is high in the country. This is expected to drive the market for liquid sand paper during the upcoming period in this region.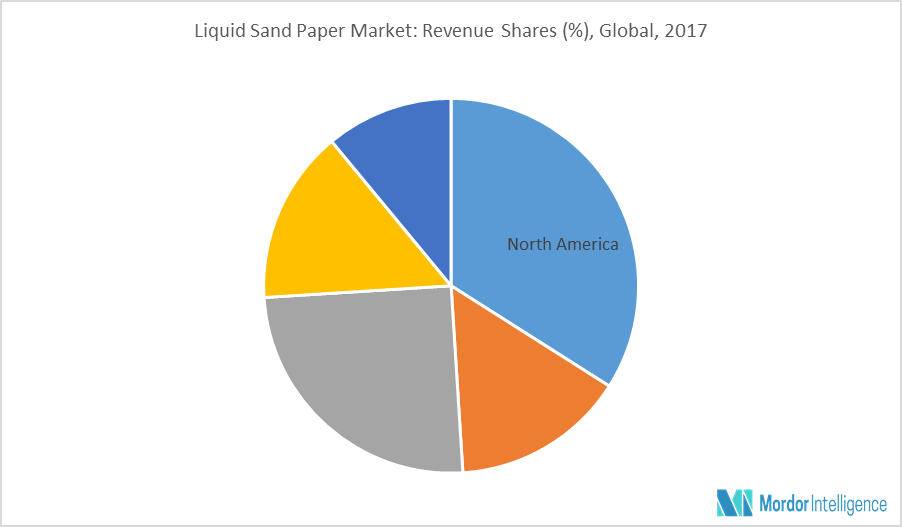 Major Players: WM BARR, Konig, Jasco, Polycell, and Zinsser, among others.
Reason to Purchase this Report
Analyzing various perspectives of the market with the help of Porter's five forces analysis
To understand the dominating application used in the market
Countries expected to witness the fastest growth during the forecast period
Identifying the latest developments, market shares, and strategies employed by the major market players
3-month analyst support, along with the Market Estimate sheet (in excel)
Customization of the Report
This report can be customized to meet your requirements. Please connect with our analyst, who will ensure you get a report that suits your needs
1. Introduction
1.1 Research Phases
1.2 Study Deliverables
1.3 Scope of the Report
2. Executive Summary
3. Market Insights
3.1 Industry Value-Chain Analysis
3.2 Industry Attractiveness – Porter's Five Forces Analysis
3.2.1 Bargaining Power of Suppliers
3.2.2 Bargaining Power of Consumers
3.2.3 Threat of New Entrants
3.2.4 Threat of Substitute Products and Services
3.2.5 Degree of Competition
3.3 Regulatory Policy Analysis
4. Market Dynamics
4.1 Drivers
4.1.1 Growing Number of Do it Yourself Home Owners
4.1.2 Easier To Apply Than Sand Paper
4.1.3 Better Adhesion for the High Gloss Paint
4.2 Restraints
4.2.1 Highly Volatile
4.2.2 Other Restraints
4.3 Opportunities
4.3.1 Used as Sandpaper Substitute
4.3.2 Suitable for Objects with Grooves and Intricate Designs
5. Market Segmentation and Analysis (Market Size, Share, and Forecast)
5.1 By Application
5.1.1 Home
5.1.2 Office
5.1.3 Industry
6. Regional Market Analysis (Market Size, Share, and Forecast)
6.1 Asia-Pacific
6.2 North America
6.3 Europe
6.4 South America
6.5 Middle East & Africa
7. Competitive Landscape
7.1 Mergers & Acquisitions, Joint Ventures, Collaborations, and Agreements
7.2 Market Share Analysis**
7.3 Strategies Adopted by Leading Players
8. Company Profiles (Overview, Financials**, Products & Services, and Recent Developments)
8.1 WM BARR
8.2 Konig
8.3 Jasco
8.4 Polycell
8.5 Rust-Oleum
8.6 Zinsser
8.7 Savogran
8.8 Wilson Imperial
*List not exhaustive
9. Disclaimer
**Subject to availability on public domain