HVAC Equipment Market Size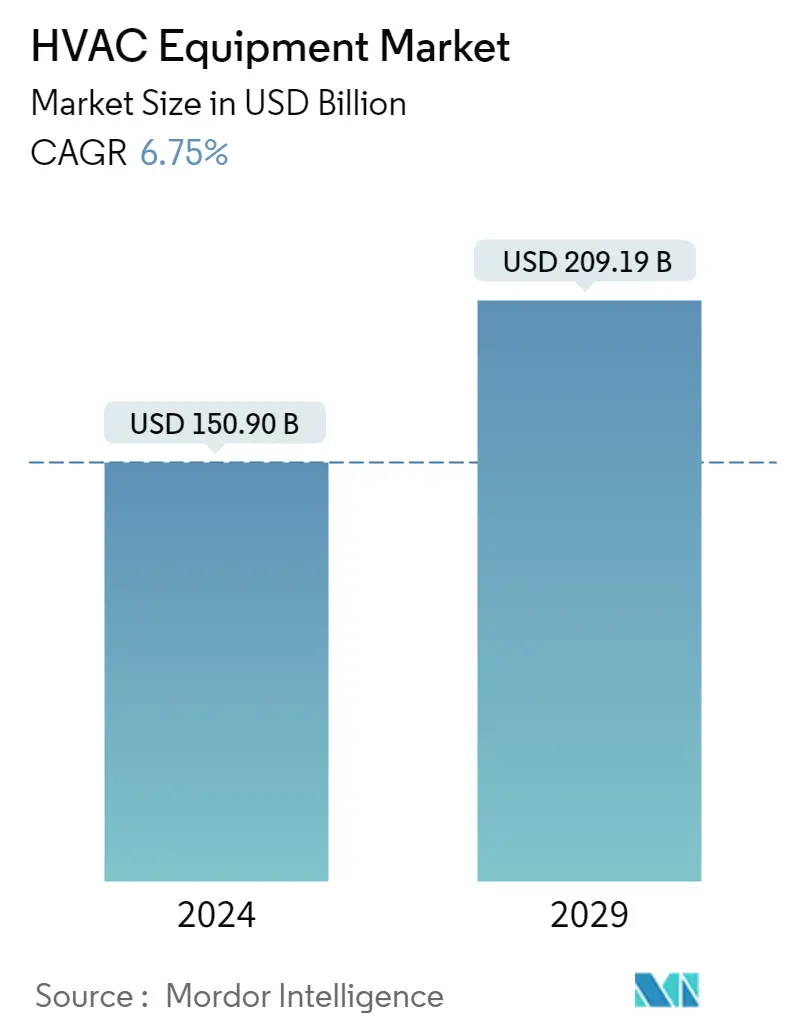 Study Period
2018-2028
Market Size (2023)
USD 141.36 Billion
Market Size (2028)
USD 195.96 Billion
CAGR (2023 - 2028)
6.75 %
Fastest Growing Market
Asia Pacific
Largest Market
Asia-Pacific

Major Players

*Disclaimer: Major Players sorted in no particular order
Need a report that reflects how COVID-19 has impacted this market and its growth?
HVAC Equipment Market Analysis
The HVAC Equipment Market size is estimated at USD 141.36 billion in 2023, and is expected to reach USD 195.96 billion by 2028, growing at a CAGR of 6.75% during the forecast period (2023-2028).
HVAC equipment can be applied in a wide range of locations, and building types, such as shopping centers, industrial facilities, warehouses, etc., ensuring that a building has proper climate control with heating and cooling, along with the necessary air pressure and air quality to make the occupants in the building comfortable and safe.
The rapid rise in industrialization and urbanization worldwide is one of the primary factors driving the market's growth. The significant increase in the construction of different commercial and residential buildings worldwide is creating considerable demand for HVAC equipment as a space heating and cooling system, ventilation control, humidity control, and air filtration. For instance, as per the IEA, the global building construction sector's value increased by 5% compared to the previous year, reaching over USD 6.3 trillion.
Rising energy costs directly impact building owners' and tenants' profit/loss statements. The invasion of Ukraine affected energy markets worldwide, particularly in Europe, which remains the primary market for Russian oil and gas due to the lack of these energy sources in European countries. However, due to Russia's invasion of Ukraine, the European Union decided to cut Russian oil imports by two-thirds, resulting in a surge in energy prices. Consequently, the demand for energy-efficient HVAC systems has recently increased significantly.
Heating, ventilating, and air-conditioning in a commercial building usually consume more energy than any other activity in the building. According to the US Department of Energy's studies of commercial buildings, HVAC equipment usually account for over 40% of a building's energy usage. Owing to the huge amount of energy, HVAC systems use improvements in equipment efficiency translate to significant reductions in building operating costs.
The high initial cost of HVAC equipment can be challenging for its demand because the high cost may deter some customers from purchasing or upgrading their systems. This is especially true for homeowners or small business owners who may have limited budgets and may not be able to afford the upfront costs of a new system. Secondly, the high cost of HVAC equipment can result in long payback periods for customers. This means that the cost savings resulting from the new system's improved energy efficiency may not offset the initial investment for several years.
With the outbreak of COVID-19, more consumers are expressing concerns about the environmental impact of the services and products they buy. They are willing to pay more for more eco-friendly and health-friendly options than others. Smart HVAC systems are expected to have significant demand.
HVAC Equipment Market Trends
Supportive Government Regulations, Including Incentives for Saving Energy Through Tax Credit Programs, Drive the Market's Growth
Many governments worldwide are offering tax incentives to encourage the installation of efficient HVAC (heating, ventilation, and air conditioning) equipment. This is part of a larger effort to reduce carbon emissions and mitigate the impact of climate change. By bolstering current supplies while accelerating the sustainable energy transition, the energy provisions of the Inflation Reduction Act will strengthen energy security and meaningfully reduce emissions, representing an important step toward a better future.
These unprecedented incentives present consumers with a compelling opportunity to replace any aging, lower-efficiency HVAC systems with advanced, high-efficiency technology at a fraction of the cost.
For instance, in December 2022, the federal tax incentives in the United States for greater HVAC efficiency were on again. Enhanced tax credits have been provided for homeowners who install certain HVAC equipment and home builders whose projects meet specific energy-efficiency standards, and tax deductions for the owners of commercial buildings that are upgraded to achieve defined energy savings are part of the Inflation Reduction Act, passed in the US House of Representatives. Through the Inflation Reduction Act, a tax credit of up to USD 2,000 is available to homeowners, followed by USD 2500-5000 for home builders with qualified heat pumps installed. The 25C credit is available to homeowners with eligible HVAC equipment, while home builders can take advantage of enhanced 45L credits. The Inflation Reduction Act broadened the availability of 179D tax deductions, which commercial building owners generally use outfitted to increase energy efficiency. All these tax rebates require specific categories to show minimum energy cost savings.
In July 2022, two bills pending in the US Senate were designed to speed the electrification of HVAC systems, minimize the number of fossil fuels (such as natural gas and oil) used in buildings, and cut carbon emissions. Both offered financial incentives for producing certain electric-powered HVAC equipment, particularly heat pumps, geothermal and air sources, and heat-pump water heaters.
The Tax-and-Climate bill passed by Congress is the largest investment in energy efficiency in US history, with more than USD 21 billion allocated for rebates and federal tax deductions for household energy-saving upgrades over the next 10 years.
All these rebates were expected to be distributed beginning in January 2023 and continue through September 2031 through state and tribal governments that establish their qualifying programs.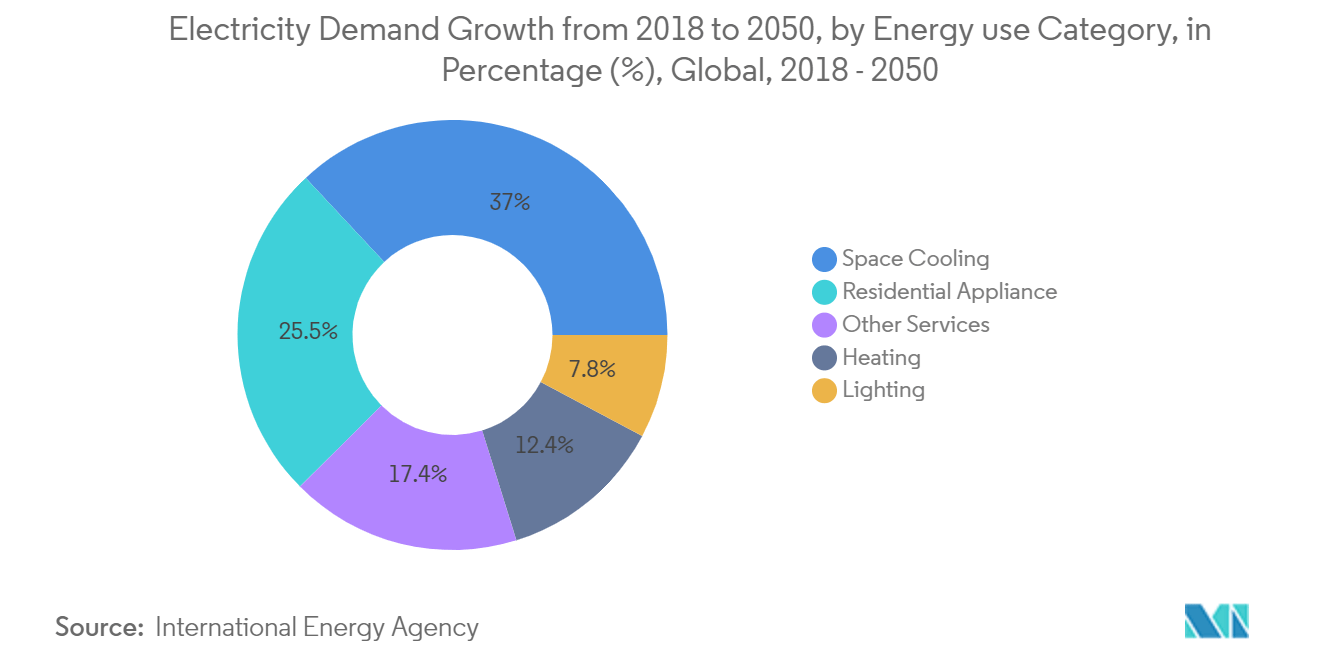 To understand key trends, Download Sample Report
Asia-Pacific Expected to Register Fastest Growth
The Asia-Pacific HVAC systems market is predicted to rise steadily due to commercial and residential construction activity in India and China and rising consumer expenditure on luxury products. Low ownership rates and increased disposable income in Asia are likely to boost the market's growth. Due to rising demand from India and China, the residential sector accounted for a significant portion of the Asia-Pacific air conditioning systems market. Increased competition from Chinese producers offering products at lower prices than globally recognized names is projected to sustain sales growth. A large installed base in established regions like Western Europe and the United States is expected to create development prospects in the comparatively untapped Asia-Pacific market.
The largest air conditioning firm introduced a new line of split-room air conditioners designed and built in India for discerning Indian consumers. This new U Series line features future-ready technologies that enable clients to control the quality of air conditioning across their facilities.
In February 2023, Godrej Appliances, a division of Godrej & Boyce, the Godrej Group's flagship firm, launched India's first leakproof split air conditioner with anti-leak technology and has filed a patent for it. The all-new anti-leak technology found in Godrej Leak Proof Split ACs strives to solve the issues mentioned above. This AC also includes several other valuable technologies and features, such as 5-in-1 Convertible Cooling Technology, which can be adjusted based on the number of people in the room to save energy, i-sense technology to match the set temperature for maximum comfort, powerful cooling even at 52°C with lower derating, inverter technology for power savings, and eco-friendly R32 refrigerant, which has zero ozone depletion and low global warming potential.
In February 2023, Daikin Japan, one of the world's major air conditioning manufacturers, plans to supply heat pumps and cooling systems to public buildings, including social housing, around the city, which will be remotely monitored and certified. The signing of this UK-first agreement will assist between 800-1000 houses in Greater Manchester over the next two years via retrofitting efforts, low-carbon heating systems such as air-source heat pumps, and broader digital interventions.
In the Asia-Pacific market, the energy and power sectors will be essential end users of heating equipment. Rising power plant capacity will be a primary driver of market expansion. According to the International Energy Agency's Global Energy Investment Forecast, between 2014 and 2035, over USD 9.5 trillion will be spent on constructing new power plants and rehabilitating existing ones worldwide. Over one-third of this will likely be used for fossil-fuel-based thermal power plants. Increasing generation capacity is planned to be achieved primarily through fossil-fuelled thermal power plants, which are the primary source of electricity generation in these countries.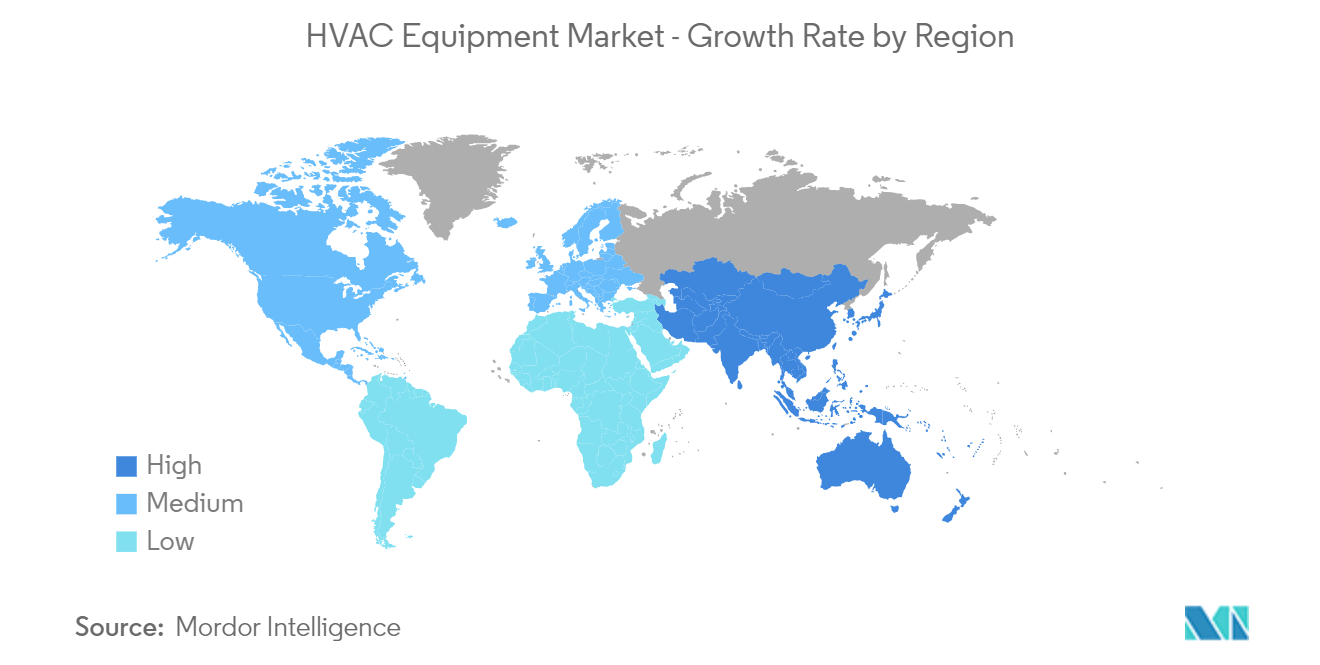 To understand geography trends, Download Sample Report
HVAC Equipment Industry Overview
The HVAC equipment market is fragmented with the presence of major players like Trane Technologies PLC, Aermec SpA (Giordano Riello International Group SpA), Daikin Industries Ltd, Clivet SpA (Midea Group), Emicon Innovation and Comfort SRL. Players in the market are adopting strategies such as partnerships and acquisitions to enhance their product offerings and gain sustainable competitive advantage.
In November 2022, Daikin introduced the Emuraindoor climate management system, designed to purify the air and heat and cool interior areas. Emura is a slim and unobtrusive shape designed to fit in various indoor areas, from living rooms to offices, and strives to provide effective temperature control.
In September 2022, Trane Technologies, one of the global climate innovators, announced innovations that expanded its electrified heating and cooling portfolio and upgraded two well-known rooftop units to improve energy efficiency, building connectivity, and control. Trane introduced the new ThermafitAir-to-Water Modular Heat Pump Model AXM, which offers flexible, all-electric heating and cooling. It also added updates to its Voyager 3 and IntelliPak2 Rooftop Units to improve indoor comfort and air quality in warehouses and large facilities.
HVAC Equipment Market Leaders
Trane Technologies PLC

Aermec SpA (Giordano Riello International Group SPA)

Daikin Industries Ltd.

Clivet SpA (Midea Group)

Emicon Innovation and Comfort SRL
*Disclaimer: Major Players sorted in no particular order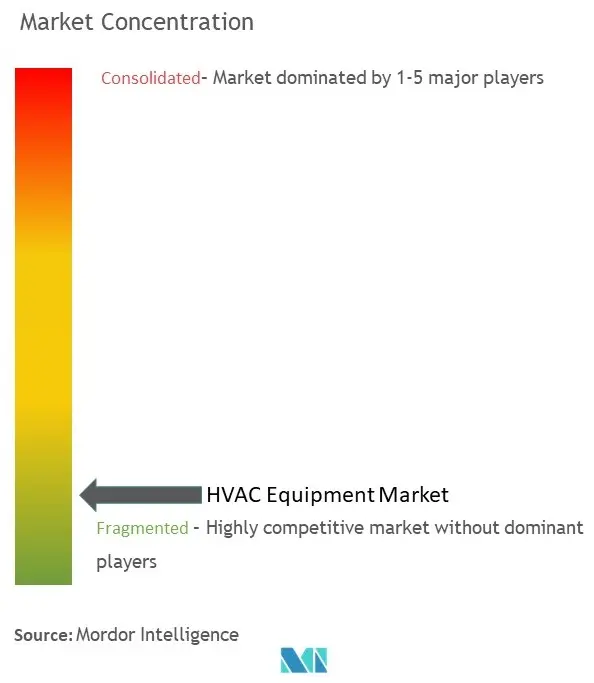 HVAC Equipment Market News
February 2023 - After offering an extensive range of products using A2L refrigerants, Rhoss introduced the POKER290 high-temperature, low GWP reversible heat pumps with a scroll compressor. POKER290 is a reversible heat pump with a scroll compressor that operates at high temperatures and low GWP. The new range is available in one size and ranges from around 48 kW to 190 kW. It can be connected with up to 4 units using the new integrated sequencer SDR.
January 2023 - Aermec announced the next generation of chilled beams. With the introduction of Aermec's next-generation chilled beams, which deliver clean, healthy air and acoustic comfort, a more adaptable HVAC solution can be offered while consuming less energy and being less dependent on fossil fuels.
HVAC Equipment Market Report - Table of Contents
1. INTRODUCTION

1.1 Study Assumptions and Market Definition

1.2 Scope of the Study

2. RESEARCH METHODOLOGY

3. EXECUTIVE SUMMARY

4. MARKET INSIGHTS

4.1 Market Overview

4.2 Industry Attractiveness - Porter's Five Forces Analysis

4.2.1 Bargaining Power of Suppliers

4.2.2 Bargaining Power of Buyers

4.2.3 Threat of New Entrants

4.2.4 Threat of Substitutes

4.2.5 Intensity of Competitive Rivalry

4.3 Industry Value Chain Analysis

4.4 Impact of COVID-19 Outbreak on the Industry

4.5 The Impact of Regulations on the Market

4.6 Distribution Channel Analysis

4.7 Industry Ecosystem Analysis

5. MARKET DYNAMICS

5.1 Market Drivers

5.1.1 Supportive Government Regulations, Including Incentives for Saving Energy Through Tax Credit Programs

5.1.2 Increasing Demand for Energy-efficient Devices

5.1.3 Increased Construction and Retrofit Activity to Aid Demand

5.2 Market Challenges

5.2.1 High Initial Cost of Energy Efficient Systems

5.2.2 Dependence on Macro-economic Conditions

5.2.3 Growing Competition to Limit Margins

5.3 Market Opportunities

5.3.1 Emergence of IoT and Product Innovations to Aid Replacements

6. MARKET SEGMENTATION

6.1 By Type

6.1.1 Air Conditioning Equipment

6.1.2 Heating Equipment

6.1.3 Heat Pumps

6.1.4 Humidifiers/Dehumidifiers

6.2 By End-user Industry

6.2.1 Residential

6.2.2 Industrial and Commercial

6.3 By Geography***

6.3.1 North America

6.3.1.1 United States

6.3.1.2 Canada

6.3.2 Europe

6.3.2.1 United Kingdom

6.3.2.2 Germany

6.3.2.3 France

6.3.2.4 Rest of Europe

6.3.3 Asia-Pacific

6.3.3.1 China

6.3.3.2 Japan

6.3.3.3 India

6.3.3.4 Rest of Asia-Pacific

6.3.4 Latin America

6.3.4.1 Brazil

6.3.4.2 Mexico

6.3.4.3 Argentina

6.3.4.4 Rest of Latin America

6.3.5 Middle East and Africa

6.3.5.1 Saudi Arabia

6.3.5.2 United Arab Emirates

6.3.5.3 Africa

6.3.5.4 Rest of Middle East

7. COMPETITIVE LANDSCAPE

7.1 Company Profiles*

7.1.1 Trane Technologies PLC

7.1.2 Aermec SpA (Giordano Riello International Group SpA)

7.1.3 Daikin Industries Ltd

7.1.4 Clivet SpA (Midea Group)

7.1.5 Emicon Innovation and Comfort SRL

7.1.6 G.I. Industrial Holding SpA

7.1.7 Mitsubishi Electric Hydronics & IT Cooling Systems

7.1.8 Rhoss SpA (NIBE Group)

7.1.9 MTA SpA

7.1.10 Hitema International

7.1.11 Swegon Group AB

7.1.12 Systemair AB

7.1.13 Lennox International Inc.

7.1.14 Carrier Corporation

7.1.15 Rheem Manufacturing Company Inc.

7.1.16 Midea Group

7.1.17 Gree Electric Appliances

8. INVESTMENT ANALYSIS

9. FUTURE OF THE MARKET
**Subject to Availability
***Geography segment to include region-wise equipment segmentation
HVAC Equipment Industry Segmentation
HVAC equipment is an indoor and vehicular environment comfort technology that provides thermal comfort and acceptable indoor air quality. It is an important part of residential structures, such as single-family homes, apartment buildings, hotels, and senior living facilities, as well as medium-to-large industrial and office buildings, such as hospitals, where safe and healthy building conditions are regulated, with respect to temperature and humidity, using fresh air from outdoors.
The HVAC equipment market is segmented by type (air conditioning equipment, heating equipment, heat pumps, humidifiers/dehumidifiers), end-user industry (residential, industrial, and commercial), geography (North America (equipment and country (United States, Canada)), Europe (equipment and country (United Kingdom, Germany, France, Rest of Europe)), Asia-Pacific (equipment and country (China, Japan, India, Rest of Asia-Pacific)), Latin America (equipment and country (Brazil, Mexico, Argentina, Rest of Latin America)), Middle East and Africa (equipment and country (Saudi Arabia, United Arab Emirates, Africa, Rest of Middle East)). The market sizes and forecasts are provided in terms of value (USD billion) for all the above segments. The impact of COVID-19 is also considered as part of the study.
By Type
Air Conditioning Equipment
Heating Equipment
Heat Pumps
Humidifiers/Dehumidifiers
By End-user Industry
Residential
Industrial and Commercial
By Geography***

North America
United States
Canada

Europe
United Kingdom
Germany
France
Rest of Europe

Asia-Pacific
China
Japan
India
Rest of Asia-Pacific

Latin America
Brazil
Mexico
Argentina
Rest of Latin America

Middle East and Africa
Saudi Arabia
United Arab Emirates
Africa
Rest of Middle East
HVAC Equipment Market Research FAQs
How big is the HVAC Equipment Market?
The HVAC Equipment Market size is expected to reach USD 141.36 billion in 2023 and grow at a CAGR of 6.75% to reach USD 195.96 billion by 2028.
What is the current HVAC Equipment Market size?
In 2023, the HVAC Equipment Market size is expected to reach USD 141.36 billion.
Who are the key players in HVAC Equipment Market?
Trane Technologies PLC, Aermec SpA (Giordano Riello International Group SPA), Daikin Industries Ltd., Clivet SpA (Midea Group) and Emicon Innovation and Comfort SRL are the major companies operating in the HVAC Equipment Market.
Which is the fastest growing region in HVAC Equipment Market?
Asia Pacific is estimated to grow at the highest CAGR over the forecast period (2023-2028).
Which region has the biggest share in HVAC Equipment Market?
In 2023, the Asia-Pacific accounts for the largest market share in the HVAC Equipment Market.
HVAC Equipment Industry Report
Statistics for the 2023 HVAC Equipment market share, size and revenue growth rate, created by Mordor Intelligence™ Industry Reports. HVAC Equipment analysis includes a market forecast outlook to 2028 and historical overview. Get a sample of this industry analysis as a free report PDF download.
HVAC Equipment Market Report Snapshots
80%

of our clients seek made-to-order reports. How do you want us to tailor yours?