Market Insights
The global heart health ingredients market was valued at USD XX million in 2017 and is expected to reach USD XX million by 2023, at an estimated CAGR of 7%, during the forecast period.
Today, the natural ingredients account for one-third of the total food & beverages market. There is a growing demand observed globally, for natural and healthy ingredients. The key reasons for this change have been the increased prevalence of lifestyle diseases and increasing life expectancy. Consumer shift toward healthy ingredients or nutraceuticals is in accordance with the principle of "prevention is better than cure". Innovations are on the line, globally, as the new products continue to drive the need for new ingredients.
Market Dynamics
The three important consumer demographic segments that are driving the nutraceutical market are – millennials, baby boomers, and women. Millennials are concerned about optimizing their present health, and preventing deteriorating health in the future. They consume food products, typically fortified with calcium, fiber, vitamins, and minerals. Baby Boomers want products that help prevent or mitigate conditions that relate to aging. These nutraceutical products usually include fiber, antioxidants, heart-healthy ingredients, vitamins and minerals, omega-3 fatty acids, vitamin D, calcium, and whole grains.
Heart health ingredients are gaining immense popularity with manufacturers positioning themselves to focus on certain health avenues, specifically the omega-3 and phytosterol segment, which focuses on heart health. Nature's Bounty, for instance, launched a probiotic product, with significant scientific substantiation, for its ability to support heart health by maintaining healthy cholesterol levels. With increasing incidences of life style-related diseases, customers are increasingly looking for preventive care, along with their daily diets.
Market Segmentation
The heart health category is dominated by ingredients, such as phytosterols, omega-3s, beta glucan, and soy protein. Food ingredients, such as piperine, curcumin, lycopene, and resveratrol contribute to healthy blood pressure and overall heart health. Other ingredients attracting interest from the food industry include nuts, particularly walnuts, and almonds.
Consumer spending on omega-3 infant formula products occupy a major share, followed by fortified food & beverages. Dietary supplements occupy the third largest share in the market, followed by pharmaceuticals and animal nutrition.
β-glucans are found in various sources, such as cereals, yeast, mushrooms, etc. These glucans have well-documented health benefits, including reducing serum cholesterol levels and reducing the risk of coronary heart disease. Due to these benefits, it is desirable to produce oat varieties, containing high levels of beta-glucan. The demand for processed and low cholesterol foods have paved the way for the β-glucan market in the region, which claims to improve cholesterol levels and boost heart health.
Regional Analysis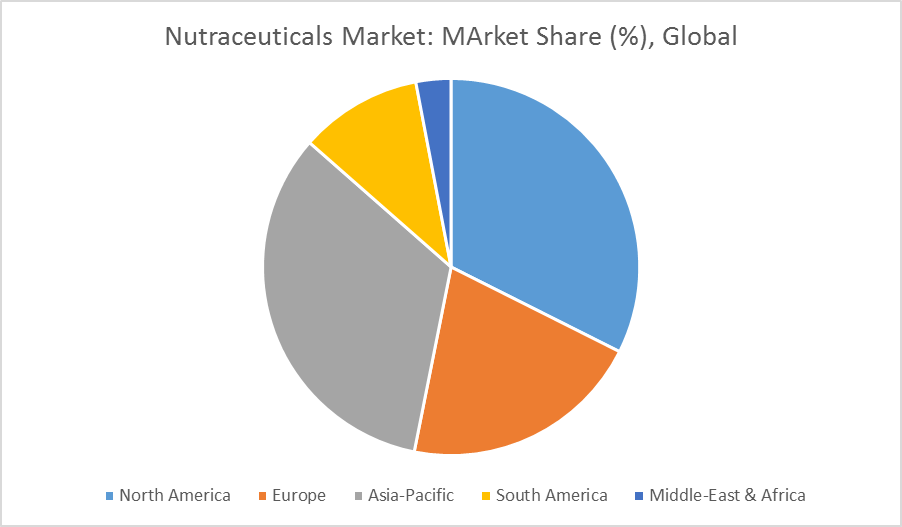 Regionally, Asia-Pacific and North America are considered as the primary markets for nutraceuticals, with Asia-Pacific witnessing high growth prospects. In the United States, a factor that drives the beta-glucan market has a rising obese population, as consumption of beta-glucan containing products decreases the risk of cardiovascular diseases that occur through obesity. Herbalife, a worldwide nutrition company, also has a presence in the Spanish beta-glucan market, with its product Beta heart® containing the key ingredient, OatWell TM oat beta-glucan.
Key Developments:
Few manufactures are trying to launch new beta glucan-based products in drinkable form. Guardian, a pharmaceutical company and retail chain, has introduced grain- and oat-based drinks, with 30% more beta-glucan in each serving. This is a powdered drink, with high beta-glucan, containing Swedish oat bran.
Competitive landscape
The global dietary supplement market faces high competition, as 36.96% share is held by the leading players, including Pfizer, Sanofi, Herbalife, Glanbia Nutritionals, Abbott, Bayer AG, GlaxoSmithKline, Reckitt Benckiser, and Merck. The global β-glucan market is concentrated, with 58.1% of the market occupied by seven major players in the world. The major companies are Associated British Foods PLC, Biotec Pharmacon, Tate & Lyle and Kerry Group, among others.
Reasons to Purchase the Report
Analyzing outlook of the market with recent trends and Porter's five forces analysis.
Market dynamics, which essentially consider the factors that are impelling the present market scenario, along with growth opportunities of the market, over the forecast period.
Market segmentation analysis, including qualitative and quantitative research incorporating the impact of economic and non-economic aspects.
Regional- and country-level analysis integrating the demand and supply forces that are influencing the growth of the market.
Competitive landscape involving the market share of major players, along with the key strategies adopted for development in the past five years.
Comprehensive company profiles covering the product offerings, key financial information, recent developments, SWOT analysis, and strategies employed by the major market players.
3-month analyst support along with the Market Estimates sheet (in Excel).
Customization of the Report
This report can be customized to meet your requirements. Please connect with our analyst, who will ensure that you get a report that suits your needs.