Enterprise Firewall Market
The global enterprise firewall market is expected to register a CAGR of 9.41 %, during the forecast period (2018 - 2023). The scope of the report is limited to products offered by major players in End-user domains, such as Healthcare, Manufacturing, Government, Retail, Education, Financial, Services, Media, and Communications. While the regions considered in the scope of the report include United States, Canada, United Kingdom, Germany, France, Germany, South Africa, China, India, Japan, Mexico, Saudi Arabia, and Brazil.
Firewalls are software installed in enterprises/organizations to protect them from theft, malicious attacks and unauthorized access. It is a software based network device used to control the network traffic based on the policies and rules set in. With the advent of next generation features, such as application identification & control, firewall technology is evolving to become more flexible and secure. Firewalls have been providing the first line of defense in network security infrastructures for a long time by comparing corporate policies about users' network access rights to the connection information surrounding each access attempt. This rise is expected to be driven by the increasing compliance guidelines and regulations to prevent external and internal threats.
Increasing Security Threats in the Environment drive the Need for Enterprise Firewall Systems
The need for accessing real-time data from multiple sources anytime, anywhere, and from various number of devices is increasing. Hence, in order to keep the pace, enterprise data centers have grown exponentially over the last few years with the increasing demand for network connectivity. As a result, the importance for compliance, data security and prevention from other security threats has been increasing to provide high-performance to the users, ensuring secure data. The growth of the internet and the shift of organizations from mainframe computers demanded a better solution than the traditional ways of filtering to avoid malicious traffic. There are various factors, such as internet-virus, sophisticated phishing raids, application-specific attacks, and many others, that destroy data and lead to loss in revenue for companies, and their reputation.
A properly configured firewall helps in providing an important line of defence against malicious internet invaders. Inbound and outbound network traffic can be filtered using firewalls. They also help in hosting applications by keeping track of all the authorized and unauthorized attempts to access the network. The other benefits, which are provided, based on their design and configuration, and capability of filtering out spam spyware, is increasing the demand for the enterprise firewall.
Cloud Services for Enterprise Firewall are expected to have High Growth Rate
Cloud computing is increasing day by day, owing to the cooperative work environment, data distribution and efficient data storing that cloud computing provides is unmatched by any other in computing and data storage. Consequently, numerous companies are heading towards cloud computing, placing their data and communications in the cloud. Security issues are the major factor hampering the growth of cloud. According to NASDAQ, the revenues for cloud services grew by 60 percent in 2015.
Furthermore, cloud computing is estimated to grow at a robust rate during the forecast period. The increased adoption of cloud-based software has provided a number of benefits for companies from various industries, including the ability to use software from any device, either through a native app or through a browser. It is estimated that more than USD 70 billion in SaaS revenue will be generated in 2015, increasing to USD 130 billion in 2020, projecting a compounded annual growth rate (CAGR) of 13.18% during this forecast period. The overall spending on cloud computing infrastructure and platforms is estimated to register a 26% CAGR, from 2015 through 2018, compared with 5% growth for the complete enterprise IT. By 2016, there will be an 11% shift of IT budget away from traditional on premise IT delivery, toward various versions of cloud computing as a new delivery model. By 2020, more than 65% of enterprises will have at least half of their infrastructure on cloud-based platforms.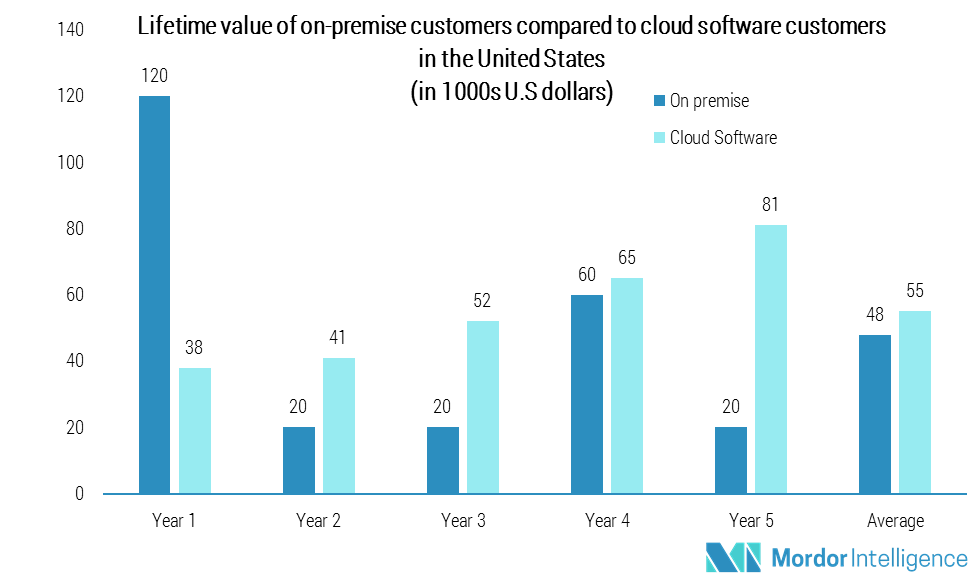 United States has the Highest Market Owing to Demand for Applications and Growing Cloud Storage Industry
Cloud solutions are playing a crucial role in propelling the growth of enterprise firewall in this region, due to its attributes that include cost effectiveness, automatic integrations, minimum IT investment, and easy accessibility. Enterprises in this region are looking to replace custom-developed, raging applications with more modern applications that allow them to swiftly move into new markets, with omni-channel solutions and pop-up stores. Among the countries of North America, the United States occupied the major share of market with more than 81% of North American enterprise firewall market, in 2015; whereas, Canada is estimated to be the fastest growing market during the forecast period.
The latest technological breakthroughs have assisted the advancement of new enterprise firewall market. These advancements can make the overall processes more efficient and can significantly improve accuracy in numerous applications. There have been a series of new product launches, mergers, and acquisitions in North America to take advantage of this opportunity. The major driver behind the investments has been the continuous evolution and application of new technologies to unlock enormous volumes that were previously considered non-commercial. With these series of investments, financial services, government, healthcare, and retail applications in North America are set to boom during the forecast period.
Key Developments in the Enterprise Firewall Market
February 2018 - Universities started the use of Enterprise firewalls owing to the nature of information that requires to be collaborated. Penn State have been migrating to next generation firewall platform as part of an agreement with The Office of Information Security (OIS)
February 2018 - Fortinet introduced a new series of Firewalls, which are touted to be the industry's fastest 100 Gbps+ firewalls. Increase in multi cloud networks and the traffic rise has security speed and scale
February 2018 - Oracle was in the process of acquiring Zenedge, which is a cloud based DDoS migration. This acquisition is expected to boost the firewall security of Oracle and expected release products as a part of this acquisition
Enterprise Firewall Market Major Players: Check Point Software Technologies, Palo Alto Networks, McAfee (Intel Security Group), Dell Inc., Cisco Systems Inc., The Hewlett-Packard Company, Juniper Networks, Fortinet Inc., Huawei Technologies Inc., Sophos Group plc, Netasq (Stormshield), WatchGuard Technologies, and SonicWall, amongst others.
Reasons to Purchase Enterprise Firewall Market Report
Growing number of cyber-attacks acts as a driver to the global Enterprise Firewall market scenario
Analyzing various perspectives of the market with the help of Porter's five forces analysis
The type of deployment that is expected to dominate the market is analyzed in detail
The regions that are expected to witness fastest growth during the forecast period are analyzed and estimated for growth
Identify the latest developments, market shares, and strategies employed by the major market players
3-month analyst support, along with the Market Estimate sheet in excel
Customization of Enterprise Firewall Market Report
This report can be customized to meet your requirements. Please connect with our representative, who will ensure you get a report that suits your needs
1. Introduction
1.1 Key Study Deliverables
1.2 Market Definition
1.3 Study Assumptions
2. Research Methodology
3. Executive Summary
4. Enterprise Firewall Market Insights
4.1 Enterprise Firewall Market Overview
4.2 Industry Value Chain Analysis
4.3 Indusrty Attractiveness- Porter'S Five Forces Analysis
4.3.1 Threat of New Entrants
4.3.2 Bargaining Power of Suppliers
4.3.3 Bargaining Power of Consumers
4.3.4 Threat of Substitute Products
4.3.5 Intensity of Competitive Rivalry
4.4 Industry Policies
5. Enterprise Firewall Market Dynamics
5.1 Enterprise Firewall Market Drivers
5.1.1 Growth in demand of solutions that help in mitigating risks
5.1.2 Regulatory pressures
5.1.3 Increasing security threats
5.2 Enterprise Firewall Market Restraints
5.2.1 Laggard attitude towards security by some enterprises
6. Technology Snapshot
7. Global Enterprise Firewall Market Segmentation
7.1 By Type of Deployment
7.1.1 On Premise
7.1.2 Cloud
7.2 By Solutions & Services
7.2.1 Hardware
7.2.2 Software
7.2.3 Services
7.3 By Size of Organization
7.3.1 Small and Medium Organizations
7.3.2 Large Organizations
7.4 By End-user Industry
7.4.1 Healthcare
7.4.2 Manufacturing
7.4.3 Government
7.4.4 Retail
7.4.5 Education
7.4.6 Financial Services
7.4.7 Media
7.4.8 Communications
7.4.9 Others
7.5 By Geography
7.5.1 North America Enterprise Firewall Market (2018-2023)
7.5.1.1 US Enterprise Firewall Market (2018-2023)
7.5.1.2 Canada Enterprise Firewall Market (2018-2023)
7.5.2 Europe Enterprise Firewall Market (2018-2023)
7.5.2.1 UK Enterprise Firewall Market (2018-2023)
7.5.2.2 Germany Enterprise Firewall Market (2018-2023)
7.5.2.3 France Enterprise Firewall Market (2018-2023)
7.5.2.4 Rest of Europe
7.5.3 Asia-Pacific Enterprise Firewall Market (2018-2023)
7.5.3.1 China Enterprise Firewall Market (2018-2023)
7.5.3.2 Japan Enterprise Firewall Market (2018-2023)
7.5.3.3 India Enterprise Firewall Market (2018-2023)
7.5.3.4 Rest of Asia-Pacific
7.5.4 Latin America Enterprise Firewall Market (2018-2023)
7.5.4.1 Brazil Enterprise Firewall Market (2018-2023)
7.5.4.2 Argentina Enterprise Firewall Market (2018-2023)
7.5.4.3 Mexico Enterprise Firewall Market (2018-2023)
7.5.4.4 Rest of Latin America
7.5.5 Middle East & Africa Enterprise Firewall Market (2018-2023)
7.5.5.1 UAE Enterprise Firewall Market (2018-2023)
7.5.5.2 Saudi Arabia Enterprise Firewall Market (2018-2023)
7.5.5.3 South Africa Enterprise Firewall Market (2018-2023)
7.5.5.4 Rest of Middle East & Africa
8. Vendor Market Share
9. Key Vendor Profiles
9.1 Check Point Software Technologies
9.2 Palo Alto Networks
9.3 McAfee (Intel Security Group)
9.4 Dell Inc.
9.5 Cisco Systems Inc.
9.6 The Hewlett-Packard Company
9.7 Juniper Networks
9.8 Fortinet Inc.
9.9 Huawei Technologies Inc.
9.10 Sophos Group plc
9.11 Netasq (Stormshield)
9.12 WatchGuard Technologies
9.13 SonicWall
*List not Exhaustive
10. Investment Analysis
10.1 Recent Mergers And Acquisitions
10.2 Investment Scenario And Opportunities
11. Future of Enterprise Firewall Market