The global Extruded PLA market is expected to witness a CAGR of approximately 20% during the forecasted period, majorly driven by the usage of bio-based materials that are expected to help the environment by reducing the greenhouse gas emissions from the usage of crude oil and the need to use sustainable plastic materials.
Rising Demand from End-users
Extruded PLA is used in various end-user industries, such as packaging, transportation, healthcare, textiles, etc., as a substitute for polyester and nylon. It is made from natural sources of starch, like tapioca, sugarcane, cornstarch etc. The major end-user industries of extruded PLA are expected to be packaging, transportation, and textile due to their extensive usage of polyester and nylon. The shift towards sustainable plastics and the interesting applications in tissue engineering are expected to propel the demand for this market.
Major Market Focused in Asia Pacific
The developing regions of North America and Europe have started usage of extruded PLA few years ago and it has been accepted well in multiple end-user industries. Interestingly, Asia-Pacific also adapted the usage of extruded PLA, due to the export demand. The increase in usage of extruded PLA for catering to the local needs in the future is expected to boost the market and companies are increasingly focusing on price competitiveness of extruded PLA.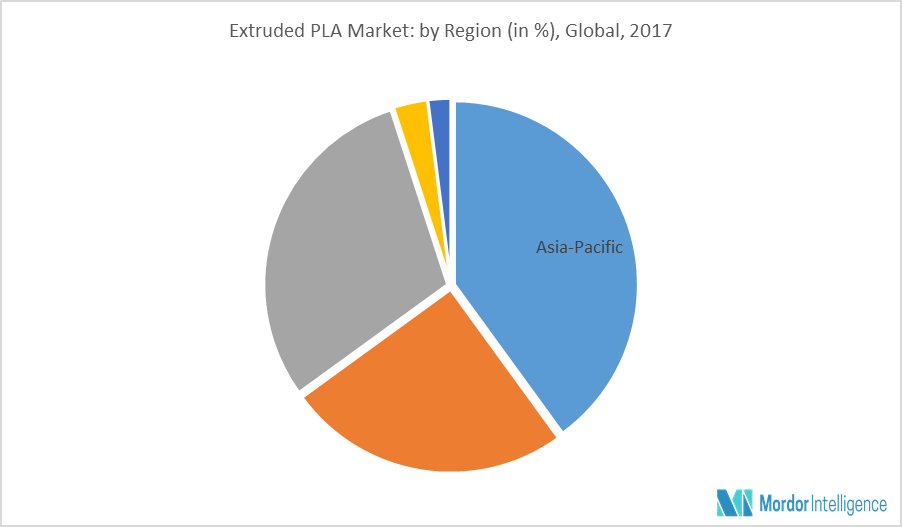 Notable Developments
March 2018: 3D printing has been an interesting market for PLA and the extrusion of PLA for use in 3D printing is leading to multiple innovations in extrusion. Micro pellet extrusion has been developed by New Zealand Researchers to improve the 3D printing process.
Major Players: BASF SE, Braskem, Sinopec, DowDupont, Toray, and Teijin are the major layers amongst others.
Reason to Purchase this Report
To understand the impact of various end-user industries on the market
Analyzing various perspectives of the market with the help of Porter's five forces analysis
To understand the dominating end-user industry in the market
Countries expected to witness the fastest growth during the forecast period
Identifying the latest developments, market shares, and strategies employed by the major market players
3-month analyst support, along with the Market Estimate sheet in excel
Customization of the Report
This report can be customized to meet your requirements. Please connect with our analyst, who will ensure you get a report that suits your needs
1. Introduction
1.1 Scope of the Report
1.2 Research Phases
1.3 Study Deliverables
2. Executive Summary
3. Market Insights
3.1 Industry Value Chain Analysis
3.2 Industry Attractiveness – Porter's Five Forces Analysis
3.2.1 Bargaining Power of Suppliers
3.2.2 Bargaining Power of Consumers
3.2.3 Threat of New Entrants
3.2.4 Threat of Substitute Products and Services
3.2.5 Degree of Competition
3.3 Raw Material Analysis
3.4 Technological Snapshot
3.4.1 Current Technologies
3.4.2 Upcoming Technologies
3.4.3 Regulatory Policy Analysis
4. Market Dynamics
4.1 Drivers
4.1.1 Rising demand from end-users
4.1.2 Growing preference towards bio-based materials due to environmental concerns
4.2 Restraints
4.2.1 Price Competition From Conventional Polymers
4.2.2 Others
4.3 Opportunities
4.3.1 Reinforcement of Poly lactic acid with other natural fibers
4.3.2 Others
5. Market Segmentation and Analysis - (Market size, Growth, and Forecast)
5.1 By End-user Industry
5.1.1 Packaging
5.1.2 Transportation
5.1.3 Biomedical
5.1.4 Textiles
5.1.5 Others
6. Regional Market Analysis (Market size, Growth, and Forecast)
6.1 Asia-Pacific
6.1.1 China
6.1.2 India
6.1.3 Japan
6.1.4 South Korea
6.1.5 Rest of Asia-Pacific
6.2 North America
6.2.1 United States
6.2.2 Canada
6.2.3 Mexico
6.2.4 Rest of North America
6.3 Europe
6.3.1 Germany
6.3.2 United Kingdom
6.3.3 Italy
6.3.4 France
6.3.5 Rest of Europe
6.4 South America
6.4.1 Brazil
6.4.2 Argentina
6.4.3 Rest of South America
6.5 Middle East and Africa (MEA)
6.5.1 Saudi Arabia
6.5.2 South Africa
6.5.3 Rest of MEA
7. Competitive Landscape
7.1 Mergers & Acquisitions, Joint Ventures, Collaborations and Agreements
7.2 Market Share Analysis**
7.3 Strategies Adopted by Leading Players
8. Company Profiles (Overview, Financials**, Products & services, Recent Developments, and Analyst View)
8.1 BASF SE
8.2 Braskem
8.3 Eastman Chemicals
8.4 Natureworks
8.5 Nova Chemicals
8.6 Sinopec
8.7 Bayer
8.8 Cargil
8.9 Danimer Scientific
8.10 DowDuPont
8.11 Exxonmobil
8.12 Futerro
8.13 Henen Jindan Lactic Acid Technology
8.14 Kuraray
8.15 Kanebo Gohsen Ltd
8.16 Toray Industries
8.17 PTT Chemicals
8.18 Purac Biochem
8.19 Mitsui Chemicals
8.20 Teijin
8.21 Unitika
8.22 Wei Mon Industry
…List not Exhaustive
9. Disclaimer
**Subject to availability of public domain