The Europe protective coatings market was valued at USD 2.52 billion in 2017. Due to the expansion activities related to the infrastructure and power sectors, Germany is expected to hold the largest share of the market, in terms of revenue. Infrastructure is anticipated to be the largest end-user segment
Expansion in the Power Sector Poised to Propel Growth of the Market
The renewable power sector in Europe recorded a robust increase of more than 5%, between 2014 and 2016. This change can be majorly attributed to the increasing installation of wind power plants. Around USD 25.8 billion was invested in 2016. Moreover, Germany is planning to deploy an average of 730 MW a year up to 2030, whereas the United Kingdom has made a political commitment to install 1 GW a year in the 2020s and the Netherlands has plans of deploying 700 MW a year, up to 2020. With considerable expansion activities already in the pipeline, the protective coatings sector in the region is expected to register healthy growth.
Infrastructure Projected to be the Largest End-user Segment
In 2017, in terms of revenue, the infrastructure segment accounted for slightly more than one third of the market studied. The major economies in the region are expected to contribute to significant investments in the region, including the United Kingdom, Germany, and France. The United Kingdom is expected to invest USD 1.9 billion during 2017-2018. The French infrastructure industry recorded a growth of around 1.95% in 2106. Further, a considerable number of infrastructure projects underway in regions, such as Poland, Romania, and Czech Republic, which are expected to be completed by 2020
Germany Expected to Dominate During the Forecast Period
In 2017, Germany accounted for around 20% of the market studied, in terms of revenue. The country has experienced a decline in indigenous oil production over the past few years, which has affected the oil & gas coatings sector. However, the infrastructure segment has been witnessing a steady surge in the recent past. The German infrastructure industry recorded a growth of about 5.4%, in 2016-2017. Moreover, investments in the infrastructure segment are expected to propel the growth of the industry.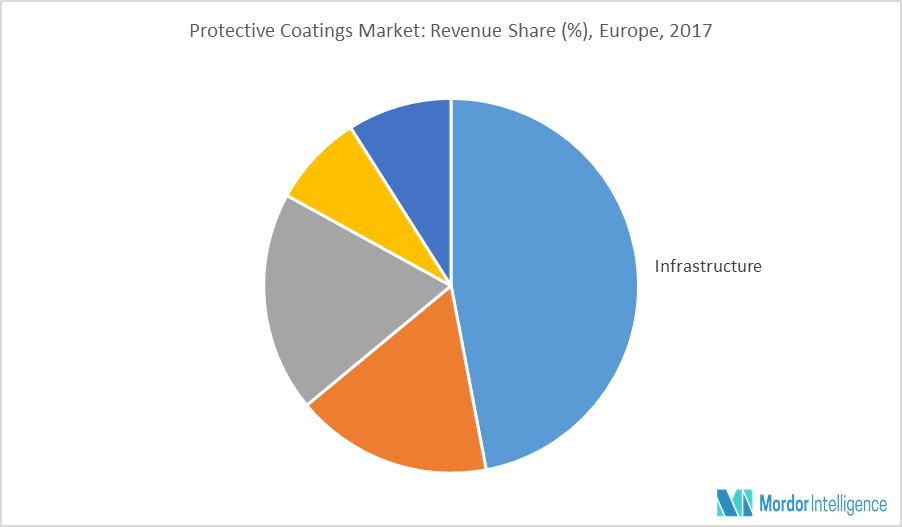 Notable Developments in the Market
June 2017: Sherwin-Williams completed the acquisition of Valspar, to become the global leader in paint and coatings.
Major Players: PPG Industries, AkzoNobel NV, BASF SE, Jotun A/S, and RPM International, among others.
Reasons to Purchase this Report
To understand the impact of increasingly stringent regulations on the market.
To analyze the various perspectives of the market, with the help of Porter's five forces analysis.
To understand the technology that is expected to dominate the market.
The countries that are expected to witness the fastest growth during the forecast period.
Identify the latest developments, market shares, and strategies employed by the major market players.
3 months analyst support along with the Market Estimate sheet (in excel)
Customization of the Report
This report can be customized to meet your requirements. Please connect with our representative, who will ensure you to get a report that suits your needs.