Market Snapshot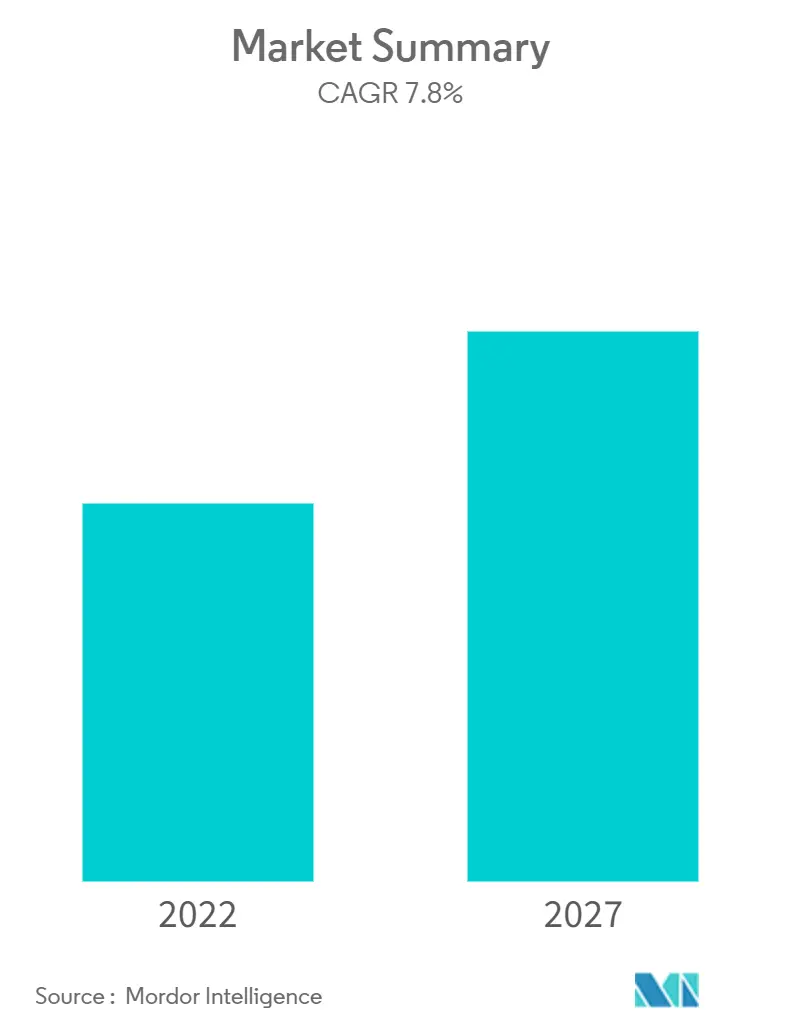 Study Period:
2019-2027
Base Year:
2021
Fastest Growing Market:
Asia-Pacific
Largest Market:
North America
CAGR:
7.8 %
Need a report that reflects how COVID-19 has impacted this market and its growth?
Market Overview
The electroceuticals/bioelectric medicine market is projected to register a CAGR of 7.8% during the forecast period (2022-2027).
The COVID-19 epidemic has had a significant impact on the market. Due to the high rate of infection and the lack of treatment, many countries were suffering and continue to burden their economies and health care systems. Elective procedures have been postponed indefinitely during the COVID-19 pandemic to provide capacity to deal with the emergency caseload and avoid exposing elective patients to COVID-19. Also, as per the article published in August 2021 titled "Impact of COVID-19 pandemic on cardiac electronic device implantations in Northwestern Greece", The coronavirus disease 2019 (COVID-19) pandemic seems to have a significant impact on cardiovascular-related hospital visits and admissions. During the first lockdown period, both de novo implantations and replacements decreased significantly, while there was no significant change during the second lockdown period.
Globally, the rising prevalence of chronic disorders is a major factor driving the market forward. For instance, as per the April 2021 report of the World Health Organization (WHO), non-communicable diseases (NCDs), also known as chronic diseases, are long-duration diseases and are the result of a combination of genetic, physiological, environmental, and behavioral factor and NCDs are responsible for about 41 million deaths every year around the world, which is about 71% of all deaths globally. As per the same source, cardiovascular diseases are the major form of NCDs, followed by cancer, respiratory diseases, and diabetes, and 77% of all NCD deaths are in low- and middle-income countries. Additionally, an increase in the geriatric population at risk of neurological and CVD diseases is expected to fuel market growth over the forecast period.
Bioelectronic Medicine promises to bring new insights into diagnosing and treating diseases and conditions as varied as cancer, rheumatoid arthritis, inflammatory bowel disease, obesity, diabetes, asthma, paralysis, blindness, bleeding, ischemia, and organ transplantation, cardiovascular disease, neurodegenerative diseases, and others. Building on a surge of progress in the past decade, the field is rapidly expanding. Technical innovations are making devices smaller and less invasive, with companies bringing new applications to market in the next several years, including for peripheral neuropathy, arthritis, chronic obstructive pulmonary disease, heart failure, and Type 1 diabetes.
Bioelectric Medicine is being developed by market participants as well. For example, GE Research's bioelectronic medicine team is using ultrasound to demonstrate potentially groundbreaking non-invasive methods to regulate dysfunction in the body's metabolic or inflammatory control systems. Bioelectronic medicine research traditionally relied on implanted devices to stimulate nerves and achieve therapeutic results. The GE Research team demonstrates the precise stimulation of nerve features directly within target organs using a non-invasive ultrasound technique. The preliminary findings of the GE Research team indicate that more investment and research into the use of ultrasound for peripheral neuromodulation is warranted and that increased collaboration between ultrasound device engineers and neuroscientists will be required. Hence, showing potential and simultaneously the need for investment in the biomedicine market.
Researchers are now looking into developing various bioelectronics-based therapeutic devices for tumor stimulation and neural modulation. This allows for the control of cancer signaling pathways, the restoration of healthy electrical impulse patterns, and the prevention of cancer progression. Recent advancements in bioelectric Medicine may prove to be a more natural and safe approach to cancer treatment than chemotherapy and surgery, both of which have numerous side effects. In today's world, patients with certain types of cancer are given electric field therapies in addition to chemotherapy to improve survival and safety. For instance, Bryne et al. showed that a high concentration of localized drugs could be forced deep inside the tumors using low direct current electric fields, referred to as "iontophoretic chemotherapy".
Also," per the article published in December 2019, "Core Co,ncept: The rise of bioelectric medicine sparks interest among researchers, patients, and industry," the ph,"maceutical industry is also on board. Johnson & Johnson's portfolio now includes several bioelectronic devices. Besides, in August 2016, GlaxoSmithKline made a big bet on bioelectronic Medicine by investing alongside Verily (formerly Google Life Sciences) around USD 715 million in Galvani Bioelectronics for over seven years, whose focus is on the design and development of neuromodulation systems. This is likely to boost the market growth over the forecast period.
Scope of the Report
As per the scope of this report, bioelectronic medicine focuses on electrical signaling in the nervous system. Bioelectronic medicine is a new approach to treating and diagnosing disease. It represents a convergence of molecular medicine, neuroscience, and bioengineering. It uses a medical device (electrical pulses) and the body's natural mechanisms as an adjunct or alternative to drugs and medical procedures. The Electroceuticals/Bioelectric Medicine Market is Segmented by Device Type (Implantable Electroceutical Devices, Non-invasive Electroceutical Devices), by Product Type (Defibrillators, Pacemakers, Stimulator, and Others), by Application (Arrhythmia, Pain Management, Parkinson's Disease, Depression, Others), End-user (Hospitals, Clinics, Others) and Geography (North America, Europe, Asia-Pacific, Middle East, and Africa, and South America). The report also covers the estimated market sizes and trends for 17 countries across major regions globally. The report offers the value (USD million) for the above segments.
Key Market Trends
The Arrhythmia Segment is Expected to Hold a Major Market Share in the Electroceuticals/Bioelectric Medicine Market
The rising prevalence of arrhythmia is the major factor driving market growth as per the article published in February 2021 titled "Global epidemiology of atrial fibrillation: An increasing epidemic and public health challenge," Atrial fibrillation is the most frequent cardiac arrhythmia. It has been estimated that 6-12 million people worldwide will suffer from this condition in the United States by 2050 and 17.9 million people in Europe by 2060. Atrial fibrillation is a major risk factor for ischemic stroke and provokes an important economic burden along with significant morbidity and mortality. Also, according to the National Center for Chronic Disease Prevention (CDC) and Health Promotion, Division for Heart Disease and Stroke Prevention facts updated on September 2021, it is estimated that 12.1 million people in the United States will have Atrial fibrillation (AFib) in 2030. According to the same source, more than 454,000 hospitalizations with AFib as the primary diagnosis happen yearly in the United States.
Furthermore, the products such as defibrillators and pacemakers are widely accepted by the population, which is also boosting the market growth. Additionally, growing technological advances and product approvals drive segment growth. For example, in July 2020, Abbott Laboratories received approval from the United States Food and Drug Administration for its Gallant line, which includes an implanted cardioverter-defibrillator and a cardiac resynchronization therapy defibrillator with Bluetooth technology. Advance pacemaker technology features such as remote data tracking devices, secure magnetic resonance imaging (MRI) devices, and data recording functionality enhance segment growth.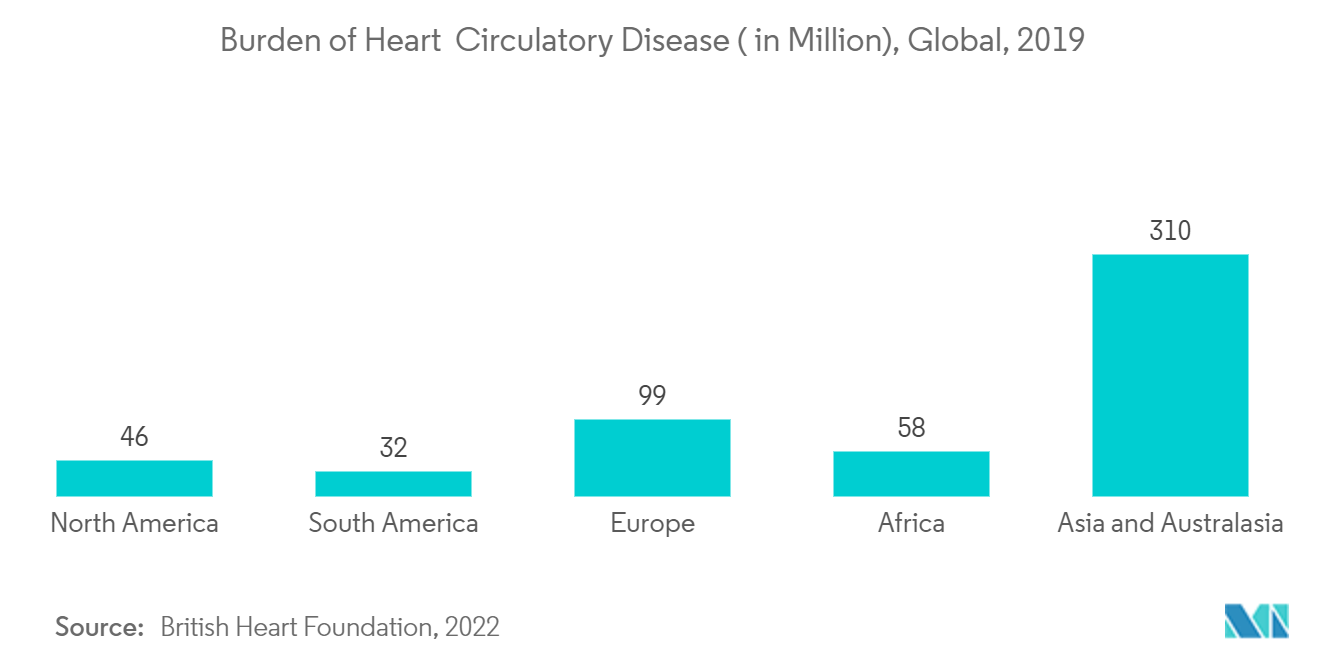 To understand key trends, Download Sample Report
North America is Expected to Hold a significant share in the market and is expected to do the Same in the Forecast Period.
COVID‐19 was temporally associated with an increase in out‐of‐hospital cardiac arrests. As per the article published in May 2021 on "Implantable Cardioverter‐Defibrillator Shocks During COVID‐19 Outbreak", Defibrillator shock episodes increased during the higher COVID‐19 activity in New York City, New Orleans, and Boston. COVID‐19 can affect the cardiovascular system, resulting in myocardial injury, intravascular thrombosis, arrhythmias, and sudden cardiac death. Individuals with an implantable cardioverter‐defibrillator (ICD) are at increased risk for arrhythmic sudden cardiac arrest. Spikes in ICD shock rates also appeared to be temporally associated with the COVID‐19 surge. However, the data released from Medtronic's survey on United States population demonstrating several struggles for those with chronic pain during the COVID-19 pandemic found that 44% of current chronic back and leg pain sufferers experienced care delays during the COVID-19 pandemic despite 87% reporting that their pain has not improved — or has even worsened since the pandemic began two years ago in March 2020. The survey also demonstrated that an overwhelming majority want more treatment options, yet awareness of spinal cord stimulation and targeted drug delivery options remains relatively low. That represents an opportunity to educate patients about the full range of options available to help alleviate their pain.
The rising geriatric population, increasing prevalence of chronic diseases, and demand for advanced quality healthcare are putting immense pressure on healthcare to meet the population's increasing demand. As per the United States Census Bureau's 2021 senior report, More than 54 million adults ages 65 and older live in the United States today, accounting for about 16.5% of the nation's population. The number of older adults living in the United States is growing. By 2050, the total number of adults ages 65 and older is projected to rise to 85.7 million, roughly 20% of the overall U.S. population.
There is an increasing prevalence of infectious and chronic diseases such as cancer, cardiovascular, diabetes, and many more. According to the Global Cancer Observatory (Globocan) Statistics 2020, there were 19.3 million new cases of cancer all over the world, accounting for both sexes in 2020, and the same source reported that the incidence of cancer was growing at a rapid pace in the world and estimated that the number of new cases of cancer in both sexes will reach to 30.2 million by 2040. Hence, this is huge potential for the bioelectric medicine market to quickly diagnose and treat diseases.
Furthermore, the presence of well-established market players such as Biotronik and Medtronic is also supporting the market growth in the region. Besides, favorable government support and regional product approvals also drive market growth. For instance, SetPoint Medical, a privately held clinical-stage bioelectronic medicine company dedicated to treating patients with chronic autoimmune diseases, has got a Breakthrough Device Designation from the United States and Drug Administration for the use of its novel bioelectronic device for patients with rheumatoid arthritis who have an incomplete response to or are intolerant to multiple biologic drugs.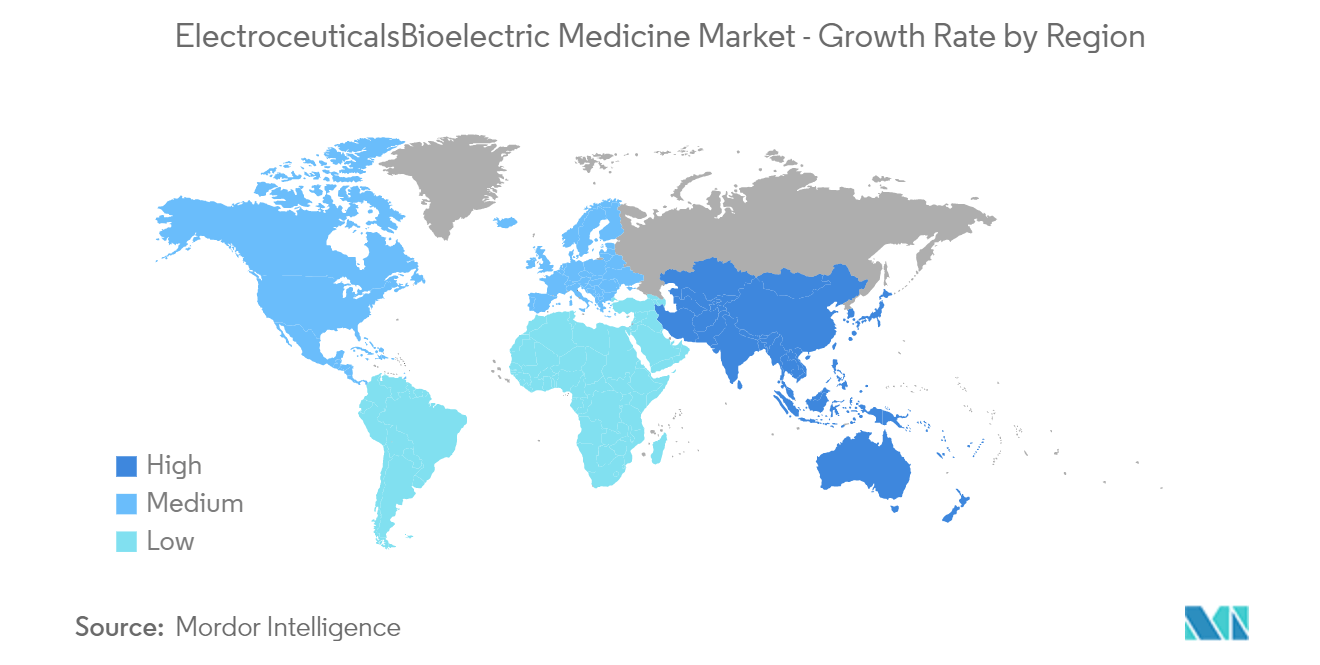 To understand geography trends, Download Sample Report
Competitive Landscape
The electroceuticals/bioelectric medicine market is fragmented and competitive and consists of several major players. Some of the players operating in the market are SetPoint Medical, Sky Medical Technology, Cala Health, Boston Scientific Corporation, Abbott, Medtronic, Biotronik SE & Co. KG, Cochlear Ltd., Sonova, LivaNova PLC., ElectroCore Inc., NeuroPace, Inc., Koninklijke Philips N.V., NEVRO CORP., and WEINMANN Emergency Medical Technology GmbH + Co. KG.
Recent Developments
In July 2021, Merck KGaA, Darmstadt, Germany (Merck) partnered with Innervia Bioelectronics to develop graphene-based bioelectronic vagus nerve treatments for severe chronic diseases. The partnership will leverage the expertise of both companies to develop therapies for diseases with unmet medical requirements, which are within the treatment areas addressed by Merck.
In February 2021, Pulse Biosciences, Inc., a novel bioelectric medicine company progressing Nano-Pulse Stimulation (NPS) technology, announced that the first clinic patients have been treated with the CellFX System. This first commercial use of the CellFX System marks the initiation of the Company's controlled launch program with product shipments to respected leaders in dermatology in the United States and Europe.
Table of Contents
1. INTRODUCTION

1.1 Study Assumptions and Market Definition

1.2 Scope of the Study

2. RESEARCH METHODOLOGY

3. EXECUTIVE SUMMARY

4. MARKET DYNAMICS

4.1 Market Overview

4.2 Market Drivers

4.2.1 Rising Geriatric Population and Subsequent Growth in the Prevalence of Neurological & Cardiovascular Disorders

4.2.2 Technological Advancements

4.3 Market Restraints

4.3.1 High Cost of Electroceutical Devices

4.4 Porter's Five Forces Analysis

4.4.1 Threat of New Entrants

4.4.2 Bargaining Power of Buyers/Consumers

4.4.3 Bargaining Power of Suppliers

4.4.4 Threat of Substitute Products

4.4.5 Intensity of Competitive Rivalry

5. MARKET SEGMENTATION

5.1 By Device Type

5.1.1 Implantable Electroceutical Devices

5.1.2 Non-invasive Electroceutical Devices

5.2 By Product

5.2.1 Defibrillators

5.2.2 Pacemakers

5.2.3 Stimulators

5.2.4 Others

5.3 By Application

5.3.1 Arrhythmia

5.3.2 Pain Management

5.3.3 Parkinson's Disease

5.3.4 Depression

5.3.5 Others

5.4 End User

5.4.1 Hospitals

5.4.2 Clinics

5.4.3 Others

5.5 Geography

5.5.1 North America

5.5.1.1 United States

5.5.1.2 Canada

5.5.1.3 Mexico

5.5.2 Europe

5.5.2.1 Germany

5.5.2.2 United Kingdom

5.5.2.3 France

5.5.2.4 Italy

5.5.2.5 Spain

5.5.2.6 Rest of Europe

5.5.3 Asia-Pacific

5.5.3.1 China

5.5.3.2 Japan

5.5.3.3 India

5.5.3.4 Australia

5.5.3.5 South Korea

5.5.3.6 Rest of Asia-Pacific

5.5.4 Middle-East and Africa

5.5.4.1 GCC

5.5.4.2 South Africa

5.5.4.3 Rest of Middle-East and Africa

5.5.5 South America

5.5.5.1 Brazil

5.5.5.2 Argentina

5.5.5.3 Rest of South America

6. COMPETITIVE LANDSCAPE

6.1 Company Profiles

6.1.1 SetPoint Medical

6.1.2 Sky Medical Technology

6.1.3 Cala Health

6.1.4 Boston Scientific Corporation

6.1.5 Abbott Laboratories

6.1.6 Medtronic

6.1.7 Biotronik SE & Co. KG

6.1.8 Cochlear Ltd.

6.1.9 Sonova

6.1.10 LivaNova PLC.

6.1.11 ElectroCore Inc.

6.1.12 NeuroPace, Inc.

6.1.13 Koninklijke Philips N.V.

6.1.14 NEVRO CORP.

6.1.15 WEINMANN Emergency Medical Technology GmbH + Co. KG

*List Not Exhaustive

7. MARKET OPPORTUNITIES AND FUTURE TRENDS
**Subject to Availability
**Competitive Landscape covers- Business Overview, Financials, Products and Strategies and Recent Developments
You can also purchase parts of this report. Do you want to check out a section wise price list?
Frequently Asked Questions
What is the study period of this market?
The Global Electroceuticals/Bioelectric Medicine Market market is studied from 2019 - 2027.
What is the growth rate of Global Electroceuticals/Bioelectric Medicine Market?
The Global Electroceuticals/Bioelectric Medicine Market is growing at a CAGR of 7.8% over the next 5 years.
Which region has highest growth rate in Global Electroceuticals/Bioelectric Medicine Market?
Asia-Pacific is growing at the highest CAGR over 2021- 2026.
Which region has largest share in Global Electroceuticals/Bioelectric Medicine Market?
North America holds highest share in 2021.
Who are the key players in Global Electroceuticals/Bioelectric Medicine Market?
Boston Scientific Corporation, Medtronic , Biotronik SE & Co. KG , Koninklijke Philips N.V., Abbott Laboratories are the major companies operating in Global Electroceuticals/Bioelectric Medicine Market.
80%

of our clients seek made-to-order reports. How do you want us to tailor yours?