Cannabis Market
The global cannabis market was valued at USD 7.7 billion in the year 2016 and is expected to reach 65 billion by the year 2023 while registering a healthy CAGR of 37% during the forecast period. The growth rate can be attributed to the fact that various countries are now legalizing the usage of cannabis for medical purposes and various states in US are legalizing the usage of cannabis for recreational purposes as well. North America accounts for more than 95% of the global cannabis market, with US alone making up more than 90% of the North American, as well as global market.
Increasing Legalization of Cannabis
Peru was the most recent addition to the list of countries which have legalized the usage of Cannabis for medical purposes. Vermont was the latest addition to the list of US states where cannabis is legal for medicinal usage. Canada is expected to follow the steps of Uruguay and attain complete legalization of cannabis, so that it can be used for both medical, as well as recreational purpose. Countries, like Spain, Netherlands, and Italy are also expected to legalize the usage of cannabis for medical purposes, in the near future.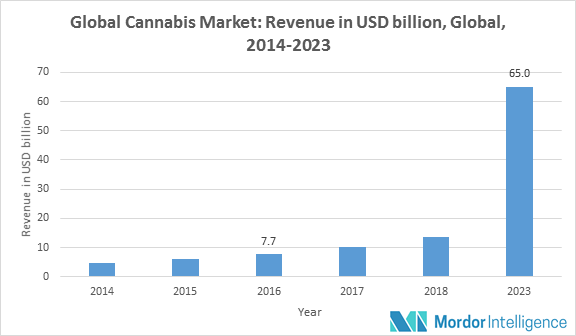 Intellectual Property and Genetic Advances to Affect the Cannabis Market
Companies involved in production and trade of cannabis and cannabis-based products are focusing on standardizing their products, as well as getting intellectual property rights for their products. Genetic advances in cannabis research is also expected to change the dynamics of the current cannabis market. The need to create consumer friendly products and to define their brand companies are looking to patent their products to create a unique consumer base.
Key Developments in the Cannabis Market
Global Cannabis market is experiencing a staggering growth due to legalization of cannabis for medicinal purposes and increasing acceptance of these products.
December 2017: Health Canada provided licenses to two Quebec based cannabis production facilities.
November 2017: Ohio Department of Commerce provided 12 provisional large-scale medical cannabis cultivation licenses.
Major Players in Cannabis Market
Scotts Miracle-Gro Co.
Canopy Growth Corp.
GW Pharmaceuticals PLC
Aurora Cannabis Inc.
Aphria Inc.
MedReLeaf Corp.
Sprott Inc.
Insys Therapeutics Inc.
CanniMed Therapeutics Inc.
Cara Therapeutics Inc.
Reasons to Purchase Cannabis Market Report
Analysis of trend and forecast of chia seed market
Analysis of various perspectives of the market with the help of Porter's five forces analysis
Analysis of major factors, which are impacting the global cannabis market
Regional analysis of the market
Competitive analysis complete with market strategies adopted by the leading market players
3-month analyst support, along with the Market Estimate sheet in excel
Customization of Cannabis Market Report
This report can be customized to meet your requirements. Company profiles can also be provided with this report. Please connect with our analyst, who will ensure you get a report that suits your needs
1. Intoduction
1.1 Market Definition of Cannabis Market
1.2 Key Findings of the Cannabis Market Study
2. Research Scope & Methodology
2.1 Study Deliverables of Cannabis Market
2.2 Study Assumptions of Cannabis Market
2.3 Research Methodology of Cannabis Market
2.4 Research Phases of Cannabis Market
3. Market Dynamics
3.1 Cannabis Market Drivers
3.1.1 Medicinal Properties of Cannabis
3.1.2 Increasing Legalization of Cannabis
3.1.3 Increasing Advances in Genetic Development and Intellectual Property of Cannabis
3.2 Cannabis Market Restraints
3.2.1 Illegal Product in Various Countries
3.2.2 Higher Stress on Water and Sustainable Agriculture
3.2.3 Strict Regulations Against Usage of Cannabis
3.2.4 Strong Competition With Conventional Treatment and Traditional Drugs
4. Cannabis Market Industry Analysis
4.1 Porter's Five Forces Analysis
4.1.1 Bargaining Power of Suppliers
4.1.2 Bargaining Power of Buyers
4.1.3 Threat of New Entrants
4.1.4 Threat of Substitute Products and Services
4.1.5 Degree of Competition
5. Market Segmentation
5.1 Cannabis Market By Usage
5.1.1 Medical
5.1.2 Recreational
5.2 Cannabis Market By Crop Variety
5.2.1 Cannabis Indica
5.2.2 Cannabis Sativa
5.2.3 Others
5.3 Cannabis Market By Geography
5.3.1 North America
5.3.1.1 US
5.3.1.2 Canada
5.3.1.3 Rest of North America
5.3.2 Europe
5.3.2.1 Germany
5.3.2.2 Czech Republic
5.3.2.3 Croatia
5.3.2.4 Rest of Europe
5.3.3 Asia-Pacific
5.3.3.1 Australia
5.3.3.2 Rest of Asia-Pacific
5.3.4 South America
5.3.4.1 Argentina
5.3.4.2 Chile
5.3.4.3 Peru
5.3.4.4 Rest of South America
5.3.5 Africa & Middle East
6. Competitive Landscape of Cannabis Market
6.1 Most Adopted Strategies
6.2 Most Active Companies
6.3 Market Share Analysis
7. Company Profiles of Cannabis Market
7.1 Scotts Miracle-Gro Co.
7.2 Canopy Growth Corp.
7.3 GW Pharmaceuticals PLC
7.4 Aurora Cannabis Inc.
7.5 Aphria Inc.
7.6 MedReLeaf Corp.
7.7 Sprott Inc.
7.8 Insys Therapeutics Inc.
7.9 CanniMed Therapeutics Inc.
7.10 Cara Therapeutics Inc.
#List Not Exhaustive
8. Future Outlook of the Cannabis Market
9. Appendix
10. Disclaimer