Field Service Management (FSM) Industry Overview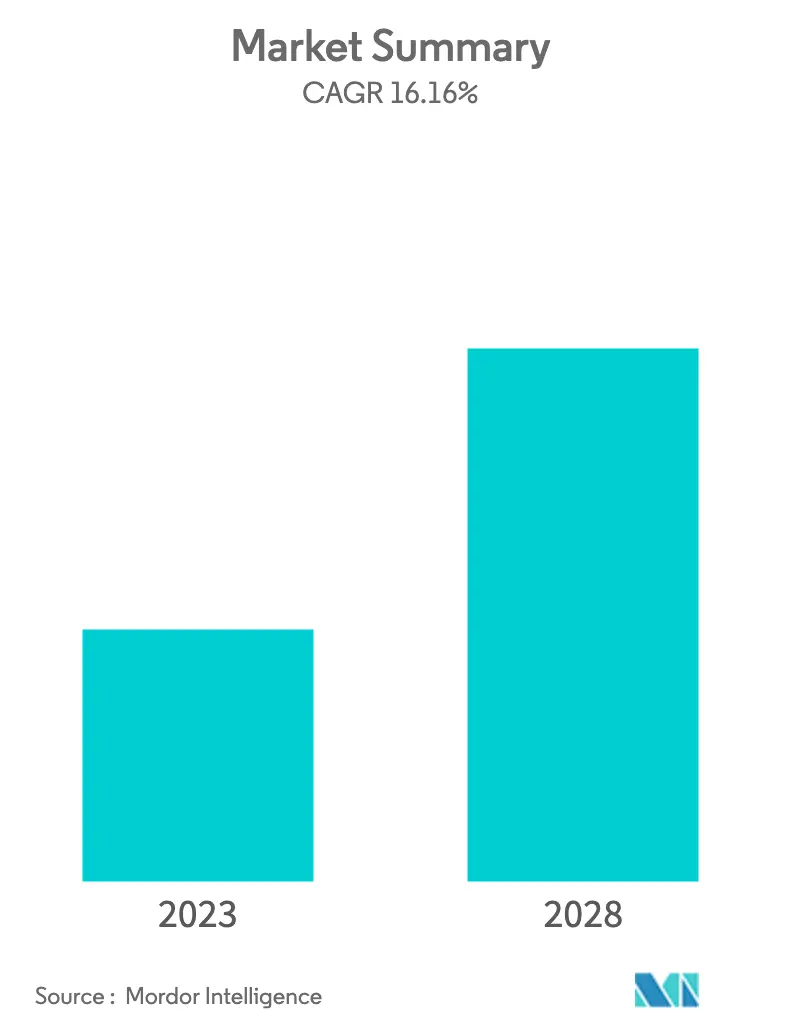 Study Period:
2018 - 2028
Fastest Growing Market:
Asia Pacific
Largest Market:
Asia Pacific
CAGR:
15.12 %

Major Players

*Disclaimer: Major Players sorted in no particular order
Need a report that reflects how COVID-19 has impacted this market and its growth?
Field Service Management (FSM) Market Analysis
The Global Field Service Management Market (hereafter referred to as the market studied) is expected to register a CAGR of 15.12% during the forecast period (2022-2027). Field service management firms are experiencing immense pressure to effectively lead teams and ensure safety compliance with the outbreak of COVID-19, where the risks are running high. There is no space for miscommunication or distrust. According to Harvard Business Review, before the pandemic, the U.S. average for organizational trust was only 70%. Seeing as stressful situations exacerbate fear and distrust, it is even more critical at this point to focus on developing confidence within the organization.
Vendors implement various pricing strategies to survive in the competitive market environment. The software vendors are adopting customer-centric pricing strategies enabled by technological advancements. Several vendors in the FSM industry are focusing on providing value-based pricing models depending on the customers' needs and value perceptions. The software solution pricing is based on the differentiating characteristics of the solution and the value-added features given to the customers.
The preference for software-as-a-service (SaaS) over traditional on-premise software is set to increase considerably during the forecast period, aided by the growing demand for better and faster service. With the growth of cloud computing in the field service management market, many enterprises are switching to cloud-based FSM solutions. These solutions ease the burden on the I.T. department and allow the external service providers to offer support and maintenance to their users.
The key players in the market are focusing on strategic acquisitions to enhance their capabilities and stay competitive. For instance, In December 2021, GPS Insight, a significant provider of SaaS-based fleet management software and complementary solutions in the United States and Canada, announced the acquisition of FieldAware, the provider of mobile, cloud-based field service solutions. The acquisition expands GPS Insight's field services and fleet tracking capabilities, allowing them to better serve customers of all sizes through a more robust and comprehensive digital platform with operational insights and cost savings capabilities.
Moreover, in June 2021, ServicePower and PwC Enterprise Advisory, part of the PwC network of firms providing assurance, advisory, and tax services, announced a partnership that delivers a joint field service management offering to manufacturing organizations across Europe. The two organizations will initially focus on the European market. With this agreement, ServicePower will Provide schedule optimization, Mobility application, Customer facing portal, Reporting, and analytics. Such instances increases the FMS market opportunities across the Europe.
The vendors in the market are expanding their services, which results in increasing their visibilty and growth opportunities in the market. For instance In May 2022, ServicePower, a leading Field Service Management (FSM) software company, has announced that its services are now available in France. The field service management specialist confirms its expansion in Europe and its ambition to assist retailers, insurance companies, consumer electronics companies, and home service companies in providing tailored first-class experiences to their customers while achieving significant operational efficiencies.
The original equipment manufacturers are adopting the industrial Internet of things (IIoT) for new services, which require a modern FSM system to manage the field service delivery leading to an increased demand for FSM solutions. Additionally, machine learning provides new sources of competitive advantage. The successful execution of this requires modern FSM solutions. There has been an increasing adoption of field service management solutions, as it improves workforce productivity and streamlines the business process without increasing the size of the field-based workforce.
In the wake of COVID-19, the previously estimated growth of FSM across end-user segments is expected to rise as the pandemic restricts the industry professionals and stakeholders from managing their fieldwork remotely. The COVID-19 pandemic has resulted in limited workers on the floor to have social distancing measures, which will further boost the adoption.
Also, the field service management industry has witnessed rapid growth over the last few years, buoyed by the increasing demand for time and cost-effective solutions. Several studies have revealed that there would be a shortage of field service workforce in mature markets such as the U.S. and Europe due to the prevalent demographic conditions, which has, in turn, led to organizations placing a higher emphasis on back-end automation and the use of advanced technologies to enable remote monitoring.
Field Service Management (FSM) Industry Segments
Field service management-based solutions have emerged as a critical segment within the overall customer service industry in the wake of the ongoing advancements in the MRO and the IT service industry, which has led to a greater emphasis on retaining existing customers by offering value-added services.
The study draws on the evolution of FSM from on-premise CRM-based solutions to the recent emergence of end-to-end pure-play vendors. The study draws key inferences and insights from critical sub-segments within the FSM industry, such as scheduling, dispatch, route optimization, customer, work order, inventory, service management, warranty management, and bill invoicing.
The Field Service Management (FSM) Market is segmented by Deployment (On-premises, Cloud), Organisation Size (Small and Medium Enterprises, Large Enterprises), FSM Software and Service Type (Scheduling, Dispatch, and Route Optimization, Service Contract Management, Work Order Management, Customer Management, Inventory Management, Services, Other Software), End-User (Allied FM, IT and Telecom, Healthcare and Life sciences, Energy and Utilities, Oil and Gas, Manufacturing, Other End-Users), and Geography.
Deployment Type
On-premise
Cloud
Organisation Size
Small and Medium Enterprises
Large Enterprises
FSM Software and Service Type
Scheduling, Dispatch & Route Optimization
Service Contract Management
Work Order Management
Customer Management
Inventory Management
Other Software (Billing, Invoicing and Warranty Management)
Services
End-User
Allied FM (Hard – Building and HVAC and Soft – Landscaping & Cleaning)
IT and Telecom
Healthcare and Lifesciences
Energy and Utilities
Oil and Gas
Manufacturing
Other End-Users (Transportation, Real Estate, etc.)
Geography

North America
United States
Canada

Europe
United Kingdom
Germany
France
Rest of Europe

Asia Pacific
Rest of the World
Field Service Management (FSM) Market Trends
This section covers the major market trends shaping the Field Service Management (FSM) Market according to our research experts:
Service Contract Management to Hold Significant Market Share
Businesses relying on outside contractors or third-party service providers for fieldwork also require the same functionality as enterprise businesses. Still, the client details and visibility are even more important here. Outsourcing field services, partial or full, can help companies reduce labor costs and expand their operations. After a job is assigned to a contractor, multiple companies had no way to know when service is delivered, how long it took, or if the issue is even resolved until they started receiving customer complaints. The FSM software for outsourced services primarily provides visibility into the contractor service delivery making third-party technicians indistinguishable from an organization's internal workforce.
The companies have now become able to manage their contractors and related administrative tasks through the vendor portals within the FSM software solution. Just as with the traditional field workers, contractors also need real-time access to the work order information, parts availability, and the ability to report back quickly on service delivery and submit claims. The customer calls requiring a technician on-site can also be dispatched by a company to its technicians or a local service partner. Moreover, these portals can exist outside the main company interface so that the company data remains secure while allowing everyone to access what they need.
Vendors in the market have been offering innovative solutions to satisfy their client's needs. For example, Mize Inc. provides its service contract management software and solutions to help third-party administrators (TPAs), manufacturers (OEMs), retailers, and channel partners to set up, sell, administer, track, and analyze various service programs.
In April 2021, Unison, a prominent provider of contract management software and insight to government contractors and federal agencies, announced its Data Migration and Advanced Connector solutions for Unison'sUnison's Contract Lifecycle Management (CLM) system. Data Migration uses Amazon Textract to automatically extract header, clause, and line-item data from awards and modifications. Data Migration features a "Data Vac" that eliminates the need for Contract professionals to type in data from any source documents.
The segment is witnessing multiple partnership activities. In August 2021, CobbleStone Software announced that they are a solutions provider with HubSpot. CobbleStone Software integrates HubSpot users' leads and contacts with its enterprise contract management software suite called CobbleStone Contract Insight to enable organizations from various industries in the public and private sectors to draft, negotiate, sign, approve, track, and renew contracts in one centralized location.
Also, the adoption of cloud-integrated contract management solutions across various organizations due to digital transformation is increasing. It enables better management and allows organizations from multiple industries in the public and private sectors to draft, negotiate, sign, approve, track, and renew contracts in one centralized location.
To understand key trends, Download Sample Report
Asia Pacific to Witness Significant Growth Rate
The Asia Pacific is expected to witness significant field service management market growth. The rapid growth rate is attributed to the region being home to many SMEs, which are highly involved in developing and adopting field services and their management solutions. The rise of the mobile worker is on the increase and will continue to grow. The global mobile workforce is expected to rise from the current in the coming few years. With an increasingly wide range of field service and mobile roles available, the role of the mobile worker is more prevalent than before, as is the use of mobile apps with over for technical projects.
In the developing countries that include China, India, Singapore, Japan, and South Korea, among others, with today's generation now more digital savvy, there is a growing demand not only from staff but a growing expectancy from organizations for staff to be able to use mobile apps and technology.
India is one of the significant markets in the Asia pacific Region for field service management solutions, cloud computing, and artificial intelligence (AI). Growing cloud and AI adoption among SMEs and increased investments in AI technology by all end-users are significant factors driving the market. According to a Yotta survey conducted in 2020, 37% of Indian enterprises had their digital infrastructure in the cloud, with more than 60% expected to be adopted through the cloud by 2022. Furthermore, the market's expansion in automation, machine-to-machine communication, cloud manufacturing, and cloud AI directly drives the demand for field service management platforms. As a result, the demand for FSM solutions is increasing.
Furthermore, In July 2022, Pune India Birlasoft Ltd, a digital and IT services company and part of the USD 2.8 billion diversified CK Birla Group, strengthened its relationship with SAP by leveraging RISE with SAP to transform its digital landscape onto the cloud. With enterprises adopting a 'Cloud-First' strategy, Birlasoft will be able to accelerate their clients' transformation journeys significantly.
In this region, key vendors focus on strategic partnerships to extend their regional footprint. WSO2, a significant open-source integration vendor, and Microsoft (COLOMBO, Sri Lanka) announced a strategic partnership in August 2022 to roll out cloud-native solutions for securely delivering APIs, applications, and digital identities to regions around the world via Microsoft Azure. The integration vendor will also use Microsoft Azure as its preferred cloud platform due to the collaboration. China is one of the largest E-Commerce markets in the region. The expansion in the sector is a significant driver for adopting FMS solutions as more and more new retail is shifting from a novel concept to the mass market sector; the need for the management of filed service will also grow.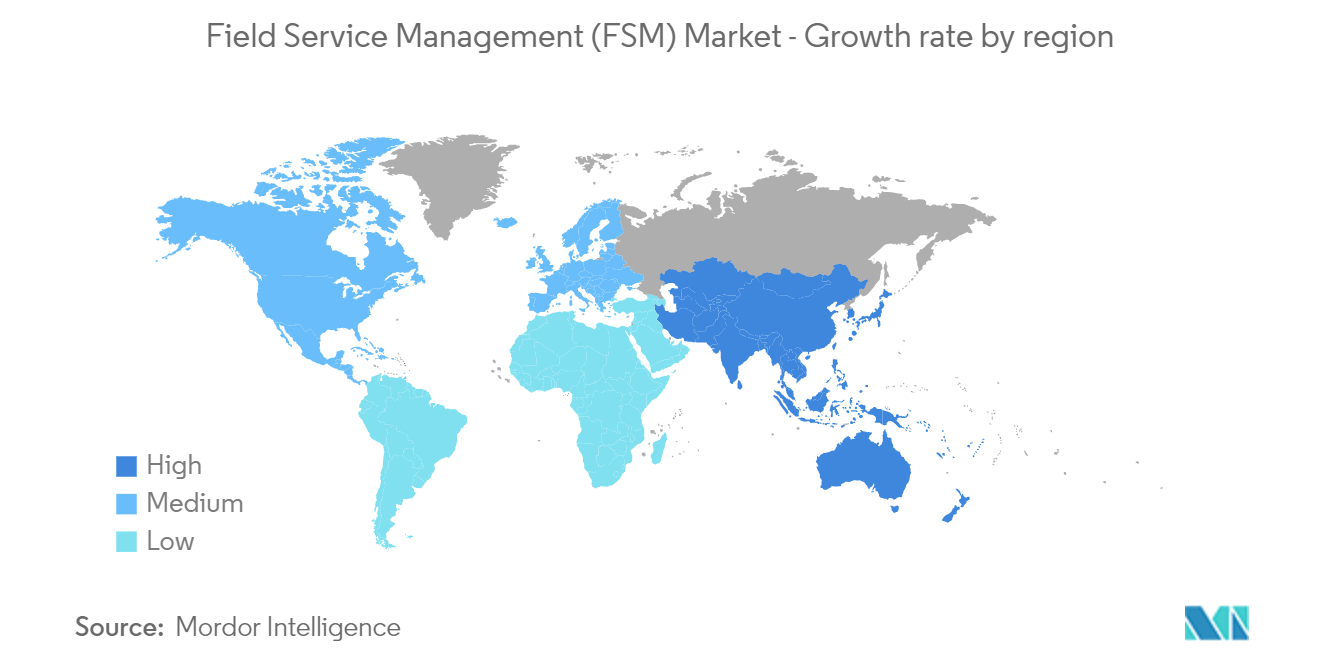 To understand geography trends, Download Sample Report
Field Service Management (FSM) Market Competitor Analysis
The market landscape of the Field Service Management (FSM) market remains quite fragmented. Various vendors of pre-packaged FSM software solutions exist, but no single FSM vendor has ever dominated the global market or any regional markets. Several players are forming, partnerships, and collaborations in the market.
August 2021 - IFS announced that American Residential Services (ARS/Rescue Rooter), around-the-clock residential HVAC and plumbing services provider in the United States, is implementing IFS's field service software to improve staff schedules, customer experience, and profitability. Deployed in the cloud, IFS solutions are expected to play a crucial role in optimizing employee productivity and bringing technicians and components to the right time and place through advanced capacity planning, scheduling, and deployment capabilities.
July 2021 - ServiceMax has signed a definitive agreement to acquire LiquidFrameworks, a mobile field operations management solutions company specializing in the energy industry. The acquisition enables ServiceMax to expand its field service management solutions to meet the unique challenges of the energy sector.
June 2021 - FieldAware announced that Spark Power, a leading independent provider of power services in North America, will incorporate FieldAware's field service management systems and the FieldAware for NetSuite SuiteApp across all of their field service activities. Spark Power already uses and standardizes operations on NetSuite OneWorld as its ERP. The company also announced that it is working closely with Spark Power to provide them with a robust scheduling and optimization engine to help drive productivity.
Field Service Management (FSM) Market Top Players
Oracle Corporation

IFS AB

FieldAware US, Inc.

Microsoft Corporation

Coresystems AG
*Disclaimer: Major Players sorted in no particular order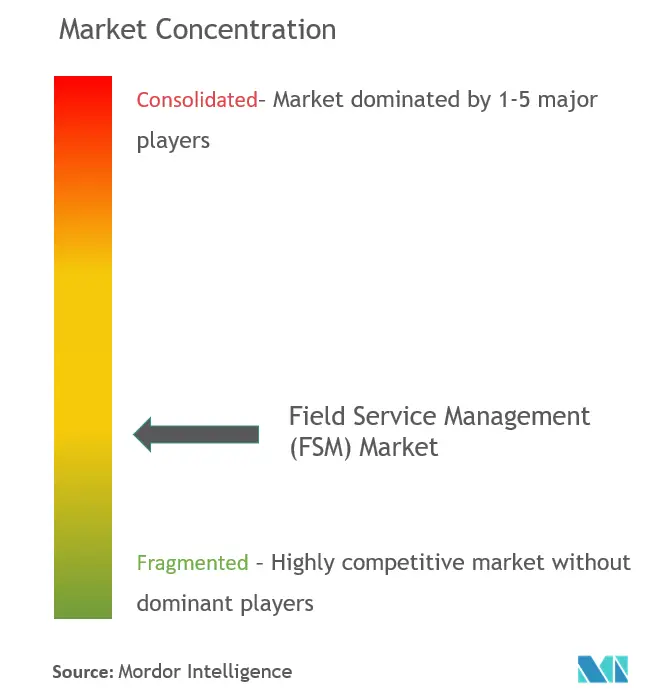 Field Service Management (FSM) Market Recent Developments
August 2022 - BWH Hotel Group, one of the prominent hotel companies, is the first to use the Oracle Hospitality Integration Platform to connect its central reservation system (CRS) to the Oracle Hospitality OPERA Cloud property management system (PMS). This simplifies the adoption of OPERA Cloud by any hotel in the BWH Hotel Group portfolio, including Best Western Hotels & Resorts and SureStay Hotel Group properties, to simplify and improve operations while providing excellent guest service. This service is already available at the Best Western Plus Alfa Aeropuerto in Spain.
June 2022 - ServiceMax, a significant asset-centric field service management provider, announced the availability of DataGuide, a new product integrated into the ServiceMax Core platform that provides advanced form and report generation capabilities. Field technicians can complete service work, fill out complex work documents and conditions, and capture critical data for the organization more easily with DataGuide. ServiceMax has released enhancements to ServiceMax Core's installed base management, condition-based maintenance, schedule optimization, and field inventory management capabilities, in addition to DataGuide, to boost service productivity and efficiency further.
Field Service Management (FSM) Market Report - Table of Contents
1. INTRODUCTION

1.1 Study Assumptions and Market Definition

1.2 Scope of the Study

2. RESEARCH METHODOLOGY

3. EXECUTIVE SUMMARY

4. MARKET INSIGHTS

4.1 Market Overview

4.2 Industry Attractiveness - Porter's Five Forces Analysis

4.2.1 Bargaining Power of Suppliers

4.2.2 Bargaining Power of Consumers

4.2.3 Threat of New Entrants

4.2.4 Threat of Substitute Products

4.2.5 Intensity of Competitive Rivalry

4.3 Industry Value Chain Analysis

4.4 Analysis of Major FSM Use-cases (Emergence of AR/VR for Remote Assistanc, Focus on Predictive Maintenance for Customer Retention and Service, Gradual Transition Toward Back-end Automation)

4.5 Key Considerations and Imperatives for Buyers

4.6 Impact of COVID-19 on Field Service Industry

4.7 Technology Snapshot

5. MARKET DYNAMICS

5.1 Market Drivers

5.1.1 Growing emphasis on maximizing work efficiency

5.1.2 Technological trends such as mobility and adoption of cloud-based solutions

5.1.3 Creation of new sales opportunities 

5.2 Market Challenges

5.2.1 Data confidentiality concerns, Implementation/Integration Issues, and Licensing Costs

6. MARKET SEGMENTATION

6.1 Deployment Type

6.1.1 On-premise

6.1.2 Cloud

6.2 Organisation Size

6.2.1 Small and Medium Enterprises

6.2.2 Large Enterprises

6.3 FSM Software and Service Type

6.3.1 Scheduling, Dispatch & Route Optimization

6.3.2 Service Contract Management

6.3.3 Work Order Management

6.3.4 Customer Management

6.3.5 Inventory Management

6.3.6 Other Software (Billing, Invoicing and Warranty Management)

6.3.7 Services

6.4 End-User

6.4.1 Allied FM (Hard – Building and HVAC and Soft – Landscaping & Cleaning)

6.4.2 IT and Telecom

6.4.3 Healthcare and Lifesciences

6.4.4 Energy and Utilities

6.4.5 Oil and Gas

6.4.6 Manufacturing

6.4.7 Other End-Users (Transportation, Real Estate, etc.)

6.5 Geography

6.5.1 North America

6.5.1.1 United States

6.5.1.2 Canada

6.5.2 Europe

6.5.2.1 United Kingdom

6.5.2.2 Germany

6.5.2.3 France

6.5.2.4 Rest of Europe

6.5.3 Asia Pacific

6.5.4 Rest of the World

7. COMPETITIVE LANDSCAPE

7.1 Company Profiles

7.1.1 Field Aware US, Inc.

7.1.2 Oracle Corporation (OFSC)

7.1.3 IFS AB

7.1.4 ServiceMax Inc.

7.1.5 ServicePower, Inc.

7.1.6 Coresystems (SAP SE)

7.1.7 Microsoft Corporation (Dynamics 365 for Field Service)

7.1.8 Accruent LLC (Fortive Corp)

7.1.9 Mize, Inc.

7.1.10 Salesforce.com, Inc. (Field Service Cloud)

7.1.11 Zinier, Inc.

7.1.12 Trimble Inc.

7.1.13 The simPRO Group Pty Limited

7.1.14 Kirona Solutions Limited

*List Not Exhaustive

8. INVESTMENT ANALYSIS

9. FUTURE OUTLOOK
**Subject to Availability
Field Service Management (FSM) Market Research FAQs
What is the study period of this market?
The Field Service Management (FSM) Market is studied from 2018 - 2028.
What is the growth rate of Field Service Management (FSM) Market?
The Field Service Management (FSM) Market is growing at a CAGR of 15.12% over the next 5 years.
Which region has highest growth rate in Field Service Management (FSM) Market?
Asia Pacific is growing at the highest CAGR over 2018 - 2028.
Which region has largest share in Field Service Management (FSM) Market?
Asia Pacific holds highest share in 2021.
Who are the key players in Field Service Management (FSM) Market?
Oracle Corporation, IFS AB, FieldAware US, Inc., Microsoft Corporation, Coresystems AG are the major companies operating in Field Service Management (FSM) Market.
Field Service Management (FSM) Industry Reports
In-depth industry statistics and market share insights of the Field Service Management (FSM) sector for 2020, 2021, and 2022. The Field Service Management (FSM) research report provides a comprehensive outlook of the market size and an industry growth forecast for 2023 to 2028. Available to download is a free sample file of the Field Service Management (FSM) report PDF.
80%

of our clients seek made-to-order reports. How do you want us to tailor yours?