Aperçu du marché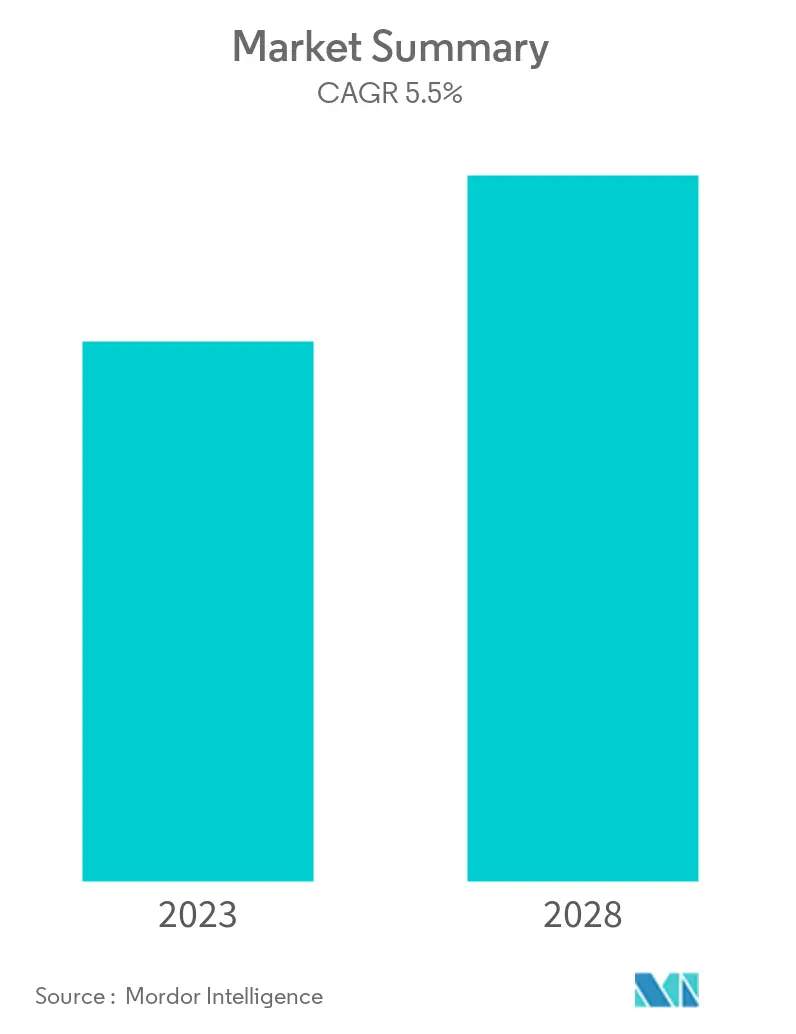 Study Period:
2016 - 2026
CAGR:
5.5 %

Major Players

*Disclaimer: Major Players sorted in no particular order
Aperçu du marché
Le marché brésilien des additifs alimentaires devrait enregistrer un TCAC de 5,5 % au cours de la période de prévision. La croissance économique, l'industrialisation de l'industrie de l'élevage, la sensibilisation des éleveurs et le soutien de l'État sont les principaux facteurs d'attractivité du marché dans cette région. Les additifs alimentaires sont des produits qui améliorent la nutrition animale et sont ajoutés aux aliments pour animaux, pour fournir une nutrition complète aux animaux de ferme. Les consommateurs finaux d'additifs alimentaires sont les meuneries qui fabriquent des aliments composés. Le champ d'application du marché exclut les suppléments achetés directement par les agriculteurs pour ajouter aux qualités nutritionnelles des aliments cultivés sur place.
Scope of the report
The Brazil Feed Additives Market is segmented by type into antibiotics, vitamins, antioxidants, amino acids, enzymes, mycotoxin detoxifiers, prebiotics, probiotics, Flavours and Sweeteners, feed pigments, feed binders, minerals, and others and by animal type into ruminants, poultry, swine, and others.
Principales tendances du marché
Augmentation de la production d'aliments composés
Le marché devrait augmenter, car le gouvernement vise à augmenter les exportations de viande. L'augmentation de la consommation de viande transformée, après l'entrée des principaux transformateurs de viande dans la région, a également entraîné une augmentation de la consommation d'aliments composés et d'additifs alimentaires. En raison de la préférence accrue des consommateurs pour la viande de porc et de l'industrialisation croissante de l'industrie de l'élevage, la demande d'aliments composés devrait également augmenter. La tendance de l'aquaculture est récente dans cette région. Le marché des aliments aquacoles devrait croître, avec l'augmentation de l'adoption de l'aquaculture. La récente épidémie de maladies d'origine alimentaire met en évidence la nécessité de réduire les agents pathogènes bactériens dans la viande et les produits laitiers.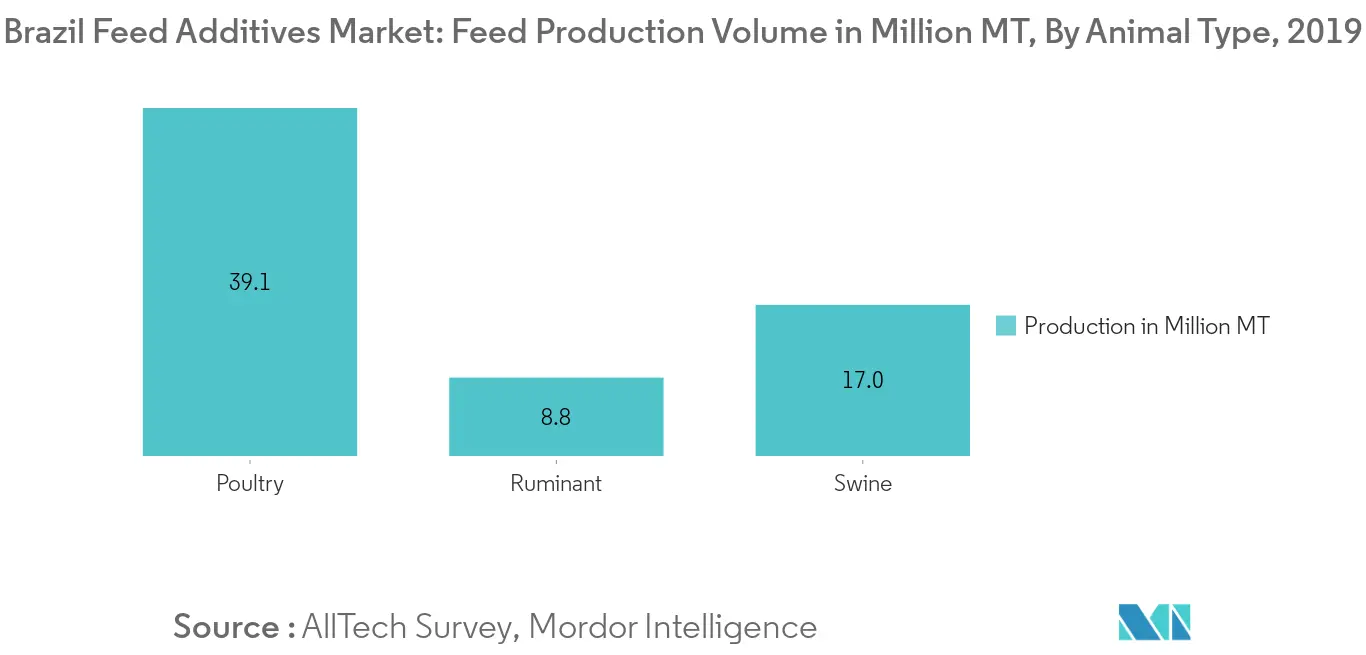 To understand key trends, Download Sample Report
L'augmentation de la consommation de viande stimule le marché
L'industrie de l'alimentation animale est l'une des industries à la croissance la plus rapide au Brésil, en raison de l'augmentation de la consommation de viande dans le pays et des opportunités d'exportation de viande. Les perspectives positives pour l'industrie des cultures et la forte demande d'aliments composés de la part de l'industrie du bétail offrent un effet de levier important pour l'industrie des ingrédients alimentaires au Brésil. Le marché brésilien des additifs alimentaires est tiré par l'augmentation de la consommation et des exportations de viande dans le pays et par la prise de conscience croissante de la qualité de la viande et des produits laitiers. L'industrialisation de la production de viande alimente également la demande d'additifs alimentaires dans le pays. La demande croissante de produits carnés, l'expansion de l'industrie de la viande transformée et la croissance des exportations de viande sont les principaux moteurs de la demande sur le marché.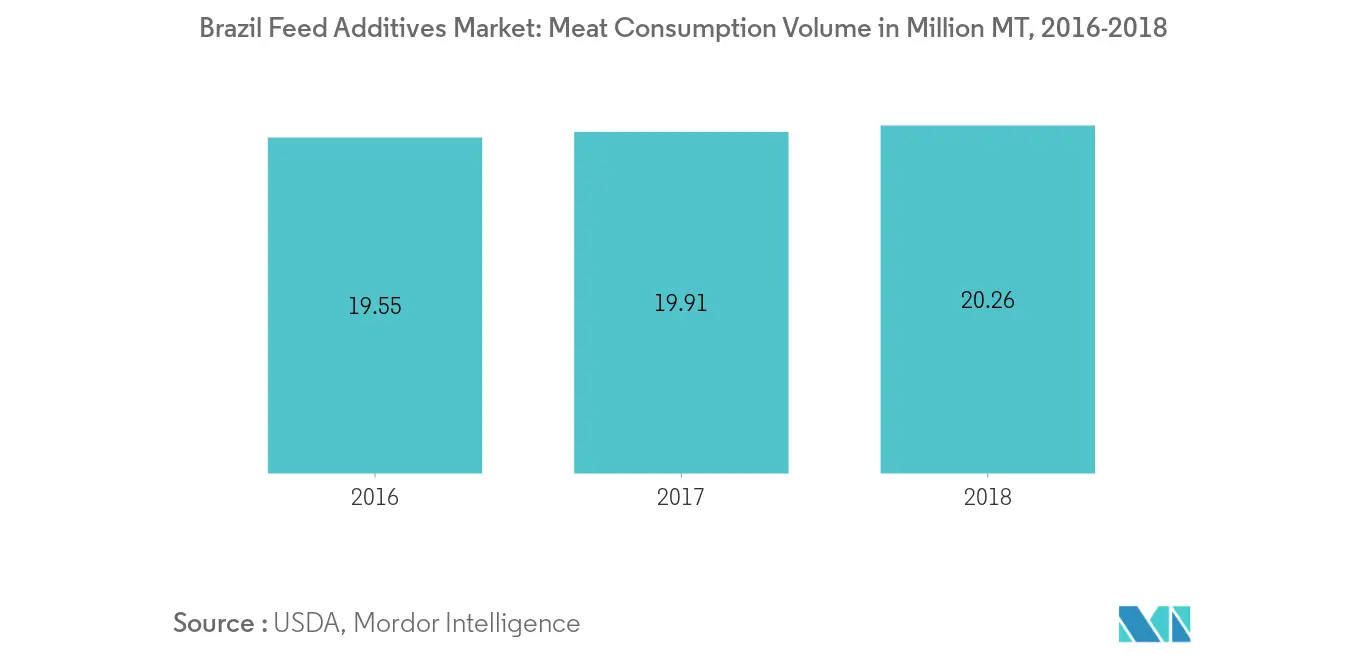 Paysage concurrentiel
Le marché des additifs alimentaires est fortement consolidé, les dix premières entreprises représentant plus de 50 % de la part de marché. Les principaux acteurs du marché étudié se concentrent sur l'expansion des affaires. Ils ciblent les pays d'Amérique du Sud pour l'expansion de leurs activités, soit en investissant dans de nouvelles unités de production, soit en acquérant de petits acteurs établis dans la région. Cargill, Novozymes, AllTech, BASF SE sont quelques-uns des principaux acteurs du pays.
Principaux acteurs
Pancosma Pvt Ltd

Novozymes

Cargill Inc.

AllTech

BASF SE
*Disclaimer: Major Players sorted in no particular order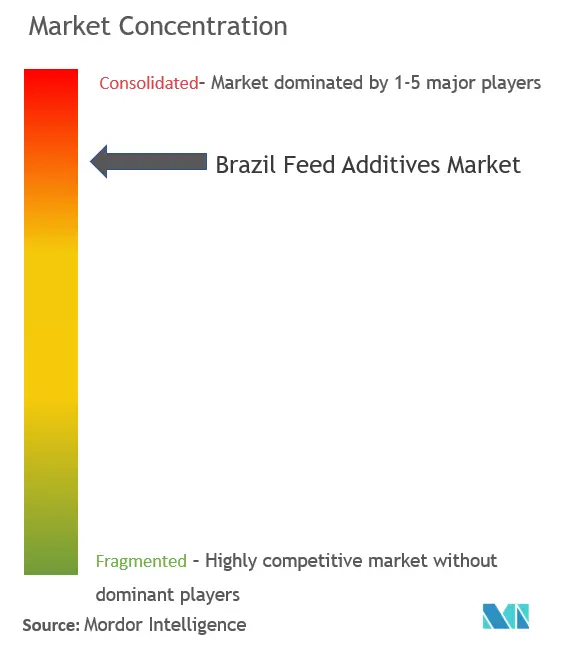 Table of Contents
1. INTRODUCTION

1.1 Livrables de l'étude

1.2 Hypothèses de l'étude

1.3 Portée de l'étude

2. MÉTHODOLOGIE DE RECHERCHE

3. RÉSUMÉ

4. DYNAMIQUE DU MARCHÉ

4.1 Aperçu du marché

4.2 Facteurs de marché

4.3 Contraintes du marché

4.4 Analyse des cinq forces de Porters

4.4.1 La menace de nouveaux participants

4.4.2 Pouvoir de négociation des acheteurs/consommateurs

4.4.3 Pouvoir de négociation des fournisseurs

4.4.4 Menace des produits de substitution

4.4.5 Intensité de la rivalité concurrentielle

5. SEGMENTATION DU MARCHÉ

5.1 Type d'additif

5.1.1 Antibiotiques

5.1.1.1 Tétracyclines

5.1.1.2 Pénicillines

5.1.1.3 Autres antibiotiques

5.1.2 Vitamines

5.1.3 Antioxydants

5.1.4 Acides aminés

5.1.5 Enzymes

5.1.6 Détoxifiants mycotoxines

5.1.7 Prébiotiques

5.1.8 Probiotiques

5.1.9 Arômes et édulcorants

5.1.10 Pigments

5.1.11 Classeurs

5.1.12 Minéraux

5.2 Type d'animaux

5.2.1 Ruminants

5.2.2 Porc

5.2.3 la volaille

5.2.4 Autres types d'animaux

6. PAYSAGE CONCURRENTIEL

6.1 Stratégies les plus adoptées

6.2 Analyse des parts de marché

6.3 Profils d'entreprise

6.3.1 Pancosma Pvt Ltd

6.3.2 Danisco A/S

6.3.3 BASF SE

6.3.4 Novozymes A/S.

6.3.5 Archer Daniels Midland Co.

6.3.6 Cargil Inc.

6.3.7 Produits nutritionnels DSM inc.

6.3.8 Elanco Santé Animale Inc.

6.3.9 Evonik Industries SA

6.3.10 InVivo NSA SA

6.3.11 AllTech Pvt Ltd

6.3.12 Novus International inc.

6.3.13 Nutreco SA

6.3.14 Zoetis Inc.

6.3.15 Borregaard

6.3.16 Ingredion Incorporated

7. OPPORTUNITÉS DE MARCHÉ ET TENDANCES FUTURES

8. IMPACT DU COVID-19
Market Definition
Vehicle Types

- Passenger Vehicles, Commercial Vehicles and Motorcycles are the vehicle types considered under the automotive lubricants market.

Product Types

- For the purpose of this study, lubricant products such as engine oils, transmission oils, greases and hydraulic fluids are taken into consideration.

Service Refill

- Service refill is the primary factor considered while accounting the lubricant consumption for each of the vehicle segments, under the study.

Factory Fill

- First lubricant fill-ups for newly produced vehicles are considered.
Research Methodology
Mordor Intelligence follows a four-step methodology in all our reports.
Step-1: Identify Key Variables:

The quantifiable key variables (industry and extraneous) pertaining to the specific product segment and country are selected from a group of relevant variables & factors based on desk research & literature review; along with primary expert inputs. These variables are further confirmed through regression modeling (wherever required).

Step-2: Build a Market Model:

In order to build a robust forecasting methodology, the variables and factors identified in Step-1 are tested against available historical market numbers. Through an iterative process, the variables required for market forecast are set and the model is built on the basis of these variables.

Step-3: Validate and Finalize:

In this important step, all market numbers, variables and analyst calls are validated through an extensive network of primary research experts from the market studied. The respondents are selected across levels and functions to generate a holistic picture of the market studied.

Step-4: Research Outputs:

Syndicated Reports, Custom Consulting Assignments, Databases & Subscription Platforms
80%

of our clients seek made-to-order reports. How do you want us to tailor yours?