Instantánea del mercado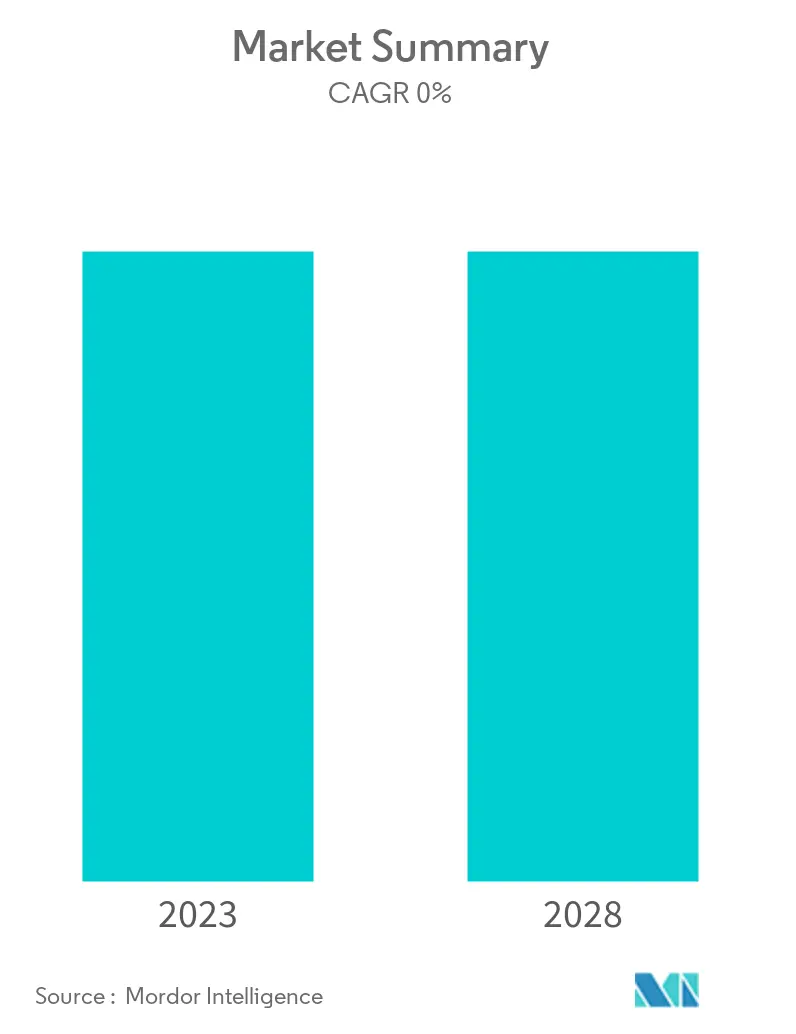 Study Period:
2016 - 2026
Base Year:
2021
Fastest Growing Market:
Asia Pacific
Largest Market:
North America
CAGR:
0 %
Need a report that reflects how COVID-19 has impacted this market and its growth?
Visión general del mercado
La cantidad de oficinas familiares creció significativamente en los últimos años en lugar de un aumento en la acumulación de riqueza por parte de personas de alto patrimonio neto en todo el mundo, junto con una agresiva relajación monetaria por parte de los bancos centrales mundiales. El promedio de activos administrados por una oficina familiar es de 917 millones de dólares en 2019, mientras que el patrimonio neto promedio de dichas familias es de 1200 millones de dólares.
En cuanto a las tendencias más significativas en la industria, China, India y otros países de Asia-Pacífico se están volviendo cada vez más populares entre los administradores de patrimonio familiar. La educación es la principal causa que las familias dan a nivel mundial, y constituye el 29 % de la cartera filantrópica promedio, seguida por la salud (14 %) y las artes, la cultura y los deportes (10 %).
Las familias europeas están más interesadas en financiar o donar este tipo de causas filantrópicas fuera de su región en comparación con los HNWI de América del Norte y Asia-Pacífico.
Alcance del Informe
Una comprensión del estado actual de las personas de alto patrimonio neto y las familias adineradas en todo el mundo para correlacionarlo con los negocios de oficinas familiares, junto con una segmentación detallada del mercado, las tendencias actuales del mercado, los cambios en la dinámica del mercado y las oportunidades de crecimiento. Análisis en profundidad del tamaño del mercado y pronóstico para los distintos segmentos.
By Product
Single Family Office
Multi Family Office
Virtual Family Office
By Asset Class Of Investment
Bonds
Equities
Alternative Investments
Commodities
Cash Or Cash Equivalents
By Geography
North America
Europe
Asia-Pacific
Emerging Markets
Tendencias clave del mercado
Family Offices invierten la mayoría de sus activos en alternativas
Los Family Offices son inversores destacados en activos alternativos. La mayoría de los inversores apuntan al capital privado y los bienes raíces que reflejan las tendencias más amplias de la industria en todo el capital privado. De cara a los próximos 12 meses, las oficinas familiares activas en el sector inmobiliario se centran principalmente en la inversión en estrategias oportunistas y de valor añadido de alto riesgo/alto rendimiento. El interés de los Family Offices en activos alternativos está creciendo y la proporción de inversionistas que invierten en bienes raíces aumentó 8 puntos porcentuales de 2016 a 2019.
Las oficinas familiares tienen menos restricciones y más flexibilidad que otros tipos de inversores y, por lo tanto, tienen la capacidad de desplegar mayores proporciones de sus activos totales en clases de activos más arriba en el espectro de riesgo/rendimiento. Las asignaciones medianas de activos de Family Offices son más altas en capital privado y fondos de cobertura.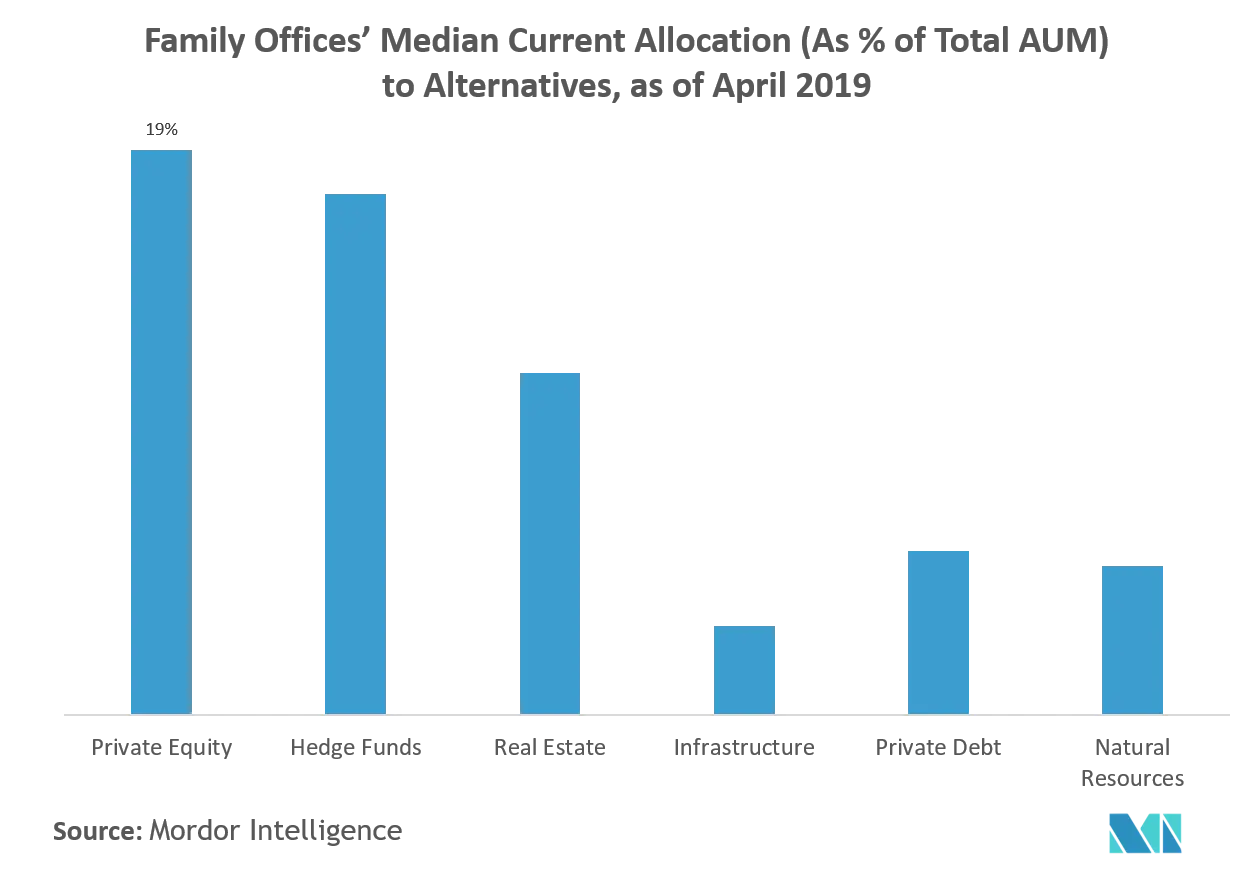 To understand key trends, Download Sample Report
El número de Family Offices está aumentando en todo el mundo
A finales del segundo trimestre de 2019, hay 7300 oficinas en todo el mundo, un aumento del 38 % en los últimos dos años. América del Norte tenía la mayor parte de oficinas familiares, con 3100 o el 42 por ciento del total, mientras que Asia-Pacífico tenía 1300 oficinas y Europa tenía 2300. Los mercados emergentes, que consisten en América del Sur, África y Medio Oriente, albergaron 600 oficinas familiares. Durante los últimos dos años, el número de oficinas familiares de Asia-Pacífico aumentó un 44 por ciento, mientras que en América del Norte crecieron un 41 por ciento y, en Europa, un 28 por ciento. La proporción de oficinas familiares por AuM se muestra a continuación.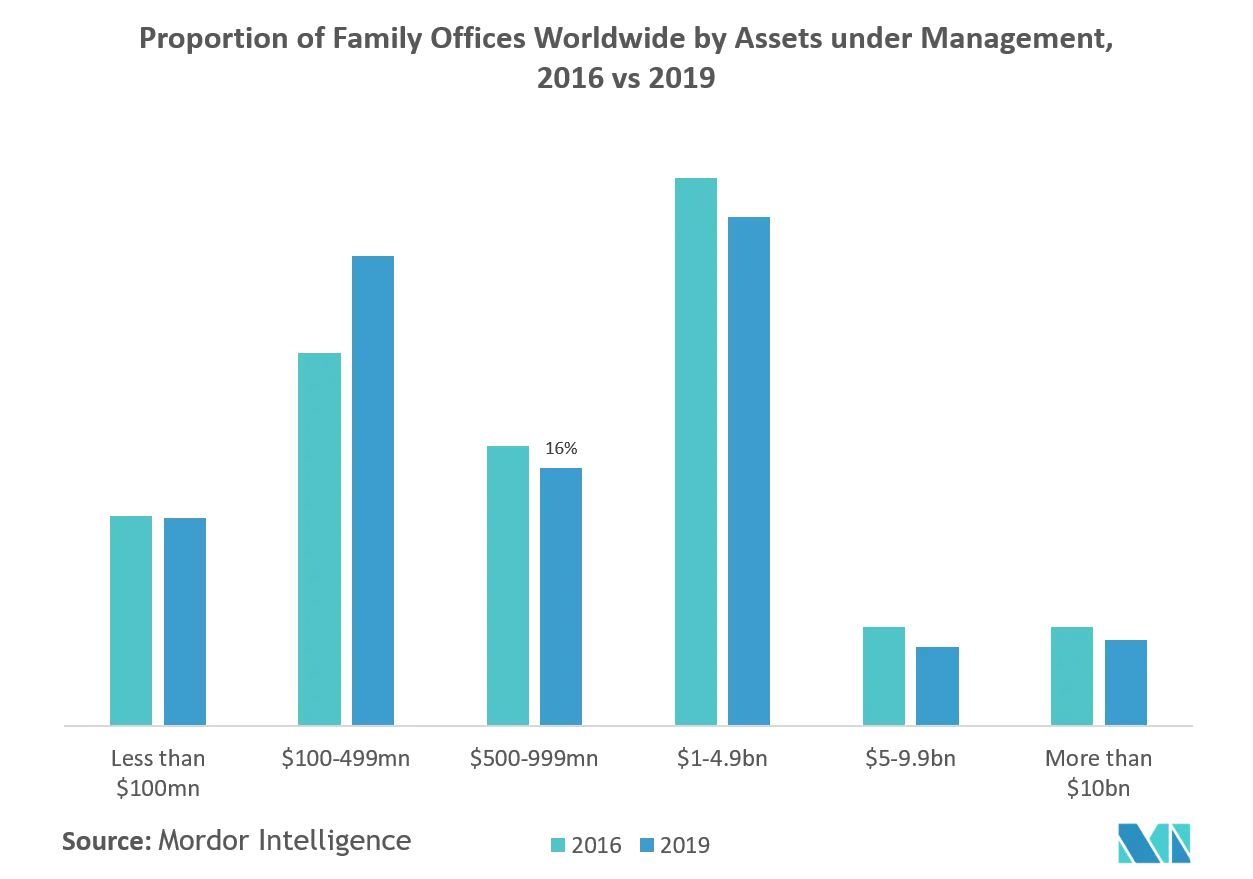 To understand geography trends, Download Sample Report
Panorama competitivo
El informe incluye una descripción general de las oficinas familiares más grandes y algunas oficinas familiares medianas con una participación creciente en la financiación de capital de riesgo que operan en el mercado estudiado. Cada perfil de la organización se concentra en la naturaleza de las oficinas familiares, cómo financian sus operaciones, los servicios ofrecidos, las familias atendidas, las principales actividades de financiación y las donaciones filantrópicas realizadas, el perfil de riesgo y los desarrollos recientes en la empresa. Actualmente, se enumeran algunos de los principales actores que dominan el mercado estudiado, en términos de participación de mercado.
Table of Contents
1. INTRODUCTION

1.1 Scope of the market

1.2 Market Definition

2. RESEARCH METHODOLOGY

2.1 Study Deliverables

2.2 Study Assumptions

2.3 Analysis Methodology

2.4 Research Phases

3. EXECUTIVE SUMMARY

4. MARKET DYNAMICS

4.1 Market Overview

4.1.1 Factors Involved in the Formation of Family Offices

4.1.2 Structure of Family Offices - Human Capital And Other Costs Involved

4.1.3 Average Family Net Worth and Family Office Average AuM Across the Globe

4.1.4 Proportion of Family Offices Formed Over the Years

4.1.5 Operating Business Of Families, By Industry

4.2 Trends Influencing Investment Strategies And Performance Of Family Offices

4.2.1 Alternative Investments Attract Higher Asset Share

4.2.2 Insights on Impact Investing Of Family Offices

4.2.3 Startup Funding And VC Deals By Family Offices

4.3 Evolving Regulatory Landscape Of The Industry

4.3.1 Family Offices in Dodd-Frank Regulatory Evironment

4.3.2 Impact of FATCA And CRS on Family Offices

4.3.3 Implications of New Regulations For Family Offices

4.4 Virtual Family Office: Technology Adaption In The New Business Landscape

4.5 Market Drivers

4.5.1 Hedge Fund Conversions to Escape SEC Regulations

4.5.2 Growth In The Number of High Networth Individuals Across Regions

4.6 Market Restraints

4.6.1 Over Reliance on Legacy Systems

4.6.2 High Demand For Transperancy Requires More Technology Investments

4.7 Porter's Five Forces Analysis

4.7.1 Threat of New Entrants

4.7.2 Bargaining Power of Buyers/Consumers

4.7.3 Bargaining Power of Suppliers

4.7.4 Threat of Substitute Products

4.7.5 Intensity of Competitive Rivalry

4.8 Impact of COVID -19 on The Industry

5. MARKET SEGMENTATION

5.1 By Product

5.1.1 Single Family Office

5.1.2 Multi Family Office

5.1.3 Virtual Family Office

5.2 By Asset Class Of Investment

5.2.1 Bonds

5.2.2 Equities

5.2.3 Alternative Investments

5.2.4 Commodities

5.2.5 Cash Or Cash Equivalents

5.3 By Geography

5.3.1 North America

5.3.2 Europe

5.3.3 Asia-Pacific

5.3.4 Emerging Markets

6. COMPETITIVE LANDSCAPE

6.1 Overview (Market Concentration and Major Players)

6.2 Organisation Profiles

6.2.1 Cascade Investment LLC

6.2.2 Bezos Expeditions

6.2.3 Bessemer Trust

6.2.4 MSD Capital

6.2.5 Stonehage Fleming

6.2.6 Glenmede

6.2.7 Emerson Collective

6.2.8 Silvercrest Asset Management*

7. MARKET OPPORTUNITIES AND FUTURE TRENDS
You can also purchase parts of this report. Do you want to check out a section wise price list?
Frequently Asked Questions
¿Cuál es el período de estudio de este mercado?
La Industria Global de Family Offices | El mercado de crecimiento, tendencias y pronósticos (2020-2025) se estudia desde 2016 hasta 2026.
¿Cuál es la tasa de crecimiento de la industria global de Family Offices | Crecimiento, tendencias y pronóstico (2020-2025) ?
La Industria Global de Family Offices | Crecimiento, tendencias y pronóstico (2020-2025) está creciendo a una CAGR del 0 % durante los próximos 5 años.
¿Qué región tiene la tasa de crecimiento más alta en la industria global de Family Offices | Crecimiento, tendencias y pronóstico (2020-2025) ?
Asia Pacífico está creciendo a la CAGR más alta durante 2021-2026.
¿Qué región tiene la mayor participación en la industria global de Family Offices | Crecimiento, tendencias y pronóstico (2020-2025) ?
América del Norte tiene la participación más alta en 2021.
¿Quiénes son los jugadores clave en la industria global de Family Offices? Crecimiento, tendencias y pronóstico (2020-2025) ?
MSD Capital LP, Cascade Investment LLC, Bessemer Trust, Glenmede Trust, Silvercrest Asset Management Group Inc son las principales empresas que operan en la industria global de Family Offices | Crecimiento, tendencias y pronóstico (2020-2025) .
80%

of our clients seek made-to-order reports. How do you want us to tailor yours?