Instantánea del mercado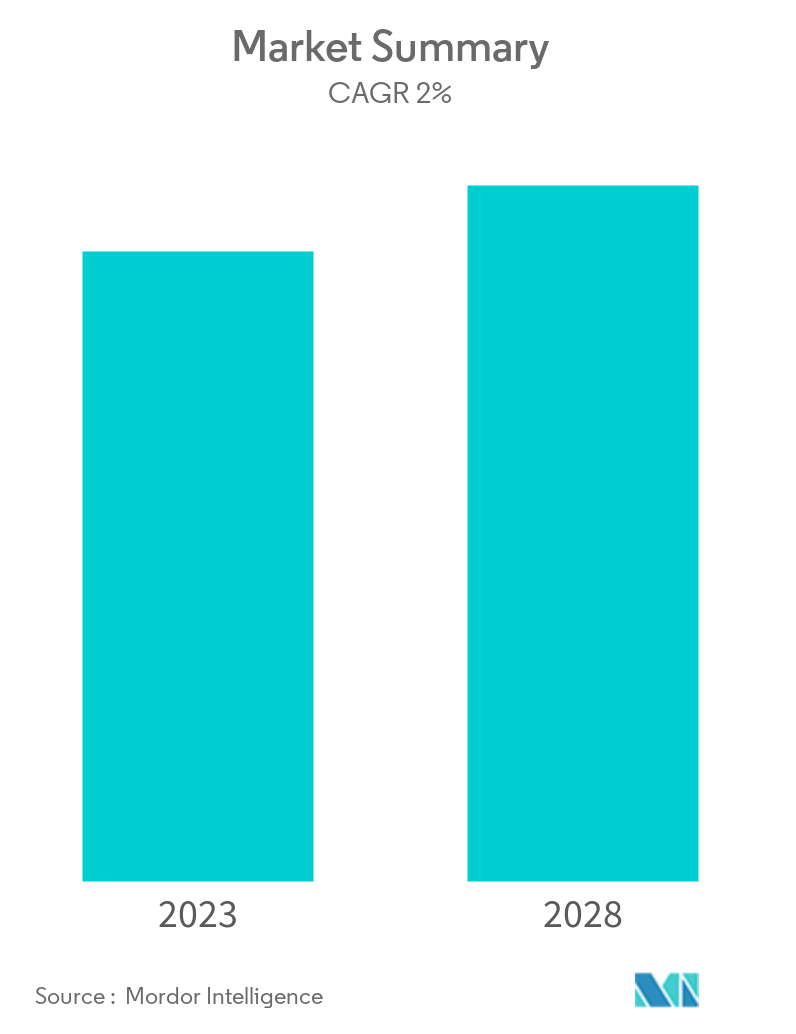 Icons
Lable
Value
Study Period
2016 - 2026
Base Year For Estimation
2022
Forecast Data Period
2023 - 2028
CAGR

>

2.00 %
Market Concentration
Low
Market Concentration
Low

Major Players

*Disclaimer: Major Players sorted in no particular order
Visión general del mercado
Se espera que el mercado de carga y logística de Argentina sea testigo de una CAGR de >2% durante el período previsto de 2020-2025. Argentina sufre de déficit de infraestructura. Según datos del Foro Económico Mundial, Argentina es uno de los países más atrasados ​​de la región en términos de capacidad logística. Los datos indican que la inversión regional promedio en infraestructura ronda el 3,5% del PBI, mientras que los índices de Argentina apenas alcanzan el 2,9%. Analizando la participación de cada sector, se observa que el 91% del total se mueve por camión. El ferrocarril sería responsable por el 4,2% del transporte, mientras que el 4,8% se mueve por la Hidrovía del Paraná. En cambio, menos del 0,1% corresponde al transporte aéreo.
Los costos logísticos en Argentina son altos en comparación con otros países latinoamericanos. Argentina tiene los costos logísticos relativos más altos; son 32% más caras que en Brasil y casi triplican las de México.
El crecimiento del comercio electrónico está impulsando las inversiones en centros de almacenamiento y logística. Esto ha llevado al desarrollo paulatino de las instalaciones logísticas en Argentina.
Alcance del Informe
El informe de mercado de carga y logística de Argentina proporciona información del mercado como descripción general del mercado, dinámica del mercado, innovación tecnológica y su impacto, impacto del crecimiento del comercio electrónico en el mercado, impacto de las regulaciones y las inversiones en el sector logístico, atractivo de la industria: análisis de las cinco fuerzas de Porter, tarifas de flete y Tendencias. El informe también proporciona un análisis cualitativo y cuantitativo de la segmentación y POR FUNCIÓN (Transporte de Carga, Transporte de Carga, Almacenamiento, Courier, Express y Paquetería, Servicios de Valor Agregado, Logística de Cadena de Frío, Logística de Última Milla, Logística de Retorno y Otras Áreas Emergentes y POR USUARIO FINAL (Construcción, Petróleo y gas y explotación de canteras, Agricultura, pesca y silvicultura, Manufactura y automoción, Comercio de distribución, Otros (farmacéutico y sanitario). Además,
BY FUNCTION

Freight Transport
Road
Rail
Sea and Inland
Air

Freight Forwarding
Warehousing
Courier, Express, and Parcel
Value-added Services
Cold Chain Logistics, Last Mile Logistics, Return Logistics, and Other Emerging Areas
BY END-USER
Construction
Oil & Gas and Quarrying
Agriculture, Fishing, and Forestry
Manufacturing & Automotive
Distributive Trade
Others (Pharmaceutical and Healthcare)
Tendencias clave del mercado
Mejora de las ventas de comercio electrónico que resulta en una creciente necesidad de instalaciones de almacenamiento y depósito
En Argentina, cada vez más marcas se están moviendo hacia la venta digital. Un negocio que en 2018 movió USD 229.760 millones y creció 47% en ventas versus 2017, pese a la retracción del consumo, según datos de la Cámara Argentina de Comercio Electrónico (CACE). CACE en sus pronósticos anticipa números aún mejores. Se estima que 2019 mostrará un salto del 50%, alcanzando el 3% de las ventas totales.
Mejorar las ventas a través de plataformas de comercio electrónico generó una necesidad donde las marcas están en un proceso de reducción de los metros cuadrados destinados a los locales comerciales y reemplazándolos por espacios en centros logísticos de comercio electrónico. Es decir, están entendiendo que necesitan menos espacio de exhibición y más áreas de almacenamiento y tránsito. Por ejemplo, los centros logísticos se encuentran principalmente en áreas del Gran Buenos Aires que tienen un excelente acceso al transporte. El 84% de la superficie en construcción -alrededor de 251.028 metros cuadrados- se ubica en distintas zonas del Gran Buenos Aires y la expectativa es que en el corto plazo sigan aumentando los proyectos destinados a la logística del comercio electrónico.
El 90% de los adultos argentinos conectados ya compró digitalmente alguna vez en su vida lo que representa cerca de 18,3 millones de personas. La creciente popularidad del comercio electrónico en el país ayuda a impulsar la inversión y el desarrollo de nuevos centros de distribución y almacenes en el país.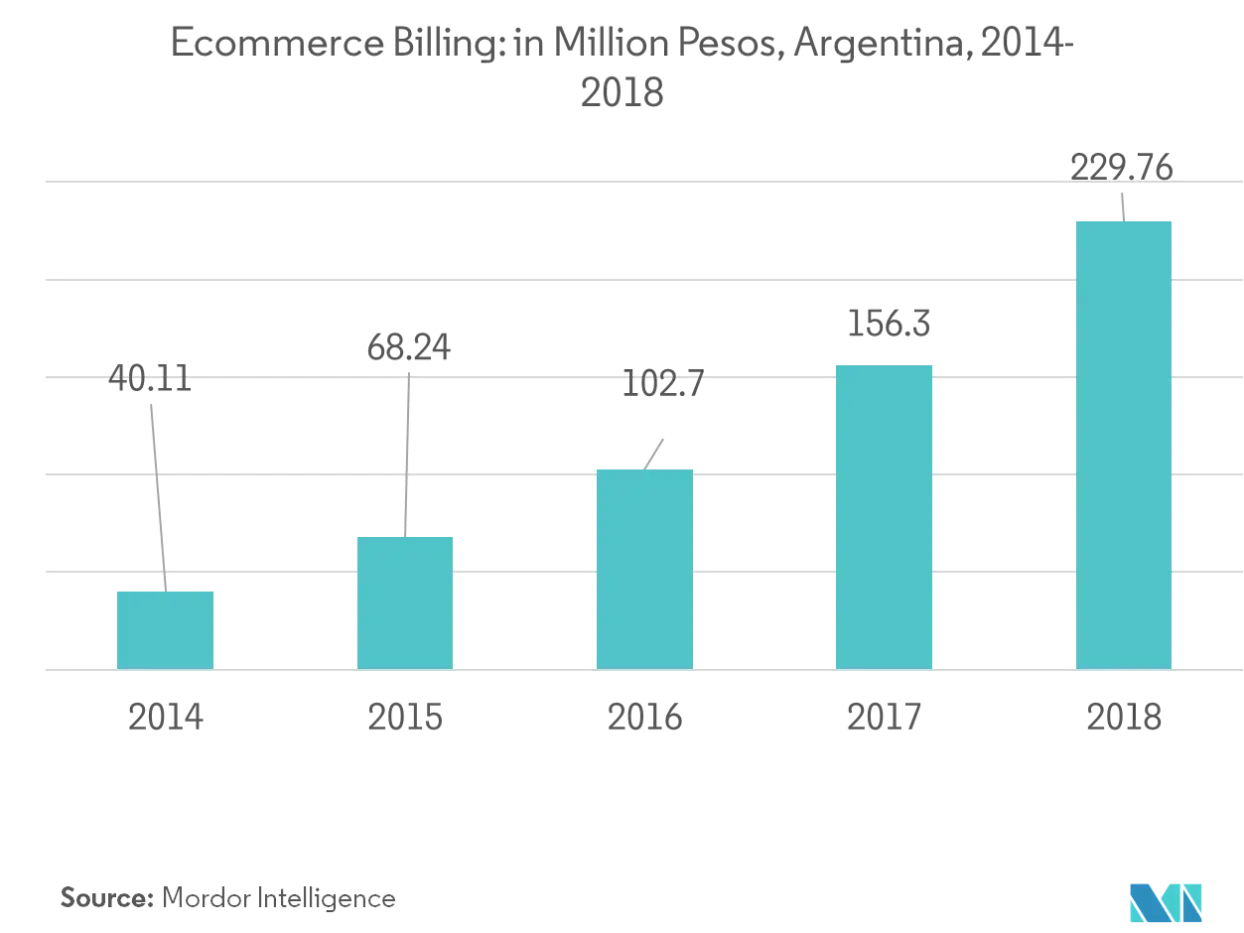 To understand key trends, Download Sample Report
Exportaciones agrícolas en aumento
La agricultura es una industria importante en Argentina con una participación del 6,1% del PIB. La industria también es un usuario final importante para el sector logístico. La producción de hortalizas y legumbres ocupa sólo el 1,5% de ese total, con unas 600.000 hectáreas. El volumen de producción es de 10 millones de toneladas y destaca principalmente por su alto valor económico por unidad de peso y por su elevada producción por unidad de superficie cultivada. En 2018, las exportaciones de soja, trigo y maíz generaron 21.327 millones de dólares y representaron el 35 por ciento de las exportaciones totales de Argentina, según datos oficiales. Las crecientes exportaciones exigen una mejor infraestructura logística en el segmento de almacenamiento y logística de la cadena de frío.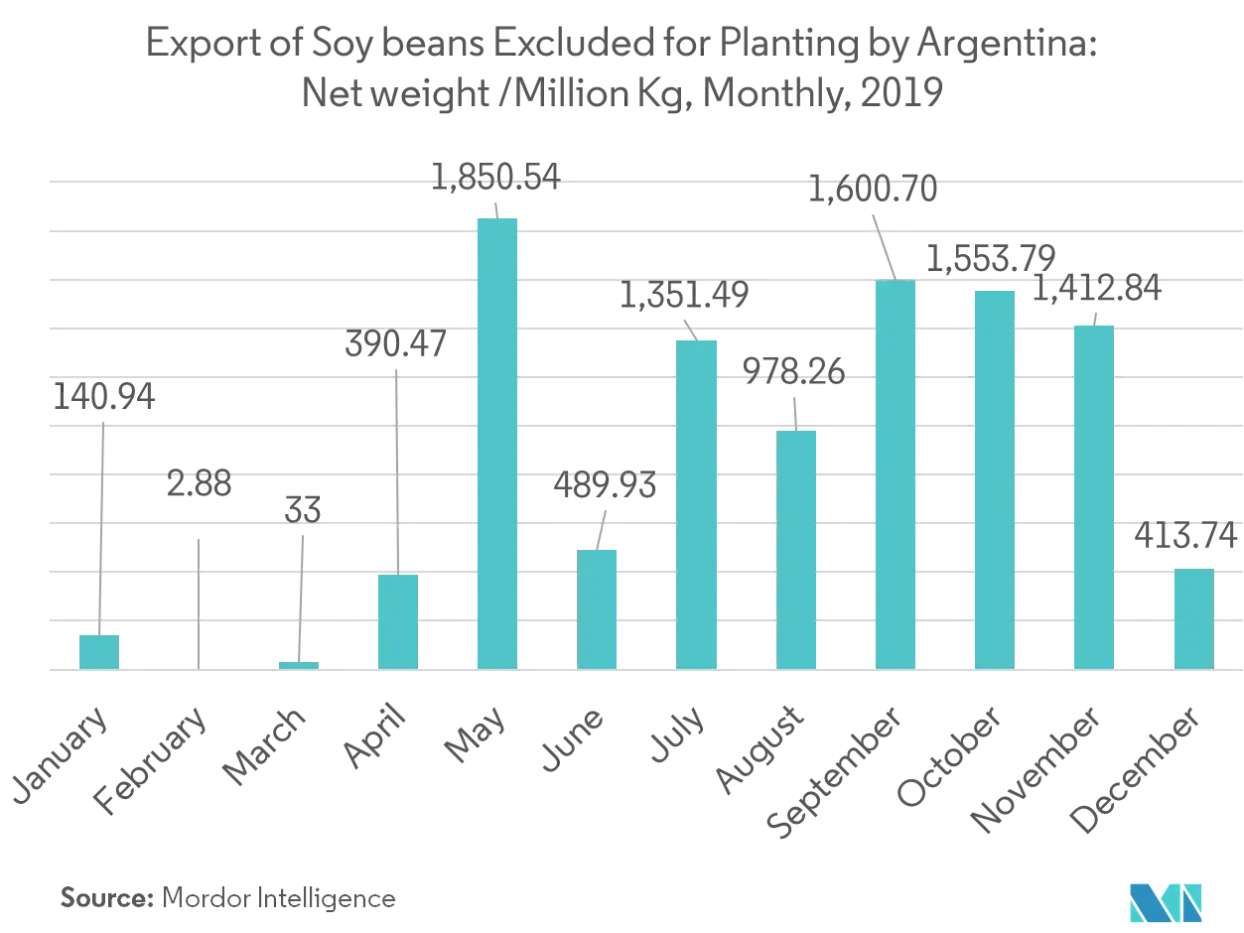 Panorama competitivo
Se espera que el mercado de carga y logística de Argentina esté fragmentado con una gran cantidad de actores locales e internacionales en el mercado. El mercado aún se está desarrollando y esto permite que nuevos jugadores ingresen al mercado ya que no existen barreras de entrada estrictas. Los principales actores del mercado son AEROLINEAS ARGENTINAS SA, DB Schenker, GEFCO, DSV AIR & SEA SA y Hellmann Worldwide Logistics, entre otros. Con el segmento de carga por carretera dominando el mercado, una gran cantidad de jugadores se concentran en brindar servicios de transporte de carga por carretera en Argentina.
Principales actores
AEROLINEAS ARGENTINAS S.A.

Aerolíneas LATAM

DB Schenker

DACHSER

GEFCO
*Disclaimer: Major Players sorted in no particular order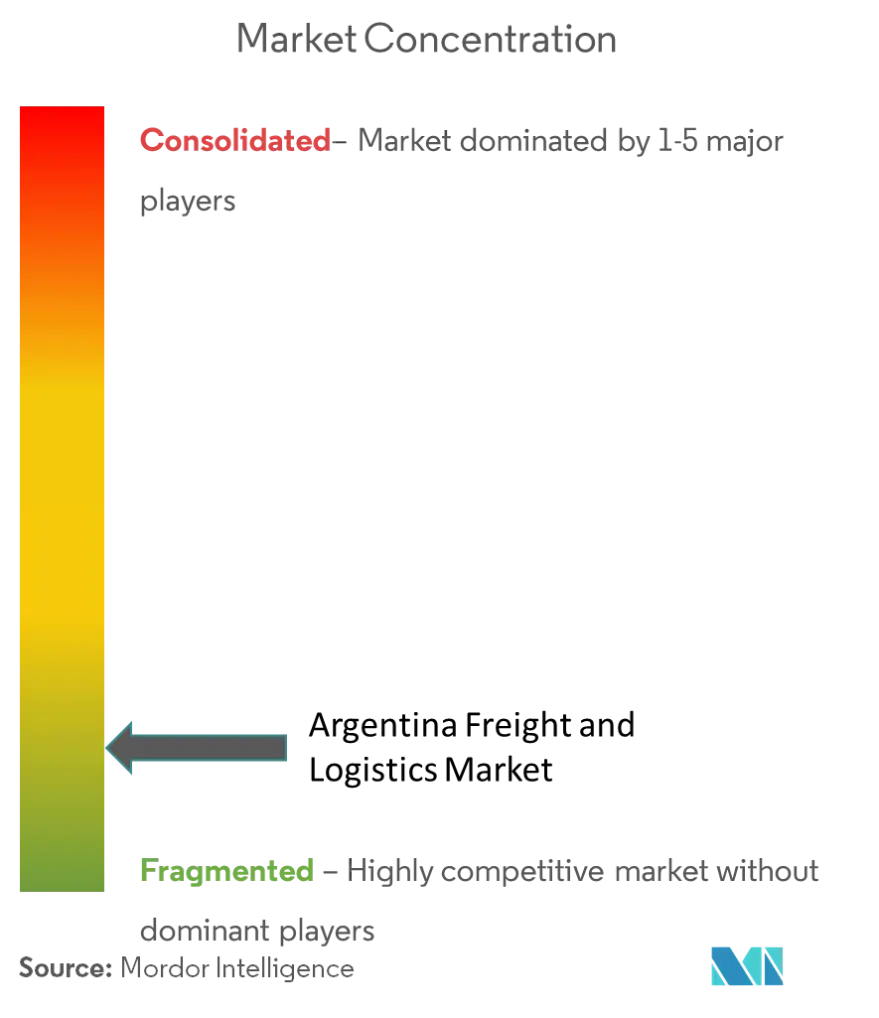 Table of Contents
1. INTRODUCTION

1.1 Study Assumptions and Market Definition

1.2 Scope of the Study

2. RESEARCH METHODOLOGY

3. EXECUTIVE SUMMARY

4. MARKET INSIGHTS AND DYNAMICS

4.1 Market Overview

4.2 Market Dynamics

4.2.1 Drivers

4.2.2 Restraints

4.2.3 Opportunities

4.3 Technology Innovation and its Impact

4.4 Impact of Ecommerce Growth on the Market

4.5 Impact of Regulations and Investments on Logistics Sector

4.6 Industry Attractiveness - Porter's Five Forces Analysis

4.7 Freight Rates and Trends in Argentina

5. MARKET SEGMENTATION

5.1 BY FUNCTION

5.1.1 Freight Transport

5.1.1.1 Road

5.1.1.2 Rail

5.1.1.3 Sea and Inland

5.1.1.4 Air

5.1.2 Freight Forwarding

5.1.3 Warehousing

5.1.4 Courier, Express, and Parcel

5.1.5 Value-added Services

5.1.6 Cold Chain Logistics, Last Mile Logistics, Return Logistics, and Other Emerging Areas

5.2 BY END-USER

5.2.1 Construction

5.2.2 Oil & Gas and Quarrying

5.2.3 Agriculture, Fishing, and Forestry

5.2.4 Manufacturing & Automotive

5.2.5 Distributive Trade

5.2.6 Others (Pharmaceutical and Healthcare)

6. COMPETITIVE LANDSCAPE

6.1 Overview (Market Concentration and Major Players)

6.2 Company Profiles

6.2.1 AEROLINEAS ARGENTINAS S.A.

6.2.2 TRANSPORTADORA DE GAS DEL SUR S.A.

6.2.3 LATAM Airlines

6.2.4 DB Schenker

6.2.5 NUEVO CENTRAL ARGENTINO SA

6.2.6 Panalpina

6.2.7 GEFCO

6.2.8 Andreani Logistica S. A.

6.2.9 DSV AIR & SEA S.A.

6.2.10 Hellmann Worldwide Logistics

6.2.11 CEVA Logistics

6.2.12 Agility

6.2.13 DACHSER

6.2.14 DHL

6.3 List of Other Local Players

7. APPENDIX

7.1 GDP Distribution, by Activity

7.2 Insights on Capital Flows

7.3 Economic Statistics - Transport and Storage Sector Contribution to Economy

7.4 External Trade Statistics - Export and Import, by Product

8. DISCLAIMER
**Subject to Availability
Market Definition
Vehicle Types

- Passenger Vehicles, Commercial Vehicles and Motorcycles are the vehicle types considered under the automotive lubricants market.

Product Types

- For the purpose of this study, lubricant products such as engine oils, transmission oils, greases and hydraulic fluids are taken into consideration.

Service Refill

- Service refill is the primary factor considered while accounting the lubricant consumption for each of the vehicle segments, under the study.

Factory Fill

- First lubricant fill-ups for newly produced vehicles are considered.
Research Methodology
Mordor Intelligence follows a four-step methodology in all our reports.
80%

of our clients seek made-to-order reports. How do you want us to tailor yours?