Markt-Snapshot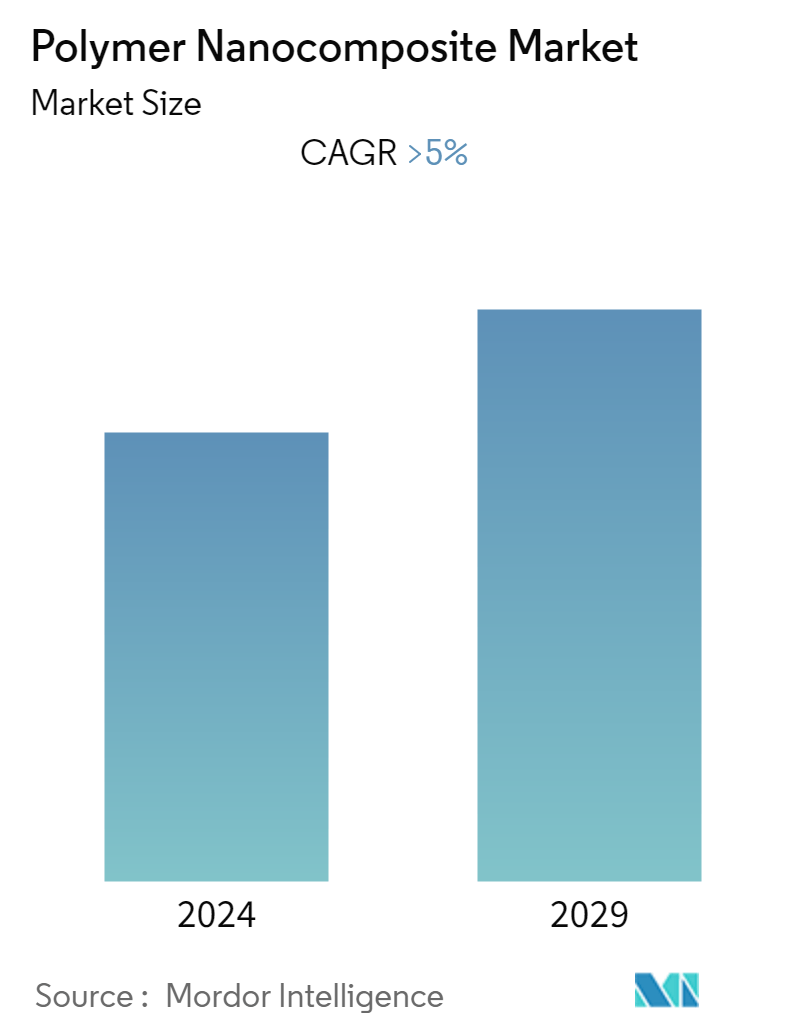 Study Period:
2016 - 2026
Fastest Growing Market:
Asia Pacific
Largest Market:
Asia Pacific
CAGR:

>

5 %

Major Players

*Disclaimer: Major Players sorted in no particular order
Need a report that reflects how COVID-19 has impacted this market and it's growth?
Marktübersicht
Der Polymer-Nanokomposit-Markt wird im Prognosezeitraum voraussichtlich eine CAGR von mehr als 5 % verzeichnen. Wachsende Anwendungen in der Elektronik, insbesondere in Halbleiteranwendungen, sind einer der Hauptfaktoren, die den untersuchten Markt antreiben. Es wird jedoch erwartet, dass hohe Verarbeitungskosten das Wachstum des untersuchten Marktes behindern.
Das Segment der Kohlenstoffnanoröhren dominierte den Markt und wird voraussichtlich im Prognosezeitraum aufgrund der zunehmenden Anwendungen in verschiedenen Endverbraucherbranchen wachsen.
Die steigende Nachfrage nach flammhemmenden Polymer-Nanokompositen dürfte in Zukunft eine Chance darstellen.
Der asiatisch-pazifische Raum dominierte den Markt auf der ganzen Welt, mit dem größten Verbrauch aus Ländern wie China und Indien.
Umfang des Berichts
Der Marktbericht für Polymer-Nanokomposit umfasst:
Fiber Type
Carbon Nanotube
Metal Oxide
Nanofiber
Nanoclay
Other Fiber Types
End-user Industry
Automotive
Packaging
Aerospace and Defense
Electronics
Energy
Other End-user Industries
Geography

Asia-Pacific
China
India
Japan
South Korea
Rest of Asia-Pacific

North America
United States
Canada
Mexico

Europe
Germany
United Kingdom
Italy
France
Rest of Europe

South America
Brazil
Argentina
Rest of South America

Middle-East and Africa
Saudi Arabia
South Africa
Rest of Middle-East and Africa
Wichtige Markttrends
Zunehmende Anwendungen in der Automobilindustrie
Polymer-Nanokomposite werden sowohl für Innen- als auch für Außenanwendungen verwendet. Aufgrund ihrer hohen Belastbarkeit trotz ihres geringen Gewichts finden diese Nanokomposite breite Anwendung im Automobilbereich.
Eine der Schlüsselanwendungen von Polymer-Nanokompositen in der Automobilindustrie ist ihre Verwendung in Kraftstoffsystemen. Ihre Nanogröße führt zu einer glatten Oberfläche und hilft, Schäden vor Korrosion und anderen Barrieren zu bewahren. Die Kraftstoffleitungen sind vor dem Sauergas geschützt, wodurch die Eigenschaften des Grundharzes erhalten bleiben. Außerdem tragen diese Materialien dazu bei, den Aufbau und die Entladung schädlicher statischer Elektrizität in Kraftstoffsystemen zu verhindern.
Polymer-Nanokomposite werden auch für Kunststoffteile im Automobilaußenbereich verwendet, um ihnen Leitfähigkeit zu verleihen, die einer elektrostatischen Lackierung unterzogen werden, wie z. B. Türgriffe, Spiegelgehäuse, Kotflügel usw.
Daher weisen solche Investitionen auf das Warten auf die Entwicklung und Produktion neuer Fahrzeuge auf dem Markt hin, was die Nachfrage nach Polymer-Nanokompositen in den kommenden Jahren voraussichtlich weiter antreiben wird.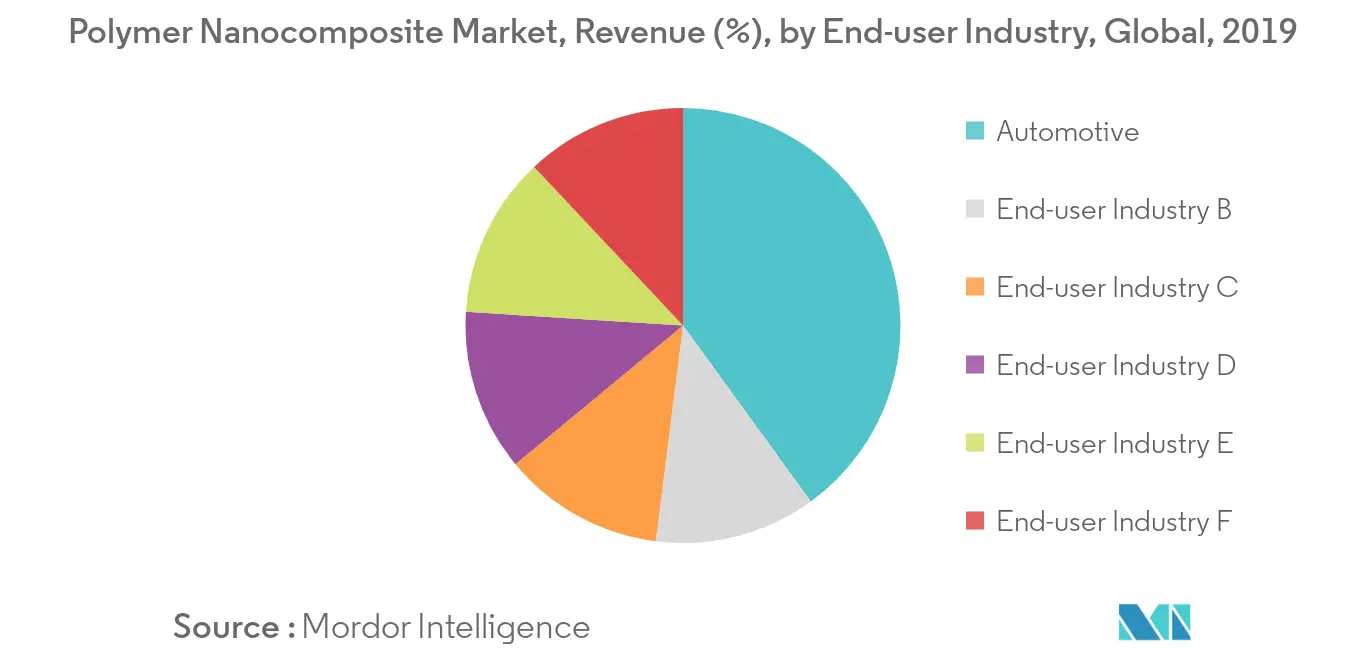 To understand key trends, Download Sample Report
Asien-Pazifik-Region soll den Markt dominieren
Auf den asiatisch-pazifischen Raum entfiel der größte Anteil am globalen Polymer-Nanokomposit-Markt, was auf eine weit verbreitete Einführung in Industrie- und Automobilsektoren in Ländern wie Indien und China zurückzuführen ist.
Die Luftfahrtindustrie in China soll zwischen 2016 und 2033 rund 6.000 neue Flugzeuge hinzufügen. Chinas Inlandsflugpassagiermarkt verzeichnete im Vergleich zu den Vorjahren den größten schrittweisen Anstieg, gemessen an der Anzahl der von Passagieren durchgeführten Reisen.
Die Zunahme der Passagierzahlen ermutigt die Regierung, mehr in die Produktion von mehr Flügen zu investieren, was wiederum den Verbrauch von Polymer-Nanokompositen erhöht.
Branchen wie Verpackung, Elektronik und Halbleiter, Luft- und Raumfahrt, Verteidigung und Beschichtungen finden ständig neue Anwendungen, die das Wachstum des Marktes für Polymer-Nanokomposite im asiatisch-pazifischen Raum in Zukunft weiter ankurbeln werden.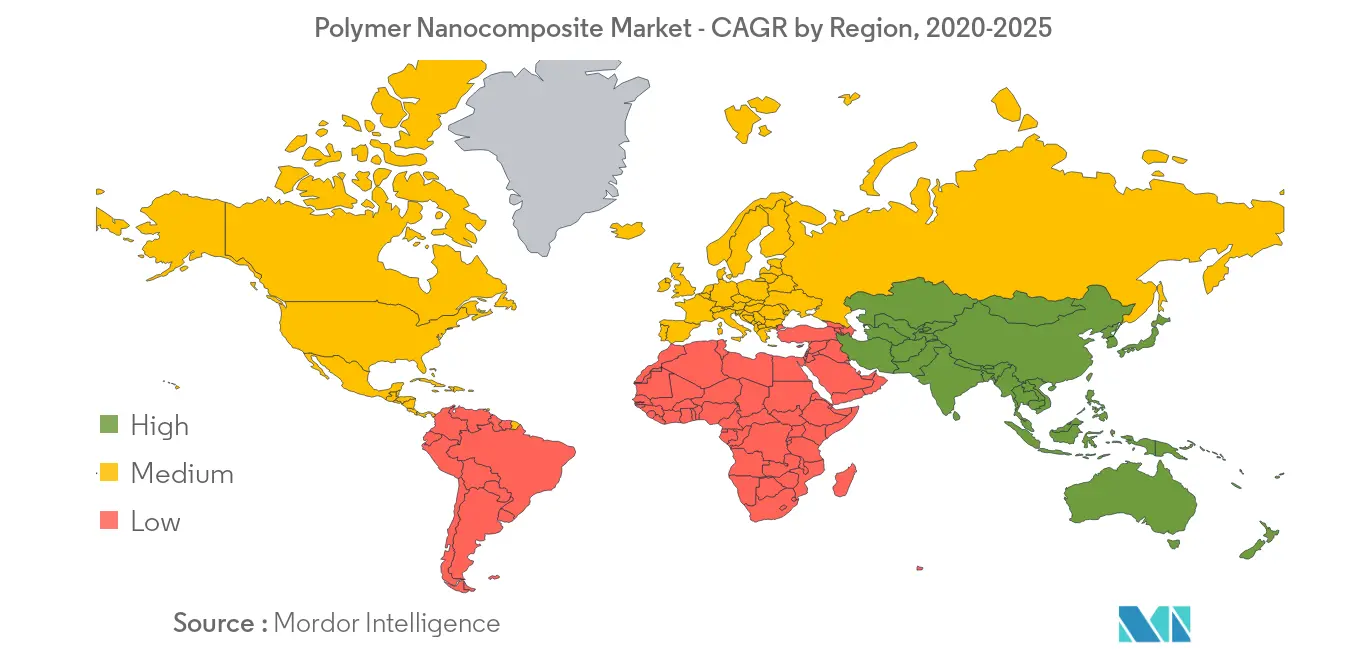 To understand geography trends, Download Sample Report
Wettbewerbslandschaft
Der Polymer-Nanokomposit-Markt ist teilweise mit wenigen Hauptakteuren fragmentiert. Zu den wichtigsten Unternehmen gehören unter anderem die Arkema Group, Evonik Industries AG, Nanocyl SA, Nanophase Technologies Corporation und Showa Denko KK.
Hauptakteure
Arkema-Gruppe

Evonik Industries AG

Nanocyl SA

Nanophase Technologies Corporation

Showa Denco KK
*Disclaimer: Major Players sorted in no particular order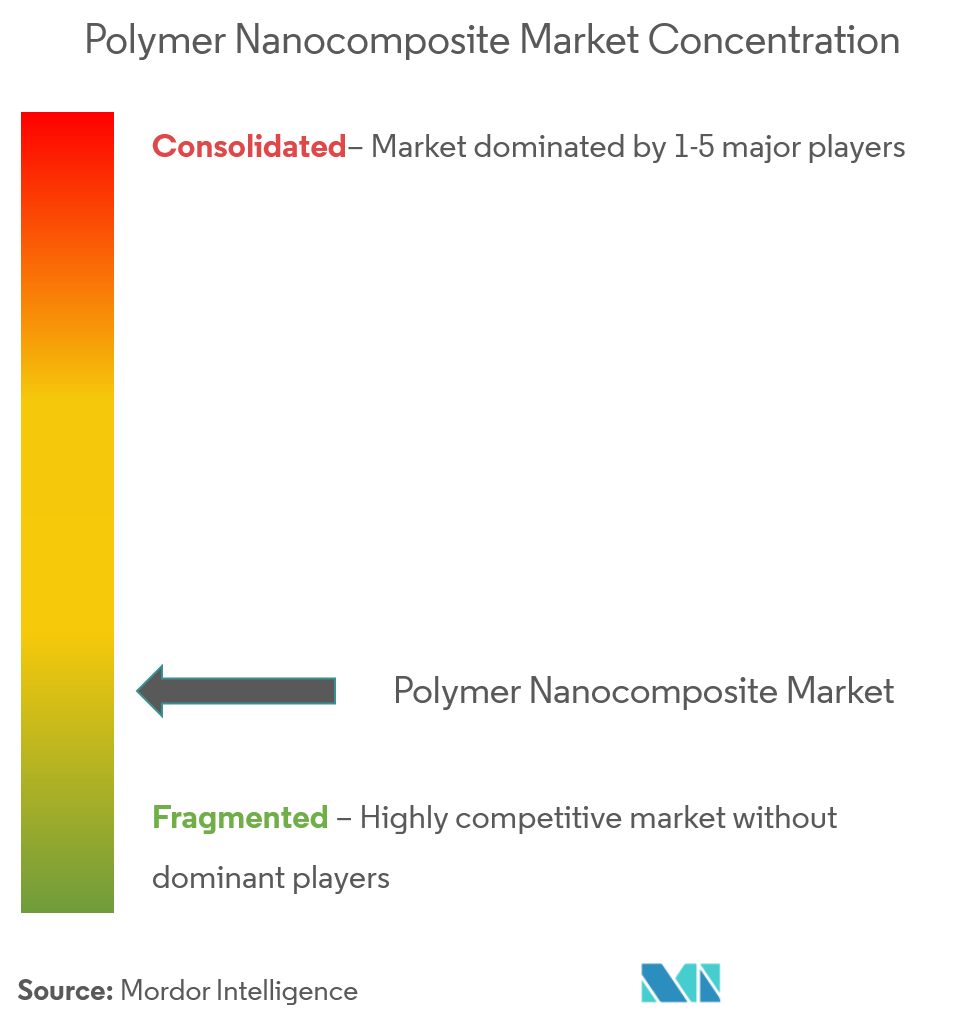 Table of Contents
1. INTRODUCTION

1.1 Study Assumptions

1.2 Scope of the Study

2. RESEARCH METHODOLOGY

3. EXECUTIVE SUMMARY

4. MARKET DYNAMICS

4.1 Drivers

4.1.1 Increasing Demand for Polymer Nanocomposites from the Automotive Sector

4.1.2 Growing Applications in the Electronics and Semiconductor Industries

4.2 Restraints

4.2.1 High Processing Costs

4.2.2 Other Restraints

4.3 Industry Value Chain Analysis

4.4 Porter's Five Forces Analysis

4.4.1 Bargaining Power of Suppliers

4.4.2 Bargaining Power of Consumers

4.4.3 Threat of New Entrants

4.4.4 Threat of Substitute Products and Services

4.4.5 Degree of Competition

4.5 Techological Snapshot

4.6 Patent Analysis

5. MARKET SEGMENTATION

5.1 Fiber Type

5.1.1 Carbon Nanotube

5.1.2 Metal Oxide

5.1.3 Nanofiber

5.1.4 Nanoclay

5.1.5 Other Fiber Types

5.2 End-user Industry

5.2.1 Automotive

5.2.2 Packaging

5.2.3 Aerospace and Defense

5.2.4 Electronics

5.2.5 Energy

5.2.6 Other End-user Industries

5.3 Geography

5.3.1 Asia-Pacific

5.3.1.1 China

5.3.1.2 India

5.3.1.3 Japan

5.3.1.4 South Korea

5.3.1.5 Rest of Asia-Pacific

5.3.2 North America

5.3.2.1 United States

5.3.2.2 Canada

5.3.2.3 Mexico

5.3.3 Europe

5.3.3.1 Germany

5.3.3.2 United Kingdom

5.3.3.3 Italy

5.3.3.4 France

5.3.3.5 Rest of Europe

5.3.4 South America

5.3.4.1 Brazil

5.3.4.2 Argentina

5.3.4.3 Rest of South America

5.3.5 Middle-East and Africa

5.3.5.1 Saudi Arabia

5.3.5.2 South Africa

5.3.5.3 Rest of Middle-East and Africa

6. COMPETITIVE LANDSCAPE

6.1 Mergers and Acquisitions, Joint Ventures, Collaborations, and Agreements

6.2 Market Share Analysis**

6.3 Strategies Adopted by Leading Players

6.4 Company Profiles

6.4.1 3D Systems Inc.

6.4.2 Arkema Group

6.4.3 AxiPolymer Inc.

6.4.4 BYK Additives & Instruments

6.4.5 Dow

6.4.6 Evonik Industries AG

6.4.7 Foster Corporation

6.4.8 Hybrid Plastics Inc.

6.4.9 Inframat Corporation

6.4.10 InMat Inc.

6.4.11 Nanocor Inc.

6.4.12 Nanocyl SA

6.4.13 Nanophase Technologies Corporation

6.4.14 Powdermet Inc.

6.4.15 RTP Company

6.4.16 Showa Denko KK

6.4.17 ShayoNano Singapore Private Ltd.

*List Not Exhaustive

7. MARKET OPPORTUNITIES AND FUTURE TRENDS

7.1 Increasing Demand for Flame Retardant Polymer Nanocomposites
**Subject to Availability
Frequently Asked Questions
Was ist der Untersuchungszeitraum dieses Marktes?
Der Polymer-Nanokomposit-Markt wird von 2018 bis 2028 untersucht.
Wie hoch ist die Wachstumsrate des Polymer Nanocomposite-Marktes?
Der Polymer-Nanokomposit-Markt wächst in den nächsten 5 Jahren mit einer CAGR von >5 %.
Welche Region hat die höchste Wachstumsrate auf dem Polymer Nanocomposite-Markt?
Der asiatisch-pazifische Raum wächst von 2018 bis 2028 mit der höchsten CAGR.
Welche Region hat den größten Anteil am Polymer-Nanokomposit-Markt?
Asien-Pazifik hält 2021 den höchsten Anteil.
Wer sind die wichtigsten Hersteller auf dem Polymer-Nanokomposit-Markt?
Arkema Group, Evonik Industries AG, Nanocyl SA, Nanophase Technologies Corporation und Showa Denco KK sind die wichtigsten Unternehmen, die auf dem Polymer-Nanokomposit-Markt tätig sind.
80%

of our clients seek made-to-order reports. How do you want us to tailor yours?