市场快照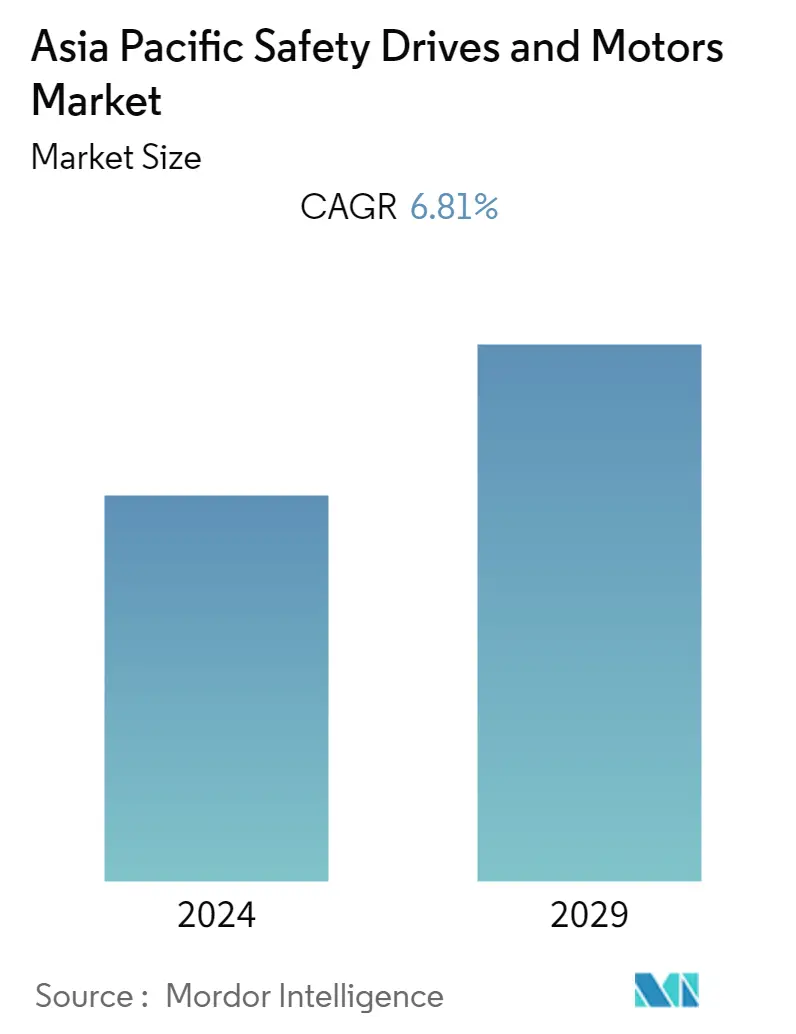 Study Period:
2019-2026
CAGR:
6.81 %

Major Players

*Disclaimer: Major Players sorted in no particular order
Need a report that reflects how COVID-19 has impacted this market and it's growth?
市场概况
在 2021 年至 2026 年的预测期内,亚太地区安全驱动器和电机市场的复合年增长率预计为 6.81%。对安全设备的需求、对具有成本效益的系统的需求以及行业安全标准推动了该地区的全球安全驱动器和汽车市场。
驱动器和电机是任何工业部门机械的关键部件。由于核心工业部门存在多个危险区域,因此对安全驱动器和电机的需求变得至关重要。IEC 和 EN 标准用于认证电机并满足 ATEX 指令和其他国际标准。
安全驱动器有助于减少机器时间并提高生产力,同时保护人员和设备免受损坏。因此,这些安全设备具有允许系统速度和扭矩控制、优化过程控制和显着节能的功能。
工业机器和工厂变得更加灵活和高效,这导致了安全集成设备的发展。这些集成的安全功能允许以具有成本效益的方式实施新的安全概念。此外,汽车销量的增长,尤其是中国和日本地区的汽车销量增长,以及经济企稳推动了该地区对安全驱动器和电机的销售和需求。例如,根据国际汽车制造商组织(OICA)的数据,2020年,亚太地区乘用车销量为3200万辆,其中2017万辆来自中国,380万辆来自日本。
此外,该地区不断增长的页岩/天然气行业以及由于国内消费增长而改善的制造业前景预计将提振对安全驱动器和电机的需求。例如,根据能源信息署 (EIA) 的数据,2015 年中国页岩气产量为每天 5 亿立方英尺,预计到 2040 年将达到每天 220 亿立方英尺。
另一方面,标准的复杂性对市场提出了挑战,因为它既适用于安全驱动器,也适用于电机。安全电机的一个缺点是它们的应用有限或在不同区域缺乏灵活性。
Scope of the report
The Asia Pacific Safety Drives and Motors Market is segmented by Type ( Drives, Motors), End-user Industry ( Energy & Power, Mining, Oil & Gas, Manufacturing, Petroleum & Chemical Industry).
Integrated safety functions of safety drives and motors remain popular to meet the growing demands of modern infrastructure, efficient energy consumption, and environmentally friendly solutions. The safety drives and motors also contribute to shorter downtimes, increased productivity, and low maintenance and setup costs.
By Type

Drives
AC Drives
DC Drives

Motors
AC Motors
DC Motors
By End-User Industry
Energy & Power
Mining
Oil and gas
Manufacturing
Petrolium and Chemical
Other End-User Industries
By Country
China
Japan
India
Australia
South Korea
Others
主要市场趋势
工业和制造业对安全设备的日益增长的需求正在推动市场增长
IEC 标准采用风险评估必要性来提高安全性和无火花电机是提高危险区域中使用的电机安全水平的最新发展之一。
如果风险水平超过可接受的限制,这些要求将帮助制造商通过测试或为他们的产品配备独特的配件来证明他们的设计。低压 (LV) 电机控制中心 (MCC) 也广泛用于工业配电系统。由于操作员和维护人员与 MCC 的密切互动,MCC 经常引起他们的关注。
此外,将电弧闪光识别为一种明显的电气危险,导致对电路保护装置的新期望,它可以保护人员免受热灼伤和爆炸爆炸的危险。
此外,在过去几年中,制造业对安全驱动器和电机的需求有所增加。自 2020 年 9 月以来,随着国内疫情趋于稳定,许多国家的封锁措施得到缓解,许多亚太经济体的制造业出现明显反弹。
例如,根据中国国家统计局的数据,2021年10月中国制造业生产同比增长2.50%。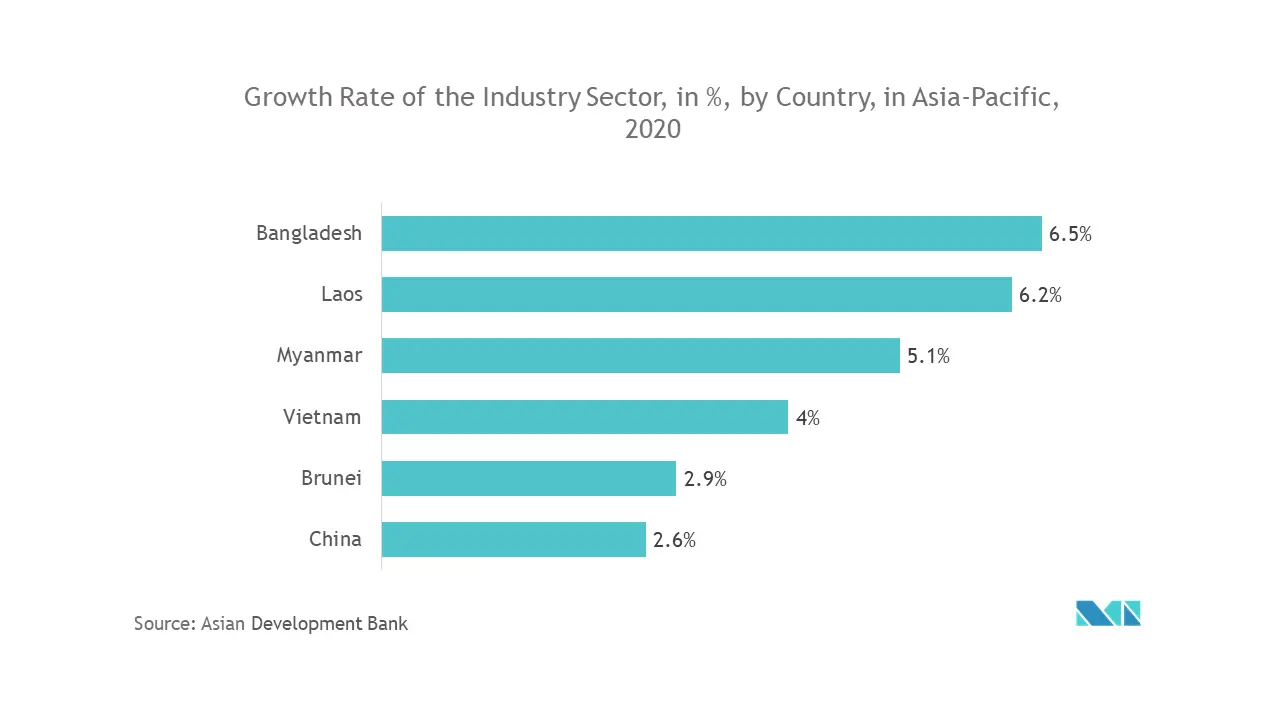 To understand key trends, Download Sample Report
竞争格局
亚太安全驱动器和电机市场竞争适度,有许多主要参与者,如 ABB Ltd.、西门子、罗克韦尔自动化有限公司等。就市场份额而言,目前市场由少数几家主要参与者主导。这些主要参与者拥有巨大的市场份额,正专注于扩大其在国外的客户群。这些公司正在利用战略合作计划来增加他们的市场份额和盈利能力。在预测期内,竞争、快速的技术进步和消费者偏好的频繁变化预计将对公司的市场增长构成威胁。
2021 年 10 月 - 罗克韦尔自动化有限公司推出了 PowerFlex 6000T 变频器,它以紧凑的设计提供高效的性能。该驱动器在 2,310 至 3,010 毫米(7.58 至 9.87 英尺)的同类最佳封装中可接受高达 13.8 kV 的初级电压。由于其紧凑的设计,该驱动器非常适合 IEC 市场中的新工业应用和改造工业应用,尤其是那些空间有限的应用。该驱动器允许直接连接来自主配电线路的高压馈电,无需降压变压器或变电站设备,从而节省资金。
2021 年 8 月 - 西门子宣布推出 SINAMICS G120XE 封闭式驱动系统。它专为满足广泛市场中工业泵、风扇和压缩机应用的需求而设计。这种新的封闭系统基于流行的 SINAMICS G120X 基础设施驱动器,非常适合在石油和天然气/石化、水/废水、发电厂、工业气候控制、制冷和严酷条件下的冷水机组等行业进行快速设计和调试环境。
主要玩家
ABB Limited

Rockwell Automation, Inc.

Siemens

Pilz GmbH & Co. KG

SIGMATEK GmbH & Co KG
*Disclaimer: Major Players sorted in no particular order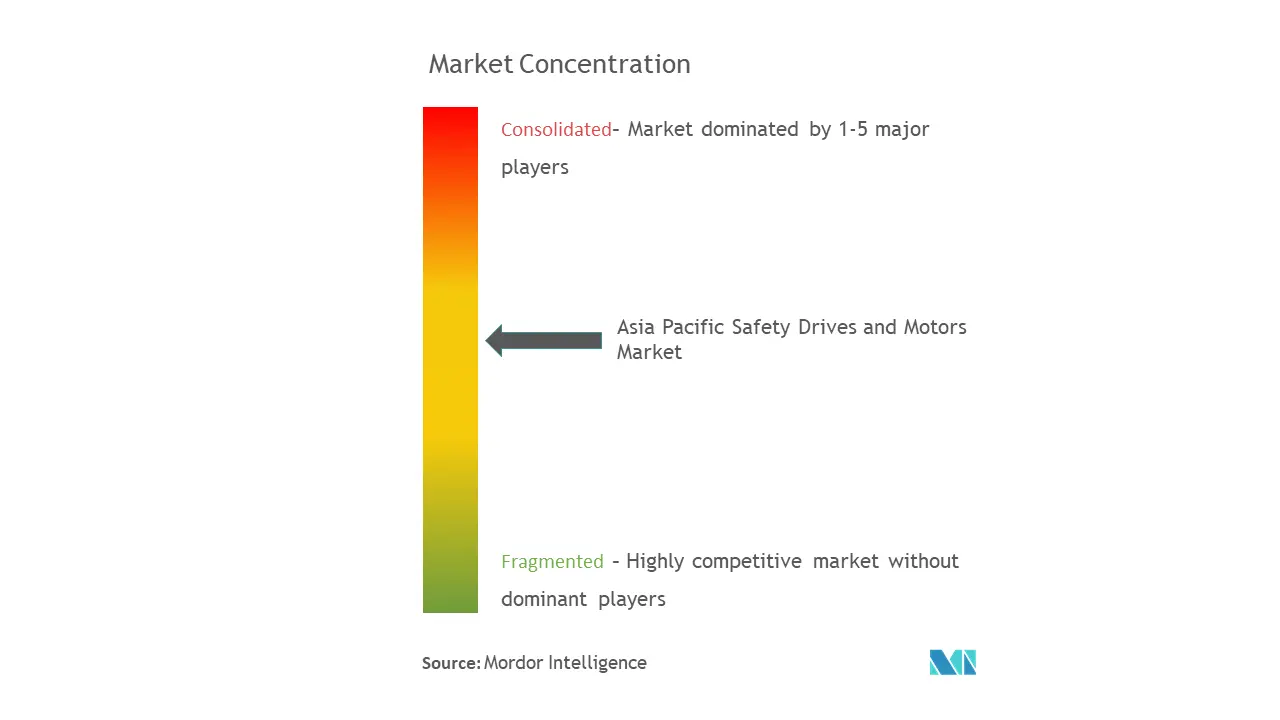 RECENT DEVELOPMENTS
September 2021 - Siemens has launched the new SIMOTICS S-1FS2 line of servomotors, designed for the clean condition requirements of the sterile packaging, food, beverage, pharmaceutical, and other process industries.
December 2020 - Beckhoff Automation launched ELM72xx EtherCAT servo drives that deliver an output current (Irms) of up to 16 A at 48 V DC for the power supply, which expands its portfolio of compact drive technology in I/O terminal format. They offer the current technology features with increased performance and functionality compared with comparable EL series I/O designs. The ELM72xx modules' metal housings render optimum heat dissipation even at high output power and optimal shielding against electrical interference.
Table of Contents
1. INTRODUCTION

1.1 Study Assumptions and Market Definition

1.2 Scope of the Study

2. RESEARCH METHODOLOGY

3. EXECUTIVE SUMMARY

4. MARKET INSIGHTS

4.1 Market Overview

4.2 Industry Attractiveness - Porter's Five Forces Analysis

4.2.1 Bargaining Power of Suppliers

4.2.2 Bargaining Power of Consumers

4.2.3 Threat of New Entrants

4.2.4 Threat of Substitute Products

4.2.5 Intensity of Competitive Rivalry

4.3 Technology Snapshot

4.4 Assessment of the Impact of COVID-19 on the Market

5. MARKET DYNAMICS

5.1 Market Drivers

5.1.1 Stringent Industry Safety Standards

5.1.2 Demand for Safe Equipment

5.1.3 High Degree of Cost-Effectiveness

5.2 Market Restraints

5.2.1 Complexity of Standards

6. MARKET SEGMENTATION

6.1 By Type

6.1.1 Drives

6.1.1.1 AC Drives

6.1.1.2 DC Drives

6.1.2 Motors

6.1.2.1 AC Motors

6.1.2.2 DC Motors

6.2 By End-User Industry

6.2.1 Energy & Power

6.2.2 Mining

6.2.3 Oil and gas

6.2.4 Manufacturing

6.2.5 Petrolium and Chemical

6.2.6 Other End-User Industries

6.3 By Country

6.3.1 China

6.3.2 Japan

6.3.3 India

6.3.4 Australia

6.3.5 South Korea

6.3.6 Others

7. COMPETITIVE LANDSCAPE

7.1 Company Profiles

7.1.1 Rockwell Automation, Inc.

7.1.2 ABB Limited

7.1.3 Pilz GmbH & Co. KG

7.1.4 SIGMATEK GmbH & Co KG

7.1.5 Siemens

7.1.6 Beckhoff Automation GmbH & Co. KG.

7.1.7 B&R Industrial Automation GmbH

7.1.8 Kollmorgen

7.1.9 Hoerbiger India Precision Technology Private Ltd.

*List Not Exhaustive

8. INVESTMENT ANALYSIS

9. FUTURE OF THE MARKET
Frequently Asked Questions
这个市场的研究期是多久?
研究了 2018 年至 2028 年的亚太安全驱动器和电机市场。
亚太安全驱动器和电机市场的增长率是多少?
亚太地区安全驱动器和电机市场在未来 5 年内将以 6.81% 的复合年增长率增长。
谁是亚太安全驱动器和电机市场的主要参与者?
ABB Limited、Rockwell Automation, Inc.、Siemens、Pilz GmbH & Co. KG、SIGMATEK GmbH & Co KG 是亚太安全驱动器和电机市场的主要公司。
80%

of our clients seek made-to-order reports. How do you want us to tailor yours?