Market Snapshot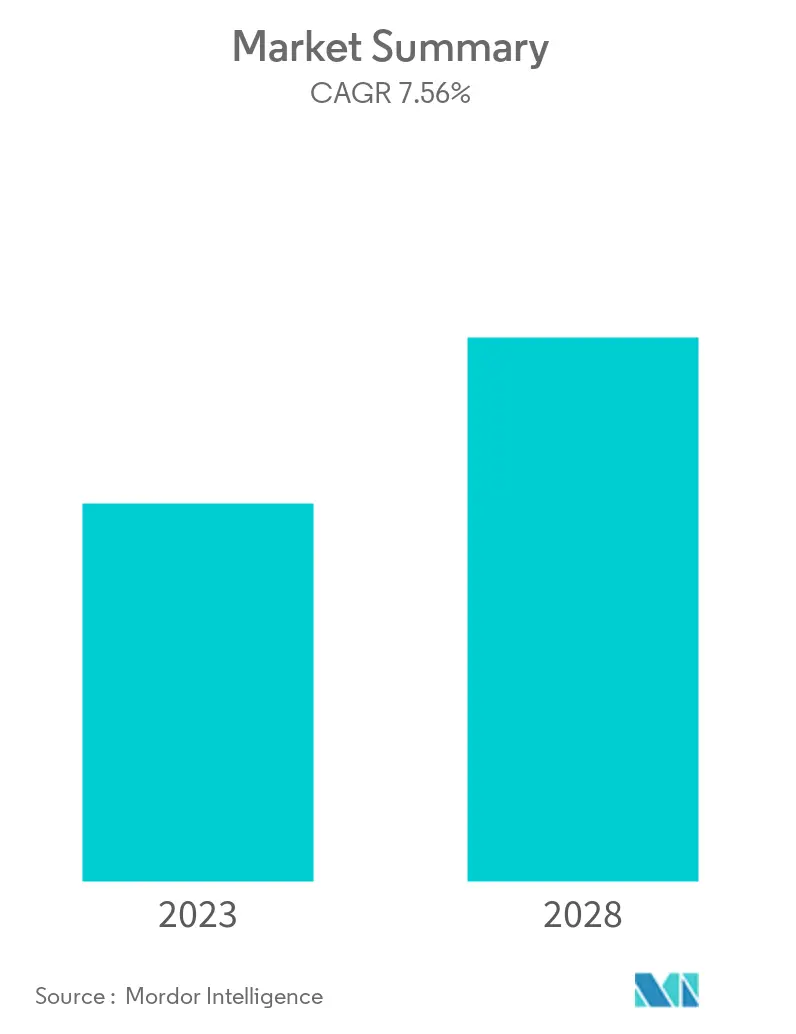 Study Period:
2019-2027
Base Year:
2021
Fastest Growing Market:
Asia Pacific
Largest Market:
North America
CAGR:
7.56 %
Need a report that reflects how COVID-19 has impacted this market and its growth?
Market Overview
The veterinary medicine market is expected to register a healthy CAGR of nearly 7.56% during the forecast period (2022 - 2027).
The impact of COVID-19 has been observed in the livestock sector as well. The supply chain has been disrupted, leading to difficulty in moving animal products such as meat, milk, and eggs to markets. The restriction has also been implemented on the seasonal border crossing with ruminants. However, to handle the disrupted demand-supply chain and guarantee sufficient animal production, the Food and Agriculture Organization established a new policy guiding the production of livestock and the supply chain of livestock products during the pandemic in April 2020. In order to safeguard public health and ensure the availability of goods and essential services for the steady supply of safe, nourishing food and the protection of pets during the pandemic, Animal Health Europe announced in May 2020 that the European Commission had added veterinary medicines to the "Communication for the Implementation of the Green Lanes under the Guidelines for Border Management Measures." Therefore, lockdowns and limits had a significant negative impact on the industry under study. According to a new study published by the Nature Conservancy of Canada in April 2022, as the COVID limitations started to loosen up, there was a rise in the demand for dog services on Canada's Prince Edward Island. The rise in pet ownership following the COVID-19 pandemic will have a favourable effect on the veterinary molecular diagnostics industry throughout the course of the forecast period. As a result of the COVID-19 pandemic, as stated above, the veterinary medicine market expanded dramatically on a global scale.
The major factors responsible for the growth of the veterinary medicine market are the increasing burden of chronic diseases among animals, growing animal adoption, and the increase in drug preferences by pet and poultry farm owners, coupled with continued growth in the human population, leading to increased demand for meat and animal-based products. Currently, the global livestock population is also seeing a surge. According to the United States Department of Agriculture (USDA), in July 2020, there were about 103.0 million cattle and 32.1 million beef cows in the United States as of July 2020 and are expected to grow substantially in coming years.
Moreover, increasing research and development investments, high pet adoption rate, and growing consumption of meats and mandatory vaccination for the animals are anticipated to boost demand for veterinary pharmaceuticals and vaccines for animals in the near future. The prevalence of zoonotic diseases and other chronic conditions in animals, such as eastern equine encephalitis, a deadly infection affecting the brain, is increasing, contributing to the steady growth of the veterinary medicine business. It affects a wide range of creatures, including birds, amphibians, and reptiles. In animals, obesity is also associated with osteoarthritis and joint pain. According to studies, obese animals are more likely to develop osteoarthritis. For instance, the American Animal Hospital Association reports that in May 2020, dogs who were overweight or obese had a 2.3-fold increased risk of developing osteoarthritis, while dogs who already had the condition had a 1.7-fold increased risk. According to data from the United States Department of Agriculture on highly pathogenic avian influenza in backyards and commercial settings, as of May 27, 2022, approximately 37.96 million birds had been infected.
The enormous bird population impacted by the disease and in need of effective diagnostic procedures contributes to the expansion of the market under investigation. Thus, the increasing burden of chronic diseases, coupled with the rising adoption of animals, is expected to boost market growth over the forecast period. Increasing recent development by key market players are another factor in market growth. For instance, in August 2020, Merck acquired IdentiGEN, a company dealing in DNA-based animal traceability solutions for aquaculture and livestock. Major market players' ongoing product releases and developments for companion animals are fueling the segment's expansion. Dechra's Dermcare Malaseb, 2 percent Chlorhexidine Gluconate, and 2 percent Miconazole Nitrate shampoo, for instance, started selling in Canada in July 2020. Thus, the abovementioned factors are expected to increase the market growth.
However, the high costs associated with animal healthcare and lack of awareness about animal health in the emerging nations are expected to hinder the market growth.
Scope of the Report
As per the scope of the report, veterinary drugs are used by veterinary professionals to treat diseases, and injuries and help the growth of animals. These are majorly used to cure diseases and prevent the spread of infectious diseases among animals. These drugs indirectly benefit human healthcare by restricting the spread of infectious diseases from animals to humans. The Market is Segmented by Product Type (Drugs (Anti-infectives, Anti-inflammatory, Parasiticides, and Other Drugs), Vaccines (Inactive Vaccines, Attenuated Vaccines, Recombinant Vaccines, and Other Vaccines), Medicated Feed Additives (Aminoacids, Antibiotics, and Other Medicated Feed Additives), Animal Type (Companion Animals (Dogs, Cats, and Other Companion Animals), Livestock Animals (Cattle, Poultry, Swine, Sheep, and Other Livestock Animals), and Geography (North America, Europe, Asia-Pacific, Middle-East and Africa, and South America). The market report also covers the estimated market sizes and trends for 17 different countries across major regions, globally. The report offers the value (in USD million) for the above segments.
By Product Type

Drugs
Anti-infectives
Anti-inflammatory
Parasiticides
Other Drugs

Vaccines
Inactive Vaccines
Attenuated Vaccines
Recombinant Vaccines
Other Vaccines

Medicated Feed Additives
Aminoacids
Antibiotics
Other Medicated Feed Additives
By Animal Type

Companion Animals
Dogs
Cats
Other Companion Animals

Livestock Animals
Cattle
Poultry
Swine
Sheep
Other Livestock Animals
Geography

North America
United States
Canada
Mexico

Europe
Germany
United Kingdom
France
Italy
Spain
Rest of Europe

Asia-Pacific
China
Japan
India
Australia
South Korea
Rest of Asia-Pacific

Middle-East and Africa
GCC
South Africa
Rest of Middle-East and Africa

South America
Brazil
Argentina
Rest of South America
Key Market Trends
Dogs Segment is Expected to Hold the Significant Market Share Over the Forecast Period
A significant rise in the adoption of pet animals, the growing prevalence of various diseases in animals, and the demand for companion animal vaccines are the major factors driving the growth of the veterinary medicine market. According to the annual report of the European Pet Food Industry Association (FEDIAF) 2020, dogs and cats are the major pets adopted in Europe. Moreover, an estimate of 85 million European households owns at least one pet animal. This trend is expected to further rise during the forecast period. Increasing initiatives by various governments in different regions improved animal healthcare and led to the increasing demand for dog medicine.
Moreover, the prevalence of several diseases among dogs and the high prices of treatments is a major contributors to the adoption of pet insurance among dogs. Cancer strikes dogs at a rate that is nearly identical to that of humans. According to the Veterinary Cancer Society in June 2020, cancer is the leading cause of death in 47% of dogs, especially those that are aged over 10. Even though cancer is a disease found in aging animals, some families or breeds of dogs, such as Rottweiler, Bernese Mountain Dog, Bouvier des Flandres, German Shepherd, Great Dane, Labrador Retriever, Bichon Frise, Boxer, and Golden Retriever, have a higher incidence or tendency for developing cancer at a young age.
Recent developments by key market players are another factor in market growth. For instance, in August 2020, Elanco acquired Bayer's Animal Health Business to expand Elanco's scale and capabilities, positioning the company for the long term as a leader in the attractive, durable animal health industry. Similarly, in August 2021, Virbac reported a breakthrough drug, STELFONTA (tigilanol tiglate injection) that was approved by the United States Food and Drug Administration (FDA) as a non-surgical alternative for treating canine mast cell tumors in dogs.
Thus, all the aforementioned factors are expected to boost segment growth over the forecast period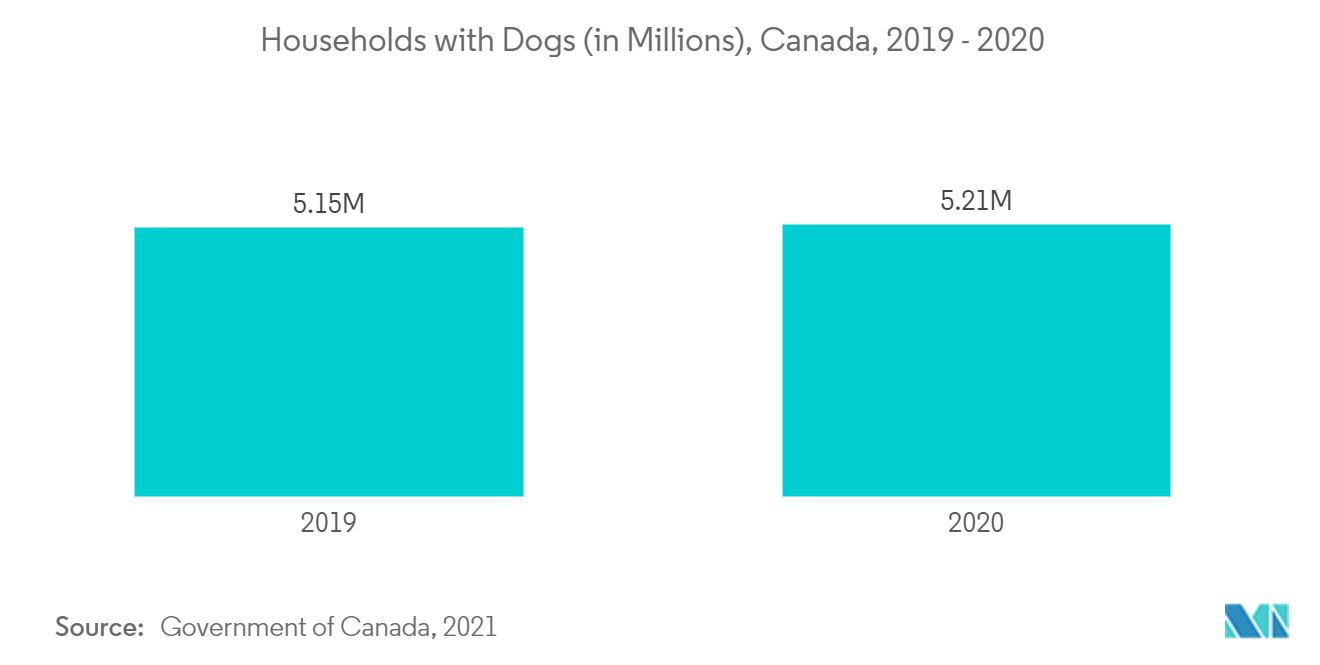 To understand key trends, Download Sample Report
North America Dominates the Market and the Same Trend is Expected over the Forecast Period
North America has dominated the veterinary medicine market so far and is expected to do so even in the forecast period. Key contributing factors attributing toward the dominance are the increasing prevalence of zoonotic diseases, favorable reimbursement programs, and the rising expenditure on companion animals. According to the 2021-2022 National Pet Owners Survey conducted by the American Pet Products Association (APPA), around 70% of households in the United States own a pet, which equates to 90.5 million homes, including 45.3 million cats and 69 million dogs. The same source also reported that annual expenditure on routine visits for dogs accounted for USD 242 for the year 2021, whereas it was USD 178 for cats.
With increasing ownership of pets and livestock, United States citizens become more considerate of the health of these animals. According to the American Pet Products Association, the expenditure on pets in the United States is also rising, which may propel market growth. Thus, with increased awareness and expenditure on animal health, the market is expected to show significant growth in the future. Numerous diseases that afflict animals, including pets in the area, were included in a Government of Canada document on reportable diseases in terrestrial animals that was updated in February 2021. The lengthy list of ailments also includes Vesicular stomatitis, Newcastle disease, pullorum disease, and equine infectious anaemia. The Canadian Veterinary Medical Association said that between 50% and 60% of Canadian pets were overweight or obese, according to an article by the insauga on pet obesity in Canada that was published in October 2020.
In addition, very few pet owners were aware of the causes of pet obesity, despite the fact that roughly 75% of pet owners were concerned about the health effects of an obese pet. In addition, there is a huge presence of key market players focused on the market developmental strategies in this region. For instance, in 2019, Zoetis, a United States-based company, signed a partnership agreement with Caritas to improve the productivity and sustainability of the value chain of tilapia fish in the country. Also, the partnership was expected to provide training for tilapia farmers in fish health management and best aquaculture practices. Similarly, in April 2022, Pharmgate Inc. received FDA approval for Pennitracin MD 50G for the prevention of mortality caused by necrotic enteritis associated with Clostridium perfringens in broiler and replacement chickens. In March 2022, Vetcare Oy received the FDA approval for Zenalpha, for use as a sedative and analgesic in dogs to facilitate clinical examination, clinical procedures, and minor surgical procedures. Thus, market propelling factors in the region is anticipated to offer exponential growth in the market studied.
All these developments are further expected to fuel the market growth.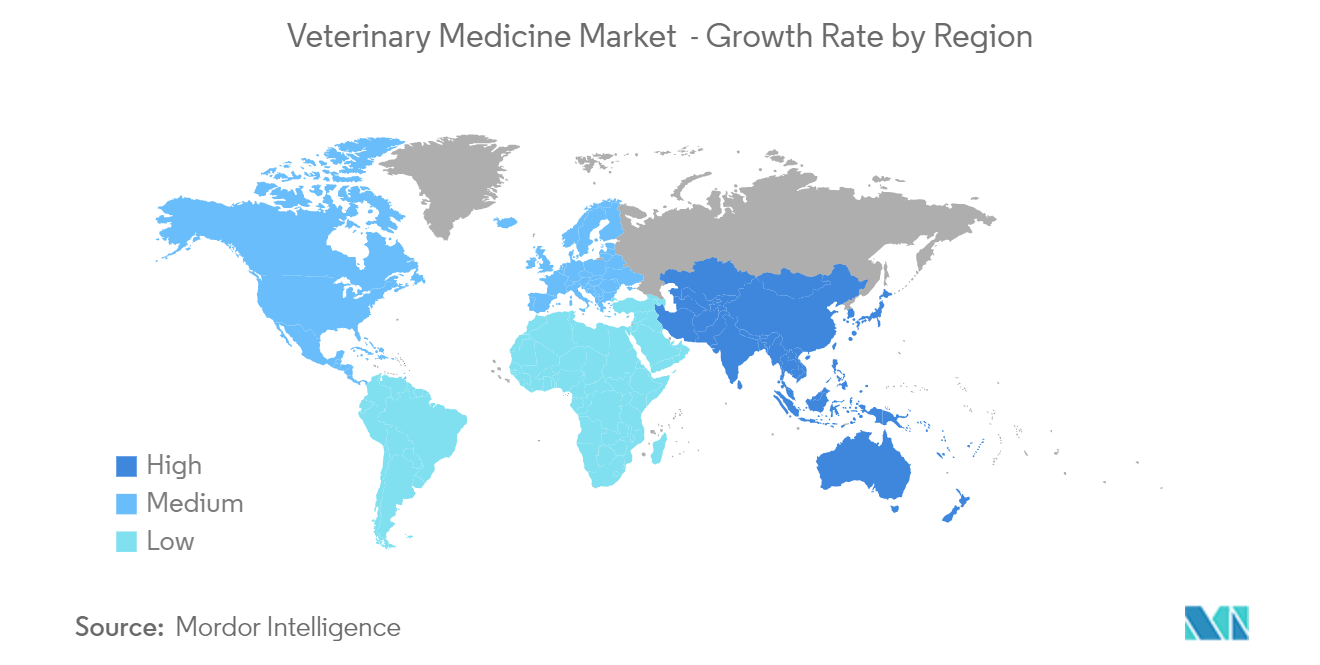 To understand geography trends, Download Sample Report
Competitive Landscape
The Veterinary Medicine market is moderately competitive and consists of several major players with marginal revenue differences. Among the leading animal health companies, Zoetis stands at the top in terms of revenue. Increasing consolidations of various organizations, like Boehringer Ingelheim Animal Health and Merial, are expected to generate competitive rivalry among the key players in the future. Some major players of the market include Zoetis, Boehringer Ingelheim, Ceva, Merck, and Elanco.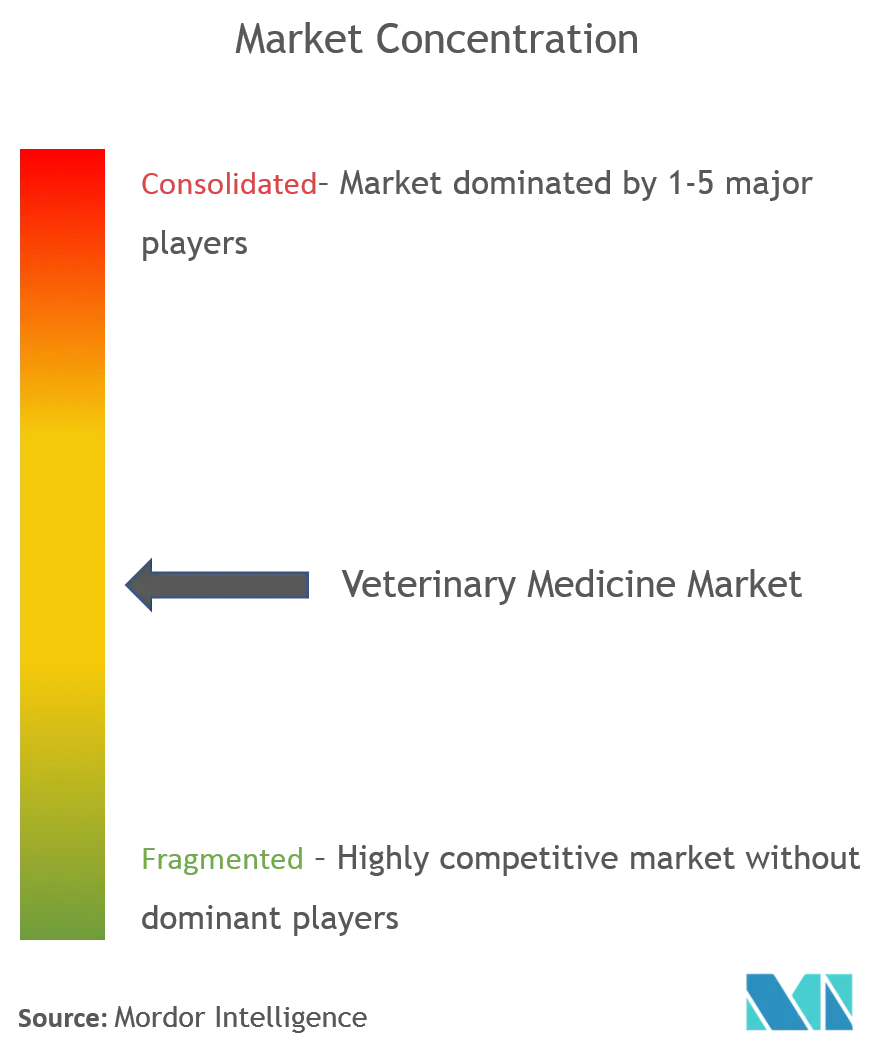 Recent Developments
In June 2022, Vetmedin-CA1 (pimobendan) chewable tablets, the first medication intended for delaying the onset of congestive heart failure in dogs with Stage B2 preclinical myxomatous mitral valve disease, were approved by the US Food and Drug Administration (MMVD).
In Jun 2022, Agriculture Minister Narendra Singh Tomar launched India's first homegrown COVID-19 vaccine, Anocovax, for animals, developed by the Haryana-based ICAR-National Research Centre on Equines (NRC). The vaccine contains inactivated SARS-CoV-2 (Delta) antigen with Alhydrogel as an adjuvant.
Table of Contents
1. INTRODUCTION

1.1 Study Assumptions and Market Definition

1.2 Scope of the Study

2. RESEARCH METHODOLOGY

3. EXECUTIVE SUMMARY

4. MARKET DYNAMICS

4.1 Market Overview

4.2 Market Drivers

4.2.1 Growing Burden of Chronic Disease Conditions in Animals, Coupled with the Increasing Adoption of Animals

4.2.2 Increase in Drug Preferences by Pet and Poultry Farm Owners

4.2.3 Increased Demand for Meat and Animal-based Products in Agriculture and Human Healthcare

4.3 Market Restraints

4.3.1 High Costs Associated with Animal Healthcare

4.3.2 Lack of Awareness about Animal Health in the Emerging Nations

4.4 Porter's Five Forces Analysis

4.4.1 Threat of New Entrants

4.4.2 Bargaining Power of Buyers/Consumers

4.4.3 Bargaining Power of Suppliers

4.4.4 Threat of Substitute Products

4.4.5 Intensity of Competitive Rivalry

5. MARKET SEGMENTATION (Market Size by Value – USD million)

5.1 By Product Type

5.1.1 Drugs

5.1.1.1 Anti-infectives

5.1.1.2 Anti-inflammatory

5.1.1.3 Parasiticides

5.1.1.4 Other Drugs

5.1.2 Vaccines

5.1.2.1 Inactive Vaccines

5.1.2.2 Attenuated Vaccines

5.1.2.3 Recombinant Vaccines

5.1.2.4 Other Vaccines

5.1.3 Medicated Feed Additives

5.1.3.1 Aminoacids

5.1.3.2 Antibiotics

5.1.3.3 Other Medicated Feed Additives

5.2 By Animal Type

5.2.1 Companion Animals

5.2.1.1 Dogs

5.2.1.2 Cats

5.2.1.3 Other Companion Animals

5.2.2 Livestock Animals

5.2.2.1 Cattle

5.2.2.2 Poultry

5.2.2.3 Swine

5.2.2.4 Sheep

5.2.2.5 Other Livestock Animals

5.3 Geography

5.3.1 North America

5.3.1.1 United States

5.3.1.2 Canada

5.3.1.3 Mexico

5.3.2 Europe

5.3.2.1 Germany

5.3.2.2 United Kingdom

5.3.2.3 France

5.3.2.4 Italy

5.3.2.5 Spain

5.3.2.6 Rest of Europe

5.3.3 Asia-Pacific

5.3.3.1 China

5.3.3.2 Japan

5.3.3.3 India

5.3.3.4 Australia

5.3.3.5 South Korea

5.3.3.6 Rest of Asia-Pacific

5.3.4 Middle-East and Africa

5.3.4.1 GCC

5.3.4.2 South Africa

5.3.4.3 Rest of Middle-East and Africa

5.3.5 South America

5.3.5.1 Brazil

5.3.5.2 Argentina

5.3.5.3 Rest of South America

6. COMPETITIVE LANDSCAPE

6.1 Company Profiles

6.1.1 Aptimmune Biologics

6.1.2 Boehringer Ingelheim

6.1.3 Cadila Pharmaceuticals Ltd

6.1.4 Ceva Animal Health LLC

6.1.5 China Animal Husbandry Co. Ltd

6.1.6 Dechra Pharmaceuticals PLC

6.1.7 Elanco

6.1.8 Merck & Co. Inc.

6.1.9 Neogen Corporation

6.1.10 Nutreco NV

6.1.11 Phibro Animal Health Corporation

6.1.12 Sanofi SA

6.1.13 Vetoquinol SA

6.1.14 Virbac

6.1.15 Zoetis

*List Not Exhaustive

7. MARKET OPPORTUNITIES AND FUTURE TRENDS
**Competitive Landscape covers- Business Overview, Financials, Products and Strategies and Recent Developments
You can also purchase parts of this report. Do you want to check out a section wise price list?
Frequently Asked Questions
What is the study period of this market?
The Global Veterinary Medicine Market market is studied from 2019 - 2027.
What is the growth rate of Global Veterinary Medicine Market ?
The Global Veterinary Medicine Market is growing at a CAGR of 7.56% over the next 5 years.
Which region has highest growth rate in Global Veterinary Medicine Market ?
Asia Pacific is growing at the highest CAGR over 2021- 2026.
Which region has largest share in Global Veterinary Medicine Market ?
North America holds highest share in 2021.
Who are the key players in Global Veterinary Medicine Market ?
Zoetis , Merck & Co., Inc , Elanco , Ceva, Boehringer Ingelheim are the major companies operating in Global Veterinary Medicine Market .
80%

of our clients seek made-to-order reports. How do you want us to tailor yours?