The United States printing inks market is expected to amount to 1,120.30 thousand metric tons by volume and USD 5,393.46 million by revenue in 2017 and is expected to register an estimated CAGR of 4.90% and 5.45% respectively, during the forecast period, majorly driven by the growing demand from the digital printing and the flexible packaging industry.
Demand from Digital Printing Industry Driving the Market
Currently digital printing accounts to only around 7% of the total United States printing inks market. This industry is expected to grow at the fastest rate in the coming years. The growth of the textile industry coupled with revolution in fashion industry and rapid adoption of digital printing against conventional printing is driving the growth of printing ink market in United States. Additionally, the market for digitally printed books is also expanding rapidly. Text books can be tailored to the students, novels to readers, and business messages to the targeted audiences.
Packaging Application Dominated in Market
Packaging application has dominated the United States printing inks market, accounting for more than 45% of the total market share in 2017. Innovative product packaging are also becoming successful in dragging the consumer's attraction in homecare, food, and soft drinks industry. This is also supporting the packaging industry growth. Increasing trend of hard bond books in the United Sates is also expected to drive the United States printing inks market during the forecast period.
Water-based Type to Grow at the Fastest Rate
Oil based printing inks has the largest share of about 40% among type in the Unites States in 2017. Water based printing inks are rapidly replacing oil and solvent based printing inks which has toxic and hazardous nature. The main driving force for the usage of water-based inks is to completely remove hazardous chemical from ink, not just reduce the VOC's that are present. Water-based inks excel in printing applications involving paper, cardboard, and textiles, are even used to print on foils, plastics, and food packaging. These printing inks are used majorly in flexographic, gravure, and printing processes.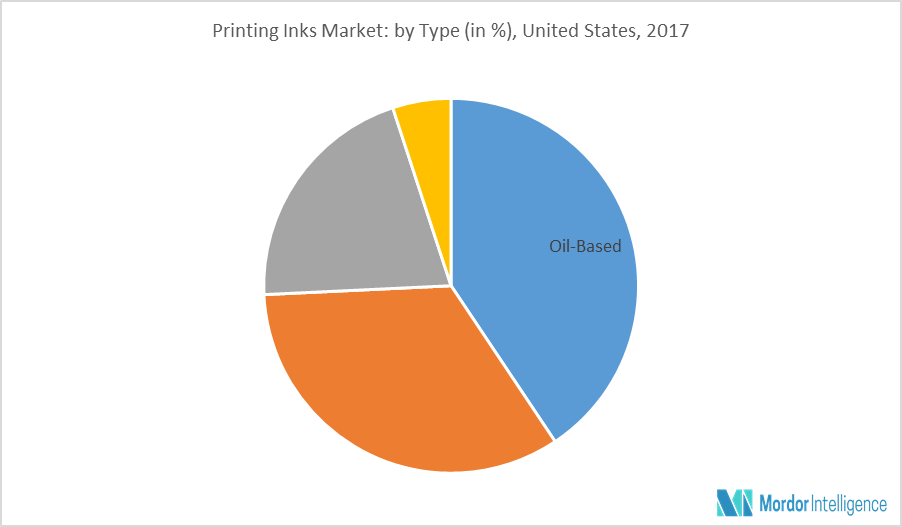 Notable Developments
In May 2017, Sun Chemical has signed a collaboration agreement with HP Indigo to develop cost-effective digital coatings which would enable the adoption of digital printing in the packaging industry
Major Players: Flint Group, Sun Chemical, INX International, Siegwerk and Quad Graphics Inc., among others.
Reason to Purchase this Report
To understand the impact of various type on the market
Analyzing various perspectives of the market with the help of Porter's five forces analysis
To understand the dominating type, process, and application in the market
Countries expected to witness the fastest growth during the forecast period
Identifying the latest developments, market shares, and strategies employed by the major market players
3-month analyst support, along with the Market Estimate sheet in excel
Customization of the Report
This report can be customized to meet your requirements. Please connect with our analyst, who will ensure you get a report that suits your needs
1. Introduction
1.1 Scope of the Report
1.2 Research Phases
1.3 Study Deliverables
2. Executive Summary
3. Market Insights
3.1 Industry Value Chain Analysis
3.2 Industry Attractiveness – Porter's Five Forces Analysis
3.2.1 Bargaining Power of Suppliers
3.2.2 Bargaining Power of Consumers
3.2.3 Threat of New Entrants
3.2.4 Threat of Substitute Products and Services
3.2.5 Degree of Competition
3.3 Trade Analysis
4. Market Dynamics
4.1 Drivers
4.1.1 Growing Demand from Digital Printing Industry
4.1.2 High Demand from Packaging Sector
4.2 Restraints
4.2.1 Decline in Commercial Printing Industry
4.2.2 Stringent Regulations Regarding Disposal
4.3 Opportunities
4.3.1 Growth in Demand for Bio-based and UV Curable Inks
5. Market Segmentation and Analysis (Market size, Growth, and Forecast)
5.1 By Type
5.1.1 Solvent-based
5.1.2 Water-based
5.1.3 Oil-based
5.1.4 Others
5.2 By Process
5.2.1 Lithographic Printing
5.2.2 Flexographic Printing
5.2.3 Gravure Printing
5.2.4 Digital Printing
5.2.5 Others (Including Letter Press, etc.)
5.3 By Application
5.3.1 Packaging
5.3.2 Commercial & Publication
5.3.3 Textiles
5.3.4 Others (Including Decorative Printing, Security Printing, etc.)
6. Future of the Market
7. Competitive Landscape
7.1 Mergers & Acquisitions, Joint Ventures, Collaborations, and Agreements
7.2 Market Share Analysis**
7.3 Strategies Adopted by Leading Players
8. Company Profiles (Overview, Financials**, Products & services, Recent Developments, and Analyst View)
8.1 Flint Group
8.2 Sun Chemical
8.3 INX International
8.4 Quad Graphics Inc.
8.5 Siegwerk
8.6 DuPont
8.7 Wikoff Color
8.8 Huber Group
8.9 Grupo Sánchez
8.10 Marabu North America
8.11 EFI, Inc.
8.12 Toyo Ink America
8.13 Fujifilm North America
8.14 Nazdar
8.15 Central Ink
8.16 Sensient Technologies
8.17 SICPA Securink
8.18 Superior Ink
8.19 Van Son
8.20 Ink Systems
8.21 International Paper
8.22 Zeller+Gmelin Corporation
* List not exhaustive
9. Disclaimer
**Subject to availability of public domain