The United States diagnostic imaging market is expected to register a CAGR of 6.0% during the forecast period of 2018–2023. MRI is anticipated to dominate the market during the forecast period owing to the growing technological advancement and wide application of MRI in the medical field.
Increasing Geriatric Population
The United States is expected to experience an accelerated rate of aging population as compared to other developed countries. The growth in aging population leads to an increase in demand for imaging services since elderly population is more prone to chronic diseases. According to the National Institutes of Health Data, patients aged 65 and above undergo diagnostic imaging two or more times more than the younger population. The number of times women undergo diagnostic imaging is expected to be slightly higher than that of men. The proportion of the older population in the United States, with favorable insurance coverage policies, is likely to drive the market. Additionally, technological advancement in imaging modalities, growing awareness about preventive care, and the rising number of diagnostic imaging centers, coupled with growing adoption of teleradiology are further driving the market of the United States diagnostic imaging.
Reduction in Reimbursement Rate
Between 2000 and 2007 the use of imaging grew faster than the use of any other physician service in the United States. However, in 2007, both the use of and the fees charged for imaging were higher in the United States than in any other developed country. This raised concerns among policymakers, and between 2008 and 2013 a number of cuts in imaging reimbursement were instituted by the Center for Medicare and Medicaid Services (CMS) and commercial payers, in an attempt to control growth in the use of imaging. Reduction in rate of reimbursement has lead to the decline in revenue of standalone diagnostic imaging centers. This scenario poses a negative impact on the growth of diagnostic imaging market in the United States. Thus, reduction in the reimbursement rate along with the dearth of radiologists n the United States is likely to impede the market.
MRI to Dominate the Market
MRI is set to dominate the United States diagnostic imaging market in the product segment.The factors attributing to the high growth of MRI in the country are growing technological advancement in MRI modality and widening the application of MRI in the medical field. CT scan and nuclear medicine are anticipated to grow at a high pace during the forecast period in the United States owing to factors, such as a high prevalence of chronic diseases such as cancer and increasing adoption of PET and SPECT in diagnostic imaging centers.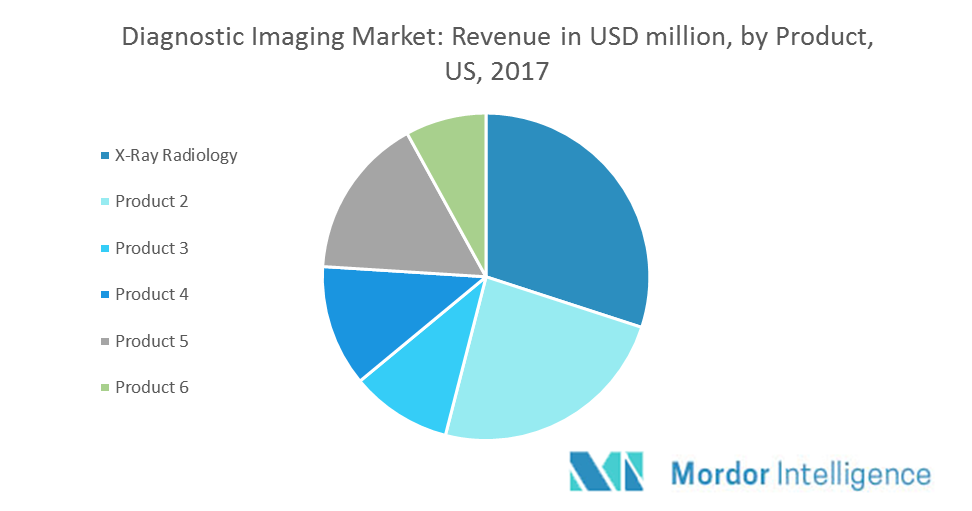 Key Developments in the Market
November 2017: Siemens AG launched four new CT scanners. The company completed the first installations in the United States of its SOMATOMgo.Up CT scanner. The scanner was installed at two outpatient facilities of the Center for Diagnostic Imaging (CDI).
November 2017: Koninklijke Philips N.V. launched the latest magnetic resonance (MR) imaging system, "MR Prodiva 1.5T" that provides enhanced clinical performance, workflow, and patient experience.
The major players include Carestream Health, Fujifilm Holdings Corporation, GE Healthcare, Hitachi Medical Corporation, Hologic, Inc., Koninklijke Philips N.V., Shimadzu Corporation, Siemens AG, Toshiba Medical Systems Corporation, and Varian Medical Systems, among others.
Reasons to Purchase the Report
Follow the current and future United States diagnostic imaging market in the developed and emerging markets.
Analysis of various perspectives of the market with the help of Porter's Five Forces Analysis.
Identify the segment that is expected to dominate the market.
Identify the regions that are expected to witness the fastest growth during the forecast period.
Identify the latest developments, market shares, and strategies employed by the major market players.
3-month analyst support along with the Market Estimate sheet (in Excel).
Customization of the Report
This report can be customized to meet your requirements. Please connect with our representative, who will ensure you to get a report that suits your needs.
1. Introduction
1.1 Market Definition
2. Research Methodology
3. Executive Summary
4. Key Inferences
5. Market Overview
5.1 Current Market Scenario
5.2 Porter's Five Forces Analysis
5.2.1 Bargaining Power of Suppliers
5.2.2 Bargaining Power of Consumers
5.2.3 Threat of New Entrants
5.2.4 Threat of Substitute Products and Services
5.2.5 Competitive Rivalry within the Industry
6. Drivers, Restraints, Opportunities, and Challenges Analysis (DROC)
6.1 Drivers
6.1.1 Increasing Geriatric Population
6.1.2 Technological Advancement in Imaging Modalities
6.1.3 Growing Awareness Regarding Preventive Care
6.1.4 Rising Number of Diagnostic Imaging Centers and Growing Adoption of Tele-radiology
6.2 Restraints
6.2.1 Dearth of Radiologists
6.2.2 Reduction in Reimbursement Rate
6.3 Opportunities
6.4 Key Challenges
7. Market Segmentation
7.1 By Product
7.1.1 X-ray Radiology
7.1.2 Ultrasound
7.1.3 Magnetic Resonance Imaging (MRI)
7.1.4 Mammograph
7.1.5 Computed Tomography
7.1.6 Nuclear Medicine
7.1.6.1 Positron Emission Tomography (PET)
7.1.6.2 Single-photon Emission Computerized Tomography (SPECT)
7.2 By Application
7.2.1 Cardiology
7.2.2 Oncology
7.2.3 Neurology
7.2.4 Orthopedic
7.2.5 Others
7.3 By End User
7.3.1 Hospitals
7.3.2 Diagnostic Centers
7.3.3 Others
8. Competitive Landscape
8.1 Mergers & Acquisition Analysis
8.2 Agreements, Collaborations, and Partnerships
8.3 New Products Launches
9. Key Players
9.1 Carestream Health
9.2 Fujifilm Holdings Corporation
9.3 GE Healthcare
9.4 Hitachi Medical Corporation
9.5 Hologic, Inc.
9.6 Koninklijke Philips N.V.
9.7 Shimadzu Corporation
9.8 Siemens AG
9.9 Toshiba Medical Systems Corporation
9.10 Varian Medical Systems
*List not Exhaustive
10. Future of the Market
11. Disclaimer