The United States construction chemicals market is expected to register a CAGR of 5.99% in terms of revenue during the forecast period (2018 - 2023). The United States was the largest market in terms of revenue in the region, it accounted for around 76% of the regional market in 2017. The increasing commercial construction activities in the United States are expected to drive the market in the forecast period.
Increasing Commercial Construction Activities in the United States
The United States construction sector is one of the main consumers of construction chemicals. The commercial construction has been increasing in the form of offices, malls, restaurants, etc. Additionally, the construction of super-tall skyscrapers, measuring over 984 feet, is currently underway in Chicago, Los Angeles, New York, and San Francisco, while the other cities, like Boston, Austin, and Philadelphia, are also boosting the commercial construction activities in the United States. Cities across the United States are in the middle of a multi-year boom in commercial construction, which is augmented by the local and foreign investments. Some of the major construction projects involve the USD 225 million children's hospital expansion in New Orleans, the USD 1.5 billion Atlanta Falcons Stadium, the Washington State Convention Center in Seattle, the One Thousand Museum in Miami, and the Comcast Technology Center in Philadelphia. Hence, with such boom in commercial construction activities in the United States, the demand for construction chemicals in the country is projected to increase substantially during the forecast period.
Concrete Admixtures the Dominant Product Type
Concrete admixtures reduce the concrete construction cost by modifying the properties of the hardened concrete, thereby, ensuring better quality during mixing, transporting, placing, and curing. Thus, they overcome most of the emergencies occurring during concrete operations. The US is one of the largest markets for concrete admixture, owing to the gradual growth of the commercial sector, primarily office space construction in the country.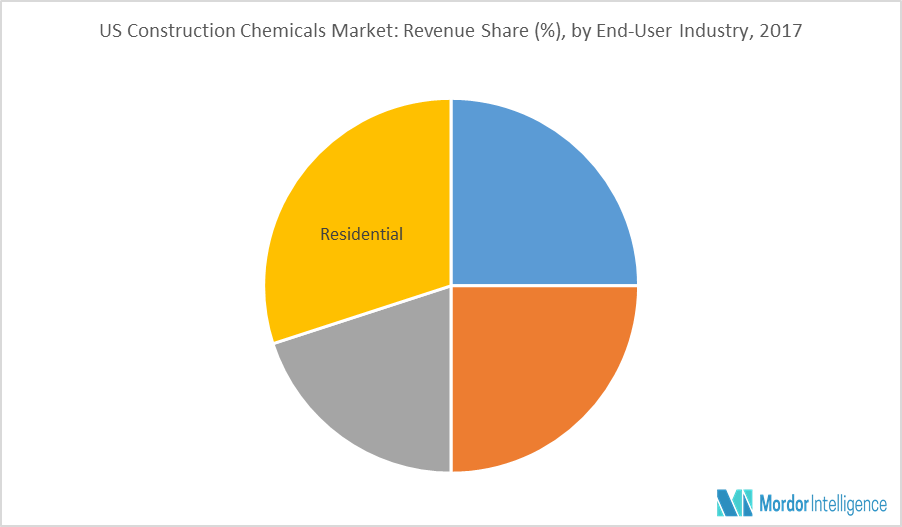 Major Players: Mapei Inc., Sika AG, BASF SE, W.R. Grace & Co., and RPM International Inc., among others.
Reasons to Purchase this Report
Analyze how the growing automotive production & sales will drive the market
Analyze the various perspectives of the market with the help of Porter's five forces analysis
To identify the product type that is expected to dominate the market
To identify the region that is expected to witness the fastest growth during the forecast period
Identify the latest developments, market shares, and strategies employed by the major market players
3-month analyst support, along with the Market Estimate sheet (in Excel)
Customization of the Report
This report can be customized to meet your requirements. Please connect with our analyst, who will ensure you get a report that suits your needs.