Ultrafast Lasers Market Size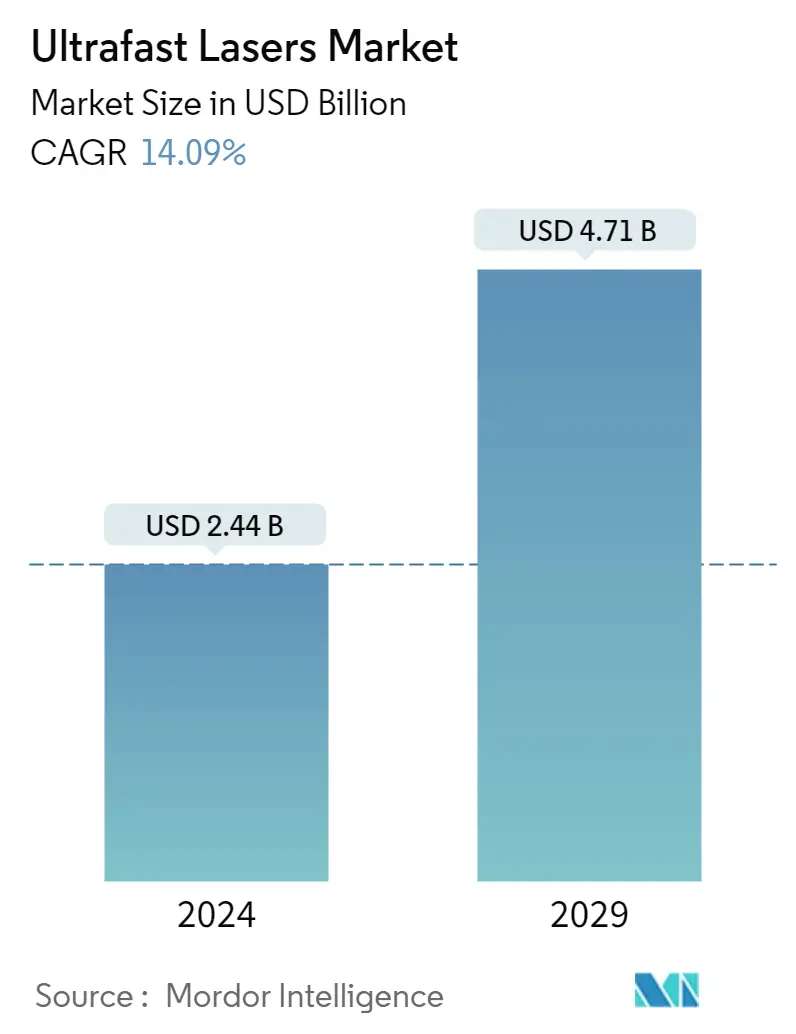 Study Period
2018 - 2028
Market Size (2023)
USD 2.14 Billion
Market Size (2028)
USD 4.13 Billion
CAGR (2023 - 2028)
14.09 %
Fastest Growing Market
Europe
Largest Market
Asia-Pacific

Major Players

*Disclaimer: Major Players sorted in no particular order
Need a report that reflects how COVID-19 has impacted this market and its growth?
Ultrafast Lasers Market Analysis
The Ultrafast Lasers Market size is estimated at USD 2.14 billion in 2023, and is expected to reach USD 4.13 billion by 2028, growing at a CAGR of 14.09% during the forecast period (2023-2028).
The COVID-19 outbreak and the consequent lockdown restrictions worldwide affected industrial activities. Many industries witnessed a disruption in supply chain and manufacturing operations worldwide. Some other effects of lockdown include a lack of availability of raw materials used in the manufacturing process, labor shortages, fluctuating prices that could cause the production of the final product to inflate and go beyond budget, shipping problems, and others.
Ultrafast or ultrashort pulse lasers are critical manufacturing tools across industries, such as automobile, consumer electronics, and medical devices, due to advantages like tighter tolerances, enhanced dimensional accuracy, and elimination of post-processing steps.
Industries move from laser-cut technology to ultrafast laser technology for machining accuracy, enabling earlier marketing of their products. Although laser (usually in the form of oscillators and amplifiers) equipment tends to have high initial costs, the improvement in process precision decreases the operating cost and overall time for production, which drives its adoption in material processing applications.
Available in the picosecond and femtosecond variants, these lasers also gain traction in the medical and military equipment manufacturing sectors. For instance, catheters and stents are made with ultrafast lasers. Mandates for laser marking for medical devices across regions are another reason for the growing demand for ultrafast lasers.
Technological advancements in industries such as consumer electronics, automobiles, healthcare, networking and telecom, and computing created the need for small and robust electronic devices. Such portable electronic equipment demands precise dimensional accuracy for components. This is expected to augment the demand for the fabrication materials needed to develop components with precise dimensional accuracy.
Various alternate technologies are available and widely used for applications, such as material processing, owing to the reduced manufacturing complexities involved in the comparison. For instance, Excimer lasers, which produce high-energy UV radiation in various wavelengths, have been widely used for micromachining applications such as microelectronics, medical, automotive, and other industrial applications. Although ultrafast lasers can process optically transparent polymer materials, excimer lasers are more used owing to the costs involved. Other alternative technologies include Q-switched lasers, continuous wave (CW), nanosecond pulsed, among others.
The COVID-19 pandemic and the subsequent lockdown restrictions around the globe impacted industrial activities, disrupting manufacturing operations and supply chains around the globe. Some other effects of lockdown include a lack of availability of raw materials used in the manufacturing process, labor shortages, fluctuating prices that could cause the production of the final product to inflate and go beyond budget, shipping problems, and so on.
Ultrafast Lasers Market Trends
This section covers the major market trends shaping the Ultrafast Lasers Market according to our research experts:
Demand from Consumer Electronics is Expected to Witness Significant Growth
The electronics manufacturing segment remains a highly dynamic sector. The sector is primarily driven by the increasing demand from the consumer electronics sector and fast-paced technological developments, which pressure OEMs to continuously introduce new products in the market. Consumer electronics providers largely depend on electronic manufacturers that offer benefits, such as cost savings, reduced time-to-volume, quality, reduced time-to-market, and flexibility, to provide their products in the market. According to Consumer Technology Association, Consumer Technology Sales in the United States increased by 7.5% and reached USD 487 billion recently.
Further, Consumer electronics (CE) retail revenue in the United States is steadily increasing. According to the Consumer Technology Association, consumer electronics retail sales in the United States will reach USD 505 billion by the end of 2022. Furthermore, smartphones generated the most retail revenue in the consumer electronics sector, accounting for USD 74.7 billion in revenue in 2022.
Most of the electronic devices in the market nowadays are miniaturized and demand tighter dimensional tolerances so that the components can fit inside ever-smaller form factors, driving the growth of the ultrafast laser market. The electronic manufacturing process needs the inspection of the tinier component features and improved accuracy.
A growing application for femtosecond lasers is in the field of handheld electronics. Mobile phones, memory chips, microprocessors, and display panels are incredibly sophisticated components comprising various materials, multiple layers of extremely low thicknesses, and minimal features. These components require high-precision and advanced manufacturing processes and the ability to be economically produced in large quantities.
Due to the very short pulse duration, ultrafast lasers enable thermal micromachining without any heat generation. Their increasing use in the advanced display repair process has led to a new generation of high-speed, compact, multi-wavelength ultrafast lasers.
For instance, Spark Lasers, an Ultrafast lasers manufacturer, offers DIADEM, a compact, high-energy ultrafast laser for advanced micro-machining applications with short femtosecond pulse widths that deliver over 40µJ at 30W and up to 1MHz. This laser has been designed for demanding electronics manufacturing and implantable medical devices.
Several industrial processes are taking advantage of the high precision of ultrafast laser processing. This includes selective layer ablation, where ablation rates as precise as 30nm per pulse are routinely achieved, and high-precision thin-film transistor electrode cutting, which has a cutting width smaller than 2μm. These processes require developing advanced and flexible beam shaping techniques, allowing the delivery of uniform, flat-top beams with variable shapes to the sample and sizes as small as 2μm 2μm.
Players like Amplitude Group offer a range of femtosecond lasers for the consumer electronics, such as Tangor UV, Tangerine, and Yuja. These products include optical technology, the new standard for quality-driven results. They offer high repetition rates and peak-to-average power ratio; they can perform on any material with unparalleled precision, whether PCB, operations on semiconductors or flexible electronic materials, glass-cutting, and many others.
To understand key trends, Download Sample Report
Asia Pacific is Expected to Hold a Significant Market Share
The Ultrafast Laser market has seen significant growth in Asia-Pacific due to augmented demand for femtosecond fiber lasers in the automotive and electronics industries. This region, especially in countries such as Japan and China, is expected to grow considerably during the forecast period due to technological advancements and many electronics OEMs.
The Asia-Pacific is an established leader in laser technology development with many market players, such as Thorlabs Inc., Wuhan Huaray Precision Laser Co. Ltd, Amplitude Laser, and others. The product offerings are one of the initiatives being taken by the market players for maximizing profit and gaining a competitive edge while fulfilling the ever-rising demand for enhanced ultrafast laser equipment. Companies have developed ultrafast lasers for myriad industrial applications due to increasing government initiatives for manufacturing defense and medical services.
The industrial application includes ultrafast lasers for manufacturing industrial products ranging from machines to aerospace equipment. Ultrafast laser in the industrial domain is used in heating for hardening, melting for welding and cladding, and removing material for drilling and cutting. Femtosecond laser processing for material manufacturing is gaining traction. For surface processing, ultrafast lasers have become an industry standard.
Many manufacturing utilities and an increasing focus on product quality and accuracy are significant factors fueling the demand for ultrafast lasers in Asia- Pacific. Moreover, manufacturing is one of the prominent industries in the Asian economy due to the rising need for industrial and consumer products.
Several supportive factors, including research funding, equipment purchase funding, and agreements, drive the demand for ultrafast lasers in the region. Recently, Chromacity signed a deal with Photonteck to supply and distribute their ultrafast lasers in China. Photonteck will promote Chromacity's range of fixed wavelength femtosecond lasers and picosecond optical parametric oscillators (OPO) for imaging and sensing applications.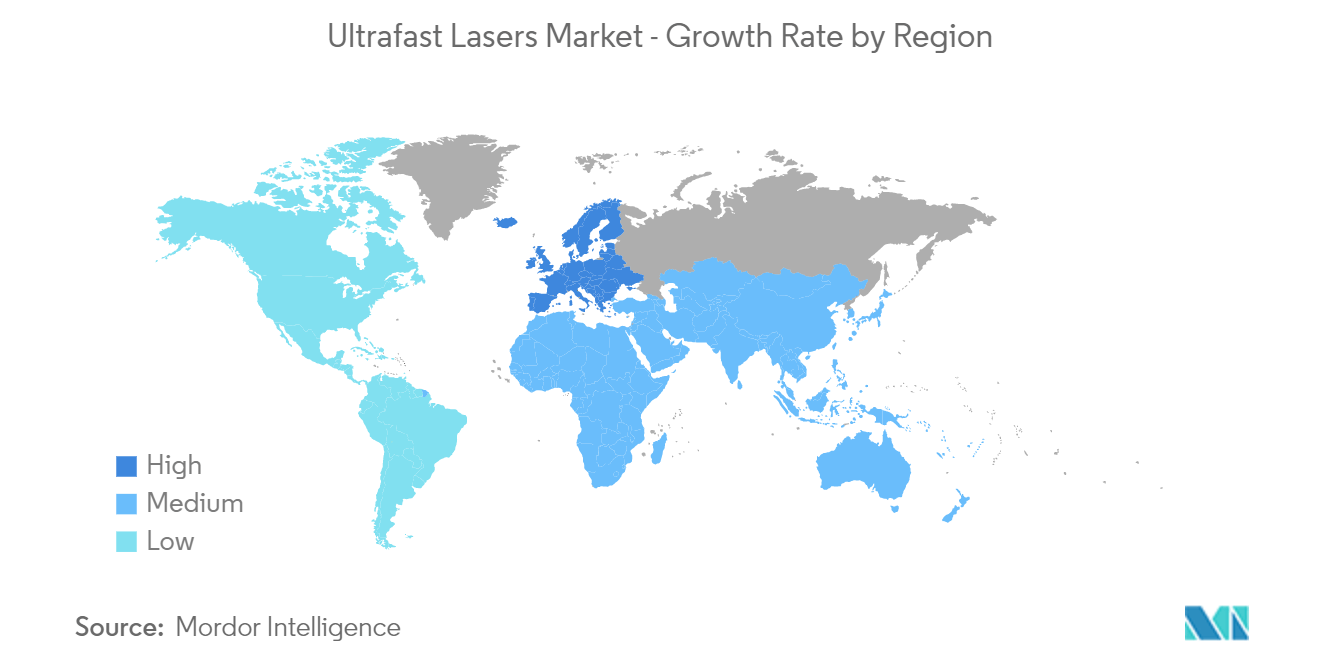 To understand geography trends, Download Sample Report
Ultrafast Lasers Industry Overview
The Ultrafast Laser market is highly competitive due to multiple players. The market appears to be moderately concentrated. Vendors in the market are involved in new product rollouts with significant R&D investments and partnerships that significantly boost the market growth. In addition to technological investments, companies have acquisitions as their growth strategy. The market consists of laser/photonic giants, such as Coherent, Trumpf, Jenoptik, and Lumentum.
In February 2022, Jenoptik announced its strategic partnership with Accretech. The companies combined economic and technological strengths to create added value for the entire Japanese industry from February 1, 2022. Jenoptik thus gained another strong distribution partner.
In January 2022, Light Conversion launched CRONUS-2P and CRONUS-3P microscopy-dedicated femtosecond laser sources covering. Its applications include functional neuroimaging, optogenetics, and deep imaging using medium-repetition-rate three-photon excitation and fast high-repetition-rate two-photon imaging.
Ultrafast Lasers Market Leaders
Amplitude Group

Coherent Inc.

Ekspla

MKS Instruments Inc.

Jenoptik Laser GmbH
*Disclaimer: Major Players sorted in no particular order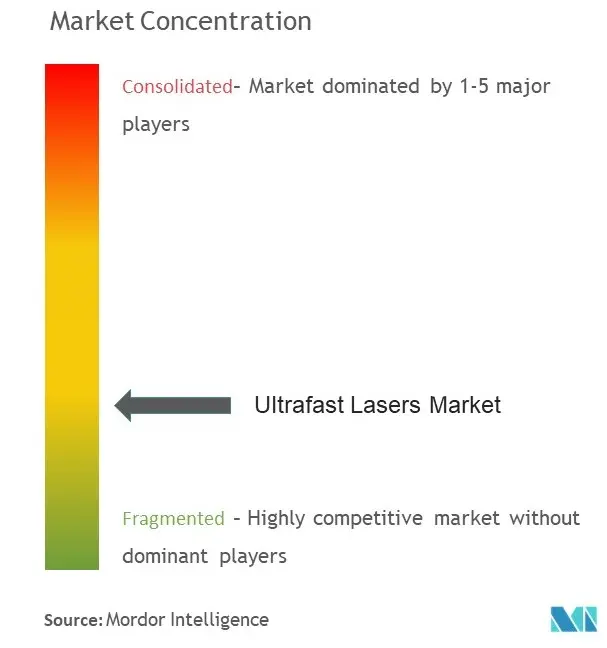 Ultrafast Lasers Market News
April 2022 - Amplitude merged its two North American divisions (Continuum Electro-Optics Inc. in Milpitas, CA, and Amplitude Laser, formerly of Cambridge, MA) to become Amplitude Laser Inc.
March 2022 - Coherent Inc. announced the launch of its new product COMPex family. The Coherent COMPex F2 is the most potent VUV laser. The dual-wavelength laser meets the needs of applications demanding a powerful source of vacuum ultraviolet wavelengths. Specifically, the F2 provides a direct output at 157 nm and 193 nm simply by switching the gas fill, maximizing its utility and value.
February 2022 - Trumpf Group acquired an 80% stake in Active Fiber Systems (AFS), a fiber laser company. AFS developed a range of femtosecond and picosecond pulsed lasers based on ytterbium and thulium-doped fiber amplifiers used primarily in scientific research. This transaction is expected to expand and complement Trumpf Group's ultrafast fiber laser offering, primarily intended for industrial applications such as precision welding and additive manufacturing.
Ultrafast Lasers Market Report - Table of Contents
1. INTRODUCTION

1.1 Study Assumptions and Market Definition

1.2 Scope of the Study

2. RESEARCH METHODOLOGY

3. EXECUTIVE SUMMARY

4. MARKET INSIGHTS

4.1 Market Overview

4.2 Industry Value Chain Analysis

4.3 Industry Attractiveness - Porter's Five Forces Analysis

4.3.1 Threat of New Entrants

4.3.2 Bargaining Power of Buyers

4.3.3 Bargaining Power of Suppliers

4.3.4 Threat of Substitute Products

4.3.5 Intensity of Competitive Rivalry

4.4 Assessment of the Impact of COVID-19 on the Market

5. MARKET DYNAMICS

5.1 Market Drivers

5.1.1 Need for Enhanced Dimensional Accuracy

5.1.2 Government Mandates Promoting Adoption of Ultrafast Lasers

5.2 Market Restraints

5.2.1 Manufacturing Complexities Challenge the Market Growth

6. MARKET SEGMENTATION

6.1 By Laser Type

6.1.1 Solid State Laser

6.1.2 Fiber Laser

6.2 By End-User

6.2.1 Consumer Electronics

6.2.2 Medical

6.2.3 Automotive

6.2.4 Aerospace and Defense

6.2.5 Research

6.3 By Pulse Duration

6.3.1 Picosecond

6.3.2 Femtosecond

6.4 By Application

6.4.1 Material Processing And Micromachining

6.4.2 Medical And Bioimaging

6.4.3 Other Applications (Research-related applications)

6.5 By Geography

6.5.1 North America

6.5.2 Europe

6.5.3 Asia-Pacific

6.5.4 Latin America

6.5.5 Middle East and Africa

7. COMPETITIVE LANDSCAPE

7.1 Company Profiles

7.1.1 Amplitude Group

7.1.2 Coherent Inc.

7.1.3 Ekspla (EKSMA group)

7.1.4 MKS Instruments Inc. (Newport Corp. and Femtolasers Productions)

7.1.5 JENOPTIK Laser GmbH

7.1.6 TRUMPF Group

7.1.7 Novanta (Laser Quantum Ltd.)

7.1.8 Lumentum Holdings

7.1.9 Aisin Seiki (IMRA America Inc.)

7.1.10 IPG Photonics

7.1.11 NKT Photonics

7.1.12 Light Conversion Ltd

*List Not Exhaustive

8. INVESTMENT ANALYSIS

9. FUTURE OF THE MARKET
Ultrafast Lasers Industry Segmentation
An Ultrafast Laser is a short light pulse with an electromagnetic pulse whose time duration is almost a picosecond or less. Ultrafast lasers come with a broadband optical range and can be produced by mode-locked oscillators.
The Ultrafast Lasers market is segmented by Laser Type (Solid State Laser, Fiber Laser), End User (Consumer Electronics, Medical, Automotive, Aerospace and Defense, Research), Pulse Duration (Picosecond, Femtosecond), Application (Material Processing and Micromachining, Medical and Bioimaging, Other Applications) and Geography North America, Europe, Asia-Pacific, Latin America, Middle East and Africa). The impact of Covid-19 on the market and the affected segments are also covered under the scope of the study. Further, the disruption of the factors affecting the market's expansion in the near future has been covered in the study regarding drivers and restraints.
The market sizes and forecasts are provided in terms of value (USD million) for all the above segments.
By Laser Type
Solid State Laser
Fiber Laser
By End-User
Consumer Electronics
Medical
Automotive
Aerospace and Defense
Research
By Pulse Duration
Picosecond
Femtosecond
By Application
Material Processing And Micromachining
Medical And Bioimaging
Other Applications (Research-related applications)
By Geography
North America
Europe
Asia-Pacific
Latin America
Middle East and Africa
Ultrafast Lasers Market Research FAQs
How big is the Ultrafast Lasers Market?
The Ultrafast Lasers Market size is expected to reach USD 2.14 billion in 2023 and grow at a CAGR of 14.09% to reach USD 4.13 billion by 2028.
What is the current Ultrafast Lasers Market size?
In 2023, the Ultrafast Lasers Market size is expected to reach USD 2.14 billion.
Who are the key players in Ultrafast Lasers Market?
Amplitude Group, Coherent Inc., Ekspla, MKS Instruments Inc. and Jenoptik Laser GmbH are the major companies operating in the Ultrafast Lasers Market.
Which is the fastest growing region in Ultrafast Lasers Market?
Europe is estimated to grow at the highest CAGR over the forecast period (2023-2028).
Which region has the biggest share in Ultrafast Lasers Market?
In 2023, the Asia-Pacific accounts for the largest market share in the Ultrafast Lasers Market.
Ultrafast Lasers Industry Report
Statistics for the 2023 Ultrafast Lasers market share, size and revenue growth rate, created by Mordor Intelligence™ Industry Reports. Ultrafast Lasers analysis includes a market forecast outlook to 2028 and historical overview. Get a sample of this industry analysis as a free report PDF download.
Ultrafast Lasers Market Report Snapshots
80%

of our clients seek made-to-order reports. How do you want us to tailor yours?