The global smart utilities management market is expected to register a CAGR of 18.46%, during the forecast period (2018 - 2023). The scope of the market covers the smart utilities management service.
The growing importance of smartening a country's power grid system is heightened by the developing consumer model happening through the rise in decentralized power generation systems, such as Waste-to-Power, and Rooftop Solar PV technologies. The advent of smart cities and smart grids is also proving as a major driver for smart utility management adoption. Furthermore, innovation in battery technology is allowing smaller devices with longer operating times. Integration of cloud technologies is also expected to provide opportunities to grow in this area.
Smart Meter Management to Hold a Lion's Share of the Market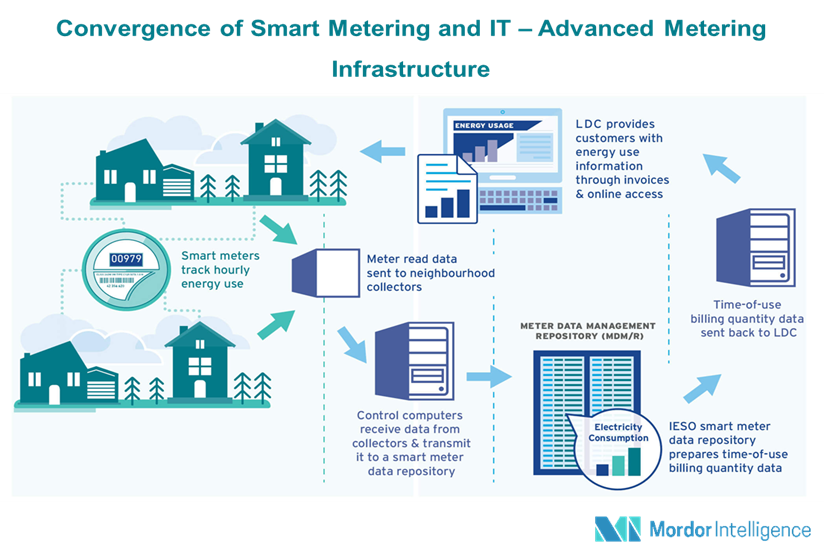 A majority of the utilities are currently concentrating on setting up AMI infrastructure for meeting administrative requirements, green power initiatives, and additional business benefits. Large volumes of data are being collected, with AMI meters being deployed, but utility providers did not start realizing the benefits of received data, and other AMI capabilities, to remotely perform transactions, apart from just accepting the monthly billing read. The key to successful AMI implementation is to leverage the value of meter data. The primary interface for any large-scale AMI system is the MDMS (Meter Data Management Systems), and the MDMS forms a fundamental part of AMI. MDMS is used as a standard repository for AMI meter data, and its suite of applications are used for a variety of analysis, and help in realizing the business benefits by integrating with other utility systems. MDMs are also looked like a single interface for all the utility system to communicate with AMI. Increasing investments in smart grid systems, around the world, are one of the primary factors driving the growth of these systems. Governments around the world are pushing the deployment of AMI to automate the existing operations and push technology growth. With smart grid systems offering high efficiency and helping in cost saving, the demand for the smart grid is growing, having a direct impact on affecting the growth of smart meters.
Development of Smart Cities to Drive the Market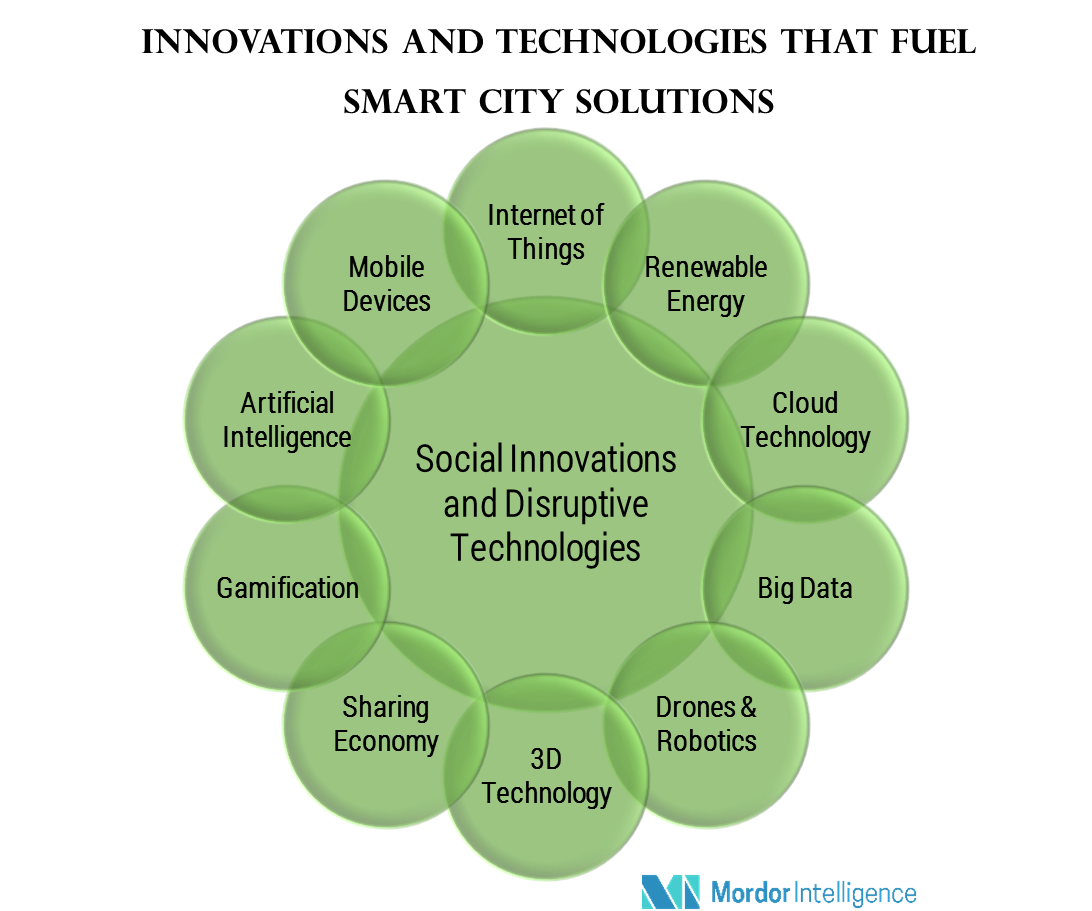 The expanding population living in urban areas (58% by 2025), and the overall growth of urban population (81% of total population that are living in cities), is the major driver for the adoption of intelligent and smart solutions. The main reason behind the growth of smart cities is the need for effective solutions, in managing the cities. Governments of various countries are expected to collaborate and partner with each other, in order to transform into a collaborative and integrated service delivery model, from the traditional silo based model. The technology has evolved considerably over the last decade leading to increased adoption of smart homes, smart transportation, smart utilities, and smart energy management solutions. In smart homes, there is an increasing demand for controlled lighting, heating, and other electronic appliances, such as AC, which can be remotely controlled from a centralized device. Consumers have recognized the value, security, and energy efficient solutions provided by smart homes. The ease of managing, monitoring and controlling home appliances and devices, at any time, from any location, is increasing the consumer acceptance for smart homes. The emergence of the Internet of Things (IoT), technologies like near field communications, wearables, and smartphones, Wi-Fi, bluetooth and ZigBee protocols has further increased the demand for the smart cities market. The expansion of cities and urbanization, widespread adoption of green technology, and cost efficiency in electricity are the factors driving the demand for smart cities in the Middle East region. Whereas, the high cost of investments and security breaches are the factors restraining the growth of the market. The major solutions in smart homes include safety, security and energy management solutions. The smart transportation includes parking guidance systems, connected vehicles, traffic management systems, and other location-based services. The smart home devices range from simple standalone sensors that detect the changes in water levels in the basement, to highly sophisticated devices equipped with self-learning, and artificial intelligence abilities that are connected through the IoT, and can be monitored, and controlled from anywhere.
Asia-Pacific to Witness Fastest Growth during the Forecast Period
In Asia-Pacific, in the recent past, countries such as Australia, Japan, and South Korea have shown considerable strides in their efforts to smarten their utility network systems. For instance, in the case of Japan, its major utilities have committed toward widespread smart meter rollouts by 2024, that could lead to installations of over 78 million smart meters across residential, and low-use customers. The number of smart meter installations had exceeded 10 million in 2016. Besides, the four major electric utilities, namely TEPCO, Tohoku Electric Power Co., Hokuriku Electric Power Co., and Kyushu Electric Power Co., have installed 750,000 smart meters in commercial premises, and are planning to complete their rollouts by the end of 2018. Furthermore, TEPCO is expected to roll out 27 million smart meters by 2020. Behind this inimitable urgency is the government's goal of completing the connection of smart meters by 2020. Additionally, in South Korea, KEPCO is expected to invest USD 155 million between 2015 and 2018 for developing smart grid into a business model, and export them, which will include building technologies that will reduce spending on power while boosting energy savings and efficiency. In China, the State Grid Corporation has installed around 90 million units of smart meters in 2014 and 2015. More than 100 local developers of smart meters are focusing on up gradation of existing core technologies and communication modes, as they are being the major reasons for many concerns in Chinese smart meters market. Similarly, Victoria in Australia has been the first in the race toward a complete smart meter rollout, which was undertaken by SP AusNet and four other electricity distribution providers. Such advancements in the region have led to an increased dependence on smart utilities management software and services, due to the increased efficiency it allows to major utility providers
Key Developments
May 2017 - Neoen entered framework agreement with Schneider Electric for 750 MW of solar solutions and services, worldwide
April 2017 - Schneider Electric and Accenture completed the development of the Schneider Electric Digital Services Factory, a 'virtual' factory that enables Schneider Electric, the global specialist in energy management and automation, to rapidly build, and scale, new offerings in areas such as predictive maintenance, asset monitoring, and energy optimization
February 2017 - ABB acquired a Spanish start-up company, NUB3D, to strengthen its digital offering
Major Players: IBM Corporation, Atos SE, Honeywell International Inc., ABB Ltd, Cisco Systems, Inc., Siemens AG, Tendrill Inc., Itron Inc., AutoGrid Systems Inc. and EcoFactor Inc. amongst others.
Reasons to Purchase this Report
Identifying how the focus towards cost-cutting and business process improvement acts as a driver to the global market scenario
Analyzing various perspectives of the market with the help of Porter's five forces analysis
Outlining the management system that is expected to dominate the market
Identifying the regions that are expected to witness fastest growth during the forecast period
Identifying the latest developments, market shares, and strategies, employed by the major market players
3-month analyst support, along with the Market Estimate sheet in excel
Customization of the Report
This report can be customized to meet your requirements. Please connect with our representative who will ensure you get a report that suits your needs