The global smart polymers market is expected to grow at a significant rate during the forecast period, majorly driven by the applications of shape memory polymer in automotive and textile industry. Smart polymers are also referred to as intelligent polymers or environmentally sensitive polymers. The ability to respond to a slight environmental fluctuation is the major feature that makes these polymers smart.
Applications of Shape Memory Polymer in Automotive and Textile Industry Driving the Market
In the automotive industry shape memory polymers are used in reconfigurable storage bins, seat assemblies, energy absorbing assemblies, hood assemblies, vehicles structures, airflow control systems, releasable fastener systems, and adaptive lens assemblies. Moreover, they are used in vehicle airflow control systems that consist of activation device made up of shape memory polymer materials. It controls the airflow based on environmental changes and helps in better performance of vehicle drag and cooling or heating exchange. Textiles integrated with SMPs can help in achieving different 3D forms in garments. Window curtains or films with SMPs can also act under the influence of external stimuli by opening and closing intelligently. The changes in microstructure and macrostructure properties of smart clothing in response to stimuli can help in achieving heat and moisture management of human bodies. With the rapid development of SMPs for integrating SMPs into automotive subsystems and textiles, the use of SMPs in the automotive and textile industry is expected to grow in multiple dimensions, as a result of their promising potential applications.
Thermo-Responsive Polymers the Dominating Type
Therapeutic agents, such as drugs, cells or proteins can be mixed with the polymer forming a gel deposit and injected over the damaged area after increasing the temperature. Medical advancements, emerging biotechnologies, and an overall increasing healthcare industry are expected to drive the demand for thermo-responsive polymers.
North-America to Dominate the Smart Polymers Market
The demand for smart polymers is high in North America, owing to increase in research initiatives for the implementation and commercialization of smart polymers. United States has the largest share in the global healthcare market and rapid growth of the medical industry in the nation is expected to augment the demand for smart polymers. Furthermore, rise in adoption of smart polymers in diverse applications such as drug delivery, food & drug packaging, tissue engineering, and robotics are the major factors that boost the market growth in the forecast period.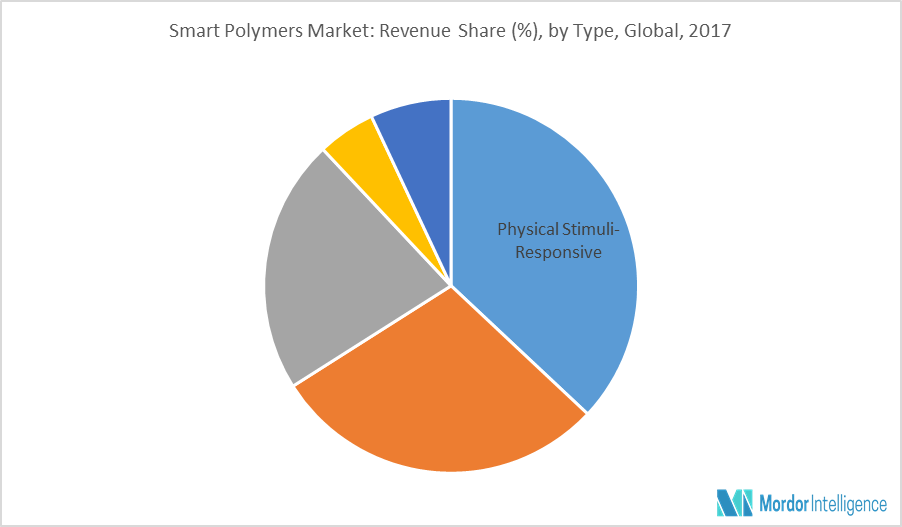 Notable Developments
May 2017: Lubrizol introduced a new smart polymer series named Carbopol, which included three polymers for the personal care industry at New York Society of Cosmetic Chemists (NYSCC)
Major Players: Akzo Nobel, Lubrizol, Spintech, Autonomic Materials, BASF SE, Advanced Ploymer Materials, and Huntsman amongst others.
Reason to Purchase this Report
To understand the impact of various product type on the market
Analyzing various perspectives of the market with the help of Porter's five forces analysis
To understand the dominating product type and end-user industry in the market
Countries expected to witness the fastest growth during the forecast period
Identify the latest developments, market shares, and strategies employed by the major market players
3-month analyst support along with the Market Estimate sheet in excel
Customization of the Report
This report can be customized to meet your requirements. Please connect with our analyst, who will ensure you get a report that suits your needs
1. Introduction
1.1 Scope of the Report
1.2 Research Phases
1.3 Study Deliverables
2. Executive Summary
3. Market Insights
3.1 Industry Value Chain Analysis
3.2 Industry Attractiveness – Porter's Five Forces Analysis
3.2.1 Bargaining Power of Suppliers
3.2.2 Bargaining Power of Consumers
3.2.3 Threat of New Entrants
3.2.4 Threat of Substitute Products and Services
3.2.5 Degree of Competition
4. Market Dynamics
4.1 Drivers
4.1.1 Application of Shape Memory Polymer in Automotive and Textile Industry
4.1.2 Increasing Need for Efficient Drug Delivery System
4.1.3 Development of Smart Biopolymers
4.2 Restraints
4.2.1 High Cost of Technology and Development of Smart Polymers
4.3 Opportunities
4.3.1 Increase in Awareness About Smart Polymers in Latin America and Middle-East & Africa
4.3.2 Incorporation of Smart Polymers in 3D Printing
5. Market Segmentation and Analysis - (Market Size, Growth, and Forecast)
5.1 By Type
5.1.1 Physical Stimuli-Responsive
5.1.1.1 Thermo-responsive Polymers
5.1.1.2 Photo-responsive Polymers
5.1.1.3 Shape Memory Polymers
5.1.1.4 Electroactive & Magnetically-responsive Polymers
5.1.2 Chemical Stimuli-responsive
5.1.2.1 pH-responsive Polymers
5.1.3 Biological Stimuli-responsive
5.1.3.1 Enzymes-responsive Polymers
5.1.4 Self-healing Polymers
5.1.5 Others
5.2 By Application
5.2.1 Bio-separation
5.2.2 Biocatalyst
5.2.3 Drug Delivery
5.2.4 Tissue Engineering
5.2.5 Medical Devices
5.2.6 Packaging
5.2.7 Textile
5.2.8 Optical Data Storage
5.2.9 Automotive
5.2.10 Others
6. Regional Market Analysis (Market size, Growth, and Forecast)
6.1 Asia-Pacific
6.1.1 China
6.1.2 India
6.1.3 Japan
6.1.4 South Korea
6.1.5 Rest of Asia-Pacific
6.2 North America
6.2.1 United States
6.2.2 Canada
6.2.3 Mexico
6.2.4 Rest of North America
6.3 Europe
6.3.1 Germany
6.3.2 United Kingdom
6.3.3 France
6.3.4 Italy
6.3.5 Rest of Europe
6.4 South America
6.4.1 Brazil
6.4.2 Argentina
6.4.3 Rest of South America
6.5 Middle East & Africa
6.5.1 Saudi Arabia
6.5.2 South Africa
6.5.3 Rest of Middle East & Africa
7. Competitive Landscape
7.1 Mergers & Acquisitions, Joint Ventures, Collaborations and Agreements
7.2 Market Share Analysis**
7.3 Strategies Adopted by Leading Players
8. Company Profiles (Overview, Financials**, Products & services, Recent Developments)
8.1 Autonomic Materials
8.2 Akina, Inc.
8.3 Akzo Nobel
8.4 BASF SE
8.5 Covestro AG
8.6 DowDuPont
8.7 Evonik Industries AG
8.8 High Impact Technology
8.9 Huntsman International LLC
8.10 Merck Group
8.11 The Lubrizol Corporation
8.12 Natureworks LLC
8.13 Nissan Chemical Industries Ltd
8.14 SABIC
8.15 SMP Technologies Inc.
8.16 Spintech LLC
*List not exhaustive
9. Disclaimer
**Subject to availability on public domain