Smart Manufacturing Market
The Smart Manufacturing Market was valued at USD 119.68 billion in 2017, expected to register a CAGR of 9.84%, over the forecast period (2018-2023).. The scope of the report is limited to products offered by major players for smart manufacturing including Programmable Logic Controller, Supervisory Controller and Data Acquisition, Enterprise Resource and Planning, Distributed Control System. While the end users considered in the scope of the report include Automotive, Semi-Conductor, Oil & Gas, Chemical & Petrochemical, Pharmaceutical, Aerospace & Defense, Food & Beverage, and Mining. The study also emphasizes on various attack points on materials used for smart manufacturing and various regions considered globally.
The continuous growth in the adoption of analytical solutions, and the growing concentration on cost reduction and business process proficiency, is expected to boost the smart manufacturing market. The market also has lucrative prospects, as leading players are offering a technologically advanced solution to small and medium-sized businesses (SMB's). The new solutions are garnering a positive image, as they are specifically designed to overcome the modern-day production challenges.
The ability to ensure maximum efficiency, and efficient utilization of resources, is the major differentiator of smart manufacturing technologies. Consequently, increasing number of manufacturers are using these technologies for setting standards, for effective trade-off decisions, maintenance, operation, risk assessment, control, logistic, business, and operation.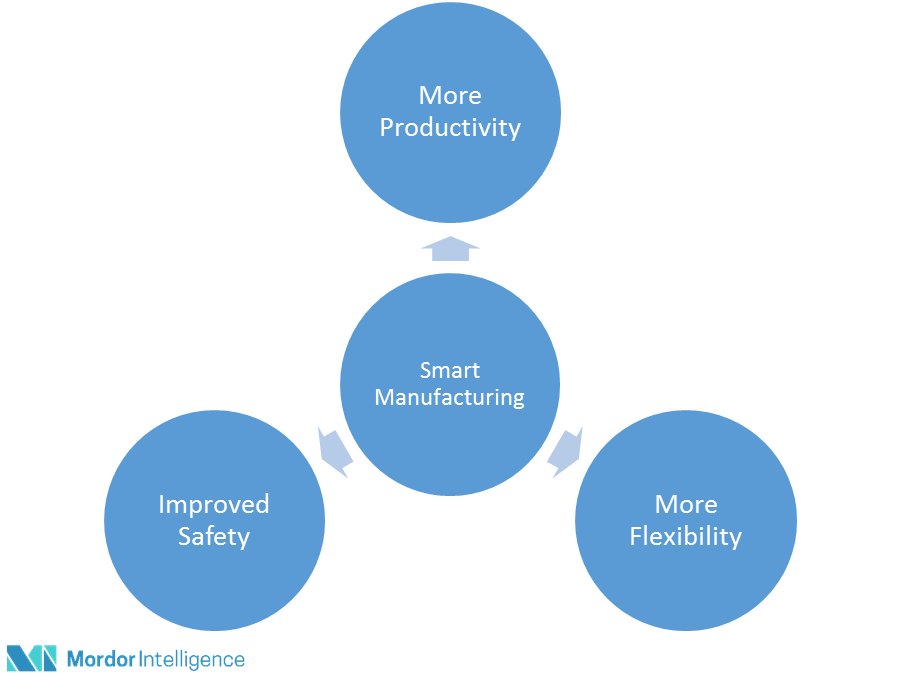 Increasing Deployment of IoT Systems in Manufacturing Leads to Growth of Smart Manufacturing
The next industrial evolution is Industrial Internet of Things, which connects everything within the industrial environment, and provides complete operational visibility, besides allowing real-time decisions. The world leaders are fuelling the connected enterprise strategies, as the industry is moving toward increased usage of IoT applications. The deployment of smarter manufacturing infrastructure, which is based on IoT techniques, helps the companies establish and maintain a wealth of knowledge across control methods, manufacturing, and business processes. The IoT in industry helps connect various sensors & devices through networking, which enable analytics of events and issues. It will provide an overall status of the devices, which in turn will lead to reduced costs, reduced waste, and elimination of loss. The strategic move to Industrial 4.0, which is referred to as the highly industrialized economy moving through IoT and M2M, is greatly helping in increasing efficiency through analytical insight, reducing system failures through predictive analytics, and optimizing the costs by cutting on wastage. For instance, Lido Stone Works, a premium supplier of stone materials, which leveraged IoT and M2M solutions for their industrial automation, experienced a revenue growth by almost 70%, and increased productivity by almost 30%.
PLC Systems Contribute to Reduce Down Time in Manufacturing Scenario
Machine downtime is one of the major factors that affect the manufacturing efficiency. Downtime is defined, as a halt in the manufacturing, or any other industrial process, due to the unavailability of a machine. Machine downtime also results in additional costs for manufacturers, which increases the production cost, thus, resulting in production losses, or decreased profit margin. The additional costs include Idle labor pay, repair of machinery, additional power costs, additional resources, and over time running costs. It is estimated that downtime is responsible for 20% of the total manufacturing losses.
Deployment of PLC systems can help reduce the machine downtime drastically. Since these systems are automated, they can identify and rectify an error without human intervention. The systems are designed to monitor the machine, working continuously to detect any error or malfunctioning of the machinery, and initiate a rapid response. Downtime of machines can be reduced from 20% to 4%, by the use of automated PLC systems. Increased need for reducing the system downtime is boosting the market.
High Growth in Canada Market and Factors for the Growth
Canadian manufacturers rely on innovation and investment in technologies, in order to be competitive. In an environment of increasing input, labor costs and competition from the large global manufacturers, it is necessary to invest in technologies, to remain competitive and maintain the operating margins. With over five heavy-duty assembly plants, over 540 OEM parts manufacturers, 400 dealerships, and many other automotive related industries, Canada is the 9th largest vehicle producer in the world, and this sector is the biggest contributor to the manufacturing industry of the country. The manufacturing industry is estimated to contribute approximately 11% to the Canadian GDP. The manufacturing sector is the largest investor in R&D and implementation of new technologies, in Canada. The government has also taken many initiatives, such as lowering taxes for new investments, various trade agreements with other countries (improved trade opportunities), investments in new technologies, and many skill-training programs, which have helped the manufacturing sector to boom in Canada.
Key Developments in the Smart Manufacturing Market
November 2017 - Yokogawa Electric Corporation announced the release of an enhanced version of the STARDOM network-based control system, in the first quarter of fiscal year 2018. This new version of the STARDOM system is expected to include a new E2 bus interface module that has been developed for use in FCN-500 autonomous controller extension units
November 2017 - Schneider Electric launched a new service designed to help industrial manufacturers modernize their programmable logic control (PLC) systems safely. By reducing downtime and disruption to the operation, the service may provide an easier migration to the company's Modicon M580 programmable automation controllers
September 2017 - Siemens and Fair Friend Enterprise Co entered into a partnership. The aim of the extended partnership was to consolidate the integration of the Siemens Digital Enterprise Suite across the Taiwanese business, and to integrate innovative Siemens digitalization and automation technologies into FFG's machine tools and machine tool technologies
Smart Manufacturing Market Major Players: ABB Ltd., Emerson Electric Company, Fanuc Corp, General Electric Company, Honeywell International Inc., Texas Instruments Inc., Mitsubishi Electric Corporation, Robert Bosch GmbH, Rockwell Automation Inc., Schneider Electric SE, Siemens Corporation, and Yokogawa Electric Corporation, among others
Reasons to Purchase Smart Manufacturing Market Report
Examining the effects of adoption of Global Smart Manufacturing in market scenario
Analyzing various perspectives of the market with the help of Porter's five forces analysis
Technology that is expected to dominate the market
Regions that are expected to witness fastest growth during the forecast period
Identifying the latest developments, market shares and strategies employed by the major market players
3-month analyst support, along with the Market Estimate sheet
Customize Smart Manufacturing Market Report
This report can be customized to meet your requirements. Please connect with our representative, who will ensure you get a report that suits your needs
1. Introduction
1.1 Scope of the Study
1.2 Study Deliverables
2. Research Approach and Methodology
2.1 Study Assumptions
2.2 Analysis Methodology
2.3 Research Phases
3. Executive summary
3.1 Executive Summary
4. Market Insights
4.1 Market Overview
4.2 Industry Attractiveness - Porter's Five Forces Analysis
4.2.1 Bargaining Power of Suppliers
4.2.2 Bargaining Power of Consumers
4.2.3 Threat of New Entrants
4.2.4 Threat of Substitute Products and Services
4.2.5 Competitive Rivalry among Existing Competitors
4.3 Current Market Trends
4.4 Industry Value Chain Analysis
5. Market Dynamics
5.1 Drivers
5.1.1 Increasing Demand for Automation to Achieve Efficiency and Quality
5.1.2 Need for Compliance and Government Support for Digitization
5.1.3 Proliferation of Internet of Things
5.2 Restraints
5.2.1 Concerns Regarding Data Security
6. Segmentation
6.1 By Technology
6.1.1 Distributed Control System
6.1.2 Enterprise Resource and Planning
6.1.3 Smart Manufacturing
6.1.4 Manufacturing Execution System
6.1.5 Programmable Logic Controller
6.1.6 Supervisory Controller and Data Acquisition
6.1.7 Other Technologies
6.2 By Components
6.2.1 Communication Segment
6.2.2 Control Device
6.2.3 Machine Vision Systems
6.2.4 Robotics
6.2.5 Sensor
6.2.6 Other Components
6.3 By End-user Industry
6.3.1 Aerospace and Defense
6.3.2 Automotive
6.3.3 Chemical and Petrochemical
6.3.4 Food and Beverage
6.3.5 Mining
6.3.6 Oil and Gas
6.3.7 Pharmaceutical
6.3.8 Semiconductor
6.3.9 Other End-user Industries
7. Segmentation By Region
7.1 North America
7.1.1 United States
7.1.2 Canada
7.2 Europe
7.2.1 Germany
7.2.2 United Kingdom
7.2.3 Rest of Europe
7.3 Asia-Pacific
7.3.1 China
7.3.2 India
7.3.3 Japan
7.3.4 Rest of Asia-Pacific
7.4. Latin America
7.4.4.1 Brazil
7.4.4.2 Mexico
7.4.4.3 Rest of Latin America
7.5 Middle East & Africa
8. Smart Manufacturing Market Company Profiles
8.1 ABB Ltd.
8.2 Emerson Electric Company
8.3 Fanuc Corp
8.4 General Electric Company
8.5 Honeywell International Inc.
8.6 Texas Instruments Inc.
8.7 Mitsubishi Electric Corporation
8.8 Robert Bosch GmbH
8.9 Rockwell Automation Inc.
8.10 Schneider Electric SE
8.11 Siemens Corporation
8.12 Yokogawa Electric Corporation
9. Investment analysis
10. Future of the Market