Smart Manufacturing Market Size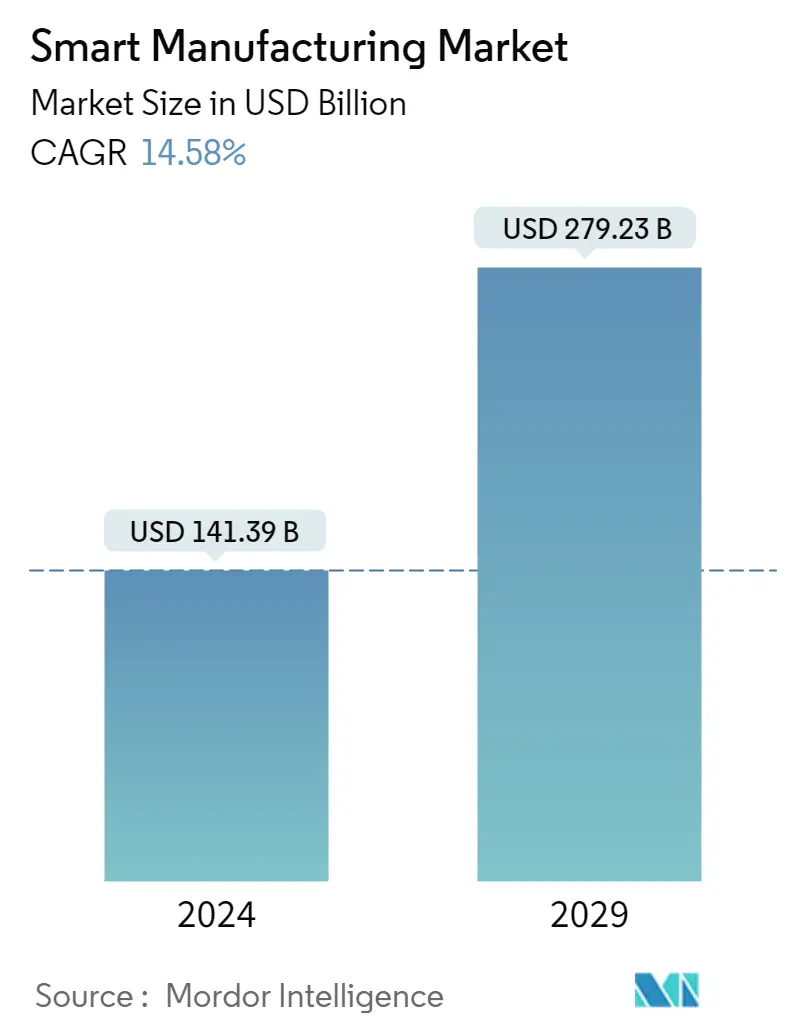 Study Period
2018- 2028
Market Size (2023)
USD 123.40 Billion
Market Size (2028)
USD 243.70 Billion
CAGR (2023 - 2028)
14.58 %
Fastest Growing Market
Asia Pacific
Largest Market
North America

Major Players

*Disclaimer: Major Players sorted in no particular order
Need a report that reflects how COVID-19 has impacted this market and its growth?
Smart Manufacturing Market Analysis
The Global Smart Manufacturing Market size is expected to grow from USD 123.40 billion in 2023 to USD 243.70 billion by 2028, at a CAGR of 14.58% during the forecast period (2023-2028).
The increasing initiatives to adopt smart manufacturing will drive market growth. Smart Manufacturing Leadership Coalition (SMLC), a combination of US-based industrial organizations, technology suppliers, laboratories, and universities, is working on a next-generation Smart Manufacturing Platform and Smart Factory connectivity. Similarly, another industry-led initiative, the Industrial Internet Consortium (IIC), was formed to bring together the advanced technologies and organizations needed to accelerate the growth of industrial automation.
Using services and software, such as SCADA, ERP, HMI, PLC, DCS, PLM, and MES, has enabled industries to collect real-time data and make decisions. The software has been beneficial to the industry as it reduces product errors, reduces downtime, conducts planned maintenance, moves from the reactive phase to the predictive and prescribing phases, and enables decision-making.
The dependence on process control and systems combined with the convergence of IT and operating technologies systems has increasingly exposed manufacturing firms to cyber attacks. Manufacturers' control systems have long been deemed impenetrable due to their proprietary and customized networks. IoT has opened the scope for the theft of proprietary information. With more automation and digitization of these devices, which were originally built without the proper security measures, the data security concern will also grow, hindering the market growth.
Furthermore, investments in Industry 4.0 are rising globally. Organizations have started adopting Industry 4.0 smart solutions owing to their positive impact on their businesses, including increased productivity. For instance, as per a report by Capgemini and the National Association of Software and Services Companies (NASSCOM), it is expected that more than two-thirds of the Indian manufacturing sector intention embrace Industry 4.0. by 2025
Moreover, the companies operating in the market focus on innovations and launch new products to stay ahead of the competition. For instance, in February 2023, which announced the launch of Programmable Logic Controller OTAC to combat key unresolved challenges related to industrial IoT, smart factories, and operational technology (OT). This provides a highly optimized and highly secure authentication solution specifically for PLC devices by utilizing their dynamic 'one-time authentication code' (OTAC) technology to resolve typical ICS/OT security challenges.
The outbreak of COVID-19 triggered the manufacturing sector to re-evaluate its traditional production processes, primarily driving digital transformation and smart manufacturing practices across the production lines. The manufacturers also forced to implement and devise multiple agile and new approaches to monitor product and quality control.
Smart Manufacturing Market Trends
Automotive Industry is Expected to Drive the Market Growth
Automotive manufacturing is expected to gain strong impetus from smart technologies, Industry 4.0, IoT, etc. Discrete manufacturing is producing or manufacturing distinct parts that can be individually counted and touched. The pieces are mainly related to assembly lines. Discrete manufacturing includes products, such as cars, automotive parts, etc., that are increasingly connected.
Smart manufacturing is expected to help balance supply and demand, enhance product design, optimize manufacturing efficiency, and significantly reduce waste. Field devices, like robotics, sensors, etc., and ICS offer opportunities to the automotive sector to react faster to market requirements, reduce manufacturing downtimes, enhance supply chain efficiency, and expand productivity.
Smart manufacturing addresses the prime concern of the automotive industry, i.e., the length of a project. Quick return-on-investment projects combined with low-cost automation and cost innovation are helping manufacturers improve competitiveness through productivity improvement.
Further, according to UBS, Europe's projected electric vehicle sales are expected to reach 6.33 million units by 2025, followed by China, with 4.84 million units. As Europe and Asia-Pacific are leading the electric vehicles demand, the regions are anticipated to see an increase in smart automotive factories' implementation.
To cater to the changing landscape of automotive manufacturing, many players in the industry are adopting smart manufacturing solutions. For instance, in January 2022, Huayu Automotive Systems Co., which does business as HASCO, and ABB Group announced that they have created a joint venture building on their existing relationship "to drive the next generation of smart manufacturing." The companies claimed that the joint venture would enable them to further develop HASCO's leading position with automated solutions that benefit customers in China.
For the past 50 years, the automotive industry has used robots in its assembly lines for various manufacturing processes. Currently, automakers are exploring the use of robotics in more procedures. Robots are more efficient, flexible, accurate, and dependable for such production lines. This technology enables the automotive industry to remain one of the most significant robot users and possess one of the most automated supply chains globally.
For instance, in April 2022, an automotive manufacturing company, Fiat, a subsidiary of Stellantis NV, invested EUR 700 million at its Mirafiori factory, intending to produce 500 electric vehicles using state-of-the-art technology, such as collaborative robots. The company aims to automate its complex assembly line operations and quality controls, installing 11 cobots from Universal Robots A/S. Cobots are an essential part of the smart factory since they are compact, light, and built to work alongside humans safely.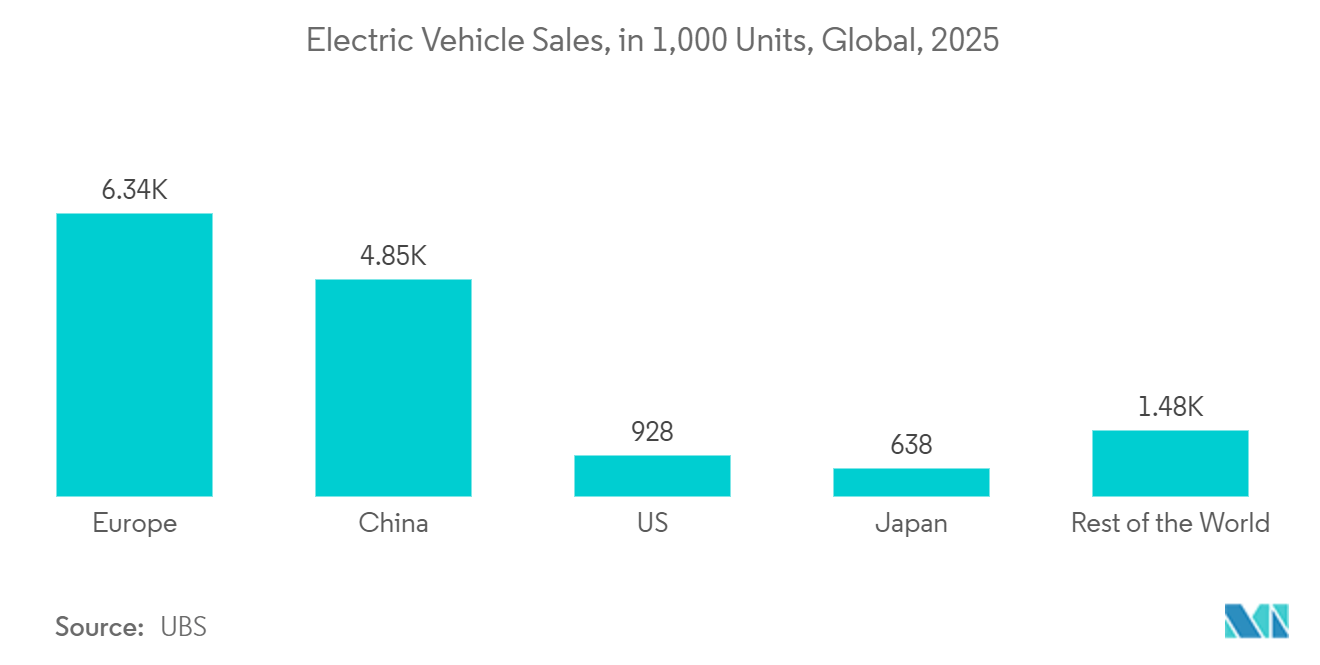 To understand key trends, Download Sample Report
Asia Pacific Region to Occupy a Major Market Share
China produces a sizeable portion of the market's demand and has the largest manufacturing sector in the entire world. In addition, despite production and supply chain setbacks brought on by COVID-19 curbs, the nation's industrial output increased by 3.6% in 2022 compared to the previous year, according to the Ministry of Industry and Information Technology (MIIT). The MIIT predicted that the manufacturing sector's output would have increased by 3.1% in 2022, making up 28% of China's GDP.
Traditionally seen as the world's manufacturing factory, China has significantly transformed from (cheap) labor-intensive manufacturing to high-end manufacturing through digitalization and industrialization. According to GSMA, China may account for one-third of the global IIoT market by 2025.
Manufacturing has also emerged as one of the high-growth sectors in India. The 'Make in India' program places India on the world map as a manufacturing hub and globally recognizes the Indian economy.
Government plays an important role in implementing the use of cases of IIoT in the region. Government initiatives, like Digital India and Make in India, are adding impetus to the Indian manufacturing industry. IoT immensely benefits the Make in India campaign by providing innovative ways to sustain manufacturing organizations' sustainable development.
Moreover, India's pharmaceutical sector is comparatively ahead in automation, with the major pharmaceutical companies in the country, such as Zydus Cedilla, Torrent Pharma, and Cipla, focusing on automating their manufacturing processes of drugs, especially in areas where the complete integration of machines and equipment is required.
Additionally, India's government aims for a USD 5 trillion economy by 2025, of which manufacturing may be worth USD 1 trillion. The convergence of flagship programs, such as Make in India with Skill India and Digital India, may be key to achieving this goal, thereby driving the country's market growth.
Furthermore, several leading industry players are investing in smart manufacturing units in India to improve efficiency and gain a competitive edge in the market. For instance, in March 2023, Samsung Electronics announced investing in smart manufacturing capabilities at its second-largest mobile phone plant in Noida to make production more competitive.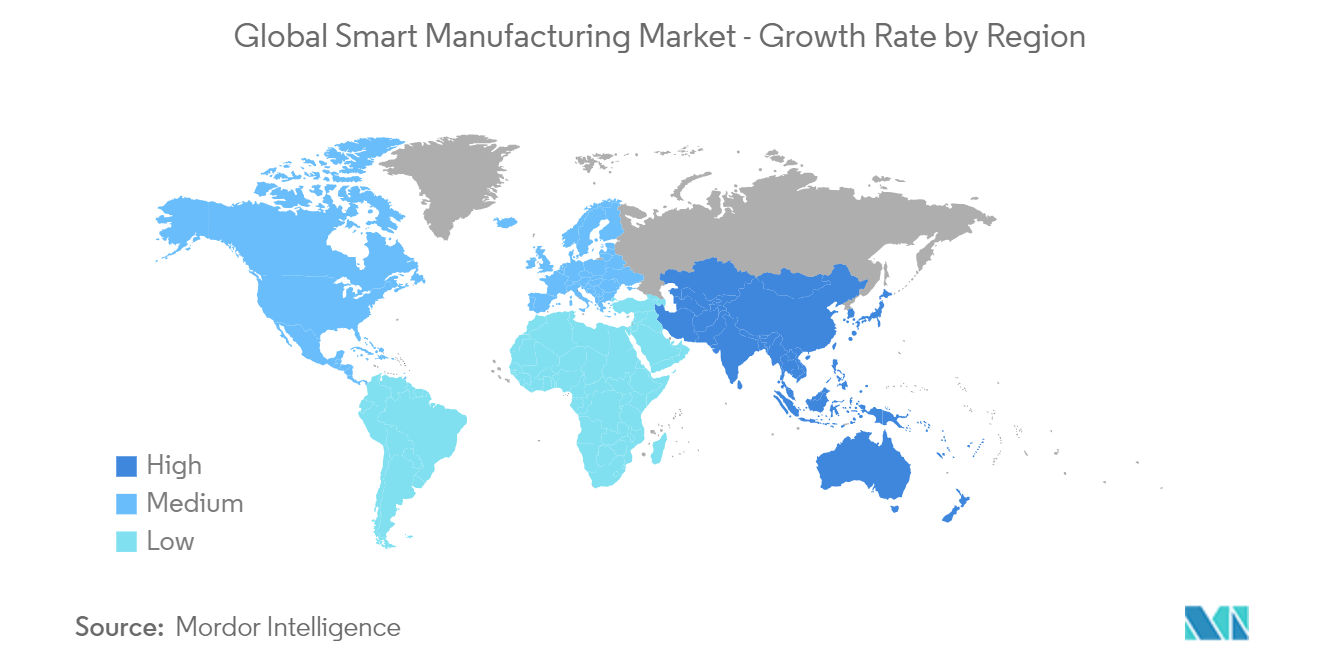 To understand geography trends, Download Sample Report
Smart Manufacturing Industry Overview
The smart manufacturing market is highly competitive and consists of several major players. The major players with star shares in the market focus on expanding their customer base across foreign countries. The companies leverage strategic collaborative initiatives to increase their market share and profitability. The companies operating in the market are also acquiring start-ups working on autonomous delivery robot technologies to strengthen their product capabilities.
In May 2023, Mitsubishi Electric Corporation announced to make a strategic investment in Clearpath Robotics to support the development of manufacturing automation. Clearpath Robotics specializes in developing and selling autonomous mobile robots (AMR). Through this investment, the company will strengthen its support for complete factory optimization and automation by utilizing AMR systems.
In March 2023, Honeywell International, Inc. announced introducing Honeywell Universal Robotics Controller (HURC) to control disparate robotics and automation systems and facilitate the seamless exchange of data and communications. The company will demo robotic and automation solutions at ProMat 2023 in Chicago.
Smart Manufacturing Market Leaders
ABB Ltd.

Emerson Electric Company

Fanuc Corporation

General Electric Company

Honeywell International Inc.
*Disclaimer: Major Players sorted in no particular order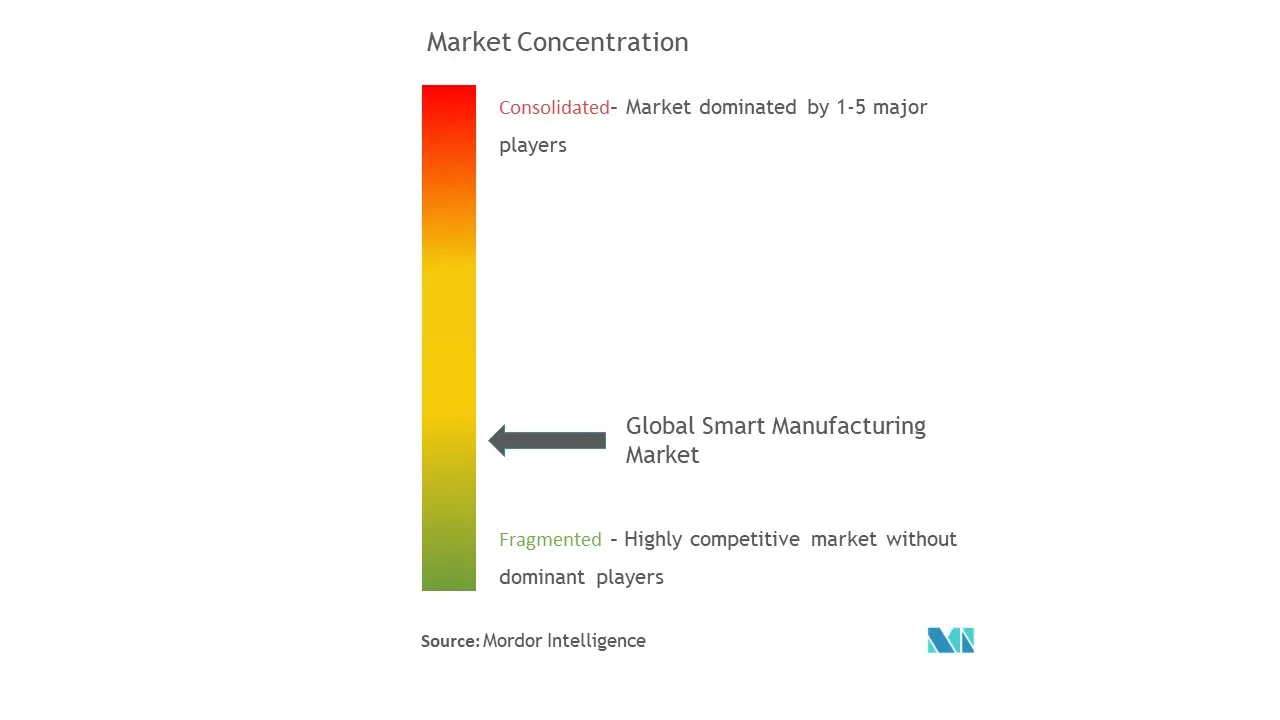 Smart Manufacturing Market News
February 2023: General Electric Company announced new enhancements to its cloud-based Manufacturing Execution System (MES). New and improved cloud-based MES software provides cost-effective and configurable OEE, production, and quality control for manufacturers of all sizes. Discrete, process, and mixed environment manufacturers can reduce costs and maintenance while increasing security with a comprehensive cloud MES.
July 2022: ABB and SKF entered into a Memorandum of Understanding (MoU) to explore the possibilities for collaboration in the automation of manufacturing processes. Through the partnership, the companies will evaluate and identify and solutions to improve manufacturing capabilities and support clients' increased production efficiency.
Smart Manufacturing Market Report - Table of Contents
1. INTRODUCTION

1.1 Study Assumptions and Market Definition

1.2 Scope of the Study

2. RESEARCH METHODOLOGY

3. EXECUTIVE SUMMARY

4. MARKET INSIGHT

4.1 Market Overview

4.2 Industry Value Chain Analysis

4.3 Industry Attractiveness - Porter's Five Forces Analysis

4.3.1 Bargaining Power of Suppliers

4.3.2 Bargaining Power of Buyers

4.3.3 Threat of New Entrants

4.3.4 Threat of Substitute Products

4.3.5 Intensity of Competitive Rivalry

4.4 Impact of COVID-19 on the Smart Manufacturing Market

5. MARKET DYNAMICS

5.1 Market Drivers

5.1.1 Increasing Demand for Automation to Achieve Efficiency and Quality

5.1.2 Need for Compliance and Government Support for Digitization

5.1.3 Proliferation of Internet of Things

5.2 Market Restraints

5.2.1 Concerns Regarding Data Security

5.2.2 High Initial Installation Costs and Lack of Skilled Workforce Preventing Enterprises from Full-scale Adoption

6. MARKET SEGMENTATION

6.1 By Technology

6.1.1 Programmable Logic Controller (PLC)

6.1.2 Supervisory Controller and Data Acquisition (SCADA)

6.1.3 Enterprise Resource and Planning (ERP)

6.1.4 Distributed Control System (DCS)

6.1.5 Human Machine Interface (HMI)

6.1.6 Product Lifecycle Management (PLM)

6.1.7 Manufacturing Execution System (MES)

6.1.8 Other Technologies

6.2 By Component

6.2.1 Machine Vision Systems

6.2.2 Control Device

6.2.3 Robotics

6.2.4 Communication Segment

6.2.5 Sensor

6.2.6 Other Components

6.3 By End-user Industry

6.3.1 Automotive

6.3.2 Semiconductors

6.3.3 Oil and Gas

6.3.4 Chemical and Petrochemical

6.3.5 Pharmaceutical

6.3.6 Aerospace and Defense

6.3.7 Food and Beverage

6.3.8 Metals and Mining

6.3.9 Other End-user Industries

6.4 By Geography

6.4.1 North America

6.4.1.1 United States

6.4.1.2 Canada

6.4.2 Europe

6.4.2.1 Germany

6.4.2.2 United Kingdom

6.4.2.3 France

6.4.2.4 Rest of Europe

6.4.3 Asia Pacific

6.4.3.1 China

6.4.3.2 India

6.4.3.3 Japan

6.4.3.4 Rest of Asia Pacific

6.4.4 Latin America

6.4.4.1 Brazil

6.4.4.2 Mexico

6.4.4.3 Rest of Latin America

6.4.5 Middle East and Africa

7. COMPETITIVE LANDSCAPE

7.1 Company Profiles

7.1.1 ABB Ltd

7.1.2 Emerson Electric Company

7.1.3 Fanuc Corporation

7.1.4 General Electric Company

7.1.5 Honeywell International Inc.

7.1.6 Mitsubishi Electric Corporation

7.1.7 Robert Bosch GmbH

7.1.8 Rockwell Automation Inc.

7.1.9 Schneider Electric SE

7.1.10 Siemens AG

7.1.11 Texas Instruments Incorporated

7.1.12 Yokogawa Electric Corporation

*List Not Exhaustive

8. INVESTMENT ANALYSIS

9. FUTURE OF THE MARKET
**Subject to Availability
Smart Manufacturing Industry Segmentation
Smart manufacturing utilizes Big Data analytics to refine complicated processes and manage supply chains. Big data analytics allows an enterprise to use smart manufacturing to shift from reactionary practices to predictive ones, a change that targets improved efficiency of the process and product performance.
The Global Smart Manufacturing Market is segmented by Technology (Programmable Logic Controller (PLC), Supervisory Controller and Data Acquisition (SCADA), Enterprise Resource and Planning (ERP), Distributed Control System (DCS), Human Machine Interface (HMI), Product Lifecycle Management (PLM), Manufacturing Execution System (MES)), Component (Machine Vision System, Control Devices, Robotics, Communication Segment, Sensor), End-user Industry (Automotive, Semiconductors, Oil and Gas, Chemical and Petrochemical, Pharmaceutical, Aerospace and Defense, Food and Beverage, Metals and Mining), and Geography. The report offers the market size in value terms in USD for all the abovementioned segments.
By Technology
Programmable Logic Controller (PLC)
Supervisory Controller and Data Acquisition (SCADA)
Enterprise Resource and Planning (ERP)
Distributed Control System (DCS)
Human Machine Interface (HMI)
Product Lifecycle Management (PLM)
Manufacturing Execution System (MES)
Other Technologies
By Component
Machine Vision Systems
Control Device
Robotics
Communication Segment
Sensor
Other Components
By End-user Industry
Automotive
Semiconductors
Oil and Gas
Chemical and Petrochemical
Pharmaceutical
Aerospace and Defense
Food and Beverage
Metals and Mining
Other End-user Industries
By Geography

North America
United States
Canada

Europe
Germany
United Kingdom
France
Rest of Europe

Asia Pacific
China
India
Japan
Rest of Asia Pacific

Latin America
Brazil
Mexico
Rest of Latin America

Middle East and Africa
Smart Manufacturing Market Research FAQs
How big is the Global Smart Manufacturing Market?
The Global Smart Manufacturing Market size is expected to reach USD 123.40 billion in 2023 and grow at a CAGR of 14.58% to reach USD 243.70 billion by 2028.
What is the current Global Smart Manufacturing Market size?
In 2023, the Global Smart Manufacturing Market size is expected to reach USD 123.40 billion.
Who are the key players in Global Smart Manufacturing Market?
ABB Ltd., Emerson Electric Company, Fanuc Corporation, General Electric Company and Honeywell International Inc. are the major companies operating in the Global Smart Manufacturing Market.
Which is the fastest growing region in Global Smart Manufacturing Market?
Asia Pacific is estimated to grow at the highest CAGR over the forecast period (2023-2028).
Which region has the biggest share in Global Smart Manufacturing Market?
In 2023, the North America accounts for the largest market share in Global Smart Manufacturing Market.
Smart Manufacturing Industry Report
Statistics for the 2023 Smart Manufacturing market share, size and revenue growth rate, created by Mordor Intelligence™ Industry Reports. Smart Manufacturing analysis includes a market forecast outlook to 2028 and historical overview. Get a sample of this industry analysis as a free report PDF download.
Smart Manufacturing Market Report Snapshots
80%

of our clients seek made-to-order reports. How do you want us to tailor yours?