The global smart highway market was valued at USD 19.89 billion in 2017 and is expected to reach a value of USD 54.11 billion by 2023 at a CAGR of 18.15% over the forecast period of 2018–2023. The regions considered in the scope of the report include North America, Europe, Asia-Pacific and the rest of the world.
Smart highways usually include sensors, smart computing technologies, and smart monitoring systems all connected into a single monitoring unit. Moreover, smart highways are installed to incorporate technologies like utilizing solar energy with photovoltaic pavements, improving the operation of transport vehicles, and for monitoring the condition of the highway and roads. In order to reduce the increasing traffic, traffic technology vendors are introducing advanced changes where highways are one of the attractive segments.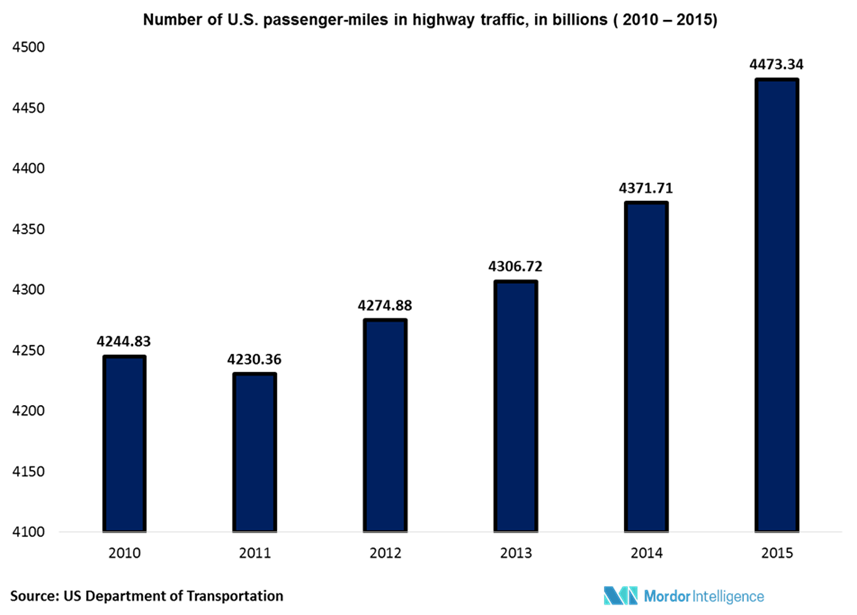 Owing to the intensifying congestion, increasing pollution levels, and continuously increasing traffic, governments, road authorities, and road operators are focusing on upgrading the highway and roadway infrastructure. Due to these efforts, smart highways are expected to witness rapid adoption as they integrate advanced Information Communication Technology (ICT) solutions. Moreover, for building wider, multi-lane roads with high-quality materials and efficient lane markings, highway infrastructure programs in several parts of the world are increasingly relying on advanced technologies and solutions that help in efficiently managing the flow of traffic on highways. However, the high cost of installing all the technologies and components that make up the intelligent highway network are hindering the smart highway market.
Increasing Highway Infrastructure Projects to Drive the Market
According to a study, as of May 2017, there were 1,582 Public Private Partnership projects in India, of which 783 were related to roads and bridges accounting for a value of USD 74.63 billion. Moreover, in 2016, in the United States, the public sector spent over USD 91 billion on highway construction. Highway and road construction in the United States is projected to grow to over USD 99.4 billion by 2020. In addition to this, with increasing traffic and congestion in many countries across the world, highways and roads are expected to adopt smart traffic management systems gradually. With these projects and increasing use of GNSS/GPS navigation systems, coupled with other technological advancements, supported by the innovations in smart transportation systems, intelligent highway systems are expected to gain traction in the market.
Smart Transportation Management System Offers Potential Opportunities
The smart transportation management systems include advanced traffic management and congestion monitoring and management systems, with integration of traffic control centers, access control and route guidance systems that offer a range of benefits. According to the ITS (Intelligent Transportation Systems), development strategy of the Department of Transport in the Republic of Korea, ITS contribute to decreasing fuel consumption and greenhouse gas emissions by reducing traffic congestion and preventing motor vehicles from idling. Owing to similar concerns, the US Department of Energy & Transportation initiated a collaboration to accelerate R&D of innovative smart transportation solutions and alternative fuel technologies. Moreover, with the emergence of electronic toll control, the smart transport systems are expected to gain traction in the forecast period.
North America to Account for a Major Share
North America is the global technological leader. Coupled with this strength, the increased spending on construction and road infrastructure will offer more opportunities to the region to expand. Also, the public construction spending on the highway and street projects in the United States is very high, with USD 91.13 billion in 2017.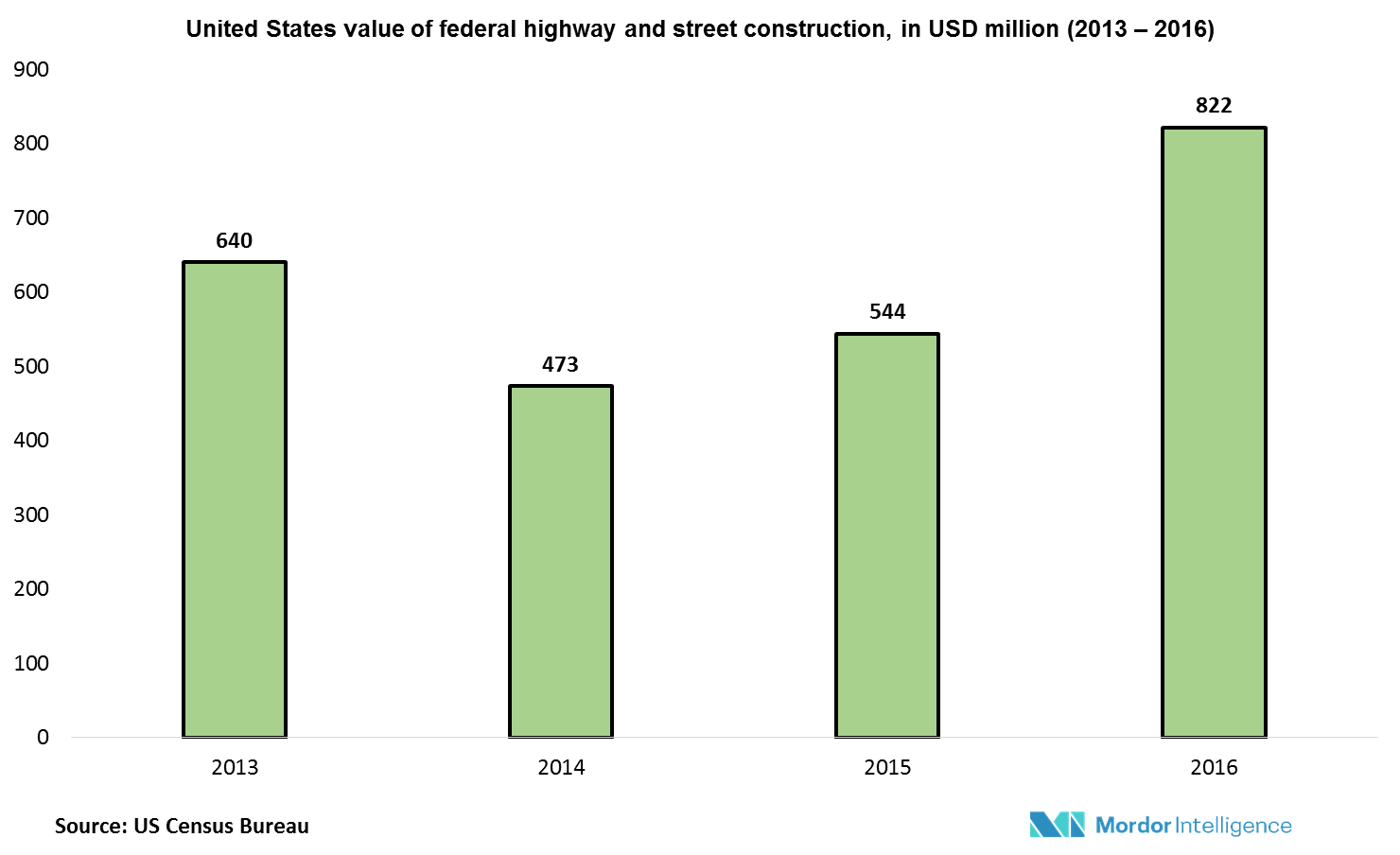 Moreover, investments in connected highway technology in the region will also significantly contribute to the growth of the market in the future. The Ray, which is an 18 mile stretch of interstate in the state of Georgia is a connected highway that offers an interesting model for transport planners and policymakers across the United States. The road has photovoltaic panels rising above a rest stop, part of a sustainable electric vehicle charging station. The addition of solar panels, sustainable landscaping, and Internet of Things (IoT) will make this a smart and sustainable technology in the future. Combining all these aspects, North America is expected to hold a significant share in the market.
Key Developments in the Market
February 2017: Cisco partnered with Davra Networks in February 2017 to gather and analyze real-time data from sensors and data sources to improve mobility and safety across the town, reduce congestion, and improve traffic management. This project was funded by the Department for Transport (DfT), Cooperative-Intelligent Transport Systems (C-ITS), and Smart Infrastructure Competition, which overlooked to improve traffic management on key routes in the town, by providing real-time traffic information to the people of Swindon and delivering updates to commuters in their vehicles to enable them to avoid congestion. The companies engaged in providing smart solutions for traffic management and the increased use in highways to prevent accidents, will offer potential scope for the market to grow.
The major players include Siemens AG, Xerox Corporation, Cisco Systems, Schneider Electric, Infineon Technologies, IBM Corporation, Kapsch AG, Intelligent Highway Solutions Inc., LG CNS, Indra Sistemas S.A., and Alcatel-Lucent, among others.
Reasons to Purchase the Report
Latest trends coupled with the latest innovations in the industry.
Analyzing various perspectives of the market with the help of Porter's Five Forces Analysis.
Regional analysis of the market.
Identify the latest developments, market shares, and strategies employed by the major market players.
3-month analyst support along with the Market Estimate sheet (in Excel).
Customization of the Report
This report can be customized to meet your requirements. Please connect with our representative, who will ensure you get a report that suits your needs.
1. Introduction
1.1 Scope of the Study
1.2 Executive Summary
2. Research Approach and Methodology
2.1 Key Deliverables of the Study
2.2 Study Assumptions
2.3 Analysis Methodology
2.4 Research Phases
3. Market Insights
3.1 Overview
3.2 Drivers
3.2.1 Increasing Highway and Infrastructure Projects
3.2.2 Rising Need for Safe and Efficient Transportation
3.3 Restraints
3.3.1 High Investment Costs
3.4 Industry Value Chain Analysis
3.5 Industry Attractiveness – Porter's Five Forces Analysis
3.5.1 Bargaining Power of Suppliers
3.5.2 Bargaining Power of Consumers
3.5.3 Threat of New Entrants
3.5.4 Threat of Substitute Products and Services
3.5.5 Competitive Rivalry
4. Market Segmentation
4.1 By Technology
4.1.1 Smart Transport Management System
4.1.2 Smart Traffic Management System
4.1.3 Communication System
4.1.4 Monitoring System
4.2 By Type of Display
4.2.1 Digital Signage
4.2.2 Variable Message Sign Displays
4.2.3 Others
4.3 By Deployment
4.3.1 On-cloud
4.3.2 On-premise
4.4 By Service
4.4.1 Consultancy Services
4.4.2 Maintenance and Operation Services
4.4.3 Managed Services
4.5 By Region
4.5.1 North America
4.5.1.1 United States
4.5.1.2 Canada
4.5.1.3 Rest of North America
4.5.2 Europe
4.5.2.1 United Kingdom
4.5.2.2 Germany
4.5.2.3 France
4.5.2.4 Rest of Europe
4.5.3 Asia-Pacific
4.5.3.1 China
4.5.3.2 India
4.5.3.3 Japan
4.5.3.4 Rest of Asia-Pacific
4.5.4 Rest of the World
4.5.4.1 Latin America
4.5.4.2 Middle East & Africa
5. Competitive Intelligence – Company Profiles
5.1 Alcatel-Lucent
5.2 Cisco Systems
5.3 IBM Corporation
5.4 Indra Systemas SA
5.5 Infineon Technologies
5.6 Intelligent Highway Solutions Inc.
5.7 Kapsch AG
5.8 LG CNS
5.9 Schneider Electric
5.10 Siemens AG
5.11 Xerox Corporation
*List not Exhaustive
6. Investment Analysis
7. Future of the Market
8. Disclaimer