Market Insights
The global salts and flavored salts market is expected to witnessing a CAGR of 5.2% during the forecasted period (2018-2023). North American accounts for the largest share in the global salts and flavored salts market.
Market Dynamics
The salt industry shall remain an ever-popular market with salt being essential for humans. The flavored salts market is influenced directly by the trends in the food industry, particularly the fast food and meat industries. Flavored salt is no different than regular table salt except that it contains other herbs and spices to provide more complex flavors. The market is considered a recession-proof market as consumers can use flavored salts for home cooking as well. Globalization and high influence of westernization in the emerging countries are fueling demand for foreign cuisines such as Italian and French food, which calls for specialized flavors and seasonings. There is also a growing opportunity in the market for organic flavored salts made from all natural ingredients.
There is a growing awareness among consumers on the ill effects of excess sodium intake and the harmful effects of fast food, and the emergence of sodium reduction ingredients are the major restraint in the industry.
Market Segmentation
The market is segmented according to product type i.e., table salt, butter salt, garlic salt, onion salt, celery salt, truffle salt, smoked salt, and others. Table salt has the most market share, with its wide range of application in all foods ranging from sweet to savory. Garlic butter is a popular all-purpose flavored salt, used in fast food industry. Various benefits associated with garlic salts are- increase in immunity, reduce cholesterol and blood pressure. Butter salt comes in next with its application in the popcorn industry. Hawaiian Black Lava Salt is sea salt that is combined with activated volcanic carbon which gives this sea salt its unique black coloring which adds a unique nutty flavor.
Regional Analysis
The global salts and flavored salts market is regionally segmented with Asia-Pacific being the highest manufacturer and consumer. Table salt is the most consumed seasoning in the developing world. It is the most easily available seasoning and a popular way of preserving food in the Asian countries.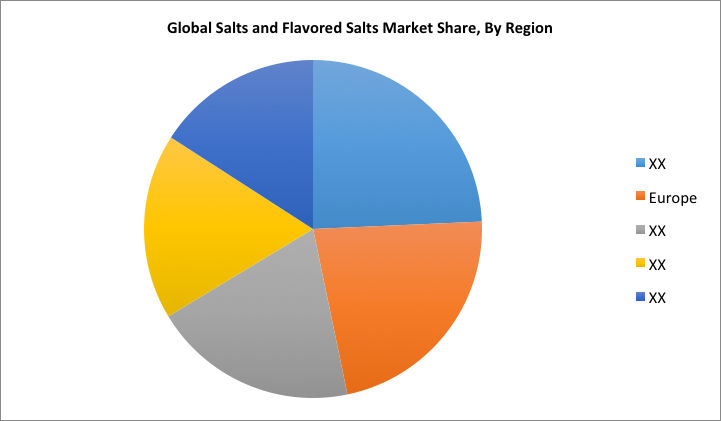 North America makes up the largest market for flavored salts followed by Europe due to its high dispensable income and the resulting high fast food consumption. Asia-Pacific is forecasted to grow at the highest rate with increasing urbanization in developing countries like China, India, Indonesia and Malaysia.
Competitive Landscape
The key players in the global salts and flavored Salts Morton, McCormick, Schwartz, Borsari, Lawry's, Tata Group, Cerebos, Windsor, Catch, United Salt Coorporation, Südsalz, Akzo Nobel, Compass Minera, Südwestdeutsche Salzwerke.
Reasons to Purchase this Report
Analyzing outlook of the market with the recent trends and Porter's five forces analysis
Market dynamics which essentially consider the factors which are impelling the present market scenario along with growth opportunities of the market in the years to come
Market segmentation analysis including qualitative and quantitative research incorporating the impact of economic and non-economic aspects
Regional and country level analysis integrating the demand and supply forces that are influencing the growth of the market
Competitive landscape involving the market share of major players along with the key strategies adopted for development in the past five years
Comprehensive company profiles covering the product offerings, key financial information, recent developments, SWOT analysis and strategies employed by the major market players
3 months analyst support along with the Market Estimate sheet in excel.
Customization of the Report
Value chain analysis
Consumer behavior analysis in country level
This report can be customized to meet your requirements. Please connect with our analyst, who will ensure you get a report that suits your needs.
1. Introduction
1.1 Key Deliverables of the Study
1.2 Study Assumptions
1.3 Market Definition
2. Research Approach & Methodology
2.1 Introduction
2.2 Research Designs
2.3 Study Timelines
2.4 Study Phases
2.4.1 Secondary Research
2.4.2 Discussion Guide
2.4.3 Market Engineering and Econometric Modelling
2.4.4 Expert Validation
3. Key Findings
4. Market Overview
4.1 Drivers
4.1.1 Salt as a Basic Requirement in Human Nutrition
4.1.2 Easy Availability and Low Cost of Table Salt
4.1.3 Increased Consumption of Meat
4.1.4 Raising Consumption of Fast Food
4.2 Restraints
4.2.1 Ill Effects of Excess Sodium Intake
4.2.2 Raising Awareness of Harmful Effects of Takeout Food
4.2.3 Demand for Low Sodium Food
4.2.4 Growing Preference for Natural and Organic Food
4.3 Opportunities
4.3.1 Innovation of New Flavors
4.3.2 Increasing Disposable Income in Developing Countries
4.4 Porter's Five Forces Analysis
4.4.1 Bargaining Power of Suppliers
4.4.2 Bargaining Power of Buyers
4.4.3 Threat of New Entrants
4.4.4 Threat of Substitute Products and Services
4.4.5 Degree of Competition
5. Market Segmentation
5.1 By Product Type
5.1.1 Table Salt
5.1.2 Butter Salt
5.1.3 Garlic Salt
5.1.4 Onion Salt
5.1.5 Smoked Salt
5.1.6 Celery Salt
5.1.7 Truffle Salt
5.1.8 Others
5.2 By Distribution Channel
5.2.1 Supermarkets
5.2.2 Retailers
5.2.3 Online Stores
5.2.4 Others
5.3 By Geography
5.3.1 North America
5.3.1.1 United States
5.3.1.2 Canada
5.3.1.3 Mexico
5.3.1.4 Others
5.3.2 Europe
5.3.2.1 Spain
5.3.2.2 UK
5.3.2.3 France
5.3.2.4 Germany
5.3.2.5 Russia
5.3.2.6 Italy
5.3.2.7 Others
5.3.3 Asia-Pacific
5.3.3.1 China
5.3.3.2 India
5.3.3.3 Japan
5.3.3.4 Australia
5.3.3.5 Others
5.3.4 South America
5.3.4.1 Brazil
5.3.4.2 Argentina
5.3.4.3 Others
5.3.5 Africa
5.3.5.1 South Africa
5.3.5.2 Others
6. Competitive Landscape
6.1 Mergers & Acquisitions
6.2 Joint Ventures
6.3 New Product Launches
6.4 Most Active Companies in the Past Five Years
6.5 Market Share Analysis
7. Company Profiles
7.1 Table Salt:
7.1.1 Morton Salt
7.1.2 Tata Group
7.1.3 Cerebos
7.1.4 Windsor
7.1.5 Catch
7.1.6 United Salt Coorporation
7.1.7 Südsalz
7.1.8 Akzo Nobel
7.1.9 Compass Minerals
7.1.10 Südwestdeutsche Salzwerke
7.1.11 Dampier Salt
7.1.12 Swiss Saltworks
7.1.13 Salinas Coorporation
7.1.14 Dev Salt Private
7.1.15 British Salt
7.1.16 Cheetam Salt
7.1.17 Italkali Società Italiana Sali Alcalini
7.2 Flavored Salts:
7.2.1 Mccormick
7.2.2 Schwartz
7.2.3 Lawry's
7.2.4 Andy's Seasoning
7.2.5 Kernal Season's
7.2.6 Jess Hall
7.2.7 The Original Smoke And Spice Company
7.2.8 Saltworks
7.2.9 Sabrosa Salt Co.
7.2.10 Borsari
7.2.11 Hawaiian Island Salt Company
7.2.12 Ajinomoto Co.Inc
8. Appendix
8.1 Disclaimer
8.2 Sources