The global pulp & paper chemicals market is expected register significant growth during the forecast period, 2018 to 2023, mainly driven by the growing pulp & paper industry in emerging economies and increasing recycling of paper. Pulp & paper chemicals are the raw materials required to produce paper. These chemicals are mixed with paper pulp, to produce paper. Pulp & paper chemicals offer benefits, such as reduced water and energy consumption.
Increasing Recycling of Paper Driving the Market
According to industry data, a paper can be recycled about three to five times, on an average. There are a significant number of paper mills and other established paper companies that are now recycling waste paper. Over time, the number of companies and volume of recycled paper has been increasing at significant rate. The increasing paper recycling is driving the demand for pulp and paper chemicals, as most of the companies rely on it. In the United States, about 70% of paper mills rely on recycled paper fiber, to produce their products at less cost and by save energy. In 2016, in the United States, about 69 % of paper products used were made from recycled paper. In China, more than 50% of the paper products are from recycled paper.
Chlorine Dioxide to Register Significant Growth
Chlorine dioxide is widely used in modern pulp bleaching. It is produced from sodium chlorate at the site, in most cases. It functions via oxidative reactions, thus preventing the formation of chlorinated organic compounds. Its working mechanism provides superior strength to the pulp, as compared to other oxidants. In addition, it is the most preferred bleaching agent for the elemental chlorine-free (ECF) chemical pulp bleaching process, which has a strong demand, as it offers the highest product quality and causes the least amount of pollution among all oxidants.
Brazil Boosting the Demand for Pulp & Paper Chemicals
Brazil is the fourth largest producer of pulp and generates approximately 15 million metric tons of pulp, ranking behind Canada, China, and the United States. In terms of paper production, Brazil stands ninth in the world. There are around 220 paper & pulp manufacturing companies in Brazil. Among the pulp & paper industry players, the top three companies include - Klabin, Suzano Group, and Fibria (Votorantim). Europe and North America are the major importers of pulp and paper from Brazil. The demand for pulp & paper chemicals has increased in the recent times, with increasing exports and higher recycling activity.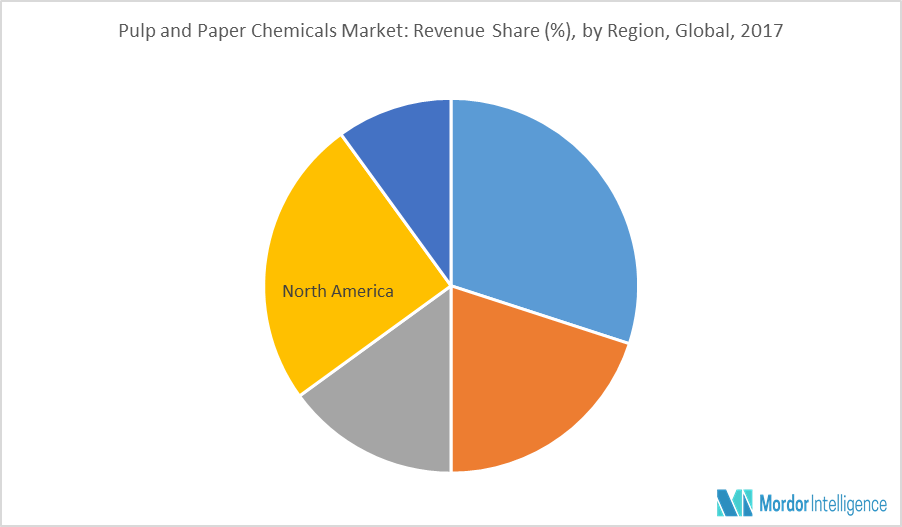 Major Players: Kemira, BASF, Solvay, and Klabin, among others.
Reason to Purchase this Report
To understand the impact of various product types on the market.
Analyzing various perspectives of the market, with the help of Porter's five forces analysis.
To understand the dominating product type and application in the market.
The countries that are expected to witness the fastest growth during the forecast period.
Identify the latest developments, market shares, and strategies employed by the major market players.
3 months analyst support along with the Market Estimate sheet (in excel).
Customization of the Report
This report can be customized to meet your requirements. Please connect with our analyst, who will ensure you get a report that suits your needs.
1. Introduction
1.1 Scope of the Report
1.2 Research Phases
1.3 Study Deliverables
2. Executive Summary
3. Market Insights
3.1 Industry Value Chain Analysis
3.2 Industry Attractiveness – Porter's Five Forces Analysis
3.2.1 Bargaining Power of Suppliers
3.2.2 Bargaining Power of Consumers
3.2.3 Threat of New Entrants
3.2.4 Threat of Substitute Products and Services
3.2.5 Degree of Competition
4. Market Dynamics
4.1 Drivers
4.1.1 Growing Pulp & Paper Industry in Emerging Economies
4.1.2 Increasing Paper Recycling
4.2 Restraints
4.2.1 Environmental Hazards from the Pulp & Paper Industry
4.2.2 Stringent Water Treatment Regulations
4.3 Opportunities
4.3.1 Extensive Research on Paper Quality Improvements
5. Market Segmentation and Analysis (Market Size, Growth, and Forecast)
5.1 By Type
5.1.1 Binders
5.1.2 Bleaching Agents
5.1.3 Fillers
5.1.4 Pulping
5.1.5 Sizing
5.1.6 Others
5.2 Application
5.2.1 Newsprint
5.2.2 Packaging and Industrial Papers
5.2.3 Printing and Writing Papers
5.2.4 Pulp Mills and Deinking Plants
5.2.5 Others
6. Regional Market Analysis (Market Size, Growth, and Forecast)
6.1 Asia-Pacific
6.1.1 China
6.1.2 India
6.1.3 Japan
6.1.4 South Korea
6.1.5 Rest of Asia-Pacific
6.2 North America
6.2.1 United States
6.2.2 Canada
6.2.3 Mexico
6.2.4 Rest of North America
6.3 Europe
6.3.1 Germany
6.3.2 United Kingdom
6.3.3 France
6.3.4 Italy
6.3.5 Rest of Europe
6.4 South America
6.4.1 Brazil
6.4.2 Argentina
6.4.3 Rest of South America
6.5 Middle East & Africa
6.5.1 Saudi Arabia
6.5.2 South Africa
6.5.3 Rest of Middle East & Africa
7. Competitive Landscape
7.1 Mergers & Acquisitions, Joint Ventures, Collaborations, and Agreements
7.2 Market Share Analysis**
7.3 Strategies Adopted by Leading Players
8. Company Profiles (Overview, Financials**, Products & Services, Recent Developments)
8.1 Akzo Nobel N.V.
8.2 Archer-Daniels-Midland
8.3 Arkema
8.4 Ashland Inc.
8.5 BASF SE
8.6 Buckman Laboratories
8.7 Canexus
8.8 Cargill Incorporated
8.9 Clariant
8.10 DowDuPont
8.11 Enzymatic Deinking Technologies
8.12 ERCO Worldwide
8.13 FMC Corporation
8.14 GE Corporation
8.15 Georgia-Pacific Chemicals LLC (Koch Industries)
8.16 Imerys
8.17 Kemira Chemicals
8.18 Omya
8.19 PeroxyChem
8.20 Solvay Chemicals, Inc.
8.21 Tronox Incorporated
*List not exhaustive
9. Disclaimer
**Subject to availability on the public domain