Market Insights
The global sourdough market is expected to register a CAGR of about 6.9% during 2018-2023 (the forecast period). The sourdough market is expected to grow exponentially, due to the growing demand for sourdough bread among consumers. The rising preferences for these bread types can be attributed to the health benefits associated with them; these breads are highly digestible than the normal square-factory bread loaves. Thus, these bread help consumers with yeast and wheat intolerances.
Awareness regarding Health Benefits associated with Sourdough Products
Sourdough-based products are considered to be healthier than the ones made with normal dough. The presence of phytic acid in the barn part of wheat is the major cause for digestive discomfort and bloating. In sourdough products, the wild yeast and lactobacillus in the leaven neutralize the phytic acid, thus, making the sourdough-based products easier to digest. Various studies have shown that sourdough fermentation is much more efficient than yeast fermentation in reducing the phytate content in whole-wheat bread (-62 and -38%, respectively). The long and slow fermentation that produces sourdough bread, and important nutrients, such as iron, zinc, and magnesium, antioxidants, folic acid, and other B vitamins, are the factors that make these bread easier for the human bodies to absorb. Also, the sourdough bread takes longer to digest. Studies have shown that the rye flour added to sourdough can help regulate blood sugar levels.
Europe is expected to witness the Highest Market Share
Europe accounts for the largest share of about 35% of the global market for sourdough. The growing consumer demand for gluten-free bakery products is an influential factor for the high market share of the same. North America and Europe account for over 50% of the total global share. In these regions, consumers are constantly looking for healthier products options, due to their progression toward healthier lifestyle. The increasing number of artesian bakeries is also a factor boosting the market growth for sourdough in developed regions. Asia-Pacific is expected to witness the highest CAGR during forecast period, due to the growing demand in developing countries, like China and India.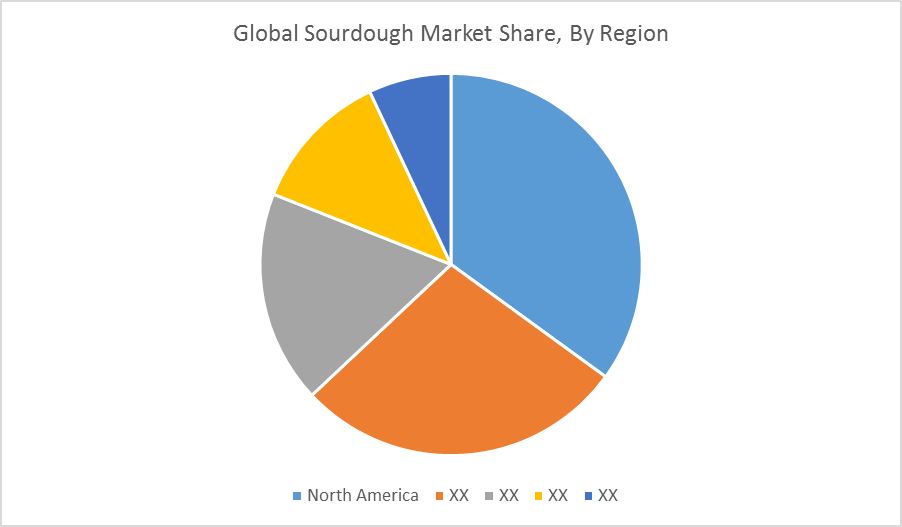 Competitive Landscape
Major Players: Puratos, Lallemand, Boudin SF, Truckee Sourdough Company, Riverside Sourdough, Gold Coast Bakeries, Morabito Baking Co. Inc., Alpha Baking Co. Inc., Bread SRSLY, and Josey Baker Bread, among others.
The major companies are constantly focusing on expanding their global presence, to grasp a competitive advantage over their competitors.
Reasons to Purchase this Report
Market outlook, with the recent trends and Porter's five forces analysis
Market dynamics considering the factors that impel the present market scenario, along with the market growth opportunities, in the years to come
Market segmentation analysis including qualitative and quantitative research, incorporating the impact of economic and non-economic aspects
Country-level analysis integrating the demand and supply forces that are influencing the market growth
Competitive landscape incorporating the market share of major players, along with the key strategies that were adopted by them in the past five years
Comprehensive company profiles, covering the product offerings, key financial information, recent developments, SWOT analysis, and strategies that are employed by the major market players
3 months analyst support, along with the Market Estimate sheet (in excel)
Customization of the Report
Value chain analysis
Consumer behavior analysis in country level
1. Introduction
1.1 Research Methodology
1.2 Market Definition
1.3 Report Description
2. Market Overview
2.1 Market Trend
3. Market Overview
3.1 Market Dynamics
3.1.1 Drivers
3.1.1.1 Growing Preference for Gluten-free Bakery Products
3.1.1.2 Increasing Consumer Preference for Healthy Food
3.1.1.3 Increase in Number of Artisan Bakeries Globally
3.1.2 Restraints
3.1.2.1 Taste Issues in Bread
3.1.3 Opportunities
3.1.3.1 Consumer Demand for Clean Label Products
3.1.3.2 Wider Application of Sourdough in Bakery Products
3.1.4 Porter's Five Forces Analysis
3.1.4.1 Bargaining Power of Suppliers
3.1.4.2 Bargaining Power of Buyers
3.1.4.3 Threat of New Entrants
3.1.4.4 Threat of Substitute Products and Services
3.1.4.5 Degree of Competition
4. Market Segmentation
4.1 By Type
4.1.1 Type-I
4.1.2 Type-II
4.1.3 Type-III
4.2 By Application
4.2.1 Food & Beverages
4.2.2 Pancakes
4.2.3 Waffles
4.2.4 Desserts
4.2.5 Muffins
4.2.6 Piecrust
4.2.7 Others
4.3 By Geography
4.3.1 North America
4.3.1.1 United States
4.3.1.2 Canada
4.3.1.3 Mexico
4.3.1.4 Others
4.3.2 Europe
4.3.2.1 Spain
4.3.2.2 United Kingdom
4.3.2.3 France
4.3.2.4 Germany
4.3.2.5 Russia
4.3.2.6 Italy
4.3.2.7 Others
4.3.3 Asia-Pacific
4.3.3.1 China
4.3.3.2 India
4.3.3.3 Japan
4.3.3.4 Australia
4.3.3.5 Others
4.3.4 Rest of the World
4.3.4.1 South America
4.3.4.2 Middle East and Africa
5. Competitive Landscape
5.1 Strategy Adopted by Key players
5.2 Most Active Companies in the Past Five Years
5.3 Market Share Analysis
6. Company Profiles
6.1 Dilbeek
6.2 Ernst Böcker GmbH & Co. KG
6.3 Hamburg
6.4 IREKS GmbH
6.5 Kampffmeyer Mühlen GmbH
6.6 Kulmbach
6.7 Lesaffre
6.8 Marcq-en-Barœul
6.9 Minden
6.10 Philibert Saveurs
6.11 Pont-de-Veyle
6.12 Puratos NV
7. Appendix
7.1 Disclaimer
7.2 Sources