Market Insights
Global pretzel market is expected to register a CAGR of 2.7% during the forecast period, 2018 to 2023. The Americas dominate the global pretzel market due to the presence of many established vendors and health-obsessed population.
Franchise business Auntie Anne's revealed expansion plans to open its first stores in the north west of England. The Bucks-based soft pretzel specialist is set to open a total of 11 sites in 2018, on top of its current tally of 34 stores across the UK, including Wales, Scotland and Northern Ireland. The GBP 8 million turnover company, according to the marketing manager, has plans to launch food-to-go vans in the UK, with finding the right franchisee and determining territories the first step.
Demand for Convenience Foods is on a High
The increasing demand for convenience foods, the snacking trend due to a boost in disposable incomes and the requirement of healthy snacks are driving the global pretzel market. Pretzels contain less fat as compared to other savory snacks and the introduction of gluten-free pretzels shall further enhance this demand. However, heavy competition and the lack of customer loyalty are the major restraints to this market. Product and flavor innovations play a key role. Urbanization in the developing countries also supports the pretzel market growth.
Salted Pretzel Enjoy Higher Demand
The global pretzel market is segmented on the basis of content into salted and unsalted pretzels with the former dominating the global market. Consumer purchasing behavior is changing, and consumers are preferring on-the-go morning goods like pretzel more, as they spend less time at home sitting down to the first meal of the day. There is a growing demand for premium morning goods options, which are often whole meal or granary and seeded but since these products are priced high not all opt these. Brands need to acknowledge this, build relevant solutions and position them in not only the right locations but at the correct times. Various flavor innovations within the soft pretzel market have led to the attention of consumers.
North America and Europe Dominate the Global Market
With the introduction of frozen bakery products, frozen pretzels and frozen dough for pretzels are witnessing increasing demand from the consumers. The increasing disposable income in Asia-Pacific supports the growth of the market in the region, wherein, India and China are seen as the major markets.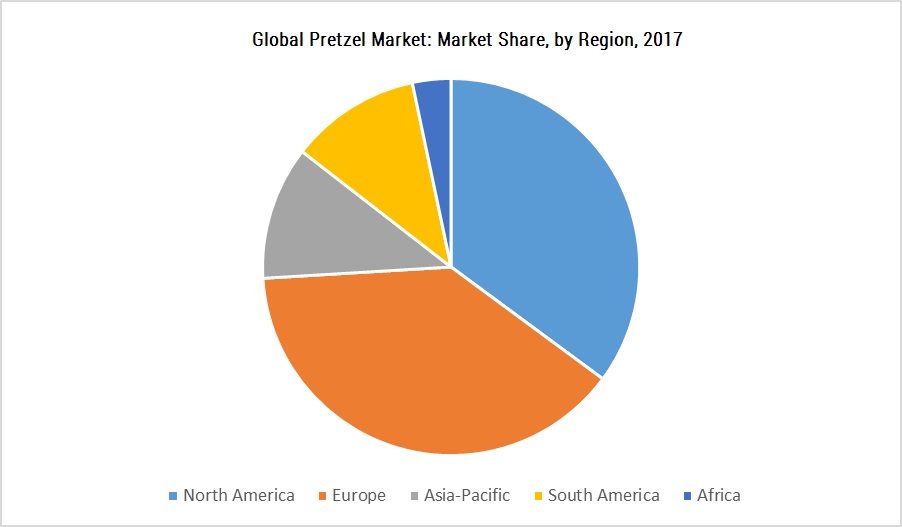 Competitive Landscape
Major companies enjoy a considerable share in the global pretzel market, yet it remains relatively fragmented. Besides, the similarity of products and high costs due to the manufacturing equipment are factors which lead to high competition within the global pretzel market.
Major Key Players: SNYDER'S-LANCE, FRITO-LAY, MARS, INTERSNACK.
Reasons to Purchase this Report
Analyzing outlook of the market with the recent trends and Porter's five forces analysis.
Market dynamics which essentially consider the factors which are impelling the present market scenario along with growth opportunities of the market in the years to come.
Market segmentation analysis including qualitative and quantitative research incorporating the impact of economic and non-economic aspects.
Regional and country level analysis integrating the demand and supply forces that are influencing the growth of the market.
Competitive landscape involving the market share of major players along with the key strategies adopted for development in the past five years.
Comprehensive company profiles covering the product offerings, key financial information, recent developments, SWOT analysis and strategies employed by the major market players.
3 months analyst support along with the Market Estimate sheet in excel.
Customization of the Report
Consumer behavior analysis at country level
Value of global bakery market
Volume of global bakery market
This report can be customized to meet your requirements. Please connect with our analyst, who will ensure you get a report that suits your needs.
1. Introduction
1.1 Key Deliverables of the study
1.2 Study Assumptions
1.3 Market Definitions
2. Research Approach and Methodology
2.1 Introduction
2.2 Research Design
2.3 Study Timelines
2.4 Study Phases
2.4.1 Secondary Research
2.4.2 Discussion Guide
2.4.3 Market Engineering & Econometric Modelling
2.4.4 Expert Validation
3. Market Overview
3.1 Market Trend
4. Market Dynamics
4.1 Drivers
4.1.1 Increasing Demand for Convenience Food
4.1.2 Rising Snack Consumption
4.2 Constraints
4.2.1 Increase in Cost of Production
4.3 Opportunities
4.3.1 Increasing Demand for Gluten-Free and Fiber-Rich Pretzels
4.3.2 Increasing Demand in Developing Countries
4.4 Porter's Five Forces Analysis
4.4.1 Bargaining Power of Suppliers
4.4.2 Bargaining Power of Buyers
4.4.3 Threat of New Entrants
4.4.4 Threat of Substitute Products and Services
4.4.5 Degree of Competition
5. Market Segmentation
5.1 By Content
5.1.1 Salted Pretzels
5.1.2 Unsalted Pretzels
5.2 By Type
5.2.1 Hard
5.2.2 Soft
5.3 By Distribution Channel
5.3.1 Super Markets/ Hyper Markets
5.3.2 Convenience Stores
5.3.3 Food Speciality Stores
5.3.4 Online Retailers
5.3.5 Others
5.4 By Geography
5.4.1 North America
5.4.1.1 U.S.
5.4.1.2 Canada
5.4.1.3 Mexico
5.4.1.4 Others
5.4.2 Europe
5.4.2.1 Germany
5.4.2.2 U.K.
5.4.2.3 France
5.4.2.4 Spain
5.4.2.5 Italy
5.4.2.6 Russia
5.4.2.7 Others
5.4.3 Asia-Pacific
5.4.3.1 China
5.4.3.2 Japan
5.4.3.3 India
5.4.3.4 Australia
5.4.3.5 Others
5.4.4 South America
5.4.4.1 Brazil
5.4.4.2 Argentina
5.4.4.3 Others
5.4.5 Africa
5.4.5.1 South Africa
5.4.5.2 Others
6. Competitive Landscape
6.1 Strategy Adopted by Key players
6.2 Most Active Companies in the Past Five Years
6.3 Market Share Analysis
7. Company Profiles
7.1 Auntie Anne's
7.2 Boulder Brands
7.3 ConAgra Foods
7.4 Frito-Lay
7.5 Herr Foods
7.6 Intersnack
7.7 J & J Snacks
7.8 Mars
7.9 Mr. Pretzel
7.10 Old Dutch Foods
7.11 Philly Pretzel Factory
7.12 Pretzels Inc.
7.13 Snyder's-Lance
8. Appendix
8.1 Disclaimer