Market Snapshot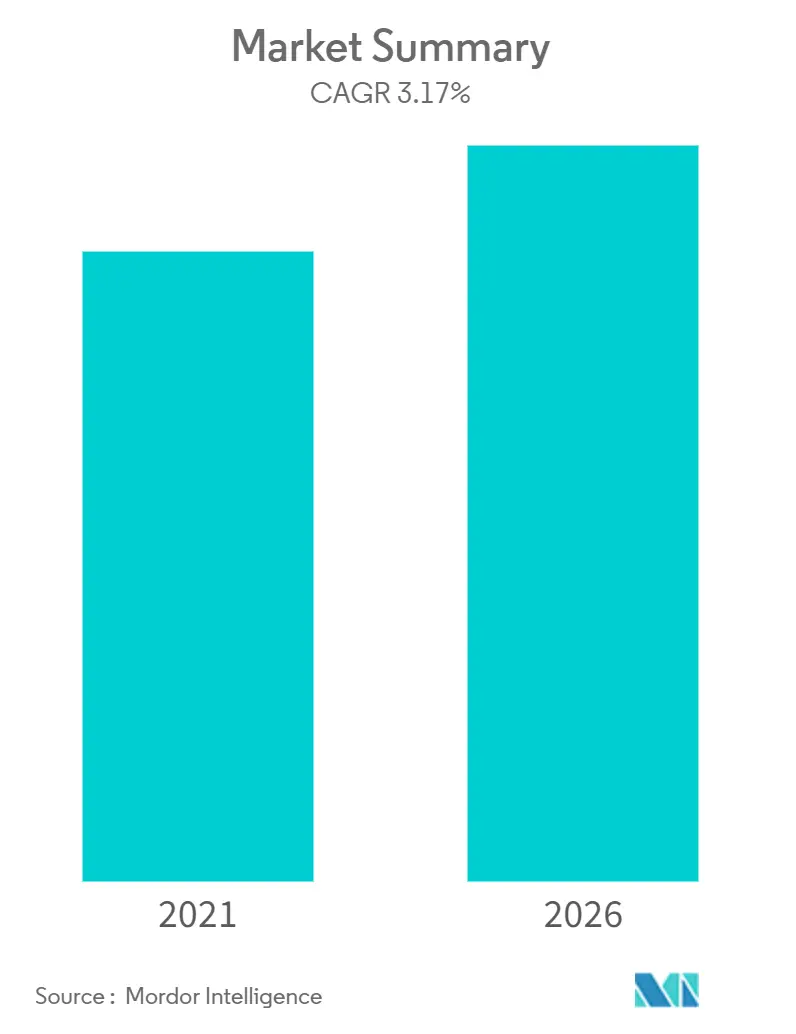 Study Period:
2019- 2026
Base Year:
2020
Fastest Growing Market:
Asia Pacific
Largest Market:
North America
CAGR:
3.17 %
Need a report that reflects how COVID-19 has impacted this market and its growth?
Market Overview
The global power semiconductor market(henceforth referred to as the market studied) was valued at USD 37.90 billion in 2020, and it is expected to reach USD 46.02 billion by 2026, registering a CAGR of 3.17 %, during the period of 2021-2026 (henceforth, referred to as the forecast period). The COVID -19 outbreak has affected the overall semiconductor market from the demand side and the supply side. The nationwide lockdown and closure of semiconductor plants have further fueled the supply shortage trend, which mainly emerged in 2019. These effects were also reflected in the SiCand GaN power semiconductors. However, many of these effects are likely to be in the short term.
Moreover, government precautions around the world to support automotive and semiconductor sectors could help revive industry growth. The pandemic outbreak has created economic turmoil for small, medium, and large-scale industries alike across the world. Adding to it, country-wise lockdown inflicted by the governments across the world (to minimize the spread of the virus) has further resulted in industries taking a hit and disruption in supply chain and manufacturing operations across the world, as a large part of manufacturing includes work on the factory floor.
Power semiconductors perform the same tasks as regular semiconductors, only on a much larger scale. These high-performance components are capable of handling extremely high electrical currents, voltages, and frequencies up to several gigawatts. Like all semiconductor devices, power semiconductors are used to rectify and amplify electrical signals or turn the flow of electricity on and off. These are typically used for industrial applications and the long-distance transmission and distribution of electricity.
The material is majorly comprised of Silicon Carbide (SiC) and Gallium Nitride (GaN). Compared to silicon, GaN and SiC have a wider bandgap (Si:1.1, SiC:3.3, and GaN:3.4), and therefore it is also called Wide Band Gap Semiconductors. SiC MOSFETs and diodes offer high switching frequency and high power density and are ideally suited for electric vehicle onboard chargers. The electric vehicles industry is catering to rapid growth owing to initiatives from several governments across the world.
In December 2020, the power semiconductor maker ROHM Semiconductor of Kyoto, Japan, together with Chinese tier-1 automotive manufacturer United Automotive Electronic Systems Co. Ltd (UAES) held an opening ceremony announcing the establishment of a joint laboratory for silicon carbide (SiC) technology at UAES' headquarters in Shanghai, China.
The new joint laboratory contains major equipment required for device and application evaluation in automotive applications, such as onboard chargers (OBCs) and DC/DC converters. The firms expect that this will allow them to strengthen their partnership and accelerate the development of SiC-based power solutions.
Power delivery brings more intelligence to the charger and enables the detection of the device connected to it. This allows the charger to deliver the precise amount of power needed to charge it in the shortest possible time. Charger with GaN (Gallium Nitride) increases efficiency, lowers the heat, and decreases each product's size.
In December 2020, Avenir Telecom, under its Energizer brand, announced a new range of Power Delivery wall chargers in 20W, 38W, 65W, and 90W that use GaN (Gallium Nitride) semiconductor material. From USB-C to Lightning cable, this charger recognizes the devices: gaming consoles, tablets, laptops, and smartphones.
Power requirements are increasing in every market, as global requirements for electricity are anticipated to increase from 25,000 TWh currently to 38,000 TWh in the year 2050. At the sector level, 8 million data centers in the world use 2-3% of the world's energy use, and that share is expected to rise to more than 5%. Industrial motors consume 30% and growing; electric vehicles will become large consumers to 5% of global energy consumption by 2040 (source: GaN Systems). GaN reduces losses in all these systems.
Scope of the Report
A power Semiconductor is a semiconductor device used as a switch or rectifier in power electronics (for example, in a switch-mode power supply). These devices are the fundamental component of modern power electronic circuitry machines and instruments. These devices are being used for wireless communication, advanced control of electric drives, motion control & servo drives, advanced computer systems, antennas, propagation & satellite systems, broadband wireless techniques, and others. They form an indispensable part of electrical appliances, machines, and systems. The study covers the components such as discrete modules and power integrated circuits along with materials such as silicon carbide, gallium nitride, and others.
By Component
Discrete
Module
Power Integrated Circuits
By Material
Silicon/Germanium
Silicon Carbide (Sic)
Gallium Nitride (Gann)
By End-user Industry
Automotive
Consumer Electronics
IT and Telecommunication
Military and Aerospace
Power
Industrial
Other End-user Industries
By Geography
North America
Europe
Asia Pacific
Latin America
Middle East and Africa
Key Market Trends
Automotive Industry Expected to Have Significant Growth
Electric cars are becoming common on the road nowadays with prices coming down and range going up. As per the International Energy Agency's report 'Global EV Outlook 2020', over 7.2 million electric passenger cars were on the roads in 2019.
In the past few years, many OEMs have announced billions of dollars worth of investment in EVs, which is also strong due to the restrictions on CO2 emissions. Key steps will be taken in the coming years, and a higher percentage of EVs on the road will be seen. Semiconductors play a key role in both electric vehicles and those with internal combustion engines.
Research has been undergoing when it comes to the use of silicon carbide (SiC) devices within the automotive powertrain. Due to the recent advancements, it is gradually becoming a feasible solution.
The number of electric vehicles out on the streets is expected to keep multiplying as governments continue to incentivize clean energy and manufacturers find ways to make their cars more accessible. A big part of making that possible is the ongoing innovation in battery technology, driven by the demand for smaller, lighter, and safer batteries that charge faster and last longer. For instance, Tesla, which uses a rapid charging solution, is already using SiC within its vehicle architectures today.
SiC semiconductors are ideal for applications, such as onboard chargers and inverters used within plug-in hybrid (PHEV) and fully electric vehicles (EVs). This is because their energy efficiency is significantly higher compared to traditional silicon.
To ensure that EVs can operate over long distances and charge within a reasonable timeframe, the vehicle's power electronics must be capable of handling high temperatures. SiC semiconductors benefit from more than 95% energy efficiency, i.e., only 5% of the energy is lost as heat during power conversion instances, such as recharging the vehicle at a high-power rapid-charger.
In May 2021, Infineon Technologies launched a new power module with CoolSiCMOSFET technology for automotive applications. The use of SiCi instead of Si ensured higher efficiency in converters in electric vehicles. Hyundai Motor Group reported that it was able to increase the range of its vehicles by more than 5% because of efficiency gains resulting from the lower losses of this SiCsolution compared to Si-based solution with the help of the traction inverters based on Infineon's CoolSiCpower module.
In Japan, the University of Tokyo has been working with Mitsubishi Electric Corporation to enhance the reliability of SiC semiconductor devices. In 2017, Mitsubishi Electric revealed a new ultra-compact SiC inverter designed for hybrid vehicles, with mass commercialization targeted for around 2021.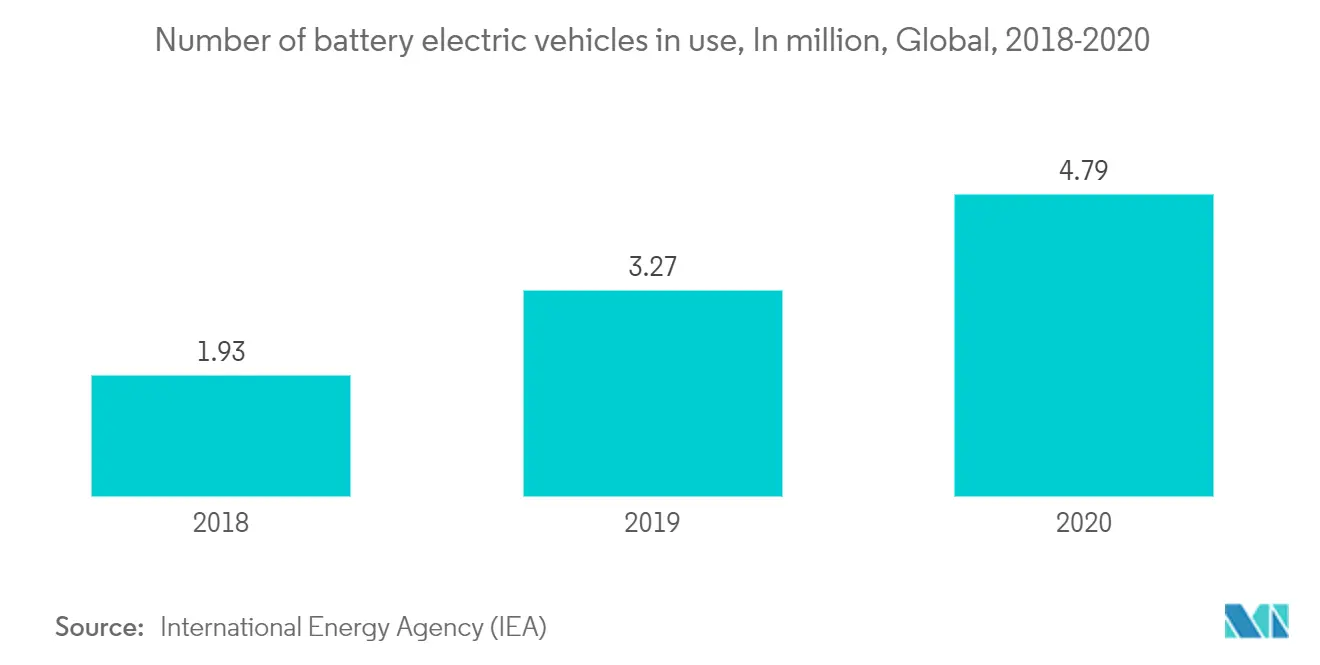 To understand key trends, Download Sample Report
Asia Pacific Expected to Have Significant Growth
The Asia Pacific region is expected to dominate the global power semiconductor market, as the region dominates the global semiconductor market, which is further supported by government policies. Moreover, the region's semiconductor industry is driven by China, Japan, Taiwan, and South Korea, which together constitute around 65% of the global discrete semiconductor market, while others like Vietnam, Thailand, Malaysia, and Singapore also contribute significantly to the region's dominance in the market.
According to the Indian Electronics and Semiconductor Association, the country's semiconductor component market is expected to be worth USD 32.35 billion by 2025, registering a CAGR of 10.1% (2018-2025). The country is a lucrative destination for global R&D centers. Thus, the government's ongoing Make In India initiative is expected to result in investments in the semiconductor market.​
Moreover, the region is an electronics hub with millions of electronic devices made every year for consumption in the region and exported to other places. This high production of electronic devices and components significantly contributes to the market share of the market studied.​ For instance, the growing demand for consumer electronics in India has also contributed to the regional market's growth. According to the Federation of Indian Chambers of Commerce and Industry (FICCI), India's electronics demand is estimated to record a CAGR of 25% during 2012-2020.​​
Players in the region are regularly involved in product development and are seeking opportunities to enhance their capabilities. For instance, in September 2020, Mitsubishi Electric Corporation announced its coming launch of second-generation full-SiC (silicon carbide) power modules featuring a newly developed SiC chip for industrial use. The modules' low power loss characteristics and high carrier frequency operation of the SiC-MOSFET (metal oxide semiconductor field-effect transistor) and SiC-SBD (Schottky barrier diode) chips are expected the development of more efficient, smaller, and lighter weight power equipment in various industrial fields.
Singapore is making initiatives to become Asia's epicenter for GaN semiconductor technology. In Aug 2020, Singapore-based IGSS GaN (IGaN), a technology developer and commercialization expert in gallium nitride-on-silicon/silicon carbide (GaN-on-Si/SiC), announced to continue its expansion following demonstrated successes in pilot lines of customers. The company is setting up a combined commercial and Global Joint Lab for 4-8" metal-organic chemical vapor deposition (MOCVD) GaN Epi Centre in Singapore. Additionally, IGaN's recent onboarding of a renowned toolmaker reaffirms its efforts to establish an innovative GaN ecosystem that supports global demand for an energy-efficient, sustainable, and mobile future.
The region has a robust presence of players such as SK Siltron, which is South Korea's only producer of semiconductor silicon wafers and one of the top five global wafer manufacturers with annual sales of KRW 1.542 trillion, accounting for about 17 % of global silicon wafer sales (based on 300mm). In March 2020, SK Siltron completed the acquisition of DuPont's Silicon Carbide Wafer (SiC Wafer) unit. According to SK Siltron, it will continue to invest in related fields even after the acquisition, which is expected to increase SiC wafers' production and create additional jobs in the United States.
To address market needs, power semiconductor manufacturers are quickly adopting materials such as silicon carbide (SiC), which can operate at higher voltages, temperatures, and frequencies, while delivering improved efficiency and reliability.
For instance, in June 2020, Zhengzhou Yutong Group Co. Ltd (Yutong Group), a large-scale industrial Chinese manufacturer of commercial vehicles specializing in electric buses, announced using Cree 1200 V silicon carbide devices in a StarPower power module for its new, industry-leading high-efficiency powertrain system for electric buses. The parties are working together to accelerate the commercial adoption of silicon carbide-based inverters in electric bus applications. Upon rollout, Yutong Group will deliver its first electric bus in China to use silicon carbide in its powertrain, representing a significant advancement in providing an even more efficient e-bus to the market.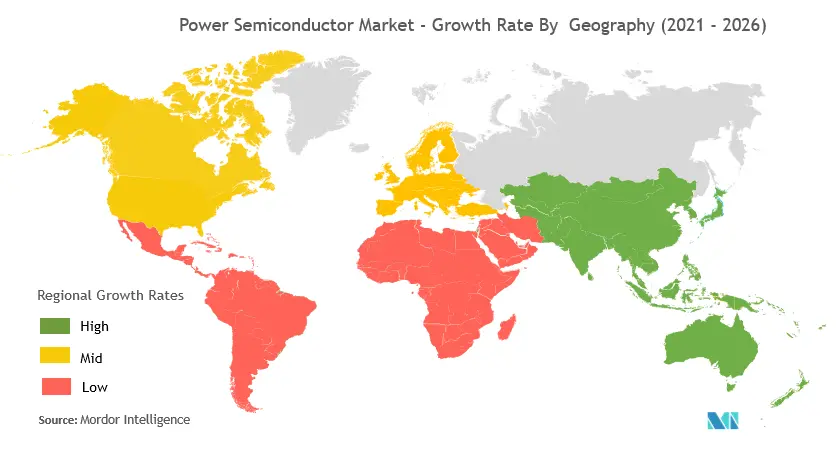 To understand geography trends, Download Sample Report
Competitive Landscape
The power semiconductor market is a consolidated market dominated by a few major players. In terms of market share, few of the major players dominate the market. Various acquisitions and collaborations of large companies are expected to take place shortly, which focuses on innovation. Some of the key players in the market are Infineon Technologies and Texas Instruments.
March 2021- Magnachip launched a new Low-dropout (LDO) linear regulator featuring an ultra-fast transient response for a Universal Flash Storage (UFS)-based Multi-Chip Package (MCP). It is an advanced version of an Embedded Multi-Media Controller (eMMC), which was developed for concurrent read and write performance at higher speeds.
March 2021- Alpha and Omega Semiconductor announced the new AEC-Q101 qualified 1200V silicon carbide (SiC) αSiC MOSFETs. This is ideal for the high efficiency and reliability requirements of electric vehicle (EV) on-board chargers, motor drive inverters, and off-board charging stations.
February 2021- Nexperia extended the LFPAK56D MOSFET line-up with the AEC-Q101-qualified half-bridge package. It offers 60% lower parasitic inductance and improved thermal performance for power trains, motor control, and DC/DC application.
Recent Developments
April 2021- Nexperia announced the availability of its second-generation 650 V GaN FETs which enable 80 PLUS Titanium-class power supplies operating at 2 kW and above. It offers significant performance and advantages over previous technologies and competitive devices.
April 2021- ROHM developed four new 600V IGBT Intelligent Power Modules (IPMs), BM6437x series, that deliver low noise characteristics together with the low loss ideal for power conversion in inverters. The devices are used in compact industrial equipment, such as small capacity motors for robots and home appliances, including air conditioners and washing machines.
March 2021- Nexperia announced a comprehensive partnership covering gallium nitride (GaN) power semiconductor devices with United Automotive Electronic Systems Co., Ltd. (UAES). This partnership will focus on power systems for EVs and the development of automotive applications using GaN technology.
Table of Contents
1. INTRODUCTION

1.1 Study Assumptions​ and Market Definition​

1.2 Scope of the Study

2. RESEARCH METHODOLOGY

3. EXECUTIVE SUMMARY

4. MARKET INSIGHTS

4.1 Market Overview​

4.2 Industry Value Chain Analysis

4.3 Industry Attractiveness - Porter's Five Forces Analysis​

4.3.1 Bargaining Power of Suppliers​

4.3.2 Bargaining Power of Consumers​

4.3.3 Threat of New Entrants​

4.3.4 Intensity of Competitive Rivalry​

4.3.5 Threat of Substitutes​

4.4 Assessment of the Impact of COVID-19 on the Market

4.5 Technology Snapshot

5. MARKET DYNAMICS

5.1 Market Drivers

5.1.1 Increasing Demand for Consumer Electronics and Wireless Communications

5.1.2 Growing Demand for Energy-efficient Battery-powered Portable Devices

5.2 Market Restraints

5.2.1 Shortage of Silicon Wafers and Variable Driving Requirements

6. MARKET SEGMENTATION

6.1 By Component

6.1.1 Discrete

6.1.2 Module

6.1.3 Power Integrated Circuits

6.2 By Material

6.2.1 Silicon/Germanium

6.2.2 Silicon Carbide (Sic)

6.2.3 Gallium Nitride (Gann)

6.3 By End-user Industry

6.3.1 Automotive

6.3.2 Consumer Electronics

6.3.3 IT and Telecommunication

6.3.4 Military and Aerospace

6.3.5 Power

6.3.6 Industrial

6.3.7 Other End-user Industries

6.4 By Geography

6.4.1 North America

6.4.2 Europe

6.4.3 Asia Pacific

6.4.4 Latin America

6.4.5 Middle East and Africa

7. COMPETITIVE LANDSCAPE

7.1 Company Profiles

7.1.1 Infineon technologies AG

7.1.2 Texas instruments Inc.

7.1.3 United Silicon Carbide Inc.

7.1.4 ST Microelectronics NV

7.1.5 NXP semiconductor Inc.

7.1.6 ON Semiconductor Corporation

7.1.7 Renesas Electronic Corporation

7.1.8 Broadcom Inc.

7.1.9 Toshiba Corporation

7.1.10 Mitsubishi Electric Corporation

7.1.11 Fuji Electric Co. Ltd

7.1.12 Semikron International

7.1.13 Cree Inc.

7.1.14 ROHM​ Co Ltd

7.1.15 Vishay Intertechnology Inc.​

7.1.16 Nexperia BV​

7.1.17 Alpha & Omega Semiconductor

7.1.18 Magnachip​ Semiconductor Corp

7.1.19 Microchip​ Technology Inc

7.1.20 Littlefuse Inc

*List Not Exhaustive

8. INVESTMENT ANALYSIS​​​

9. FUTURE OF THE MARKET​
**Subject to Availability
You can also purchase parts of this report. Do you want to check out a section wise price list?
Frequently Asked Questions
What is the study period of this market?
The Power Semiconductor Market market is studied from 2019 - 2026.
What is the growth rate of Power Semiconductor Market?
The Power Semiconductor Market is growing at a CAGR of 3.17% over the next 5 years.
Which region has highest growth rate in Power Semiconductor Market?
Asia Pacific is growing at the highest CAGR over 2021- 2026.
Which region has largest share in Power Semiconductor Market?
North America holds highest share in 2020.
Who are the key players in Power Semiconductor Market?
Infineon Technologies AG, Texas Instruments Inc., STMicroelectronics NV, NXP Semiconductors NV, On Semiconductor Corporation are the major companies operating in Power Semiconductor Market.
80%

of our clients seek made-to-order reports. How do you want us to tailor yours?