The Plastic Color Concentrates market is estimated to grow at a significant CAGR during the forecast period, 2018 - 2023. The masterbatch segment is expected to be the largest end-user segment. Asia-Pacific is expected to hold the largest market share during the forecast period.
Increasing Usage of Plastics in Automotive Industry to Propel Market Growth
Plastic materials, owing to their superior material characteristics, such as heat resistance, strength-to-weight ratio, and chemical stability, are increasingly being used to replace traditional materials, including bronze, stainless steel, and cast iron, during automotive production. Plastic color concentrates, such as masterbatch, ensure that the above needs are sufficed by offering new design opportunities in terms of color and form. Therefore, it makes automobiles resistant to the harsh environmental conditions and also makes them more attractive as well as durable.
Masterbatch Product Segment holds the Largest Market Share
Masterbatches are used by several technological methods, including injection, blow, and spinning, and are primarily used in packaging, building & construction, consumer goods, automotive, textiles, and other sectors.
Masterbatch allows the manufacturer to color raw polymer economically during the plastics manufacturing process. Color masterbatch, which is used for coloring plastics, is widely used in various end-user industries, such as automotive, appliances, etc., to make products look visually appealing. These end-user industries depend heavily on color for their marketing and branding strategies. The color masterbatch is used in the production of plastics for automobiles, electronic appliances, as well as flexible packaging for food & beverages and medicine packaging.
Asia-Pacific to have the Largest Demand
The growth of the market in the region is directly linked to the growing plastic industries in different countries in the region. China accounts for the largest share of the market in Asia-Pacific. In 2016, China was the largest producer of plastic materials in the world, accounting for 27.8% of the global plastics production. Moreover, China is the largest in terms of purchasing power parity and is the second-largest economy in terms of nominal GDP. China is one of the lucrative markets for plastic based additives, due to the availability of low-cost raw materials and labor. Other counties in the region, such as India and Japan, are also expected to witness significant growth over the forecast period.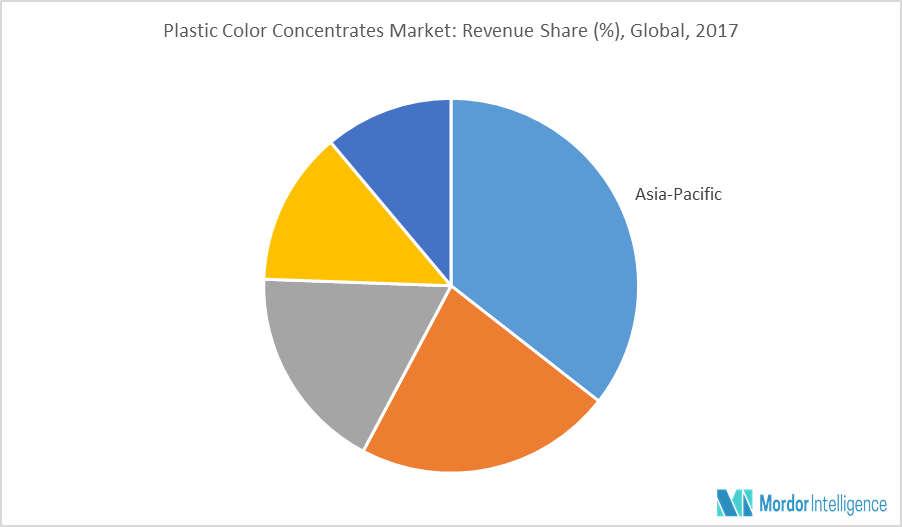 Key Developments in the Market
December 2017: BASF increases prices of additives for plastics applications
Major Players: Clariant International, BASF SE, A Schulman, Polyone Corporation, and Cabot Corporation, among others.
Reasons to Purchase this Report
Analyzing various perspectives of the market with the help of Porter's five forces analysis
To understand the dominating end-user and application in the market
To identify the countries that are expected to witness the fastest growth during the forecast period
Identify the latest developments, market shares, and strategies employed by the major market players
3-months analyst support, along with the Market Estimate sheet (in Excel)
Customization of the Report
This report can be customized to meet your requirements. Please connect with our representative, who will ensure you get a report that suits your needs.
1. Introduction
1.1 Research Phases
1.2 Scope of the Report
1.3 Study Deliverables
2. Executive Summary
3. Market Insights
3.1 Industry Value Chain Analysis
3.2 Industry Attractiveness – Porter's Five Forces Analysis
3.2.1 Bargaining Power of Suppliers
3.2.2 Bargaining Power of Consumers
3.2.3 Threat of New Entrants
3.2.4 Threat of Substitute Products and Services
3.2.5 Degree of Competition
3.3 Raw Material Analysis
4. Market Dynamics
4.1 Drivers
4.1.1 Increasing Use of Plastics in Automotive Sector
4.1.2 Growing usage in Consumer Goods and Appliances
4.1.3 Other Drivers
4.2 Restraints
4.2.1 Stringent Regulations Regarding Plastic Usage
4.2.2 Other Restraints
4.3 Opportunities
4.3.1 Shifting Focus towards Organic Alternatives
4.3.2 Developments in Liquid Concentrates
5. Market Segmentation and Analysis (Market Size, Growth, and Forecast)
5.1 By Product Type
5.1.1 Masterbatch
5.1.2 Liquid Concentrates
5.2 By Application
5.2.1 Automotive
5.2.2 Building and Construction
5.2.3 Sports and Leisure (including Toys)
5.2.4 Packaging
5.2.5 Films
5.2.6 Pharmaceutical
5.2.7 Agriculture
5.2.8 Non-woven Fibers
5.2.9 Others
6. Future of the Market
7. Regional Market Analysis (Market Size, Growth, and Forecast)
7.1 North America
7.1.1 United States
7.1.2 Canada
7.1.3 Mexico
7.1.4 Rest of North America
7.2 Europe
7.2.1 Germany
7.2.2 United Kingdom
7.2.3 Italy
7.2.4 France
7.2.5 Spain
7.2.6 Russia
7.2.7 Rest of Europe
7.3 Asia-Pacific
7.3.1 China
7.3.2 India
7.3.3 Japan
7.3.4 South Korea
7.3.5 ASEAN Countries
7.3.6 Rest of Asia-Pacific
7.4 South America
7.4.1 Brazil
7.4.2 Argentina
7.4.3 Rest of South America
7.5 Middle East & Africa
7.5.1 Saudi Arabia
7.5.2 United Arab Emirates
7.5.3 South Africa
7.5.4 Rest of Middle East & Africa
8. Competitive Landscape
8.1 Mergers & Acquisitions, Joint Ventures, Collaborations, and Agreements
8.2 Market Share Analysis**
8.3 Strategies Adopted by Leading Players
9. Company Profiles (Overview, Financials**, Products & Services, and Recent Developments)
9.1 A.Schulman
9.2 Ampacet Corp.
9.3 BASF SE
9.4 Cabot Corp.
9.5 Changzhou Hongmei Plastic Masterbatch Co., Ltd.
9.6 Clariant International
9.7 DowDuPont
9.8 Ferro Coporation
9.9 GABRIEL-CHEMIE Group
9.10 Hubron International
9.11 Kunststof-KEMI Skandinavia
9.12 Plastika Kritis S.A
9.13 PolyOne Corp.
9.14 Polyplast Muller Group
9.15 Tosaf Group
*List not exhaustive
10. Disclaimer
**Subject to availability on public domain