Piece Picking Robots Market Size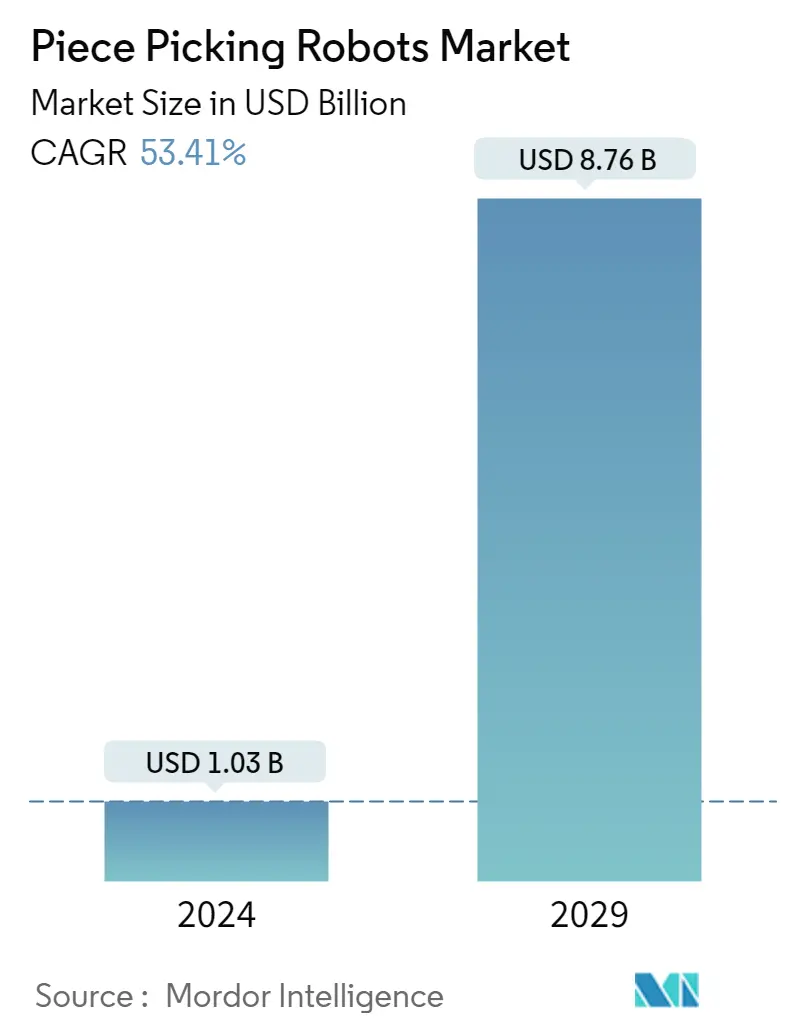 Study Period
2018 - 2028
Market Size (2023)
USD 0.67 Billion
Market Size (2028)
USD 5.71 Billion
CAGR (2023 - 2028)
53.41 %
Fastest Growing Market
Asia Pacific
Largest Market
North America

Major Players

*Disclaimer: Major Players sorted in no particular order
Need a report that reflects how COVID-19 has impacted this market and its growth?
Piece Picking Robots Market Analysis
The Piece Picking Robots Market size is expected to grow from USD 0.67 billion in 2023 to USD 5.71 billion by 2028, at a CAGR of 53.41% during the forecast period (2023-2028).
COVID-19 significantly increased the sales of automated solutions, as well as the logistics requirements. Though the supply chain has been disrupted due to the lockdown, the industry has grown significantly. Warehouse order pickups are considered the most time-consuming part of the supply chain, with picking robots promising to shorten it. Mobile piece pickers, thus, can replace the number of hours that workers spend moving around the warehouse.
According to inVia Robotics Inc., the time workers spend walking from location to location throughout the warehouse accounts for about 50% of the total pick time and represents more than 50% of all operational costs. Additionally, finding and retaining staff in today's tight labor market is challenging, often resulting in a repetitive and expensive cycle of hiring and training temporary workers. All these determinants, on a cumulative basis, are fuelling market growth.
There are thousands of robots installed worldwide today that did not exist in this segment just five years ago. Consumer behavior is driving companies to address the demand for the personalization of both products and delivery. More and more companies are realizing the numerous advantages robotics provides their businesses. That list ranges from faster, more accurate picking to minimized labor requirements. Both the labor shortage and a lack of interest in working in traditional warehouse settings play to the value of piece-picking robots.
Notably, in the manufacturing sector, collaborative as well as mobile robots address the demand for flexible material handling, the need for robots to be able to operate on large structures, and the requirement for rapid reconfiguration of work areas. Moreover, two roadmaps provide predictions for future mobile robot systems. For instance, the material handling institute expects new capabilities in autonomous control, artificial intelligence, and robotics, along with motion- and gesture-sensitive technologies that could lead to material handling systems in which humans, machines, and computers interact freely and effectively in completely new ways. The institute further predicts that it is expected that economical, high-speed automation for loading and unloading trucks should be available, both at the carton and pallet level, by 2025.
Secondly, for piece-picking mobile robots used in manufacturing, a recent roadmap for US robotics predicts that autonomous vehicles will be capable of driving in any environment in which humans can drive and, furthermore, be safer and more predictable than a human driver by 2030. Vehicles will be able to learn on their own how to drive in previously unseen scenarios.
The rising need for manufacturing and logistics companies to meet consumer demands for greater choice and faster delivery, against a backdrop of a shrinking labor pool, is leading businesses to look for new ways of automating their operations through the use of piece-picking robots. They are being adopted in increasing numbers in industrial applications as companies look for ways both to deploy their existing workforces more effectively and maximize the productivity and efficiency of their operations. For instance, in April 2022, FedEx, iHerb, and many other companies turned to piece-picking robotic systems to solve their fulfillment challenges.
According to the Bank of America, by 2025, 45% of all manufacturing will be performed by robotic technology. Following this trend, large firms, such as Raymond Limited (an Indian textile major) and Foxconn Technology (a China-based supplier for large technology manufacturers like Samsung), have replaced (or plan to replace) 10,000 and 60,000 workers, respectively, by incorporating automated technology into their factories. Hence increasing investment in automation drives the market.
Moreover, the rise in the number of robots in industrial areas will drive the studied market growth. According to IFR, approximately 4,35,000 industrial robots were expected to be shipped worldwide in 2021. Asia/Australia had the most units installed, with an estimated 3,06,000 in 2021. Industrial robot installations in Asia/Australia are expected to reach 370,000 units by 2024.
Piece Picking Robots Market Trends
Collaborative Robots to Drive the Market
Collaborative mobile robots augment humans' work to improve accuracy and lead warehouse associates to correct pick locations and utilize UPC scanning, further reducing human error. According to HMC Investment Securities, it is expected that, by 2025, the global co-bot market size will reach around USD 12.8 billion, and the Piece Picking Robots Market is envisioned to get a boost.
While the collaborative robot market is relatively new, it's poised for massive growth over the next ten years. Collaborative robots are robots capable of safely working alongside human workers and becoming more sophisticated and useful inside and outside factory settings. Collaborative robots are advancing in capability while simultaneously becoming cheaper and more widely available. These two determinants are vital contributors to the explosive market growth ahead.
With collaborative piece-picking robots, there is an opportunity to introduce automation into the current pick environment, not disrupt or rearrange the setup, and witness significant productivity gains. For instance, in May 2022, Hyundai plans USD 5 billion investment in the United States by 2025 to further develop mobility technologies in areas like autonomous driving, robotics, and A.I.
The primary factor driving the market is the Introduction of advanced robots, capable of working with humans in areas like smart parts assembly and electronics component production and assembly, fueling the demand for collaborative robots. According to FMI analysis, in the Collaborative Robots market, the variation between the BPS values has been observed in H1, 2022 - Outlook over H1, 2022 Projected reflects a gain of 99 units, compared to H1, 2021, the market is expected to spike by 81 BPS in H1 -2022.
Furthermore, in August 2022, Smart Robotics launched its latest collaborative robotic system named the Smart Fashion Picker. The Smart Fashion Picker's name is derived from its function - the cobot can pick a large variety of fashion items, which are placed in protective wrapping, straight from a cart or bin. The Smart Fashion Picker addresses the pain point of transformation within warehouse automation.
According to HMC Investment Securities, global collaborative robots (co-bot) sales will reach around 134,400 units in the United States, and china is expected to sell the largest units accounting for 2,43,600 by 2025, which will further drive the market growth.
There are quite a few applications where collaborative robots are deployed: packing, quality testing, material handling, machine tending, assembly, welding, and others. Among these, the material handling segment is expected to experience the most significant growth in collaborative robot installments.
According to the Robotic Industries Association, one of the main factors contributing to the increasing adoption of collaborative robots is their constantly lowering price tag. With many collaborative robots available for under USD 45K, they are becoming viable outside the factory setting. No matter the setting, the low price tag makes automation investment more accessible and more comfortable to justify.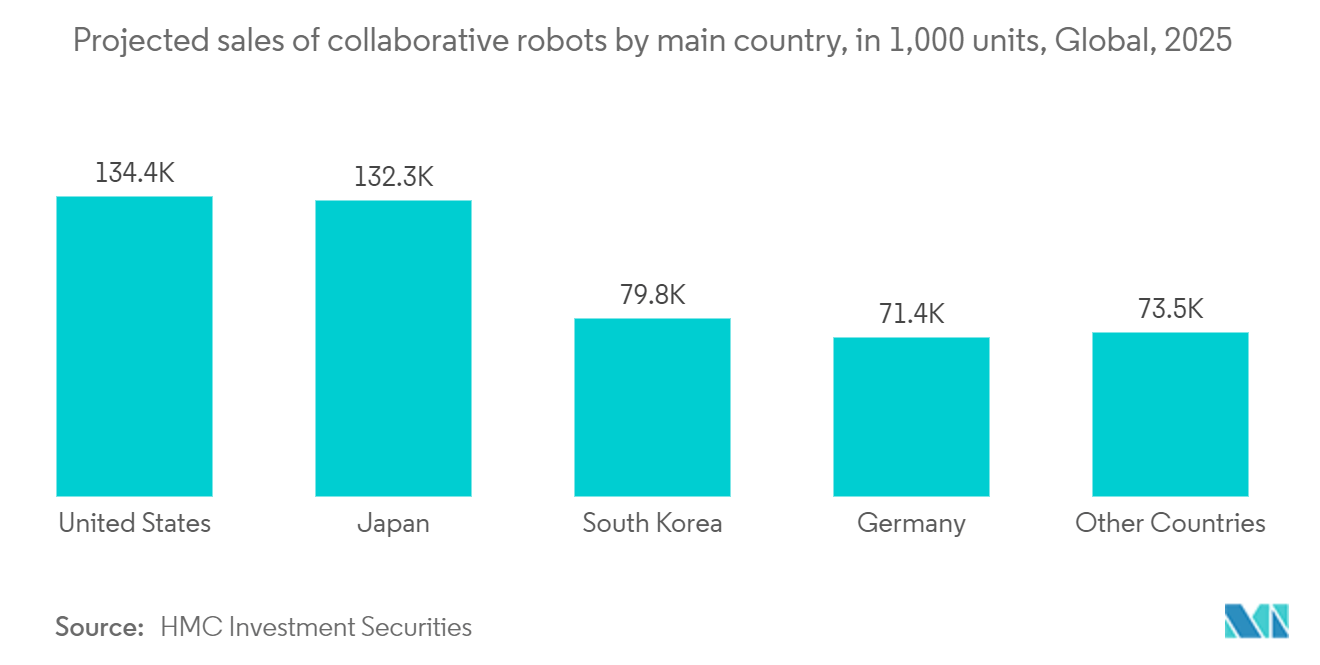 To understand key trends, Download Sample Report
North America to Hold Significant Share
The piece picking robots to combine cobots and mobile robots in warehouses and e-commerce fulfillment facilities has benefitted the North American region. Most of the USA robots are imported from Japan and Europe (source: IFR). Although the presence of numerous important robot system integrators.
The 3PL companies in the region are increasingly looking at different customer profiles to understand the best applications from their perspectives. Also, multiple trends, such as making investments, encouraging hackathons, trend communities, and startup labs, are being observed. For instance, in October 2022, V-Trans from India announced a five-fold expansion plan in its warehouse portfolio to more than 5 million square feet in the top 40 cities of India over the next three years, as it expects a major boost to business from the government's recently announced National Logistics Policy.
It is also believed the allied industry needed further automation even before COVID-19 casts the issue of labor tenuousness. According to Salary.com, the average hourly wage for a Warehouse Worker in the United States is USD 17 as of May 01, 2023, but the range typically falls between USD 15 and USD 18.
Specifically, in the agriculture sector, where farmers have spent over USD 34 billion a year on labor in the United States (according to the USDA), the scarcity of H2B visas and an aging worker population has led to a shift to automation. Though it is farfetched on adopting piece pick robots, active developments have been considered.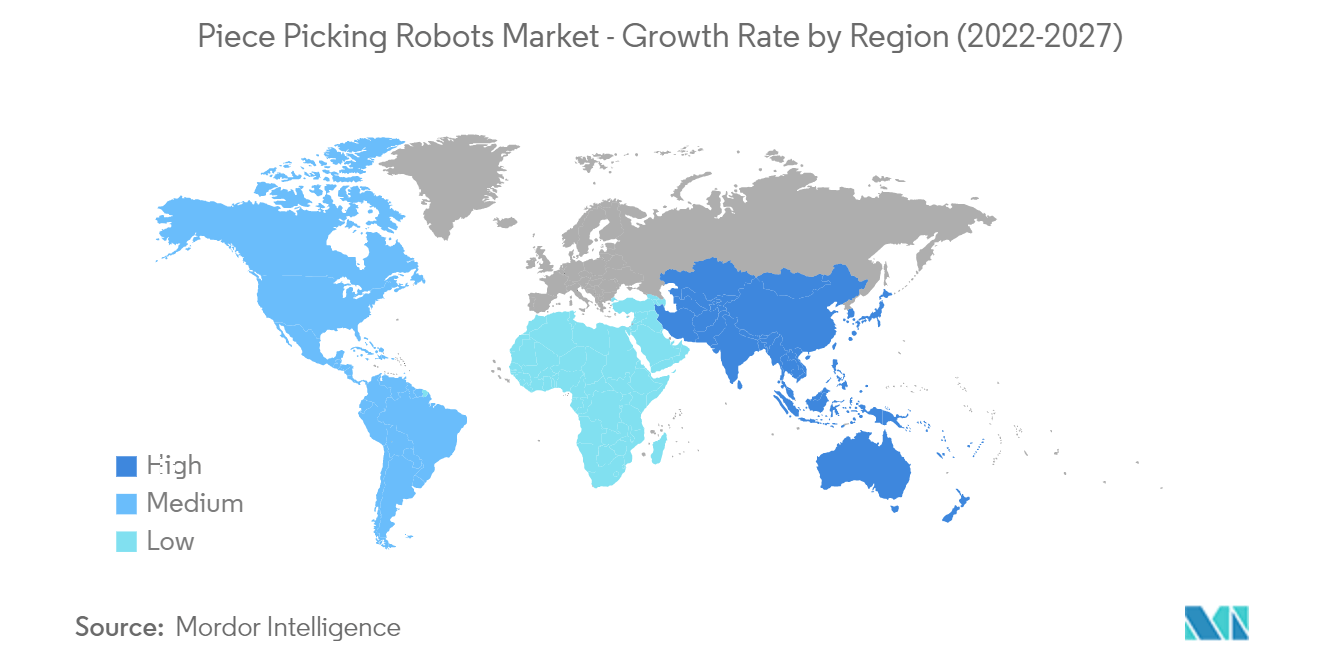 To understand geography trends, Download Sample Report
Piece Picking Robots Industry Overview
The Piece Picking Robots Market is moderately competitive and consists of several major players. Few of these players currently dominate the market in terms of market share. These players offer flexible, cost-effective, and efficient mobile Piece Picking Robots, which can automate multiple warehouse services such as palletizing & depalletizing, storage & retrieval, transportation, and packaging. Major players are concentrating on product development and introducing advanced technologies in the existing product lines to gain a competitive advantage. Prominent players in the market include Plus One Robotics Inc., Kindred Systems Inc, Universal Robots A/S, XYZ Robotics Inc., and Righthand Robotics Inc., among others.
April 2023 - OSARO announced a partnership that integrates its pick-and-place robots with groundbreaking Geek+ warehouse automation systems. The new alliance facilitates businesses with a one-stop solution for their warehouse fulfillment operations as well as a strategy to boost the ROI of their autonomous mobile robot systems (AMRs) and automated storage and retrieval systems (ASRS).
November 2022 - Amazon unveiled the latest addition to its collection of warehouse robots named the Meet Sparrow, which is a robotic arm capable of picking individual products before they get packaged. Unlike Amazon's Robin and Cardinal robots, which pick and organize packages to be sent out for delivery, Sparrow can handle individual products. Further, Amazon announced another robot that is being developed by its robotics team: an autonomous mobile robot for moving oversized items. This robot targets the 10% of items ordered from the Amazon Store that are too long, wide or unwieldy to fit in the company's pods or on its conveyor belts.
Piece Picking Robots Market Leaders
Plus One Robotics Inc.

Kindred Systems Inc

Universal Robots A/S

XYZ Robotics Inc.

Righthand Robotics Inc.
*Disclaimer: Major Players sorted in no particular order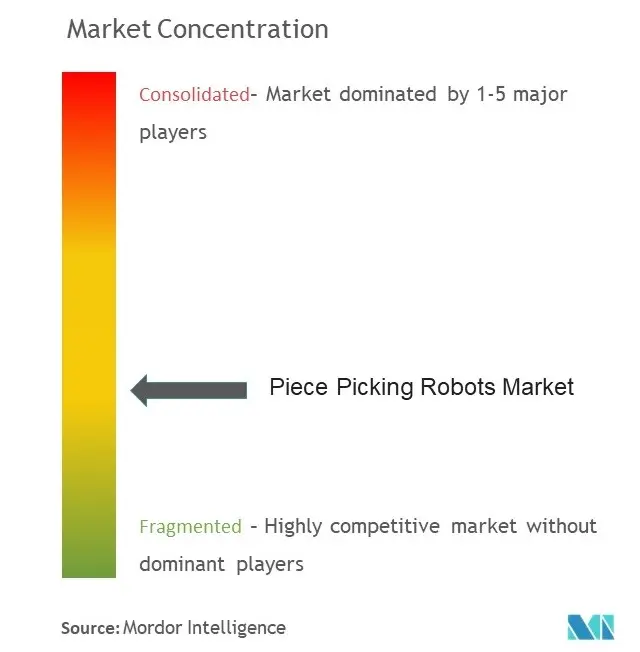 Piece Picking Robots Market News
May 2023 - SSI SCHAEFER announced the launch of a fully automated piece-picking system with numerous innovative features, including the SSI Piece Picking application. This versatile solution, which incorporates dedicated smart software, boasts advanced functions such as object recognition using artificial intelligence (AI), pick-and-place, patented gripping point determination, and extremely gentle product handling. Moreover, the intelligent robotic cell, which can combine with other SSI SCHAEFER components, debuted in Stuttgart from April 25 to 27 at LogiMAT, Europe's leading material handling trade show.
Piece Picking Robots Market Report - Table of Contents
1. INTRODUCTION

1.1 Study Assumptions and Market Definition

1.2 Scope of the Study

2. RESEARCH METHODOLOGY

3. EXECUTIVE SUMMARY

4. MARKET INSIGHTS

4.1 Market Overview

4.2 Industry Attractiveness - Porters Five Forces Analysis

4.2.1 Bargaining Power of Suppliers

4.2.2 Bargaining Power of Buyers

4.2.3 Threat of New Entrants

4.2.4 Threat of Substitutes

4.2.5 Intensity of Competitive Rivalry

4.3 Industry Value Chain Analysis

4.4 Assessment of Impact of COVID-19 on the Automation Industry

4.5 Piece-picking Robot Software Technology and Evolution

5. MARKET DYNAMICS

5.1 Market Drivers

5.1.1 A Shift from Full-case or Pallet Picking to Piece Flow and Improved Technology Investments

5.1.2 Increasing Investments in Automation

5.2 Market Challenges

5.2.1 Slower Speeds, Inability of the Grippers to Deal with Unusual Items, and Reliability Issues

6. MARKET SEGMENTATION

6.1 By Type of Robot

6.1.1 Collaborative

6.1.2 Mobile and others

6.2 By End User Application

6.2.1 Pharmaceutical

6.2.2 Retail/Warehousing/Distribution Centers/Logistics Centers

6.2.3 Other End User Applications

6.3 By Geography

6.3.1 North America

6.3.2 Europe

6.3.3 Asia Pacific

6.3.4 Rest of the World

7. COMPETITIVE LANDSCAPE

7.1 Company Profiles

7.1.1 Plus One Robotics Inc.

7.1.2 Kindred Systems Inc.

7.1.3 Universal Robots A/S

7.1.4 XYZ Robotics Inc.

7.1.5 Righthand Robotics Inc.

7.1.6 Berkshire Grey Inc.

7.1.7 Robomotive BV

7.1.8 Lyro Robotics Pty Ltd.

7.1.9 Knapp AG

7.1.10 Grey Orange Pte. Ltd.

7.1.11 Handplus Robotics

7.1.12 Dematic Group (KION Group AG)

7.1.13 Nomagic Inc.

7.1.14 Fizyr B.V.

7.1.15 Mujin Inc.

7.1.16 Nimble Robotics Inc.

7.1.17 Swisslog Holding AG

7.1.18 Karakuri Ltd

7.1.19 Osaro Inc.

7.1.20 Covariant

7.1.21 SSI Schaefer Group

*List Not Exhaustive

8. INVESTMENT ANALYSIS

9. FUTURE OF THE MARKET
Piece Picking Robots Industry Segmentation
Piece-picking robots are competent in helping workers by eliminating the necessity for labor to be devoted to repetitive and critical tasks. These software-driven, hardware-enabled solutions handle the core task of picking and placing individual items as part of a wide range of workflows and processes. Piece-picking robots improve performance and efficiency in e-commerce order fulfillment and intralogistics.
The Piece Picking Robots Market is segmented by Type of Robot (Collaborative, Mobile), End-user Vertical (Pharmaceutical, Retail/Warehousing/Distribution Centers/Logistics Centers), and Geography (North America, Europe, Asia Pacific, Latin America, and Middle East & Africa).
By Type of Robot
Collaborative
Mobile and others
By End User Application
Pharmaceutical
Retail/Warehousing/Distribution Centers/Logistics Centers
Other End User Applications
By Geography
North America
Europe
Asia Pacific
Rest of the World
Piece Picking Robots Market Research FAQs
How big is the Piece Picking Robots Market?
The Piece Picking Robots Market size is expected to reach USD 0.67 billion in 2023 and grow at a CAGR of 53.41% to reach USD 5.71 billion by 2028.
What is the current Piece Picking Robots Market size?
In 2023, the Piece Picking Robots Market size is expected to reach USD 0.67 billion.
Who are the key players in Piece Picking Robots Market?
Plus One Robotics Inc., Kindred Systems Inc, Universal Robots A/S, XYZ Robotics Inc. and Righthand Robotics Inc. are the major companies operating in the Piece Picking Robots Market.
Which is the fastest growing region in Piece Picking Robots Market?
Asia Pacific is estimated to grow at the highest CAGR over the forecast period (2023-2028).
Which region has the biggest share in Piece Picking Robots Market?
In 2023, the North America accounts for the largest market share in Piece Picking Robots Market.
Piece Picking Robots Industry Report
Statistics for the 2023 Piece Picking Robots market share, size and revenue growth rate, created by Mordor Intelligence™ Industry Reports. Piece Picking Robots analysis includes a market forecast outlook to 2028 and historical overview. Get a sample of this industry analysis as a free report PDF download.
Piece Picking Robots Market Report Snapshots
80%

of our clients seek made-to-order reports. How do you want us to tailor yours?