Process automation in the Middle East & Africa market is expected to register a CAGR of 5.15%, over the forecast period (2018-2023). The scope of the report considers hardware, software, and services solutions offered by major players in the market. This report focuses on the adoption of these solutions by various end users within different regions across the MEA region. The study also emphasizes on latest trends, industry activities, and vendors' market activities.
The MEA region is facing challenges to improve efficiency while meeting nationalization agendas, post the fall of oil prices in 2014. As a result, robotic process automation is expected to emerge as an effective entry point for manufacturing industries toward sustainable profits. Some organizations in the region have already adopted these solutions in the region, while some are on their way to deploying them, by the virtue of shared services and outsourcing (SSO). The combination of SSO and process automation is providing manufacturers with benefits, like fast implementation, consistent performance, and more rewarding careers, along with more satisfied citizens and customers.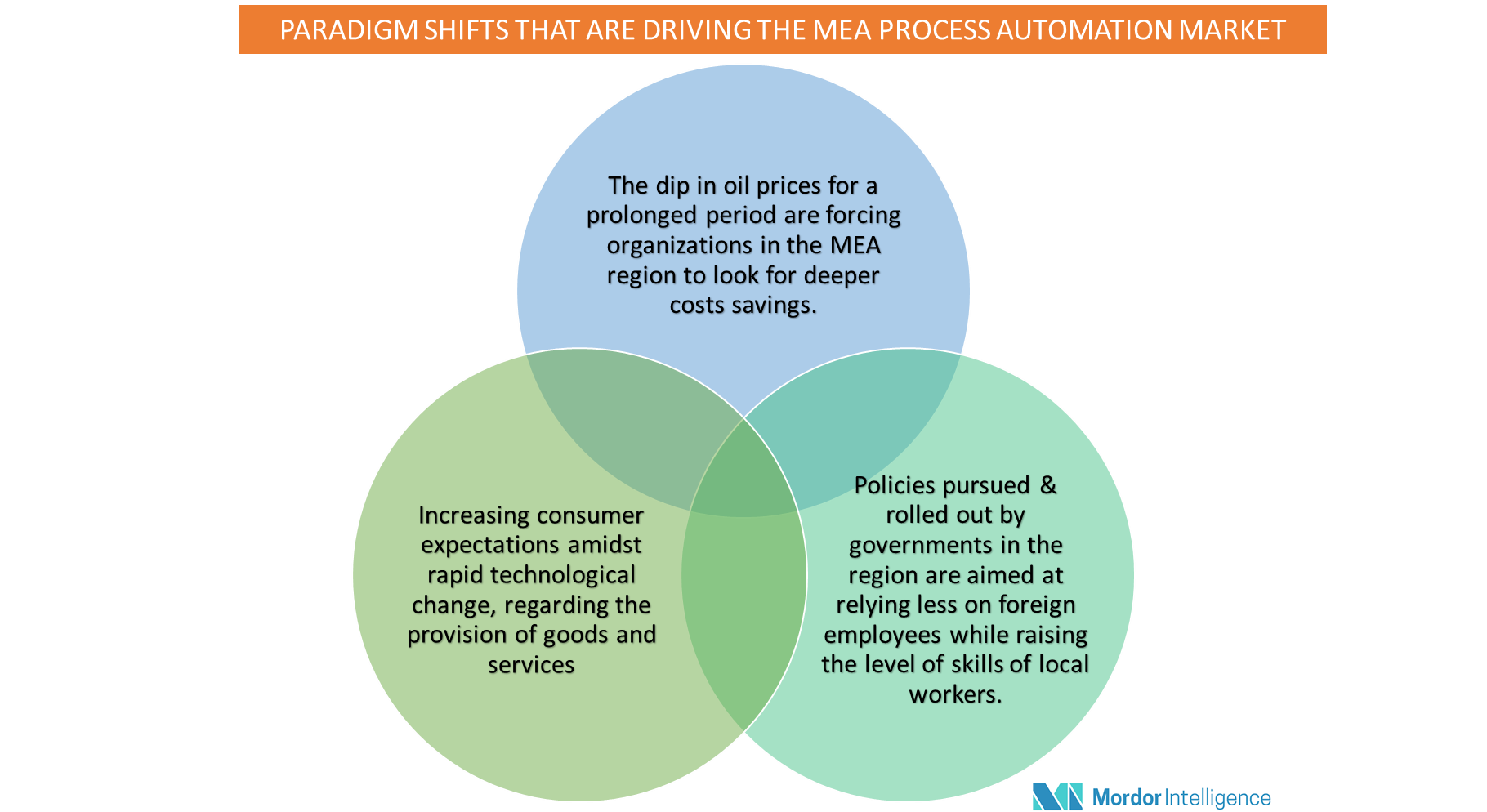 Government Incentives for the Manufacturing Industry
The regulatory environment in the region, particularly the GCC region, wherein, a national digital strategy is driving the growth agenda. Governments are looking to develop a highly skilled and digitally trained workforce, provide enhanced service quality to citizens, cater to dynamic citizens and customer behaviors, and keep costs down.
The government in the region has rolled out initiatives to meet these goals:
UAE Vision 2021- a vision of a competitive knowledge-based economy, along with a sustainable infrastructure and environment.
Dubai Plan 2021- a goal of becoming the smartest and happiest city on earth with the agenda of being the city of happy, creative, and empowered people, the preferred place to live, work, and visit, and a pioneering and excellent government.
Saudi Vision 2030- an objective of expanding the variety of digital services to reduce delays and cut tedious bureaucracy. Increase KSA's investments in the digital economy and entrepreneurship.
Qatar Vision 2030- build a digital economy and society while reducing the digital divide across segments and fostering innovation clusters.
Process Automation is Redefining Future of Chemical & Petrochemical Industry by Cutting Down Operating Costs and Time
The downfall and turbulence in the MEA oil & gas industry are hitting the chemical & petrochemical sector hard. This downfall is resulting in increased focus by the government to stabilize the conditions. There is a large scope for automation in the industry, which is expected to cut down the production costs. The chemical industry requires one of the most innovative and productive process automation solutions, as this application has more advanced and complicated processes when compared to several other industries. One of the basic demands of the chemical industry in the region is reduction in manufacturing (inclusive of labor costs) costs along with the cautious use of hazardous explosive substances, medical products & chemicals. This industry is also affected by high levels of automation, governed by strict standards. Hence, process automation strives to achieve maximum profitability with significantly less need for human workers to handle hazardous substances. However, in South Africa, despite the performance achieved through a commitment to the economy, more than half of the fine chemical synthesis plants have been shut down, relocations to other countries are taking place, and new investments are increasingly being made outside of the region.
Saudi Arabia to Hold a Significant Share of the Market in 2017
Around 70% of the Saudi Arabian petrochemical industry uses natural gas as its raw material and is the leading producer and exporter of crude oil. The chemical industry relies heavily on some hydrocarbons, including gases and liquids associated with the crude oil and methane production. To remain competitive, the Saudi government has initiated an industrial clusters program to focus investment on the manufacturing industry.
Furthermore, the low price of oil and the rising price of gas are expected to continue to have a dampening effect on the region's chemical industry. But in light of their diminishing feedstock advantage, the companies are taking steps to diversify their product lines beyond basic gas-based chemicals. Sadara, a USD 20 billion petrochemical facility in Jubail, Saudi Arabia, is the proper example of this diversification.
Key Developments in the Market
January 2018 – US-based Emerson, inaugurated its new technology and innovation centre, worth SAR 94 million (USD 25 million), at Dhahran Techno Valley, in Dhahran, Saudi Arabia. The 11,370-sq-m built area facility is expected to enable the development of process automation technologies and designing of innovative products and solutions that meet the country's goals.
January 2018 - Saudi Aramco awarded AES Arabia a USD 27 million project to supply Tie-Ins Modular Skids to the oil and gas wells for Khurais and Haradh sites in the eastern province of Saudi Arabia. The scope of work includes providing detailed engineering, procurement, manufacturing, and fabrication, along with testing and commissioning in Saudi Arabia. AES further said that the skids are expected to be installed near the respective wellheads in order to control the flow and pressure of oil or gas, and inject the appropriate chemicals as well.
Major Players: ABB Ltd, Honeywell International Inc., Siemens AG, Schneider Electric SE, Mitsubishi Corp., Rockwell Automation Inc., Emerson Electric Co., And Danaher Corporation, amongst others.
Reasons to Purchase this Report
Analyze how the support and investment by the government is helping the process automation market growth.
Analyze various perspectives of the market with the help of Porter's five forces analysis.
The end-user vertical that is likely to witness highest adoption of these tools.
The technology type that is expected to dominate the market.
The countries that are expected to witness fastest growth during the forecast period.
SWOT analysis for key players and a detailed study of their current strategic interests and key financial performance indicators.
3 months analyst support, along with the Market Estimate sheet (in excel).
Customization of the Report
This report can be customized to meet your requirements. Please connect with our representative, who will ensure you to get a report that suits your needs.
1. Introduction
1.1 Key Deliverables of the Study
1.2 Study Assumptions
1.3 Market Definition
1.4 Key Findings of the Study
2. Research Approach and Methodology
3. Executive Summary
4. Market Dynamics
4.1 Market Overview
4.2 Factors Driving the Market
4.2.1 Government Incentives for the Manufacturing Industry
4.2.2 Reducing Cost of Automation Solutions and Increasing Labor Wages
4.2.3 Increased Focus on Manufacturing Industry and Need for Energy Efficiency
4.3 Factors Challenging the Market
4.3.1 Reliability Issues with Cloud Computing Escalating the Skepticism Levels
4.3.2 Lack of Skilled Workforce
4.4 Industry Value Chain Analysis
4.5 Industry Attractiveness – Porter's Five Forces Analysis
4.5.1 Bargaining Power of Suppliers
4.5.2 Bargaining Power of Consumers
4.5.3 Threat of New Entrants
4.5.4 Threat of Substitute Products or Services
4.5.5 Competitive Rivalry among Existing Competitors
5. Technology Snapshot
6. Process Automation in Middle East & Africa Market Segmentation
6.1 Technology
6.1.1 Supervisory Control and Data Acquisition (SCADA)
6.1.2 Programmable Logic Controller (PLC)
6.1.3 Distributed Control System (DCS)
6.1.4 Manufacturing Execution Systems (MES)
6.1.5 Others
6.2 Type of Solution
6.2.1 Hardware
6.2.2 Software
6.2.3 Services
6.3 End User
6.3.1 Chemical & Petrochemical
6.3.2 Paper & Pulp
6.3.3 Automotive
6.3.4 Water & Waste Water Treatment
6.3.5 Energy & Utilities
6.3.6 Oil & Gas
6.3.7 Pharmaceutical
6.3.8 Others
6.4 Geography
6.4.1 United Arab Emirates
6.4.2 Saudi Arabia
6.4.3 South Africa
6.4.4 Others
7. Competitive Intelligence – Company Profiles
7.1 ABB Ltd
7.2 Honeywell International Inc.
7.3 Siemens AG
7.4 Schneider Electric SE
7.5 Mitsubishi Corp
7.6 Rockwell Automation Inc.
7.7 Emerson Electric Co.
7.8 Danaher Corporation
7.9 Cameron International Corporation
7.10 Texas Instruments Inc.
7.11 Eaton Corporation PLC
7.12 General Electric Corporation (GE)
7.13 Endress+Hauser Group
8. Investment Analysis
9. Future of the Process Automation in Middle East & Africa Market