The Middle East & Africa polyethylene terephthalate (PET) market is expected to witness a CAGR of more than 6% during the forecast period, majorly driven by increase in PET recycling rates. The region's packaging sector looks set for continuous growth, which is further expected to stimulate the Middle East & Africa PET market.
Increase in PET Recycling Driving the Market
PET is recycle-friendly as its polymer chains breakdown at a low temperature, resulting in minimal degradation of the polymer chain during the recycling process. This ensures PET to be recycled numerous times before it becomes unfeasible for further recycling. In South Africa, laws encouraging plastic recycling have been passed and companies, like Coca-Cola are using recycled-content plastic. Extrupet and Mpact Polymers are one of the major recyclers of bottle-grade PET on the African continent. Saudi Arabia currently recycles about 10% of its PET (polyethylene terephthalate) bottles. The recycling percentage is expected to grow with increasing focus of the government towards recycling, which, in turn, is likely to drive the demand of PET in the country.
Food & Beverage Industry Dominated in Market
The Middle East & Africa polyethylene terephthalate (PET) market, based on the end-user industry, can be broadly segmented into food & beverages, automotive, electrical & electronics, healthcare, consumer appliances, and others. Food & beverage industry has dominated the Middle East & Africa PET market, owing to huge demand of PET resins for the manufacturing of bottles for soft drinks and other beverages. The packaging demand from the food & beverage industry looks set for continuous growth. Iran's food technology market has attracted more interest from international investors. The demand for packaging is likely to be further driven by the rising consumption of foodstuffs by its youthful population, of whom 60% are aged between 5 and 30.
Saudi Arabia is One of the Major Market
Saudi Arabia is one of the major market in terms of consumption in the Middle East & Africa region, due to the huge demand from the food & beverage industry. The demand for sustainable packaging is rising continuously with increase in food consumption. Saudi Arabia already makes up almost 70% of the GCC's packaging market in the GCC and its packaging sector continues to expanding. The South Africa PET market is expected to grow at a high rate of 8%, driven by the increase in food & beverage production. The production of PET in the country is also increasing at a fast rate, from 210,000 tons in 2015 to 241,000 tons in 2016.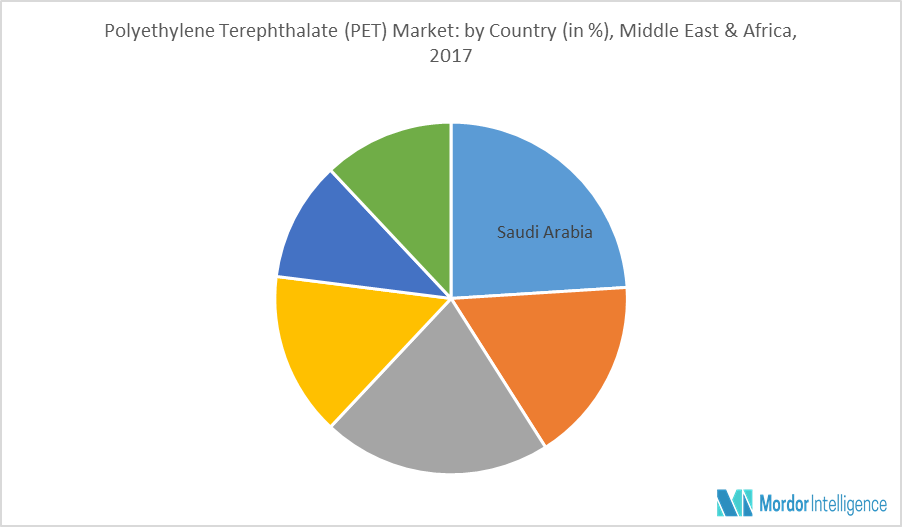 Notable Developments
In June 2017, Pan Asia PET Resin (Guangzhou) Co announced that the petrochemical project in Saudi Arabia is likely to become operational in 2020. This plant will produce 2.5 million metric tons of purified terephthalic acid, 1 million tons of PET, 200,000 tons of engineering plastic, 200,000 tons of thin film, 200,000 tons of polyester fiber and 5,000 tons of heavy equipment
Major Players: Indorama Ventures PCL, Eastman Chemical Company, BASF SE, SABIC and Bamberger Polymers, among others.
Reason to Purchase this Report
To understand the impact of various product type on the market.
Analyzing various perspectives of the market with the help of Porter's five forces analysis
To understand the dominating product type and end-user industry in the market
Countries expected to witness the fastest growth during the forecast period
Identifying the latest developments, market shares, and strategies employed by the major market players
3-month analyst support, along with the Market Estimate sheet in excel
Customization of the Report
This report can be customized to meet your requirements. Please connect with our analyst, who will ensure you get a report that suits your needs
1. Introduction
1.1 Scope of the Report
1.2 Research Phases
1.3 Study Deliverables
2. Executive Summary
3. Market Insights
3.1 Industry Value Chain Analysis
3.2 Industry Attractiveness – Porter's Five Forces Analysis
3.2.1 Bargaining Power of Suppliers
3.2.2 Bargaining Power of Consumers
3.2.3 Threat of New Entrants
3.2.4 Threat of Substitute Products and Services
3.2.5 Degree of Competition
3.3 Feedstock Analysis
3.3.1 Global Capacity by Key Feedstock
3.3.2 Trends
3.4 Technological Snapshot
3.4.1 Production Process
3.4.2 Patent Analysis
3.5 Trade Analysis
3.6 Price Index
3.7 Supply Scenario
3.7.1 Capacity and Production Analysis
3.8 Upcoming Projects
3.9 Regulatory Policy Analysis
4. Market Dynamics
4.1 Drivers
4.1.1 Increase in PET Recycling Rates
4.1.2 Rising Demand from the Packaging Industry
4.2 Restraints
4.2.1 Other Restraints
4.3 Opportunities
4.3.1 Increasing Use of Bio-based PET Products
5. Market Segmentation and Analysis (Market Size, Growth, and Forecast)
5.1 By Product Type
5.1.1 Bottles
5.1.2 Films and sheets
5.1.3 Food Packaging
5.1.4 Others
5.2 By End-user Industry
5.2.1 Food & Beverage
5.2.2 Automotive
5.2.3 Electrical & Electronics
5.2.4 Healthcare
5.2.5 Consumer Appliances
5.2.6 Others
6. Regional Market Analysis (Market Size, Growth, and Forecast)
6.1 Iran
6.2 Saudi Arabia
6.3 United Arab Emirates
6.4 South Africa
6.5 Egypt
6.6 Rest of Middle East & Africa
7. Future of the Market
8. Competitive Landscape
8.1 Mergers & Acquisitions, Joint Ventures, Collaborations, and Agreements
8.2 Market Share Analysis**
8.3 Strategies Adopted by Leading Players
9. Company Profiles (Overview, Financials**, Products & services, Recent Developments, and Analyst View)
9.1 Bamberger Polymers
9.2 Eastman Chemical Company
9.3 Tricon
9.4 Bariq
9.5 Indorama Ventures PCL
9.6 INVISTA
9.7 SABIC
9.8 EQUATE
9.9 GAP Polymers
9.10 BASF SE
9.11 Koksan
9.12 KAP Industrial
* List not exhaustive
10. Disclaimer
**Subject to availability of public domain